Sail Boats
Luxury boating, being one of the most popular leisure activities in the United States, has led to the U.S. recreational boating market emerging as a highly profitable industry. In 2018, the National Marine Manufacturers Association (NMMA) announced boat sales in the U.S.to have reached a 10-year high, encouraging boat manufacturers to further expand their production capacity to meet the rising demand. NMMA data shows that unit sales of new powerboats reached 262,000 in 2017 increasing 5% when compared to unit sales in 2016.
U.S. Recreational Boating Market, By Product, 2017 & 2024, (Units)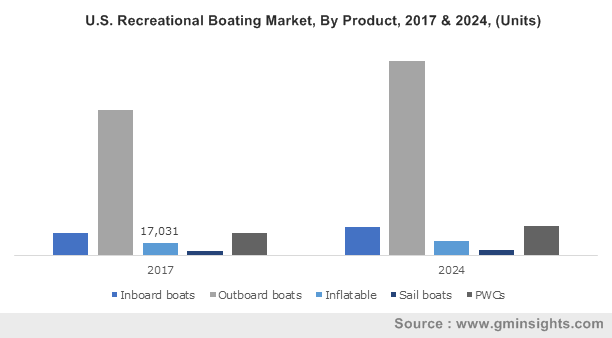 Incidentally this is the highest level of boat sales registered in the U.S. in the past 10 years – a fact that provided a boost to the U.S. recreational boating industry. As per estimates, total marine expenditure in 2017 amounted to $39 billion which included spending on not only new boats, but trailers, engines, services and accessories. Boat manufacturers also responded to the demand with the building of new plants and expanding production capacity. In 2017 the U.S. recreational boating market size was valued at $20.5 billion and is expected to depict a commendable upsurge in the years ahead.
The Bureau of Economic Analysis boasts of valid data to support the growth of the U.S. manufacturing industry. Estimates by the organization claim that U.S. manufacturing gross output increased to $6.228 trillion in the fourth quarter of 2017. The strong economy of the country is indeed bolstering the boating expenditure and new boat sales in the country as manufacturer optimism and capital spending continues to hit a record high. The growth trajectory of the U.S. recreational boating market is expected to be rather exponential in the ensuing years, as new products ranging from small fishing boats to large luxury yachts make an entry into this business sphere.
Get a Sample Copy of this Report:@ https://www.gminsights.com/request-sample/detail/2806
Statistics indicate that over 87 million adults participate in recreational boating in the U.S. and engage in travelling by boat, sports activities or fishing. When the country was in the grip of a major economic crisis in the last decade, the U.S. recreational boating industry initially took a hard hit. However, with the return of financial stability, the U.S. recreational boating market has witnessed renewed vigor with 12 million boats being registered and documented in 2017 across the country. The NMMA listed Florida as the state leading the number of registrations in 2017 followed by Minnesota, Michigan, California and Wisconsin with significant growth in the registration of recreational boats in the states of Oregon, Ohio and California. Unsurprisingly the Great Lakes region also accounted for a major portion of the registrations with most boats per capita.
Incidentally, outboard boats are the most preferred boats and are anticipated to account for 70% of the U.S. recreational boating market share by 2024, since they are easy to maintain, have maximum cabin space and increased fuel efficiency. Surveys depict that most affluent Americans own such leisure boats – around 10.3% of U.S. households with an income over $200,000 reported owning a boat in 2015. Personal water boats are popular among water sports enthusiasts in the U.S. and during a survey of campers in 2015, it was found that 22% indicated canoeing or kayaking to be their favorite recreation activity and a further 13% selected either motor boating, jet skiing or water sports. Easier maneuverability, compact footprint, and easier parking & towing are expected to augment the personal water boat segment of the U.S. recreational boating market. As per estimates, PWC will account for 11% of the U.S. recreational boating market share by 2024.
The U.S. recreational boating market took a sharp decline when the country went into a recession in 2008 with consumers having less disposable income to be spent on leisure activities. More recently the Trump administration's implementation of tariffs has put a dampener on the U.S. recreational boating industry, though between 2012 and 2016, the market experienced a gradual upsurge. U.S. recreational boating market which supports approximately 650,000 jobs and 35,000 businesses nationwide, is touted to be one of the stalwarts of the American manufacturing sector. With the government of the country emphasizing on the importance of manufacturing and export, the U.S. recreational boating market is expected to register a CAGR of 4.5% over 2018-2024.
Author Name : Paroma Bhattacharya
The increasing requirement for quick, emission-free transport has been a major driver for water taxi market growth. Water transportation has been gaining more and more popularity lately, pertaining to its cost-effective and fuel-efficient benefits over conventional transportation. Having recognized the same, regional governments have been majorly investing in the tourism industry, generating lucrative opportunities for water taxi industry players. The deployment of water taxis in numerous public and private water bodies has indeed helped reduce vehicular traffic congestion in the city – a principal factor that has been extensively responsible for stimulating water taxi industry share.
U.S. Water Taxi Market, By Product, 2017 & 2024, (Units)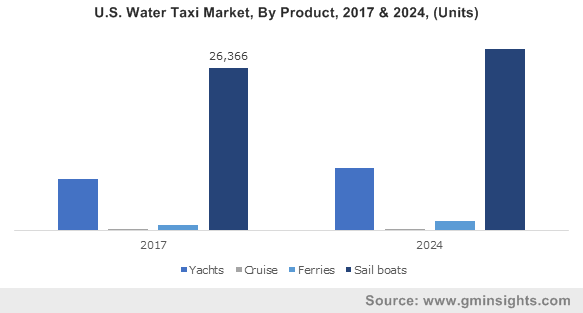 Recreational activities such as boating have taken on a diverse significance in recent times, on account of which numerous private companies are deploying water buses on large scale. This in consequence, has prompted the entry of new contenders in water taxi market and a slew of unique product launches. Say for example, the French startup SEABUBBLES has been testing its new electric hydrofoil water taxi – a battery powered water bus that reduces air drag and attains greater speed, in Switzerland for quite a while now. The company now looks forward to deploying electric boats for transportation in lakes and rivers across European countries. As this type of transit system generates lesser air as well as water pollution, the governments of the various countries are encouraging private and public service providers to deploy battery-operated and hybrid water taxis. These initiatives are likely to push hybrid water taxi market size, slated to grow at a CAGR of more than 5% over 2018-2024.
The increasing deployment of these water vehicles has generated profitable growth opportunities for water taxi industry firms. In order to achieve a dominant position across this vertical, most of the prominent biggies are focusing on the development of green boating systems that are driven by renewable energy. Though this transit system is clean and emission-free, in some cases, the speed factor of some of the green taxis have put a dampener on the overall product demand. In order to combat the same, companies have been constantly working enhancing product features and its capability. The recent trend of deploying lightweight and high-performance composite materials for boat manufacturing, for instance, has helped water taxi market firms develop innovative taxi designs. 3A Composites for example, post ten years of rigorous efforts, recently launched a sustainable water taxi that integrates the benefits provided by 3A Composites' AIREX® T92 PET foam with a special hull shape that aids waste reduction, ride quality, and fuel efficiency.
The Asian zone is expected to contribute commendably toward the growth of water taxi market, owing to the increasing involvement of private and public sectors in the deployment of water taxi services. For the record, merely a few months earlier, the Indian ride-hailing service provider OLA signed a MoU with the government of Assam to launch a water taxi service in the state. This project is most likely to strengthen the transportation network across North India. In addition, the mobile-based transportation system will help local government enhance the state's tourism prospects.
Get a Sample Copy of this Report@ https://www.gminsights.com/request-sample/detail/2510
In 2016, the government of India signed a deal with the Massachusetts Institute of Technology for developing ferry services across six major cities including Varanasi, Allahabad, Kolkata, Mumbai, Patna, and Haldia. The development of inland waterways services will thus help escalate cost-effective trading across the country. As of now, India uses only 3.5% of the available waterways for trading purposes, out of the existing 14,500 km of the waterway stretch. The increasing investments by the Indian government toward the deployment of ferry services across the country is poised to boost the regional water taxi market share, in turn benefiting the overall Asian topography to a marginal extent.
The competitive hierarchy of water taxi market is remnant of novel product development strategies and massive R&D programs. The emergence of battery operated lightweight boats for instance, has added a new growth dimension to water taxi industry. Another pivotal factor pushing the expansion of this vertical is the crucial role that governments play in promoting trading and tourism activities, focusing on bettering the economy of their respective countries. Aided by a favorable regulatory spectrum and the rising prominence of the green movement, water taxi market size is expected to cross the coveted USD 500 billion mark by the end of 2024.
Author Name : Sunil Hebbalkar
Outdoor water activities have lately emerged as a popular means of recreation, generating lucrative growth prospects for recreational boating market. Tourists and locals residing alongside water bodies have long since been involved in water-based recreational activities such as fishing, camping, boating, etc. However, the prevalence of these activities has inherently increased in recent times, primarily due to the rising disposable incomes of the middle class and the subsequently changing consumer lifestyles. In consequence, this has created a plethora of growth opportunities for recreational boating industry players.
U.S. Recreational Boating Market, By Product, 2016 & 2024, (Units)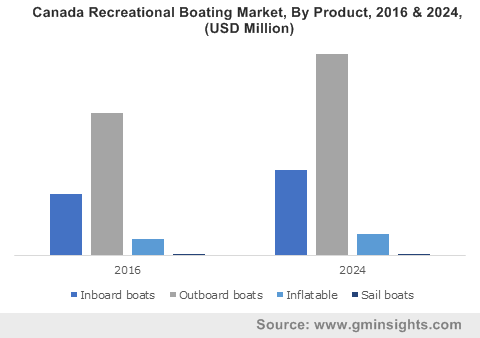 Another vivid fact that will emerge as an expansion opportunity for these companies is that the rise in the number of recreational activities is directly proportional to an increase in the rate of boating accidents. On these grounds, a stringent regulatory framework has been compiled by authorized bodies to reduce the number of boating accidents and ensure consumer safety. Being a strongly customer-driven business space, companies often invest heavily in research and development activities to develop advanced recreational boats. The launch of luxurious and efficient next generation boats is thus likely to augment the commercialization scale of recreational boating industry.
Citing an instance of the aforementioned fact, one of the leading boat manufacturers, Crestliner has recently launched its new product in Sprint Series. Introduced as a basic version of the pontoon, this product has been specifically designed for novice boaters and individuals looking forward to experiencing on-water versatility at an attractive rate. Considering that quite a proportion of consumers depict an interest in pontoons for enjoying on-water activities ranging from fishing to cruising, other companies in recreational boating industry have also been attempting to launch novel pontoon designs. What's more, the trend of upgrading the luxury factor in these vessels has been catching up throughout the vertical. It has been observed that players in recreational boating industry are enhancing layouts of boats including seating systems, storage compartments, flooring systems, audio packages, and other personalized facilities.
Get a Sample Copy of this Report @ https://www.gminsights.com/request-sample/detail/2076
In addition to upgrading the aesthetic features, boat manufacturers are also focusing on attaining higher performance by developing advanced versions of the engine, to make sure consumers enjoy a highly efficient, fast-paced, and uninterrupted boating experience. This ongoing trend depicts a pattern in boating design enhancement – right from improving hardware to aesthetics to the driving experience, which is certain to propel recreational boating market share.
Apart from individually working on product development and upgradation, companies across this vertical have been working on implementing tried-and-tested methodologies to consolidate their stance. Signing strategic collaborations with technology providers for coming up with intuitive and efficient facilities seems to have emerged as the latest norm in recreational boating market. For instance, a year before, Crestliner Boats and Brunswick Boat Group's freshwater brands jointly partnered with MarineTech. Through this deal, Crestliner incorporated a hydraulic power steering system and hybrid cable in its aluminum boats.
One of the most pivotal trends that has been observed in this business lately is the increasing popularity of environment friendly boats. The rise in consciousness among the seafarers about the harmful effects of GHG emissions on the marine ecosystem has led to the adoption of green energy technology. Regional governments have also been playing their part in encouraging seafarers to implement clean technologies in boat manufacturing, by providing sufficient subsidies. What's more, the research community, in tandem with green technology companies has also been researching novel methods to revolutionize commercial recreational boating with eco-friendly innovations. Australia's Ocius Ocean Technology has set quite a benchmark in this regard – the company had been involved in the invention of the Solar Sailor that can harness solar and wind power in a single device to produce a speed up to 44 knots.
The emergence of highly upgraded products reflects the deep commitment of participants in recreational boating market toward the improvisation of existing boating infrastructure. These companies have also been influenced by the shifting trends toward the adoption of sustainable technologies, that has had an impact on product design and development. In recent times, with customers ruling the roost, the development of core consumer-centric products has been making robust inroads in this vertical. Powered by a high-income user base, in conjunction with earnest companies striving to innovate unique products, recreational boating market size has been forecast to surpass a revenue collection of USD 230 billion by 2024.
Author Name : Sunil Hebbalkar