SCARA Robots
Rapid industrialization and technology developments transforming the global manufacturing sector have enabled smart factory market to emerge as a highly lucrative investment avenue over the forthcoming years. Several advancements in the field of automation, communications and computing power have turned intelligent manufacturing facilities into a feasible reality. Today, several manufacturers are looking to bring more efficiencies in production process while gaining the ability to supply a wider range of products to consumers, driving the expansion of smart factory industry.
U.S. smart factory market, by application, 2018 & 2025 (USD Million)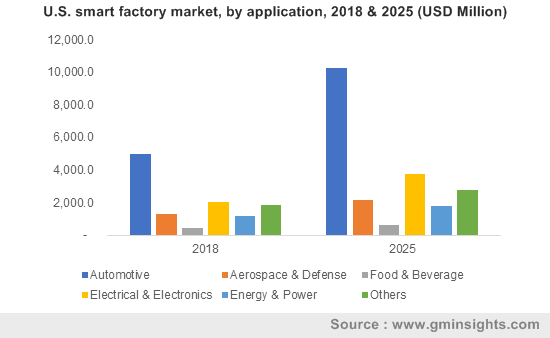 Manufacturers require their production lines and operational processes to be integrated as well as flexible to adapt and enable quick configuration changes to lessen lead times. This helps them to retain a competitive edge in a constantly evolving segment. Smart factories have the ability to address these needs without compromising on quality and safety, positioning the industry in a favorable spot to experience business growth. Not only is building smarter facilities by investing in Internet of Things (IoT) is a massive undertaking, it is also a key component in promoting efficient scalability in the era of Industry 4.0.
Factories that leverage smart manufacturing technology offer a number of benefits to manufacturers including increased productivity, enhanced efficiency and long-term cost savings. Growing awareness of modern manufacturing technologies owing to these advantages will reinforce global smart factory market share. Although high initial investment in smart factories are keeping small to medium sized enterprises at bay, expected rise in affordability of the technologies in the next few years would open up the landscape for these businesses, fueling the adoption of solutions offered by smart factory industry players.
Get a Sample Copy of this Report:@ https://www.gminsights.com/request-sample/detail/1436
The automotive industry is expected to emerge as a prominent growth avenue for the smart factory market over the forecast timeframe. In 2016, multinational automobile company Audi unveiled its Smart Factory 2035 vision in which it envisioned a facility without any assembly lines, instead deploying intelligent, flexible and modern production stations.
Last year, the company had already implemented the proposed vision to manufacture electric motors, wherein vehicle assembly takes place at a production station with automobile components being transported between stations by driverless systems that are controlled by smart IT control systems.
Through this production method, Audi estimates that the factory can produce approximately 400 electric drives with just 100 employees. Audi's initiative offers a proof of the benefits in establishing a smart factory. Several key industry players are expected to follow suit and make investments in their own visions regarding advanced manufacturing plants, significantly boosting smart factory market outlook.
The global food & beverage segment will certainly emerge as a major revenue contributor for smart factory industry due to consistent demand for packaged and frozen food products. A large global population base, that is estimated to hit 9 billion by 2050, tightening regulatory demands around food safety & quality and environmental concerns, as the food & beverage sector consumes 5% of the world's energy, are putting immense pressure on profit margins of producers.
Food and beverage product manufacturers are increasingly looking towards new ways to build flexibility into the inventory management and production process. Adoption of data integration, automation, analytics, energy sourcing and simulation could help companies in transforming their existing factories into intelligent manufacturing facilities to better handle these challenges without severely impacting company margins.
In terms of the regional spectrum, Europe is expected to retain its position as a lucrative market player over the projected period. In fact, Europe accounted for over $25 billion of the global smart factory market share in 2018. The region is home to a number of global automotive firms and according to the European Automobile Manufacturers Association, Europe automobile sector brings in over €90.3 billion in the form of trade surplus. Moreover, the industry is the biggest private investor for R&D in Europe, investing approximately €54 billion annually.
With growing adoption of automation technologies in the food & beverage and automotive sectors, smart factories will undoubtedly become a common trend among large and medium enterprises in the imminent future. Global Market Insights, Inc., has estimated that global smart factory market share will exceed $155 billion in annual remunerations by 2025.
Author Name : Akshay Kedari