SCARA
The potential for cyber-physical system to improve operational efficiency in manufacturing processes is humongous. Industrial robotics market proceeds, which has indeed been appreciable in recent years can be majorly credited to this fundamental aspect. It is further imperative to mention that as automation technologies such as robotics, machine learning occupy an increasingly demanding role in industries, their impact on the workplace in terms of safety security, asset tracking, and supply chain has become a point of focus for the research fraternity. In this regard, with the concept of Industry 4.0 (fourth Industrial Revolution) being already set in motion and the influx of technological advancements focusing on maximizing the operational throughput, industrial robotics market demand is bound to witness a marked rise over the ensuing years. According to a recent published report by International Federation Robotics(IFR), globally almost more than 1.4 million industrial robots would be deployed into factories by 2019. As claimed by experts, if the forecast figure of 1.4 million deployment is touched by next year, it would be around 1 million more than that of the record-breaking year of 2015. The aforementioned statistics is quite indicative of the exponential growth curve ahead for industrial robotics market.
China Industrial Robotics Market, By Product, 2016 & 2024 (USD Million)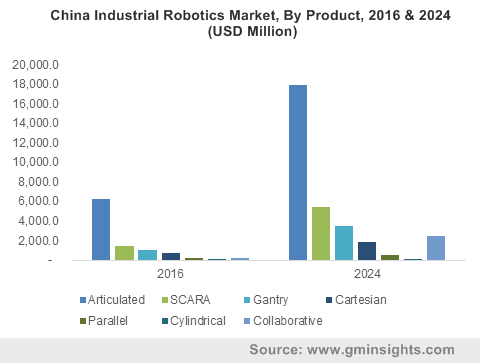 Amidst the dynamically charged intense share battle, Europe currently witnesses a percentage of authority over the regional landscape. Statistics claim 65% of total number of countries deploying more than average number of industrial robots per 10,000 employees belongs to the European Union. The major factor that has augmented Europe industrial robotics market is the region's persistent investment in robotics projects over the past few years. In the year 2016, the European Union made it to the front page with its co-funding on 17 new robotics projects under Horizon 2020 Framework in a bid to proliferate research and innovation. Reportedly, 16 of these projects stems from robotics work programme, which implement strategy brainstormed by SPARC, the Public-Private Partnership for Robotics in Europe.  Considering these aforementioned axioms, Europe is claimed to procure a major stance in the global industrial robotics industry share landscape, with Germany at the forefront.
Another belt that is emerging to be the next investment hotbed for industrial robotics market is Asia Pacific. The rapid pace of advancements in the regional market can be majorly attributed to governments' encouraging initiatives toward promoting the adoption of industrial robots. The South Korean Government, for instance, has recently declared its plan of making a significant investment in upgrading the existing robotics and automation systems, in a bid to help the regional automation market to record USD 6 billion by 2022. The Government of Japan has also funded and strategized several plans that prompts Japan based SMEs to incorporate advance manufacturing capabilities in their business model. Citing an example demonstrating the positive influence of these initiatives is Fanuc plant in Japan, which employs only four manual workers per shift to supervise the industrial robots for the entire operation of the plant. For the records, China and India, are also claimed to contribute significantly toward APAC industrial robotics industry share.
Get a Sample Copy of this Report@ https://www.gminsights.com/request-sample/detail/1729
Industrial robotics industry is indeed on its way to way to witness remarkable escalation over the coming years, given the ongoing efforts by the market giants as well as regulatory bodies to unlock the maximum potentialities of automation across manufacturing domain. Yet another factor that has played its cards in proliferating the business outlook is the increasing capital investment in employing manual labors and the related inconvenience associated with it.  Average industrial robot price cost, on the other hand, has witnessed a downturn, with increasing production.
In this regard, one of the trends that remains to be seen in industrial robotics industry is the demand-price relationship for these robots, particularly in the emerging economies. All in all, the profitability scope seems humongous for the industrial robotics market in the coming years, with a target global share of USD 80 billion by 2024.
Author Name : Satarupa De
Having garnered the reputation of being highly technology-driven, automotive robotics industry thrives on the product innovations brought forth by leading business players. A recent instance citing the validity of the aforementioned declaration is Rimac's collaboration with Dassault Systèmes. Elaborating further, the September of 2017 saw Rimac Automobili, a key manufacturer of high performance electric vehicles, battery systems, and drivetrains, join forces with Dassault Systèmes, a software firm based in France, to acquire the product lifecycle management digital platform from the latter to scale up its business growth. The latter's 3D experience platform referred as electro mobility accelerator will help the former increase its production capacity and connect with its employees across 11 countries. This deal is an apt example that underscores the developments prevalent in automotive robotics industry. The continued trend of similar alliances are likely to encourage entrants explore newer markets – the autonomous car sharing market , for instance.
U.S. Automotive Robotics Market Size, By Product, 2013 – 2024 (USD Million)

Pertaining to the stiff competition prevalent in the automotive robotics market space, companies have been devising a number of business tactics to consolidate their position. In September 2017, for example, Avnet Incorporation, a major participant across information technology and services industry, acquired Dragon innovation, a major producer of consumer electronics products. The acquisition is expected to assist both the firms add to their existing product line and expand their presence in automotive robotics market.
The month of September has also witnessed Technion – an Israeli tech institute, Korean Advanced Institute of Science and Technology, and Hyundai Motor Group forming an alliance to jointly complete the projects on artificial intelligence, autonomous driving, and cyber security. The collaboration has been touted to help the emerging automotive firms and startups in Israel to launch their products with Hyundai's vehicle product line. Vice-versa, the initiative is expected to aid Hyundai Motors establish itself as a leader in automotive robotics market, having experimented with next generation of automotive technologies equipped with artificial intelligence and robotics. The alliance signifies a paradigm shift toward the fourth industrial revolution and new vehicle technology, thereby pushing automotive robotics industry trends.
Get a Sample Copy of this Report@ https://www.gminsights.com/request-sample/detail/210
Robotics has established itself as a principal technology across major end-use domains in the developed geographies such as UK, Germany, and Italy. The surging requirement to achieve time consistency and a higher level of production has led to escalating demand for robotic body assemblies in the country. The deployment of these assemblies to improve the proficiency of the supply chain activities across the automotive sector is likely to impel UK automotive robotics industry expansion.
Germany has a powerful base of automakers, on the grounds of which it has been forecast that robotic applications would be deployed heavily across the automotive sector in the region. Subject to the extensive implementation of robotics, Germany automotive robotics industry is likely to gain a strong ground in the ensuing years. The expansion of this business space across Germany, UK, and Italy is certain to boost Europe automotive robotics market, which contributed nearly 25% toward the overall industry share in 2016.
As per estimates, the demand for robots from vehicle component suppliers increased by 53% in 2016, and that from automotive original equipment manufacturers rose by 32% in the same year. This goes to prove that automotive robotics industry has bright prospects across North America. In fact, research reports claim that North America automotive robotics market is expected to witness a lucrative growth over the coming years, having held a valuation of USD 1 billion in 2016.
A currently compiled market study claims that automotive robotics industry revenue is anticipated to surpass USD 5.96 billion by 2024. Considering the notable contributions made by the automotive giants such as Rockwell Automation, Omron Corporation, The Yaskawa Electric Corporation, and ABB Group, it is no longer a supposition that automotive robotics market will indeed experience a commendable expansion in the years ahead.
Author Name : Dhananjay Punekar