Secondary Alkane Sulfonate
With global soaps and detergents industry experiencing a stable growth, secondary alkane sulfonate (SAS) market is forecast to chalk substantial gains in the coming seven years, subject to the chemicals' extensive utilization in soaps and detergents business sphere. The surging demand can be credited to the products' improved functionalities pertaining to water solubility, foaming characteristics, low additive solvency, and excellent wetting action. Increasing detergent demand across diversified platforms-textile, paper & pulp, hospitality, and laundry services is in way widening the growth opportunities for SAS market. Not only external domains, the demand is also witnessing a surge from domestic sector as well. Global household detergents market demand which is rising high is anticipated to play a pivotal role in secondary alkane sulfonate market growth path.
U.S. SAS Market Size, By Application, 2013 – 2024 (USD Million)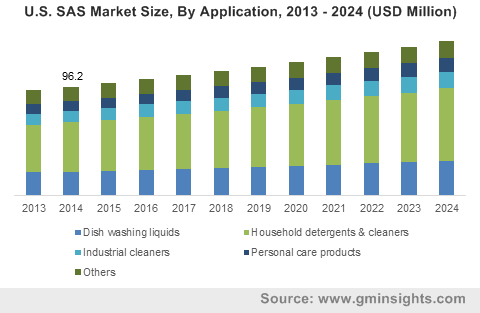 Asia Pacific has proved to be a strong contender in the overall Secondary Alkane Sulfonate Market space. Covering almost 40% of the overall industry share, APAC secondary alkane sulfonate market dominated the global business landscape in 2016. Comprising some of the most developing countries like India and China where consumers spending capacity and living standards are on a growing path, household detergents and personal care products observes increasing sales in these regions. This the prime ground that impels the regional SAS market.  In addition to this, supportive initiations by the governments to expand the SAS manufacturing business will further complement the industry outlook.
Get a Sample Copy of this Report@ https://www.gminsights.com/request-sample/detail/1516
Over the years, food and beverage sector has been turning out to be a significant avenue influencing the overall industry share.  With growing emphasis on hygiene and cleanliness, food and beverage industry has undergone a paradigm shift in the business model, leaving a subsequent impact on secondary alkane sulfonate market.  This is due to the fact that SAS is extensively used in dish washing liquids across F&B sector.  Along with this, several mandatory norms enforced by FDA regarding hygiene maintenance in food processing will open up new growth opportunities for secondary alkane sulfonate market.
Secondary alkane sulfonate market from industrial cleaners will also record an upswing in the coming years, with a projected CAGR of 4% over 2016-2024. With the globe treading on the path of rapid industrialization, industrial cleaners demand has observed a notable rise. Industry giants have been utilizing these cleaners to remove tints caused by oil and grease.
Personal care sector is also an important ground in the overall secondary alkane sulfonate market's application spectrum. With a significant economic development, living standards of the consumers has also enhanced, the driving factor influencing the market augmentation from this domain. Some of its superb characteristics like emulsifying, foaming, and moisturizing nature have resulted in its extensive deployment in cosmetic products such as shampoos, shaving creams, soaps etc.  As per estimates, global cosmetic industry collected a massive revenue of USD 220 billion in 2016, which parallelly have left an impact on SAS market as well.
Despite the potential threat associated with the product regarding environmental degradation and human health, SAS market is anticipated to exceed a revenue of USD 1.3 billion by 2024, with 5% CAGR over 2016-2024. Several manufacturers are also venturing into innovative products development that are environmentally viable. Some of the prominent SAS industry participants include Acar Chemicals, The WeylChem Group, Rajvin Chemicals Pvt Ltd, BIG SUN Chemical Corporation, and Clariant Corporation.
Author Name : Satarupa De