Security
Stakeholders envisage facilities management market share to proliferate at a robust pace in the wake of unprecedented surge in smart city projects. Smart cities—integrated, powered and enabled by digital technologies—have propelled commercial spaces, transportation sector, namely. In recent years, awareness of facilities management has heightened owing to expanding tourism and hospitality industries.
Palpable surge in investments in construction and real estate is expected to underscore robust-looking facilities management market size. For instance, the Canadian government issued an additional funding of US$ 81.2 bn in 2017 across five main funding streams, including green infrastructure; public transit; social infrastructure; trade & transportation projects and meeting the 'unique' needs of rural and northern communities. Apparently, the unique needs include facilities to underpin food security, improved broadband connectivity and local access roads.
The Investing in Canada plan propounded in Budget 2016 and expanded on in Budget 2017, aims to build advanced economic cities. With burgeoning construction projects, demand for various services, including maintenance, construction, electric, operation and mechanical work has soared in recent times.
Get a Sample Copy of this Report:@ https://www.gminsights.com/request-sample/detail/4403
Facilities management market size is projected to surpass US$ 2 trillion by 2025, according to the latest research report by Global Market Insights, Inc.
Despite companies in the late 2000s focused on insourcing, of late there has been notable surge in outsourcing consumption. Companies tend to streamline their operations by embracing outsourcing that reduces business risks, expands profitability, grows competitiveness, enhances productivity and lets companies focus on their major business and competitive advantage.
As such, the outsourced services segment is slated to expand profoundly during the forecast period. That said, seemingly tepid adoption of outsourced FM services may dent the growth of the industry. Meanwhile, given that outsourcing apparently enhances operational efficiency, the outsourced services will underscore facilities management market size.
Popularity of smart homes and offices, including HVAC systems, fire safety systems, elevators, mechanical equipment has augured well for hard services segment that is set to hold significant share during the forecast period. As such, potential dominance of hard service segment is slated to bolster facilities management market share by 2025.
North America facilities management market is anticipated to expand robustly against the backdrop of proliferating tourism industry. With huge revenue at stake, governments globally are vying to woo would-be travelers to their countries led by aggressive marketing and favorable policies.
According to International Trade Administration (ITA), the U.S. travel and tourism industry garnered an economic output of over US$ 1.6 trillion in 2017. The dramatic upsurge witnessed in the number of tourists has been instrumental in rendering facilities management services across shopping malls, airports, amusement parks, and large food centers.
Leading companies are grappling to secure a government deal for FM services to augment their profitability and expand facilities management market size. In Q1 2019, Madrid City Government inked a four-year contract worth 18.62 mn with the facility management company ACCIONA. Reportedly, the Madrid City picked ACCIONA to enhance energy efficiency in 400 municipal buildings, including sports centers, schools, social and cultural centers, among others.
Author Name : Sunil Jha
The revenue graph of blockchain in energy market is poised to depict exponential growth as the need to develop & deploy new efficient ways of generating & delivering electricity, under the Paris Agreement, intensifies. According to the International Finance Corporation, the Paris Agreement aimed to tackle climate change by generating energy through reliable, clean energy sources. However, countering climate change by completely overhauling the way energy is generated would require emerging markets to mobilize trillions of dollars through different sources.
Germany Blockchain in Energy Market Size, By Power Application, 2018 & 2025 (USD Million)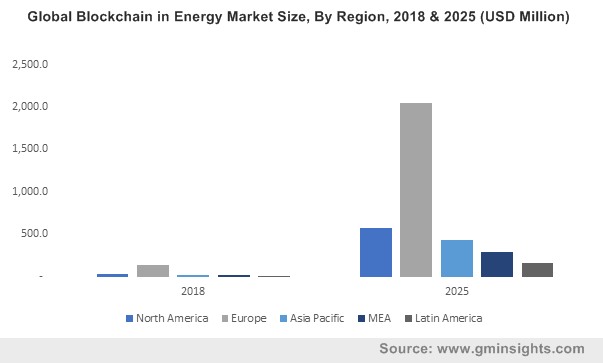 Moreover, the agreement also requires power generation to be more flexible, distributed and through resources that could be managed through bi-directional communication, allowing investors to easily evaluate & track the impact of their investments. To achieve this mammoth task, investors, policy makers & regulators are likely to utilize blockchain technology, combining it with the Internet of Things (IoT), smart devices and big data. In a nutshell, this requirement would majorly help augment the deployment of blockchain in energy industry.
The advancements in blockchain technology have made it a critical 'trustless' component in big data and smart IoT-based devices, making it capable of unlocking the new business models that are extremely necessary for the proposed transformation of the energy sector.
According to the World Energy Council, in 2017 a sum ranging between $100-300 million was invested in more than 100 blockchain applications related to the energy sector. Considering its key role in shaping an energy-efficient future, the implementation of blockchain in energy market is expected to increase extensively in the forthcoming years.
Get a Sample Copy of this Report @ https://www.gminsights.com/request-sample/detail/3223
Impact of blockchain technology on the renewable energy sector
The Challenge: One of the key demands put forward by the Paris Agreement was decentralization of the energy generation system. However, increasing installation of small renewable energy systems, such as rooftop solar, could exert a lot of stress on traditional electricity grids, which were specifically designed with large, centralized energy generation facilities in mind.
The Solution: The blockchain technology's ability to enable peer-to-peer energy transactions is expected to be a viable solution to this problem as it could effectively stabilize the grid by enabling peer-to-peer energy trading and by incentivizing local consumption during the time of production.
The Potential: According to the United Nations, several nations across the globe are rapidly boosting their share of wind power & solar photovoltaics. Indeed, renewable energy is slated to account for 40% of the world's energy production by 2040.
The blockchain in energy market is thus projected to accrue substantial gains in the years to come, propelled by the explosive growth of renewables sector.
Impact of blockchain technology on the conventional energy sector
While clean energy is gearing up to represent a majority of the world's energy production in the coming years, the sector would still require the support of the conventional energy industry to be able to meet consumer demands. Although it would be playing a supportive role, the conventional energy sector would still need to keep its carbon emissions in check. To adhere to the carbon emission rules, natural gas is becoming the fuel of choice.
The Drivers: According to the Union of Concerned Scientists, this paradigm shift to natural gas can be credited to the fact that it emits approximately 50% to 60% less CO2, when it is burned in a new & efficient natural gas power facility, compared to the emissions from a typical coal-fired plant.
The Numbers: According to the International Energy Agency, natural gas accounts for 22% of the energy utilized across the world and also makes up approximately a quarter of electricity generation. Moreover, natural gas is also projected to overtake coal as the world's second largest energy source by 2030.
The Potential: The oil & gas sector, in recent times, is transforming into a data-intensive industry. According to the Society of Petroleum Engineers, the industry is increasingly incorporating machine learning, artificial intelligence & IoT into its operations.
With such depicted levels of growth, the industry is also scaling up the adoption of blockchain technology, carrying its transformation a notch further. Not to mention, lesser overhead costs, lowered cash cycle times, and fewer cost intermediaries will also help propel the blockchain in energy industry from O&G applications.
Propelled by the expanding renewable and natural gas sectors, the blockchain in energy market is slated to record substantial growth in upcoming years. According to Global Market Insights, Inc., blockchain in energy market size is estimated to cross the $3 billion renumeration mark by 2025.
Author Name : Akshay Kedari
IoT in healthcare market has been forecast to witness remarkable growth prospect in the years ahead, subject to the robust enhancements in healthcare infrastructure. Digitization, having paved its way toward healthcare, has prompted numerous hospitals and regional governments to undertake initiatives to deploy IoT in the healthcare sector, owing to the rise in the requirement for mobility and communication in medical care. With the implementation of IoT facilities, healthcare service providers may be able to deal with the challenges related to consumer data sharing, since this technology is highly capable of dealing with patient data operations very efficiently. The emergence of the internet of things has significantly impacted the overall IoT in healthcare industry trends since the last few years. Statistically, in 2016, IoT in healthcare market held a revenue of more than USD 2 billion.
US IoT healthcare market, by application, 2016 & 2024 (USD Billion)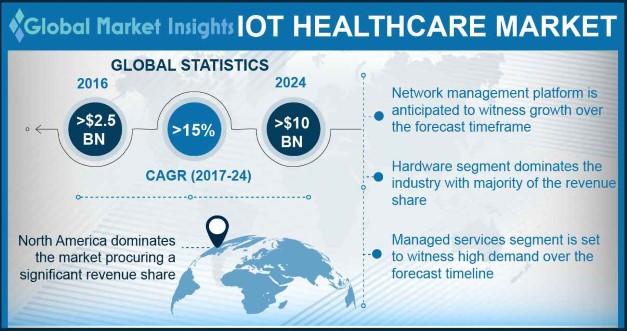 Nowadays, medical research institutes and healthcare product manufacturers have been joining hands to accelerate digitalization across the healthcare sector by deploying technologically advanced digital health products. For instance, Oxford University and National Institute for Health Research (NIH) have signed a five-year agreement with the London based giant in IoT in healthcare market, Drayson Technologies to build and commercialize digital healthcare tools. Through this research agreement, the Oxford Biomedical Research Center aims to deliver excellent benefits to patients from hospital to the comfort of their homes. For this research and development program, NIH has provided funding to Drayson Technologies, which also raised USD 53 million from several other funding agencies.
Get a Sample Copy of this Report:@  https://www.gminsights.com/request-sample/detail/2103
Recently, the integration of the internet of things with artificial intelligence (AI) has changed the outlook of healthcare institutions, having fortified medical care data maintenance with improved storage capability, robust connectivity, and high security. The well-known participants in IoT in healthcare market are also focusing on AI-based IoT healthcare facilities. For instance, IBM has recently developed an AI system for hospitals that will help to carry out tedious tasks much more efficiently and flawlessly than humans. In fact, IoT has helped bring about a paradigm shift in healthcare, subject to the introduction of smart devices that help provide and secure patient data. IoT also enables doctors to get in touch with patients staying in remote areas very easily through video conferencing, on account of which patients can eliminate the need for routine checkups. With numerous benefits under consideration, healthcare professionals are increasingly adopting IoT systems, which is certain to have a positive impact on IoT in healthcare industry.
The stand taken by regulatory bodies and regional governments have also influenced IoT in healthcare market outlook considerably. In fact, it has been observed that governments have been pressurizing healthcare centers to implement IoT, on the grounds of which numerous hospitals and clinics have deployed IoT technology to maximize patient comfort. In addition, many countries have commenced smart city programs incorporating healthcare IoT projects, which would also push IoT in healthcare market share. For instance, the Singapore government has collaborated with Intel and Dell to deploy the Internet of things for eldercare patient pilot project at the Saensuk Smart City. The large-scale deployment of smart city projects across several other countries will further stimulate IoT in healthcare industry size over the years ahead.
In the future, the integration of IoT in healthcare facilities is likely to increase the possibility of operating analytical tools and maintaining electronic health records. The growing renovation of established healthcare facility centers is another major factor that will push IoT in healthcare industry size, slated to cross USD 10 billion by 2024.
Author Name : Sunil Hebbalkar
Since its conception, IoT has been impacting numerous businesses in unprecedented ways than expected. IoT infrastructure market, one of contemporary niche verticals of the building construction and infrastructure development sphere, now holds the reputation of being encompassed among the many IoT influenced business spheres. The proliferation of the Internet of things in infrastructure development has led to the procreation of smart homes and cities, touted as a revolutionary phenomenon of the 21st century. With the rising demand for connectivity to enable smart security, social surveillance, smart transportation, energy safety, smart metering, and efficient governance for enhancing consumer lifestyle, IoT infrastructure industry is likely to garner much acclaim in the ensuing years. Estimates compiled in a recent IoT infrastructure market research report forecast this business space to have accumulated a valuation of close to USD 15 billion in 2016.
U.S. IoT infrastructure market, by application, 2016 & 2024 (USD Billion)
A succinct overview of IoT infrastructure market in terms of the application spectrum
IoT infrastructure industry outlook from smart homes
The proliferation of IoT in the home sector has brought about a barrage of changes in consumer standard of living. IoT-enabled homes offer some of the best advantages that can transform a person's lifestyle across the urban space. Smart devices such as the Nest thermostat, Amazon Echo, smart fridges, Google Home, Wink Relay and Controller, etc., have been popularized across IoT infrastructure market and liberally deployed in smart homes, subject to their incredible benefits such as controlled energy consumption, automated notifications, weather alerts, etc. Fiercely vying with one another to consolidate their positions in IoT infrastructure industry, tech companies have been going the whole hog to introduce highly advanced connected devices for smart homes.
IoT infrastructure market outlook from smart buildings
The deployment of big data and IoT in smart buildings helps deliver actionable insights to improve consumer living comfort, optimize building operations, and reduce energy expenditure. The robust rise in the number of connected devices being installed in smart buildings bears evidence to the fact that IoT infrastructure industry share from smart buildings is likely to plummet in the years ahead. Companies have been planning strategies to brainstorm numerous connected devices for exploiting the potential of IoT in buildings. Recently for instance, Kone signed on a multi-year deal with IBM, with an aim to maneuver the IBM IoT Cloud Platform for connecting, monitoring, and optimizing building components such as doors, elevators, turnstiles, and escalators.
IoT infrastructure market outlook from smart cities
A recently compiled report depicts that close to 60% U.S. citizens prefer living in smart cities, given their incredible advantages. The rising proliferation of smart cities is evident from the incredible proportion of smart city projects that are being undertaken across myriad geographies – which may have a mammoth impact on the revenue graph of IoT infrastructure industry. The numerous advantages provided by smart cities with regards to planning, finance, energy safety, transportation, and other urban aspects have accelerated their demand and popularity across IoT infrastructure market. In consequence, tech behemoths have been signing public-private partnerships, that would lead to the generation of layered framework to address the many challenges of smart city projects by building effective, connected solutions.
The Internet of Things, conceived back in the 1980s at the Carnegie Mellon University, has now metamorphosed into a prodigy that defines efficiency, sustainability, and convenience. The deployment of this concept in infrastructure is likely to open up a plethora of opportunities for construction companies, real estate developers, technology behemoths, and infrastructure development firms, that would strive to brainstorm numerous solutions for connected infrastructure, augmenting IoT infrastructure industry trends. An IoT related report by a research firm claims close to 1.40 billion IoT units to be shipped ahead for smart city projects by 2020, for smart homes, smart buildings, smart transportation, sustainability and climate change. This provides ample evidence to the fact that IoT infrastructure market is here to stay, boasting of a widespread array of technologies, platforms, and applications. A report compiled by Global Market Insights, Inc., claims IoT infrastructure market size to surpass a valuation of more than USD 130 billion by 2024 – which is apparently close to 8.5 times its value in 2016.
Author Name : Saipriya Iyer
The last half a decade has remarkably witnessed the Internet of Things penetrating the utilities domain, effectively commercializing IoT utilities market, a realm which is of late, being characterized by intense competition among tech behemoths. Having earned the tag of being one of most dynamically transformative technologies brainstormed in recent times, IoT has successfully been exploited to a massive extent in the utilities sector. The deployment of this technology has helped utility companies monitor real time power consumption by effectively promoting connectivity, operational efficacy, & communication between smart meters, edge equipment, and sensors. Furthermore, IoT has necessitated the conception of contemporary business models in the utility sector, the mass acceptance of which has been forecast to have a profound impact on the overall IoT utilities industry size, pegged at a valuation of USD 4 billion in 2016.
UK IoT utilities market, by application, 2016 & 2024 (USD Million)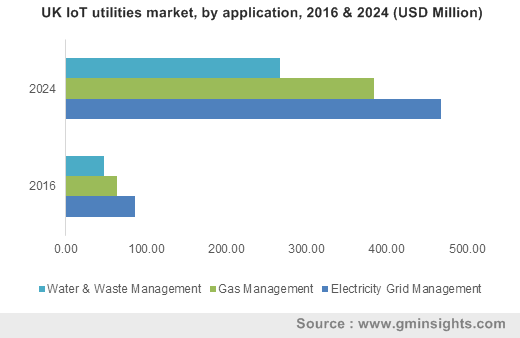 IoT applications assist utilities in interpreting the power consumption patterns and problem recognition, facilitating the effective allocation of resources. The evolution of IoT has made it viable for smart meters to connect with consumer electrical equipment through wireless connections and provide them with real time information about power consumption. On these grounds, over the last few years, the deployment of smart meters has gained intense popularity across the utility sector. The concept of smart cities has further helped promote the application of IoT devices across the construction sector, for the reason that IoT helps upgrade building and smart energy grid connectivity, which would eventually augment the profitability landscape of IoT utilities market. Leading technocrats predict that utility firms would exploit IoT extensively in the ensuing years to reduce power consumption across the oil & gas, water, transportation, and electric sectors. For instance, the ability of the smart sensors to check the quality, pressure, temperature, and consumption of water has led to smart water management gaining renewed traction lately. A leading industry report predicts that utility firms are forecast to reduce their expenditure by nearly USD 157 billion by 2035 through smart meter applications, thereby stimulating IoT utilities market trends in the years ahead.
Get a Sample Copy of this Report @ https://www.gminsights.com/request-sample/detail/2099
One of the most profitable avenues for the expansion of IoT utilities industry is the United States. Mass awareness regarding the benefits of IoT technology in sync with the presence of oil & gas production units across the country demanding the deployment of connected solutions are expected to drive U.S. IoT utilities market share. Across the APAC zone however, the escalating need for smart meters coupled with the development of smart cities & construction activities in China and India will help transform the regional IoT utilities market outlook. Furthermore, the huge presence of numerous power generating units and high government funding for the power sector will also provide a boost to the Asia Pacific IoT utilities industry trends.
The competitive spectrum of IoT utilities market comprises the big shots such as Cisco Systems, Huawei Technologies Company Limited, Intel Corporation, and Honeywell International Incorporation, striving to bring about up-to-the-minute technological advancements that would have a commendable impact on the revenue of this business space. In the years to come, IoT utilities market is likely to have firmly established itself amidst the realm of IoT influenced business spheres. Aided by extensive R&D investments, IoT utilities industry will, in all probability, carve out a profitable growth path over the forthcoming seven years, with a target valuation of USD 15 billion by 2024.
Author Name : Dhananjay Punekar
The deployment of IoT in retail market has indeed given rise to a more convenient, smart, and tremendously efficient experience for retailers and consumers. With connected solutions transforming the retail sphere, companies offering IoT and retail solutions have been partnering to provide an all-round, reliable, connected experience to global retail consumers. Demonstrating an instance of this fact, Fujitsu has scarcely collaborated with Arkessa to deploy connected retail and IoT solutions to customers. Through this partnership, Arkessa, a global M2M managed services provider specializing in easing IoT connectivity, plans to enable its ICT solutions for retail, thereby helping Fujitsu's retailers deliver a first-class consumer experience. The partnership is one of the many alliances that underlines the extensive developments prevalent in IoT in retail market, which, as per analysts, generated a valuation of close to USD 9 billion in 2016.
IoT in retail market, by application, 2016 & 2024 (USD Billion)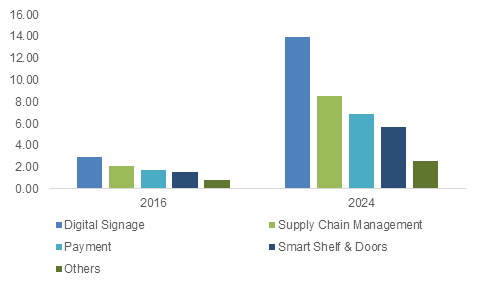 As per a recent research study, the Internet of Things is one of the most paramount trends emerging in the retail space. The scope of IoT in retail industry travels beyond the frontiers of modest customer satisfaction and retailer convenience, as it provides consumers with high-grade browsing service, digitized real-time coupons & offers, and an overall, sophisticated, connected shopping experience. Additionally, retailers are rewarded with smart store operations, smart pricing strategies, and smart inventory management, which enables further deployment of smart solutions in store, thereby fueling IoT in retail market share.
Get a Sample Copy of this Report@ https://www.gminsights.com/request-sample/detail/1591
An insight into some of the most innovative developments witnessed by IoT in retail industry in 2017:
In the middle of September 2017, an LA-based IoT technology provider, Mojix, announced a merger with CXignited, a European IoT firm, with an intent to create a global connected solution providing platform that would help retailers and brand owners boost their consumer experiences and automate their inventory management procedures. The joint entity is slated to be operating under the individual brand names, and is certain to have a considerable impact on IoT in retail market share.
Merely a few days post the Mojix-CXignited JV was announced, the renowned France-based fashion retail giant, Kiabi, declared the onset of a technology alliance with one of the world's most trusted and reliable IoT device management solution providers, Soti. Kiabi's intent behind the supposed runway ready collaboration was to exploit Soti's integrated mobility platform for its stock transfers, delivery processing, and inventory control. The retailer's alliance with Soti is remnant of how robustly IoT in retail industry has been making rapid inroads onto the path of success.
The onset of October witnessed IBM's cognitive AI platform, Watson, helping Indian retailers to decode consumer behavior and reach out to the most appropriate target audience. IBM thus, directs Watson to analyze data collected via IoT sensors, and collect insights for forecasting and upgrading the performance of machines and components to deliver tailor-made solutions to clients. IBM's move to exploit IoT for the Indian retail space is one of the most dynamic instances depicting the vast expanse of IoT in retail market.
Accurately defined as one of the top retail technology trends to look out for, the Internet of Things has been drastically disrupting the traditional retail business model, which has had a commendable impact on IoT in retail industry. Traditional retailers, in a bid to attract consumers and consolidate their stance, would have to live up to numerous challenges, in response to which they would need to keep abreast of the latest technologies influencing the retail sphere. This would subsequently have a massive impact on IoT in retail market outlook, given that retailers would desperately sign up to exploit connected solutions for their brick-and-mortar stores. In effect, retailers have been looking forward to outwitting their rivals when it comes to offering the choicest, most unique, comfortable, and tech-savvy retail experience for customers, which would single them out in IoT in retail market. Analyzing the depth to which IoT is being leveraged by retailers, it can be aptly presumed that IoT in retail industry would traverse a rather successful path over the forthcoming seven years.
Author Name : Saipriya Iyer
The scope for IoT in manufacturing market has been on a tremendous high lately, owing to the massive deployment of IoT devices in numerous manufacturing operations for enhancing industrial productivity and working efficiency. The ongoing developments across numerous industry verticals stand testimony to the aforementioned fact. Recently, the Japan based conglomerate Hitachi, and the automotive giant Toyota inked a partnership to develop a high-efficiency production model using an IoT platform. The partnership intends to exploit Hitachi's Lumada technology and artificial intelligence across all the manufacturing operations. Incorporating big data with AI has been touted to improve the quality and production efficiency of manufacturing companies, pertaining to the capability of IoT devices to provide real time information and feedback. In recent years, the advent of advanced digitalization and the prevalence of diversified customer requirements have changed the mindset of manufacturers toward the adoption of advanced technologies. In a bid to fulfill the growing demand for consumer products, manufacturers have been attempting to upgrade their production efficiency several notches higher, through automation and the internet of things, which would have a favorable impact on IoT in manufacturing industry share. Statistics, as a matter of fact, claim that in 2016, worldwide IoT in manufacturing market collected a revenue of USD 20 billion.
India IoT in manufacturing market, by application, 2016 & 2024 (USD Million)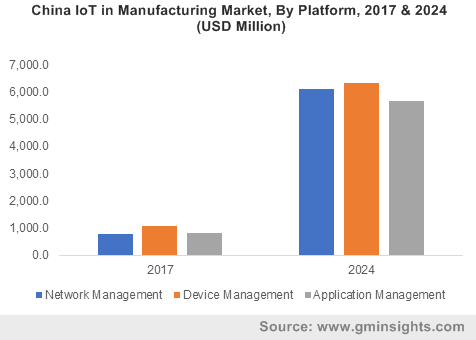 With an aim to comply with the critical advancements in the technology cosmos, IoT in manufacturing industry players have been developing novel products incorporated with IoT sensors for various sectors such as the automotive, consumer goods, chemical, and electronics. Acknowledging the numerous benefits of the Internet of things, several key players in IoT in manufacturing market have been attempting to brainstorm products that would have an appreciable influence on the overall business landscape in the ensuing years. Some of the renowned firms striving to augment the profitability landscape of IoT in manufacturing industry are Microsoft Corporation, Zebra Technologies, Rockwell Automation, PTC Inc., IBM Corporation, Huawei Technologies, Bosch, Siemens AG, Intel Corporation, Schneider Electric, and Cisco Systems.
Get a Sample Copy of this Report@ https://www.gminsights.com/request-sample/detail/2098
Currently, many manufacturers have already deployed IoT systems in their workflow to increase their functionality via predictive maintenance, track assets in their factories, and combine their control rooms. The shifting focus of manufacturing behemoths toward the deployment of more advanced technologies such as augmented reality (AR) and robotics is slated to fuel IoT in manufacturing industry size. The digital transformation in the manufacturing sector has been forecast to generate new opportunities for various end-use industries such as automotive, electronics, consumer goods, etc., subject to the intensive networking customers through IoT.
In the United States, growing consciousness regarding the benefits of IoT among manufacturers has generated considerable demand for IoT solutions. With the adoption of internet-connected devices, manufacturers across U.S. have been rather successful in increasing their output by cutting the overall production cost drastically, pertaining to the capability of IoT solutions to analyze complex manufacturing processes within a shorter duration. An IoT implemented manufacturing process essentially allows companies to maintain a high level of connectivity in manufacturing operations by minimizing the error and operational time, which will stimulate IoT in manufacturing market size.
Considering the benefits of IoT, many manufacturing giants have been collaborating with internet companies, as is witnessed across IoT in manufacturing market in recent times. For instance, National Instruments Alliance partner Averna has announced a partnership with PTC to expand its reach from testing to manufacturing via IoT. Many other companies have also been increasingly adopting connectivity technologies such as WiFi, M2M, and industrial networks to link plant automation assets such as RFID and robots to end user applications like PLM, ERP, and MES for more precision, which would undeniably have a major impact on IoT in manufacturing market share. This is quite evident from the estimates – IoT in manufacturing industry size has been forecast to cross a valuation of close to USD 150 billion by 2024.
Author Name : Sunil Hebbalkar
Given the increasing number of terrorist & anti-social activities across the globe, it is no surprise that X-ray security screening system market has been gathering rapid momentum in recent years. Legal authorities no longer consider it safe to permit luggage or cargo remain unchecked through transit areas or highly populated commercial spaces like malls or movie theaters, as terrorist attacks have time and again demonstrated that arms can be easily transported across vulnerable points. On these grounds, X-ray security screening system industry is gaining massive popularity, as contraband items like drugs, weapons, and astonishingly, even humans are being illegally transported across borders, which undeniably requires to be halted in order to ensure safety and protection across the country.
China x-ray security screening system market size, by end-use, 2016 & 2024 (USD Million)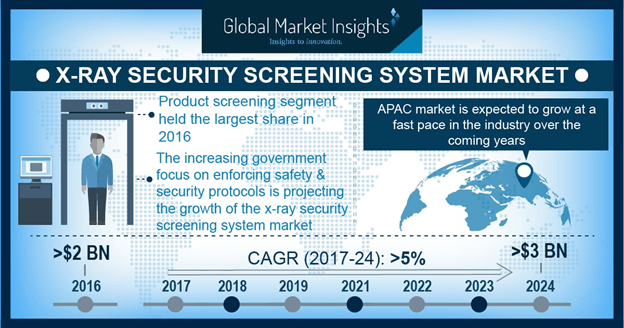 Post the 9/11 attacks in the US, legal authorities have come to recognize terrorist attacks in a new light, that has led to the revamping of transit security to unprecedented levels, impelling X-ray security screening system market share. With the reinforcement of security conditions, especially at vulnerable areas such as airports, X-ray security screening system market size has indeed depicted a major rise. To ensure that products such as knives, explosives, guns, scissors, ropes, etc., (effectively banned from being carried on airplanes), are not actually crossing the safety borders, novel technology is being developed for scanning luggage in the most effective manner to easily detect these objects in bags and suitcases, thereby providing an impetus to X-ray security screening system industry players. The advancements across X-ray security screening system market has had a profound impact on global airport security industry as well, considering that airports seem to be the soft targets for terrorist attacks.
It is imperative to note that organic and inorganic substances are facilitated to be detected separately in X-ray security screening systems, as most explosives are organic. On the other hand, X-ray images of such contraband objects can clearly point them out to airport security staff who can then take necessary steps to assure the security of other passengers. Many airports are also employing full body X-ray scanning of passengers to detect weapons or banned objects being carried on the person, thus adding another growth dimension to X-ray security screening system market.
Get a Sample Copy of this Report:@ https://www.gminsights.com/request-sample/detail/505
It has been observed that security measures have also been strengthened in malls, places of worship, museums, movie theatres, and other places that attract a large number of people together in enclosed spaces, given that terrorists often use civilian crowds as soft targets. On these grounds, it is imperative to state that X-ray security screening system industry has received a significant boost from myriad public places that have consolidated their security systems, especially at the entryways, where baggage is scrutinized under X-rays to identify harmful and illegal objects.
Security threats are indeed prevalent across the globe, however, since international trade activities cannot be hampered due to the same, X-ray security checks are being heavily reinforced to scrutinize cargos and other goods for the protection of human lives and property. Thus, X-ray security screening system market share is projected to witness commendable growth with government and security authorities identifying locations that pose major security risks and subsequently deploying of X-ray systems to safeguard these locations against human trafficking, drugs and weapons transport, and other illegal activities.
Despite the best of efforts undertaken by security personnel and modern technologies, security systems have often failed to detect bombs and other weapons – an observation that is potentially encouraging X-ray security screening system industry players to concentrate on research and development programs that will make security checks even more detailed and precise. X-ray security screening system market firms have also been focusing on enhancing the functionality of X-ray security screening systems to reduce detection time, helping passengers to avoid the hassle of transit security checks. In essence, subject to the protection and convenience offered by X-ray scans and the robust demand for national security, X-ray security screening system market outlook is likely to witness a major transformation over 2017-2024.
Author Name : Paroma Bhattacharya