Seed Treatment
Biopesticides market is poised to witness significant gains with the escalating demand for healthy crop generation. The industry has been evolving at a rapid pace, which is quite evident from the growing consumer preferences for organic food and demand for eco-friendly crop protection pesticides. Another prominent driver influencing global biopesticides market growth is the declining availability of arable land. This has encouraged the farming sector to use more eco-friendly pesticides over chemicals, as the carbamate, organophosphorus, and halogenate present in chemical pesticides can lead to land and water contamination. In addition, the enforcement of strong policies against the use of synthetic pesticides has also widened the acceptance of biopesticides and given a positive push to biopesticides industry share. As per a report by Global Market Insights, Inc., global biopesticides market size stood at USD 1.8 billion in 2016 and is projected to surpass a revenue generation of over USD 2.5 billion by 2024.
Accounting for more than 35% of the global industry share, North America biopesticides market is set to witness profitable growth prospects over the coming seven years. Strict norms and regulations toward food safety and higher demand for organic food has contributed to the regional market expansion. U.S. is one of the leading countries involved in fortifying the regional biopesticides industry share, having generated a revenue of USD 550 million in 2016.
India Biopesticides Market Size, By Product, 2016 & 2024 (Tons)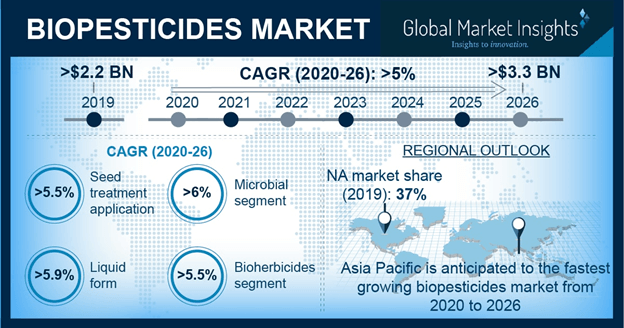 Several countries are adopting stringent approaches, when it comes to using synthetic pesticides. Regional governments have been laying a ban on several toxic pesticides which are harmful for consumers and the environment as well. To promote the consumption of bio-based products over synthetic counterparts many European countries have initiated national programs. One such initiative called "Ecophyto 2018" was commenced by France with an aim to reduce the use of synthetic pesticides to 50% by 2018. Another country following the trail is Denmark, which initiated the scheme called "Green Growth". This scheme apparently offers financial help to develop eco-friendly alternatives for plant protection, which can help in cutting down the use of chemical pesticides.
Get a Sample Copy of this Report@ https://www.gminsights.com/request-sample/detail/1340

The research and development activities with regards to biopesticides are steadily improving, thereby contributing toward the development of effective products. Speaking of which, bioinsectides, biofungicides, and bioherbicides are the three main product categories within the biopesticides market. These products are becoming increasingly popular among the farmers as they promote sustainable agriculture. Bioinsectides contain living bacteria that cause stomach poison among the insects and thus raze them off the crops. Continuous climate changes have led to a high demand for bioinsectides, owing to which biopesticides market share from bioinsecticides is projected to grow at an annual rate of 6% over 2017-2024.
Microbial sources of biopesticides is gaining considerable traction as they are safe to use in all the stages of plant growth and are non-toxic. On that note, fungi, viruses, bacteria, yeast, and protozoa are the various microbial sources which are used in biopesticides.
Biopesticides come in both liquid and dry formulations. The liquid formulation is estimated to be the fastest growing market at a rate of 6.2% over 2017-2024, owing to the products' increased shelf life and ease of storage.
Fruits & vegetables, in 2016, was one of the prominent segments, contributing to 70% of the overall biopesticides industry revenue. Owing to consumers demanding better crop safety, biopesticides are heavily used in organic farming. Moreover, consumers today also demand pesticide-free fruits and vegetables to avoid any food contamination and food related disorders, which will spur biopesticides industry growth from fruits & vegetables. Furthermore, the non-toxic nature and high crop yield properties of bio-controlled pesticides have generated a bigger market for the seed treatment application, which generated a valuation of over USD 130 million in 2016. Foliar spray is another application segment expected to boost biopesticides industry growth. This segment contributed to more than 75% of industry share in 2016 and is anticipated to exhibit a lucrative growth path.
The rising population and the resultant rise in food demand has made crop protection a multi-billion-dollar industry.  However, biopesticides market is at a very nascent stage strongly competing with the well-established synthetic pesticides companies. Key industry participants within biopesticides industry include ADAMA Agricultural Solutions, DuPont, Syngenta, Dow Chemical, Koppert, Valent BioSciences Corporation, BASF, Nufarm Limited, Valent BioSciences Corporation, Bioworkers Inc., Bayer Cropscience Limited, and Futureco Bioscience.
Author Name : Ojaswita Kutepatil
It is predicted that biofertilizers Market share will touch USD 1.66 billion till 2022 which is rising at a Compound Annual Growth Rate (CAGR) of 13.2% during the years from 2015 to 2022. This exponential growth of market is because of customers' awareness towards fitness and wellness, bad effect of inorganic material and the rise in price of chemicals. There is a boom of organic food as its farming is popular in more than 160 countries across the world. In 2014, market of organic food reached USD 88.06 million and its growth is projected to touch USD 304.99 million till 2022, and its CAGR will remain 17.3% between years 2015 to 2022.
View a summary of the "Biofertilizers Market Size, Industry Analysis Report" @ https://www.gminsights.com/industry-analysis/biofertilizers-market
Chemical fertilizers are widely used for increasing the productivity of plants, but they are responsible for pollution of underground water; these fertilizers also get stored in plants which becomes hazardous. These adverse effects of chemicals have enhanced biofertilizers market trends because of their eco-friendly nature. Nitrogen fixing biofertilizers are gaining huge publicity in the market and have noticed 75% of share in revenue in the year 2014. Increasing demand of nitrogen fixation for consuming nutritious compounds like nucleic acid, chlorophylls will give a significant boost to this industry. Apart from this, these fertilizers reduce dependency on the products of petroleum and minimize emission of carbon in the environment, thereby giving one more reason to use them.
Phosphate solubilizers are the second highest product and are anticipated to grow at the rate of 13% till 2022. Bacillus, pseudomonas along with aspergillums is commonly used bacteria which cater phosphorus to plants. With the adoption of organic nutrients, demand of phosphorus solubilizers is going to increase in near future.
It is the global reach of biofertilizers which has made North America a foremost region contributing around 30% of the overall share in 2014. Positive attitude of U.S. and Canada towards organic materials in agriculture has given an upsurge to North America. Countries like India and China are predicted to enjoy a decent CAGR of 13.5% till 2022. Agricultural growth in India, Pakistan, Indonesia, and China along with Malaysia is likely to include latest technologies for fuelling up the demand of these organic products.
Get a Free Sample Copy of this Report @  https://www.gminsights.com/request-sample/detail/112
Talking about the companies dealing with these products, Novozymes A/S along with CBF China Biofertilizers AG are the top leading firms delivering their materials to Europe as well as North America. Companies working with these products take help from resellers, contractors and distributors for exporting them, but there are firms who follow an integrated process thereby working with own resellers and distributors.
Author Name : Dhananjay Punekar