Semi-Autonomous
The global automotive LiDAR market – a rapidly growing vertical of the automotive sector, has been strongly consolidating its stance in its parent industry since the last half a decade or so. This business space, valued at over $150 million in 2017, has been depicting commendable growth particularly on account of the fact that sensor technology has become the primary methodology for many automatic and semi-automatic vehicles to sense their surroundings. Back in the day, LiDAR was majorly used in aerospace, military, meteorological and robotics sectors, however, with the advent of artificial intelligence which has made assisted driving a reality, the commercialization scope of automotive LiDAR market has been on an incline.
U.S. Automotive LiDAR Market Share, By Vehicle, 2017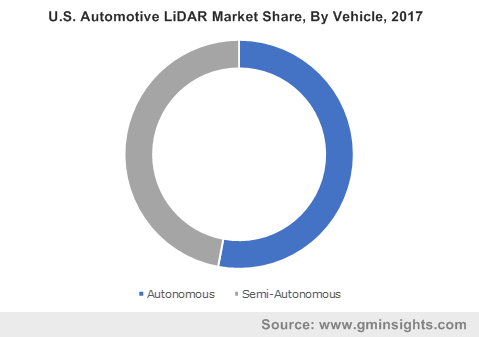 The expansion of the global automotive market is expected to further propel automotive LiDAR market growth as automakers across the world continue to invest in research and development activities to develop and incorporate semi-autonomous and autonomous vehicles in their respective product portfolios.
Unveiling automotive LiDAR market trends in terms of the vehicle landscape:
Autonomous Vehicles
Autonomous vehicles – which are capable of operating themselves without any help or interaction with humans, are rapidly becoming a reality. Unprecedented advancements are being witnessed herein – courtesy, renowned technology companies and automobile manufacturers racing to capitalize on the lucrative opportunities offered by autonomous technology. According to a 2018 report by Bloomberg, Waymo – a self-driving car initiative by Alphabet Inc., Google's parent company, is leading this race , leaving its nearest competitors in the lurch. The firm has already signed a deal with Chrysler to purchase thousands of their Pacifica minivans which would be retrofitted with Waymo's LiDAR sensors.
Automotive LiDAR market has also tastes success on account of the fact that other players such as General Motors Co. have been making inroads in this vertical. GM has been intending to deploy a ride-hailing service using an autonomous version of its Chevrolet Bolt – a version that won't have a steering wheel or pedals – by the end of 2019. To that end, GM has also received a $2.25 billion support form SoftBank Vision Fund. Driven by the significant efforts undertaken by automakers such as Alphabet and GM, the overall automotive LiDAR market size from autonomous vehicles is projected to grow at a CAGR of 35% over 2018-2024.
Get a Sample Copy of this Report:@ https://www.gminsights.com/request-sample/detail/2911
Semi-Autonomous Vehicles
Unlike the autonomous vehicle segment, which is currently in its infancy, semi-automated vehicles are relatively well established. Indeed, according  industry with the segment holding over 40% of stake in the automotive LiDAR market according to a 2017 estimate. A plethora of renowned automobile manufacturers have already incorporated driver-assist features in several of their vehicles. In case of these vehicles, LiDAR are deployed to enhance a driver's capabilities by constantly assisting in the vehicle operating activities. Vehicles that incorporate a LiDAR-based driver assist system also provide collision detection and avoidance capabilities. In addition, the integration of LiDAR helps drivers merge into the traffic and change or keep the vehicle in a lane. These features have become so commonplace that many vehicle manufacturers now provide it as an add-on option on their vehicles. Automakers are even developing their own software suits to allow drivers to interact with the driver-assist system.
Powered by the rising efforts undertaken by prominent automobile manufactures to exploit LiDAR in partially connected vehicles, semi-autonomous vehicles held close to 40% of the automotive LiDAR market share in 2017 and is expected to expand remarkably in the years to come.
It is prudent to mention that autonomous LiDAR market will continue to witness constant advancements in the sensor technologies as core companies work towards developing sharper and more robust sensors. Major vehicle manufacturers are even acquiring and incorporating newer LiDAR sensors to enhance the capabilities of their respective self-driving vehicles. According to a 2018 report, Volvo and Toyota both have already signed partnership deals with a LiDAR startup named Luminar to purchase their LiDAR units to help their cars "see" better.
Attributing to such advancements, the revenue graph of autonomous LiDAR market will continue to depict an exponential growth. The demand for LiDAR in myriad vehicles is projected to turn the global automotive LiDAR market into a $3-billion-dollar industry by 2024, claims a report by Global Market Insights, Inc.
Author Name : Akshay Kedari
The changing face of warfare in the recent years has been a pivotal factor stimulating military drone market. Aided by cumulative product demand and rapidly progressive technological advancements, this vertical is expected to add a new dimension to the evolving smart industry. Ironically, the latest news about the U.S. military having developed drones that can decide who to kill has created major undulations in military drone industry. As a potential aftermath, the world is still debating over what such a technology can mean for the future of warfare and war ethics. However, it would be fair to state that the advantages of using drones in warfare and military operations have surpassed all debatable boundaries. This is quite evident from the estimates that claim military UAV market share to register a CAGR of 12% over 2017-2024.
U.S. Military Drone Market Share, By Product, 2016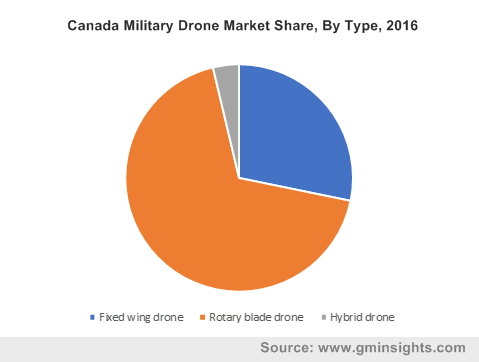 Military drones: a popular weapon in modern warfare
It has been anticipated that North America, by 2024, will be accounting for 70% of the overall military drone market share. This expansive growth can be aptly credited to the heavy adaptation of drones in civil applications and the ongoing 'War on Terror' that the U.S. is current involved in. Till date, the United States has carried out several lethal drone strikes in Pakistan, Somalia and Yemen. Incidentally, these are the countries that the U.S. and its allies are not openly at war with, as is the case with Afghanistan, Libya and Iraq. As a measure to extend the reach of the war against terrorism, the U.S. has also concentrated its drone campaigns in North Africa, using Predator drones for surveillance and targeting radical terrorist groups. Undeniably, U.S. has emerged as a viable revenue pocket for North America military drone market.
Of late, drones are being designed with an element of human intelligence that make for highly effective weapons to locate and targeting terrorist operations and have effectively shifted the cost calculation for battles. Drones can be deployed for longer period of time and with less inconvenience to human resource. Specialized military drones in fact, are more lethal at reduced financial cost and potentially diminish the risk of life for those who control these drones as compared to ground forces or piloted aircraft. Driven by their highly commendable advantages, it has been forecast that military UAV market outlook looks rather promising for the future, where there are chances for increased covert drone warfare and less declared warfare.
Get a Sample Copy of this Report @ https://www.gminsights.com/request-sample/detail/2484
The effectiveness of military drones, as demonstrated by the United States, has caught the attention of nations that have been aiming to achieve a robust arsenal of weapons. Thus, countries like China, Russia, Iran, Pakistan and Turkey have invested in research and development of drone programs, a trend indicating the strong growth of the military drone industry in future. China recently set a world record in its demonstration of drone swarm, a topic of much discussion for its implications in the future of warfare. China has used the popular notion of using an overwhelming number of drones to gain tactical advantage over a target and flown 1108 dronebots as a single unit to exhibit the skill of its drones in autonomous flight capabilities and intelligent use of instruments.
Beyond military uses
Apart from purely military uses, these UAVs have been successfully deployed to carry out other government-controlled operations like search and rescue, wildfire containment, surveillance and law enforcement, further adding stimulus to military drone market. For instance, the Police Aviation Administration Office in China have put 300 police drones to patrol areas that are too difficult for the police to access. These drones have successfully collected information about drug manufacturing dens and have facilitated police raids in these areas. In the U.S., Predator B drones have been deployed for US Mexico border patrol to stop illegal border crossing across the remote mountains, rivers and canyons. These instances provide pivotal evidence that military UAV industry is here to stay.
With the proliferation of advancements in military drone market and the changing implications these developments will have on warfare, regional governments plan to establish a common ground to discuss and set guidelines for the sustainable and beneficial use of military drones while safeguarding human interests. As the use of drones have far reaching consequences that are not limited to warfare, the trend for developing and using military drones across myriad applications will continue to remain consistent in the next few years. As per estimates, military drone market size will be pegged at USD 13 billion by 2024.
Author Name : Paroma Bhattacharya
Powered by the advent of sophisticated machine learning algorithms and growing integration of AI, consumer UAV market size has been skyrocketing in the recent times. There has been a phenomenal spurt in the number of drone operators world over who buy high-grade and technologically superior drones with an aim to utilize them commercially. Apparently, the escalating demand for UAVs from diverse business sectors has compelled the prominent consumer drone industry participants to incorporate latest technologies such as geofencing and collision detection into these flying beauties.
U.S. Consumer Drone Market Volume Share, By Product, 2016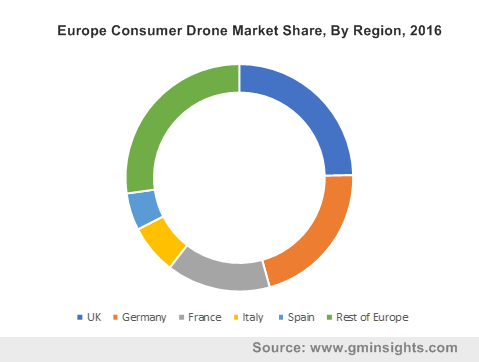 Citing an instance of the same, one of the major consumer drone market players of France, Parrot has created a new division, named as Parrot Professional, to integrate its consumer and commercial grade drone technology. It would be prudent to mention that the firm deployed the said technology and has recently introduced new drones which can be utilized across agricultural and construction sectors.
Moreover, the latest drones would reportedly act as a bridge between Parrot's low-priced and other highly-expensive consumer products. The launch of such innovative and cost-effective products would prove to be of immense convenience for operators to fly UAVs for commercial purposes, which would consequentially boost the consumer drone market in the ensuing years. In fact, as per reliable estimates, the overall remuneration portfolio of the global consumer drone industry is forecast to exceed USD 9 billion by the year 2024.
Get a Sample Copy of this Report @ https://www.gminsights.com/request-sample/detail/1590
Elaborating the consumer UAV market trends in the U.S. and Australia with regulatory frame of reference 
USA
In an attempt to promote awareness among media, policymakers, and the general public of how UAVs assist society, renowned consumer drone market giants such as 3DR, DJI, and GoPro have formed 'Alliance for Drone Innovation' (ADI). The latest initiative is the successor organization to the Drone Manufacturers Alliance and represents the interest of businesses, individuals, academics, scientists, and governments, and others who fly drones in the United States.
The ADI initiative would work on devising appropriate regulatory and legislative framework, as well as focus on developing new technological capabilities of drones. The group would preserve the role of Federal Aviation Administration and the Congress to regulate National Airspace System for drones. Owing to the regulatory guidelines and various initiatives being undertaken by chief market players, the US consumer drone industry share would undoubtedly witness substantial progression in the near future.
Australia
Being one of the first nations in the world to regulate remotely controlled aircrafts, the Civil Aviation Safety Authority (CASA) of Australia has been pivotal to frame regulatory provisions regarding consumer drones. Apparently, CASA has put into effect a new set of guidelines from September 2016 which have lowered the mandatory requirements to fly small remotely piloted UAVs for commercial purposes. Reportedly, flying drones which weigh less than 2Kg would not require a remote pilot license (RePL) or operator's certificate. However, the drone owners would need to hold an operator's certificate to fly UAVs weighing in excess of 2Kg. Industry experts have opined that the operationalization of these guidelines would substantially influence Australia consumer drone market outlook.
It is imperative to mention that along with stringent regulations with regard to safety parameters of these drones, cost is another pivotal factor influencing the consumer UAV industry trends. These UAVs work on batteries unlike the military drones that are operated by solar energy. This not only makes the former expensive but also demands a high maintenance. Nonetheless, considering that the fraternity is still nascent and a slew of tech interventions are in the pipeline, consumer drones market trends are anticipated to be progressive in the coming years. In terms of commercialization, the consumer UAV market is forecast to register a double-digit CAGR of 18% over 2017-2024.
Author Name : Saif Ali Bepari