Semiconductor
Automated Test Equipment market share is anticipated to exceed USD 4.46 billion by 2022 due to its rising demand across various sectors such as defense, telecommunications & IT, automotive, and consumer electronics. ATE is used to automatically diagnose and detects faults in the EUT (Equipment under observation) thereby, ensuring faultless product delivery into the business space.
The ATE market is expected to witness a sustainable growth, rising at a CAGR of 2.6% over the period of 2015-2022. Commercialization of IoT or Internet of things will create a pool of opportunities for the ATE industry players globally. The design complexities pertaining to these digitized devices will demand for precise testing of these products, thereby boosting the ATE market growth.
Latin America ATE market size by application, 2012-2022 (USD Million)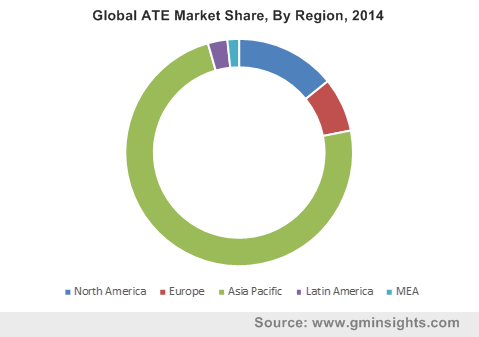 Growing smartphone penetration is a major factor catalyzing the market share as the introduction of advanced technological features in these gadgets has in turn increased the design complexities. Also, rising consumer electronics demand, use of electronic equipment in vehicles, growing trend of miniature devices in sectors like defense and IT & telecommunication are also fueling the market share.
Get a Sample Copy of this Report: @ https://www.gminsights.com/request-sample/detail/146

However, fluctuations in the semiconductor industry are creating a gap between the demand and supply ratio, adversely impacting the ATE market size. Moreover, certain other factors like the cost of the testing instruments as well as frequent modifications in the ATE industry will also hamper the growth in the coming years.
ATE application revenue in the IT & Telecommunication industry is forecast to reach USD 2.20 billion by 2022 driven by huge demand for testing services by communication service providers and telecom equipment manufacturers. Also, rising demand for consumer electronics such as smartphones, tablets, etc. will drive the consumer electronics ATE market size to reach USD 1.3 billion by 2022.
ATE product market can be segmented as Non-memory, Memory, and Discrete. Non-memory ATE market dominated the overall industry accounting for 75% revenue. Rising consumer electronics demand, coupled with growth in the automotive sector will positively impact the industry share, which is expected to grow at a CAGR of 2.8% over the period of 2015-2022. Discrete ATE market will be the fastest growing product segment registering a CAGR of 3% over the forecast timeframe.
The Asia Pacific ATE market primarily led by India & China is expected to witness a significant surge in the coming years mainly owing to the large number of semiconductor companies present in these regions. APAC market is expected to record a CAGR of 2.8 % from 2015-2022.
The US market share will grow at a rate of 2.5% during 2015-2022 primarily due to investment in defense sectors coupled with growth in the telecommunication industry.
Teradyne, Advantest, LTX., Advint, Agilent Technologies, Aeroflex, Anritsu, Cal-Bay Systems, and National Instruments Corporation are some of the key market players. Expansion of testing platforms and development of new instrumentation will be the major growth strategies adopted by the industry participants over the next few years.
Author Name : Shikha Sinha
It is projected that the market size of data center UPS market will go beyond USD 6.5 billion till 2022 and will rise with a CAGR of 7.4% between the years 2015 to 2022 as predicted by Global Market Insights.  Growth of new data centers with the reformation of earlier ones is expected to give a considerable boost to the market. Increase in outages and voltage instability will accelerate the demand of capable UPS systems in most of the data centers. Cloud is the hottest technology which renders maximum power in minimum space.
View a summary of the "Data Center UPS Market Size, Industry Analysis Report" @ https://www.gminsights.com/industry-analysis/data-center-UPS-market
Data Center UPS market trend is expected to get an upsurge with this technology. Big data center industries were anticipated to go beyond USD 500 million in the year 2014 and are estimated to touch USD 1 billion till 2022 with a CAGR of 8.5%. Medium centers will rise distinctly because of high demand in diverse fields like universities, cable handling junctions, medical field, government and commercial firms. Small data center market contributed 57% of the overall share in the year 2014 and is likely to rise with a compound annual growth rate of 7%. With great demand in factory floors, medical imaging, industrial sectors, server rooms, the market is expected to boom between the years 2015 to 2022.
North America which is a leading user of UPS was appreciated with USD 1.3 billion and is likely to cross USD 2.1 billion till 2022 with a CAGR of 6.9%. Asia Pacific market is estimated to go beyond USD 1.7 billion till 2022 and is likely to rise with a CAGR more than 8.6% between the years 2015 to 2022. Europe market noticed more than USD 990 million in the year 2014 and is anticipated to cross USD 1.68 billion in the coming years. Speeding up the demand from financial sectors, healthcare industries, insurance services and computing infrastructure is projected to fuel up UPS market share.
Get a Free Sample Copy of this Report @ https://www.gminsights.com/request-sample/detail/116
Saturation in semiconductor industry is projected to obstruct the demand in the coming six years. Many global U.S. manufacturers are estimated to raise their voice for the slowdown of industries. Countries like China and Taiwan, which are considered as electronics center, will be impacted more thus, disturbing the overall demand in industries.
Major industries which have captured prominent shares of Data Center UPS market include Emerson Network Power, Controlled Power Company, Belkin International, Gamatronic Electronic Industries, Schneider Electric, Toshiba and others.
Gas sensors market is one among the few vibrant business spheres where innovations and technology quite aptly outline the key to profitability and opportunities. The industry participants are thoroughly investing in research activities to bring product improvisations in terms of advancements and sustainability quotients, that in extension is enhancing the product and commercialization matrix of this fraternity.
India gas sensors market, by end-use, 2017 & 2024 (USD Thousand)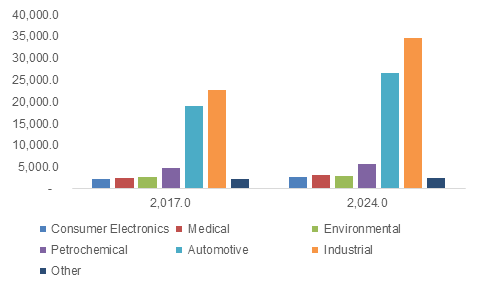 Backing the fact with a recent case in point – Sensirion AG, a leading manufacturer of high-end sensors, has bestowed the marketplace with novel gas sensors that are not only technologically progressive, but are also environmentally viable. As claimed by the experts, Sensirion's upgraded solutions offer precise air quality information based on some of the major environmental grounds such as VOC content, humidity, carbon dioxide presence, temperature, and particulate matter content. Undoubtedly, such exemplary initiatives undertaken by the renowned giants with regards to environmental sensing have opened up a slew of lucrative opportunities for gas sensors market players, in terms of commercialization and sustainability.
In terms of revenue, Global Market Insights, Inc. reports the global gas sensors industry to have surpassed a valuation of USD 2.5 billion in 2017. Safety measures, of late, have become an integral axiom in the manufacturing space, subject to the stringent regulatory framework regarding workplace safety and health hazards due to poor air quality. Gas sensors industry trends is heavily influenced by the growing governmental initiatives across the world. Companies involved in gas sensors industry are introducing innovative application-specific components that comply with the safety standardization such as CSA and ATEX.
Get a Sample Copy of this Report @ https://www.gminsights.com/request-sample/detail/123
In this regard, it is important to note that majority of these air quality standardizations and norms are implemented in industrial and automotive sectors. For instance, EPA's Clean Energy Act has already set limits on some of the air pollutants, that is claimed to be hazardous for the environment. The act also gives the EPA the power to limit harmful emissions of air pollutants from sources like utilities, chemical plants, and steel mills. These mandatory roll-outs have left a huge impact on gas sensors market penetration, subject to the fact that these aforementioned sectors are mandated to install gas sensors in the plants to curb air pollution by efficiently regulating harmful emissions.
Asia Pacific to strongly influence global gas sensors market growth
The expanding automobile sector and rising trend of automation across a myriad range of domains are chronicled to be some of the major factors driving APAC gas sensors market size. Reportedly, China and India are anticipated to be the major revenue pockets for APAC gas sensors industry. The growth in these regions can be primarily credited to the phenomenally increasing technological developments with regards to curtailment of hazardous air pollutant emissions.
Allegedly, China has been remarkably incorporating miniaturized and wireless sensors to enable convenient detection of toxic gases. Moreover, the growing urbanization and demand for technologically upgraded products such as E- compressor and E-turbo is further fueling China gas sensors market share. Beijing and Shanghai are touted to be pivotal contributors to the rapidly deteriorating outdoor air quality, that exceeded the set particulate matter concentration by the WHO by a substantial proportion in 2017, which has further impelled China gas sensors market.
However, in parallel to these developments the industry is also facing some major challenges with the exponentially increasing number of CO and CO2 sensors. The overcrowding of these devices has not only impacted the strategic landscape but has also raised a question on the product differentiation and innovations with regards to these sensors. Keeping this into consideration, the market players are vigorously investing in R&D activities to offer a diversified range of products, addressing the innovation and feasibility parameters. Some of the prominent names in the industry include Amphenol Corporation, Dynament, Bosch Sensortec, City Technology, Figaro Engineering Inc., Honeywell International Inc., Teledyne Technologies Incorporated, Trolex Ltd, and Siemens AG.
With the expanding application spectrum of gas sensors industry across a myriad range of sectors including consumer electronics, medical, environmental, petrochemical, automotive, industrial and the increasing trend of wireless and miniatured devices, it is overt for this business space to record commendable gains in the ensuing years. Statistics project the global gas sensors market size to surpass USD 3 billion by 2024.
Author Name : Saipriya Iyer