sensor
Owing to the rapid adoption of smart technologies such as IoT and Big Data, wireless fire detection system market share has witnessed a remarkable uptick of late. The convergence of integrated solutions coupled with a marked increase in the deployment of advanced fire detection systems would further augment product demand. Apparently, the new-age systems offer enhanced aesthetics by eliminating the need for drilling holes and cabling requirements, prevent the utilization of asbestos, and provide ease-of-installation. Subject to this, technology providers have focused on developing advanced fire detection technologies so as to ensure security and safety in new construction projects, that would consequentially aid wireless fire detection system industry.
U.S. Wireless Fire Detection Systems Market size, by commercial applications, 2017 & 2024 (USD Million)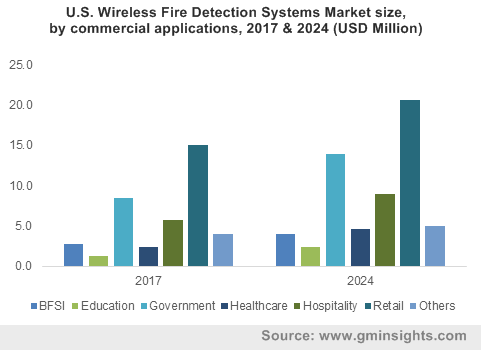 Elaborating further, it has been observed that periodic revision and streamlining of fire safety standards is a crucial factor to have influenced the overall wireless fire detection system market trends. Moreover, numerous developing nations have been concentrating on constructing smart cities to sustain and reenergize their economies. Apparently, the seamless functioning of these smart cities would require stringent enforcement of enhanced fire safety codes.
In accordance with the same, it is rather imperative to state that regulatory agencies have a vital role to play in such a scenario. Enumerated below are a few major instances of government agencies which have prescribed forward looking and advanced guidelines that are quite significant for the global wireless fire detection system industry:
One of the major organizations that has contributed immensely toward drafting improved safety standards in wireless detection system market is the Occupational Safety and Health Administration (OSHA). Being one of the foremost agencies of United States Department of Labor, OSHA has time and again laid out stringent regulatory guidelines with regards to fire safety that has been mandated to be complied to, especially in the construction sector. In the US, OSHA's regulatory directives such as 29 CFR 1910.160 and 29 CFR 1910.164 have acquired increased prominence given that they are strictly required to be complied with while installing wireless fire detection systems.
European Union's popular directive, named as EN54 Part 25, is predominantly known for outlining the precise safety requirements and laboratory tests for components utilizing radio links across wireless fire detection system industry. Apparently, these directives consist of detailed guidelines pertaining to heat detectors, smoke detectors, voice alarm control and indicating equipment, alarm transmission and fault warning routing equipment, point fire detectors which use carbon monoxide sensors, etc.
Get a Sample Copy of this Report @ https://www.gminsights.com/request-sample/detail/2493
Concurrently, the swift advancements being observed in networking infrastructure coupled with the aforementioned robust regulatory structures is certain to impel the wireless fire detection system market over the ensuing years.
Meanwhile, it would be prudent to mention that the wireless fire detection industry share, which can be termed as being in the nascent stage, has been marred with a few obstacles in the recent times. Subject to various vulnerabilities of wireless infrastructure and the high cost of fire detection systems, the end user segment appears rather apprehensive with regards to adopting these systems on a wide scale.
However, owing to the incorporation of cutting-edge technologies in these systems, numerous household safety device manufacturers have been unveiling convenient and smarter consumer products in wireless fire detection market. For instance, Samsung has recently teamed up with Vodafone to provide a range of smart home products with a special focus on security devices including multipurpose sensors, home alarm assistant, and security cameras. Reportedly, the users would receive alerts on their mobile phones in the event of fire at their home. Needless to mention, the launch of such innovative solutions would undeniably propel the wireless fire detection system market size.
With the development of smart cities across numerous countries complemented with a robust regulatory framework in place, the commercialization prospects of wireless fire detection system industry appear to soar new heights in the near future. In fact, as per a research report by Global Market Insights, Inc., the overall remuneration portfolio of wireless fire detection system market is estimated to exceed USD 500 million by the year 2024.
Author Name : Saif Ali Bepari
Having garnered the reputation of being highly technology-driven, automotive robotics industry thrives on the product innovations brought forth by leading business players. A recent instance citing the validity of the aforementioned declaration is Rimac's collaboration with Dassault Systèmes. Elaborating further, the September of 2017 saw Rimac Automobili, a key manufacturer of high performance electric vehicles, battery systems, and drivetrains, join forces with Dassault Systèmes, a software firm based in France, to acquire the product lifecycle management digital platform from the latter to scale up its business growth. The latter's 3D experience platform referred as electro mobility accelerator will help the former increase its production capacity and connect with its employees across 11 countries. This deal is an apt example that underscores the developments prevalent in automotive robotics industry. The continued trend of similar alliances are likely to encourage entrants explore newer markets – the autonomous car sharing market , for instance.
U.S. Automotive Robotics Market Size, By Product, 2013 – 2024 (USD Million)

Pertaining to the stiff competition prevalent in the automotive robotics market space, companies have been devising a number of business tactics to consolidate their position. In September 2017, for example, Avnet Incorporation, a major participant across information technology and services industry, acquired Dragon innovation, a major producer of consumer electronics products. The acquisition is expected to assist both the firms add to their existing product line and expand their presence in automotive robotics market.
The month of September has also witnessed Technion – an Israeli tech institute, Korean Advanced Institute of Science and Technology, and Hyundai Motor Group forming an alliance to jointly complete the projects on artificial intelligence, autonomous driving, and cyber security. The collaboration has been touted to help the emerging automotive firms and startups in Israel to launch their products with Hyundai's vehicle product line. Vice-versa, the initiative is expected to aid Hyundai Motors establish itself as a leader in automotive robotics market, having experimented with next generation of automotive technologies equipped with artificial intelligence and robotics. The alliance signifies a paradigm shift toward the fourth industrial revolution and new vehicle technology, thereby pushing automotive robotics industry trends.
Get a Sample Copy of this Report@ https://www.gminsights.com/request-sample/detail/210
Robotics has established itself as a principal technology across major end-use domains in the developed geographies such as UK, Germany, and Italy. The surging requirement to achieve time consistency and a higher level of production has led to escalating demand for robotic body assemblies in the country. The deployment of these assemblies to improve the proficiency of the supply chain activities across the automotive sector is likely to impel UK automotive robotics industry expansion.
Germany has a powerful base of automakers, on the grounds of which it has been forecast that robotic applications would be deployed heavily across the automotive sector in the region. Subject to the extensive implementation of robotics, Germany automotive robotics industry is likely to gain a strong ground in the ensuing years. The expansion of this business space across Germany, UK, and Italy is certain to boost Europe automotive robotics market, which contributed nearly 25% toward the overall industry share in 2016.
As per estimates, the demand for robots from vehicle component suppliers increased by 53% in 2016, and that from automotive original equipment manufacturers rose by 32% in the same year. This goes to prove that automotive robotics industry has bright prospects across North America. In fact, research reports claim that North America automotive robotics market is expected to witness a lucrative growth over the coming years, having held a valuation of USD 1 billion in 2016.
A currently compiled market study claims that automotive robotics industry revenue is anticipated to surpass USD 5.96 billion by 2024. Considering the notable contributions made by the automotive giants such as Rockwell Automation, Omron Corporation, The Yaskawa Electric Corporation, and ABB Group, it is no longer a supposition that automotive robotics market will indeed experience a commendable expansion in the years ahead.
Author Name : Dhananjay Punekar