Sensors
Electronic stability control system market trends are poised to gain immense momentum over the forecast years, owing to rise in fatal car crashes and serious vehicle accidents causing large-scale damage to the masses. Since the last few decades, the automotive industry has shifted its focus towards implementation of more active safety features like traction control system and antilock braking system which reduce the chances of crashes to a large extent during acceleration and in harsh driving conditions. This increasing demand to improve transport efficiency has undeniably impelled the expansion of the electronic stability control system market size.
India electronic stability control system market size, by vehicle type, 2018 & 2025 (USD Million)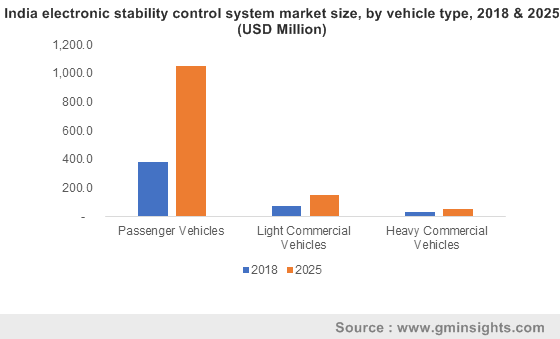 Commercial vehicles are consistently becoming the leading mode of road transportation in the Asia Pacific region. As compared with other transportation vehicles, commercial vehicles exhibit greater safety risks and several performance limitations because of their features including unstable roll motion at higher speeds and poor maneuverability at low speeds. With the advent of the electronic stability control in cars, next-gen driver assistance concepts have taken root, and have played a significant role in contributing towards increasing safety on the roads.
A 2018 report by the U.S. National Highway Traffic Safety Administration (NHTSA) suggests that with the introduction of electronic stability control (ESC) systems, there has been a considerable reduction in passenger vehicle crashes by 34% and SUV crashes by 59%. ESC systems also substantially reduce rollover accidents. Nowadays, commercial vehicles are already incorporated with ESC systems and these vehicles are specifically designed to mitigate understeer and oversteer conditions as well as reduce untripped crashes.
The Asia Pacific market is likely to emerge as a strong contender due to increasing implementation of road safety gears and the design and development of vehicles equipped with safety features. According to International Organization of Motor Vehicle Manufacturers, in 2018, India had witnessed 8% growth in automobile production. China is also a prominent automotive market, the expansion of which will augment APAC ESC market outlook in the forecast years.
Get a Sample Copy of this Report:@ https://www.gminsights.com/request-sample/detail/3410
Of late, India-based multinational automotive manufacturing companies have been working to launch medium and heavy commercial vehicles with electronic stability control with an aim to make Indian roads safer and more secure. The growing adoption of ESC systems and increasing number of safety innovations in several vehicles will further strengthen the regional ESC industry size.
The robust implementation of the intelligent vehicle systems in the automotive sector has enhanced safety protocols while driving and has created an efficient transportation system for vehicle users. From high-tech sensors to vehicle roll rate sensors – everything is being implemented by the manufacturers in the latest vehicles to maintain the stability of the vehicles and reduce any kind of mishap in the future.
In order to fortify their stance in ESC industry, several companies are adopting different growth strategies to move ahead of their rivals. In June 2019, ZF Friedrichshafen, a German car parts manufacturer and partner 2GetThere had launched autonomous shuttles in the Middle East and Europe. The main aim of the company is to improve vehicle handling, reduce motion sickness and deliver safe, clean transportation options that are competitive and comfortable as well. Innovative launches such as the aforementioned will create a positive influence on the product demand and augment the Europe industry share.
The massive deployment of technological advancements across the automotive industry will have a favorable influence on the ESC market. Moreover, the involvement of prominent companies in designing vehicles with advanced safety features are likely to fuel the industry growth in the ensuing years.
The enforcement of favorable government policies are likely to impact the industry outlook. In 2018, the Ministry of Road Transport & Highways of India had announced that by 2023 all Indian vehicles should be compulsorily equipped with safety breaking features like autonomous braking and ESC.  This will further generate lucrative opportunities for automotive players in the ESC industry.
Major companies that have captured a prominent proportion of electronic stability control system market share include ZF Friedrichshafen, General Motors (StabiliTrak), Johnson Electric, Robert Bosch GmbH, Autoliv, IAV Engineering, Denso Corporation and Johnson Electric. Global Market Insights, Inc., estimates electronic stability control system market size to reach US $ 45 billion by 2025.
Author Name : Deeksha Pant
Rapid industrialization and technology developments transforming the global manufacturing sector have enabled smart factory market to emerge as a highly lucrative investment avenue over the forthcoming years. Several advancements in the field of automation, communications and computing power have turned intelligent manufacturing facilities into a feasible reality. Today, several manufacturers are looking to bring more efficiencies in production process while gaining the ability to supply a wider range of products to consumers, driving the expansion of smart factory industry.
U.S. smart factory market, by application, 2018 & 2025 (USD Million)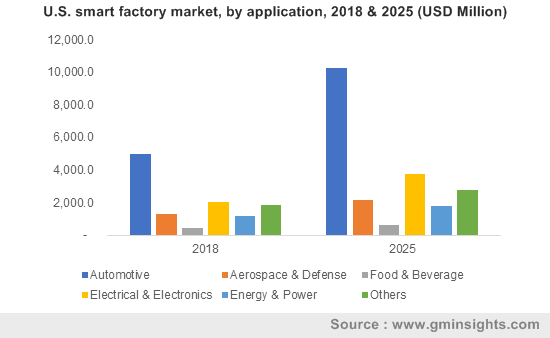 Manufacturers require their production lines and operational processes to be integrated as well as flexible to adapt and enable quick configuration changes to lessen lead times. This helps them to retain a competitive edge in a constantly evolving segment. Smart factories have the ability to address these needs without compromising on quality and safety, positioning the industry in a favorable spot to experience business growth. Not only is building smarter facilities by investing in Internet of Things (IoT) is a massive undertaking, it is also a key component in promoting efficient scalability in the era of Industry 4.0.
Factories that leverage smart manufacturing technology offer a number of benefits to manufacturers including increased productivity, enhanced efficiency and long-term cost savings. Growing awareness of modern manufacturing technologies owing to these advantages will reinforce global smart factory market share. Although high initial investment in smart factories are keeping small to medium sized enterprises at bay, expected rise in affordability of the technologies in the next few years would open up the landscape for these businesses, fueling the adoption of solutions offered by smart factory industry players.
Get a Sample Copy of this Report:@ https://www.gminsights.com/request-sample/detail/1436
The automotive industry is expected to emerge as a prominent growth avenue for the smart factory market over the forecast timeframe. In 2016, multinational automobile company Audi unveiled its Smart Factory 2035 vision in which it envisioned a facility without any assembly lines, instead deploying intelligent, flexible and modern production stations.
Last year, the company had already implemented the proposed vision to manufacture electric motors, wherein vehicle assembly takes place at a production station with automobile components being transported between stations by driverless systems that are controlled by smart IT control systems.
Through this production method, Audi estimates that the factory can produce approximately 400 electric drives with just 100 employees. Audi's initiative offers a proof of the benefits in establishing a smart factory. Several key industry players are expected to follow suit and make investments in their own visions regarding advanced manufacturing plants, significantly boosting smart factory market outlook.
The global food & beverage segment will certainly emerge as a major revenue contributor for smart factory industry due to consistent demand for packaged and frozen food products. A large global population base, that is estimated to hit 9 billion by 2050, tightening regulatory demands around food safety & quality and environmental concerns, as the food & beverage sector consumes 5% of the world's energy, are putting immense pressure on profit margins of producers.
Food and beverage product manufacturers are increasingly looking towards new ways to build flexibility into the inventory management and production process. Adoption of data integration, automation, analytics, energy sourcing and simulation could help companies in transforming their existing factories into intelligent manufacturing facilities to better handle these challenges without severely impacting company margins.
In terms of the regional spectrum, Europe is expected to retain its position as a lucrative market player over the projected period. In fact, Europe accounted for over $25 billion of the global smart factory market share in 2018. The region is home to a number of global automotive firms and according to the European Automobile Manufacturers Association, Europe automobile sector brings in over €90.3 billion in the form of trade surplus. Moreover, the industry is the biggest private investor for R&D in Europe, investing approximately €54 billion annually.
With growing adoption of automation technologies in the food & beverage and automotive sectors, smart factories will undoubtedly become a common trend among large and medium enterprises in the imminent future. Global Market Insights, Inc., has estimated that global smart factory market share will exceed $155 billion in annual remunerations by 2025.
Author Name : Akshay Kedari
IoT in healthcare market has been forecast to witness remarkable growth prospect in the years ahead, subject to the robust enhancements in healthcare infrastructure. Digitization, having paved its way toward healthcare, has prompted numerous hospitals and regional governments to undertake initiatives to deploy IoT in the healthcare sector, owing to the rise in the requirement for mobility and communication in medical care. With the implementation of IoT facilities, healthcare service providers may be able to deal with the challenges related to consumer data sharing, since this technology is highly capable of dealing with patient data operations very efficiently. The emergence of the internet of things has significantly impacted the overall IoT in healthcare industry trends since the last few years. Statistically, in 2016, IoT in healthcare market held a revenue of more than USD 2 billion.
US IoT healthcare market, by application, 2016 & 2024 (USD Billion)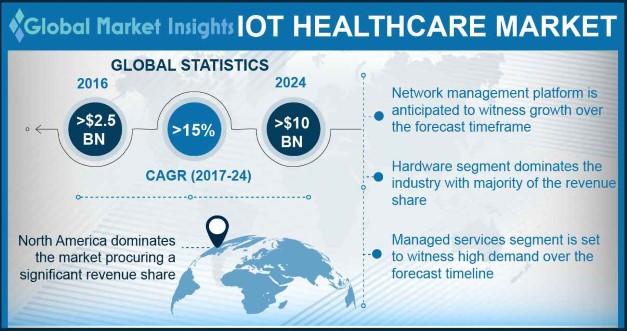 Nowadays, medical research institutes and healthcare product manufacturers have been joining hands to accelerate digitalization across the healthcare sector by deploying technologically advanced digital health products. For instance, Oxford University and National Institute for Health Research (NIH) have signed a five-year agreement with the London based giant in IoT in healthcare market, Drayson Technologies to build and commercialize digital healthcare tools. Through this research agreement, the Oxford Biomedical Research Center aims to deliver excellent benefits to patients from hospital to the comfort of their homes. For this research and development program, NIH has provided funding to Drayson Technologies, which also raised USD 53 million from several other funding agencies.
Get a Sample Copy of this Report:@  https://www.gminsights.com/request-sample/detail/2103
Recently, the integration of the internet of things with artificial intelligence (AI) has changed the outlook of healthcare institutions, having fortified medical care data maintenance with improved storage capability, robust connectivity, and high security. The well-known participants in IoT in healthcare market are also focusing on AI-based IoT healthcare facilities. For instance, IBM has recently developed an AI system for hospitals that will help to carry out tedious tasks much more efficiently and flawlessly than humans. In fact, IoT has helped bring about a paradigm shift in healthcare, subject to the introduction of smart devices that help provide and secure patient data. IoT also enables doctors to get in touch with patients staying in remote areas very easily through video conferencing, on account of which patients can eliminate the need for routine checkups. With numerous benefits under consideration, healthcare professionals are increasingly adopting IoT systems, which is certain to have a positive impact on IoT in healthcare industry.
The stand taken by regulatory bodies and regional governments have also influenced IoT in healthcare market outlook considerably. In fact, it has been observed that governments have been pressurizing healthcare centers to implement IoT, on the grounds of which numerous hospitals and clinics have deployed IoT technology to maximize patient comfort. In addition, many countries have commenced smart city programs incorporating healthcare IoT projects, which would also push IoT in healthcare market share. For instance, the Singapore government has collaborated with Intel and Dell to deploy the Internet of things for eldercare patient pilot project at the Saensuk Smart City. The large-scale deployment of smart city projects across several other countries will further stimulate IoT in healthcare industry size over the years ahead.
In the future, the integration of IoT in healthcare facilities is likely to increase the possibility of operating analytical tools and maintaining electronic health records. The growing renovation of established healthcare facility centers is another major factor that will push IoT in healthcare industry size, slated to cross USD 10 billion by 2024.
Author Name : Sunil Hebbalkar
The explosive amplitude of IoT, spanning virtually every sphere, has a pivotal role to play in the expansion of fog computing market. Still considered a plausible tech sub-space by mere mortals, this business domain, an inherent extension of the cloud computing industry, is likely to actually emerge as a viable niche vertical, starting 2018, as per the predictions of The US office of National Institute of Standards and Technology (NIST). Subject to its extraordinary ability to support latency-sensitive and vertically-isolated applications by means of providing a scalable, ubiquitous, distributed, and layered network connectivity, storage, and computing, fog aims to simplify processing and IoT infrastructure. In consequence, there has been an increasing surge in exploiting the unused IT infrastructure for fog computing applications that need to compute resources in a global network. Subsequently, this has led to fog computing market gaining heavy momentum, reinforcing the buzzword of 'fog technology' across myriad domains.
U.S. Fog Computing Market Size, By Component, 2016 & 2024 ($Mn)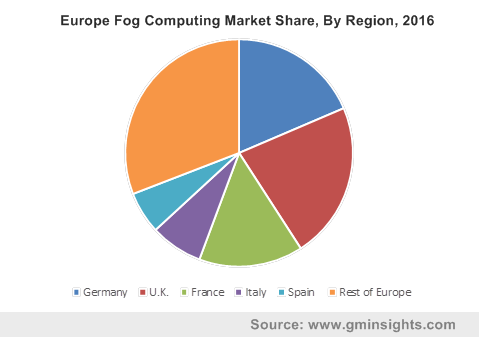 The far-reaching application spectrum of fog computing industry is quite evident from the numerous instances of companies tapping the fog space making headlines. A recent precedence is that of Storj Labs and SONM teaming up to enable fog computing through blockchain technology. Elaborating further, Storj Labs, a software provider has joined hands with Supercomputer Organized by Network Mining (SONM) in order to bring about distributed instances of persistent storage implemented by Storj Labs available to organizations incorporating SONM's blockchain. Accordingly, SONM plans to build a peer-to-peer blockchain network – effectively a fog computing instance that would deal with the computing and storage of resources on the edge of a global network. The partnership marks substantial importance in fog computing marketing, having established the fact that blockchain technology and fog computing are two strongly intertwined mechanisms.
Get a Sample Copy of this Report:@  https://www.gminsights.com/request-sample/detail/2295
The end-use landscape of fog computing market is rather humongous and versatile, though this does not exactly come as a surprise, given how minutely IoT has brought every object under the umbrella of the Internet. As per reliable estimates, the data analyzed on devices functioning on IoT will soon approach a mammoth 40%. It has also been speculated that by the year 2020, 10% of global data will be generated by edge devices. This would fuel the demand for highly efficient fog computing solutions that simultaneously deliver holistic intelligence and low latency, subsequently driving fog computing industry size, slated to cross USD 700 million by 2024. Numerous real-time instances of the benefits of this technology have already made inroads in fog computing market – recently, the IoT company Plat One made headlines for having tapped into fog computing for improving data processing management in its 1 million sensors.
It is pivotal to mention that mainstream hardware component developers, such as Intel, Cisco, and Dell have been making a headway in fog computing industry, as is evidenced from their interest in joining forces with vendors dealing in machine learning and IoT analytics. Through the proposed dealerships, these companies would be able to deliver IoT gateways that support fog computing. Recently in fact, Cisco took a dive in fog computing market with the acquisitions of Jasper, an IoT platform provider and ParStream, a reputed company specializing in IoT analytics. Unrefutably, these buyouts would help the electronics giant to incorporate its networking component infrastructure with highly efficient computing capabilities, which would subsequently reinforce its position in the fog computing market. Following Cisco's lead, numerous analytics software companies have also been attempting to develop new tools for fog computing – Apache's Spark for instance is apt for real-time processing of fog-generated data. In effect, it would be diplomatic to state that fog computing market indeed would emerge as one of most remunerative business spaces of the next decade, traversing a highly profitable growth path over 2017-2024.
Author Name : Saipriya Iyer
Since its conception, IoT has been impacting numerous businesses in unprecedented ways than expected. IoT infrastructure market, one of contemporary niche verticals of the building construction and infrastructure development sphere, now holds the reputation of being encompassed among the many IoT influenced business spheres. The proliferation of the Internet of things in infrastructure development has led to the procreation of smart homes and cities, touted as a revolutionary phenomenon of the 21st century. With the rising demand for connectivity to enable smart security, social surveillance, smart transportation, energy safety, smart metering, and efficient governance for enhancing consumer lifestyle, IoT infrastructure industry is likely to garner much acclaim in the ensuing years. Estimates compiled in a recent IoT infrastructure market research report forecast this business space to have accumulated a valuation of close to USD 15 billion in 2016.
U.S. IoT infrastructure market, by application, 2016 & 2024 (USD Billion)
A succinct overview of IoT infrastructure market in terms of the application spectrum
IoT infrastructure industry outlook from smart homes
The proliferation of IoT in the home sector has brought about a barrage of changes in consumer standard of living. IoT-enabled homes offer some of the best advantages that can transform a person's lifestyle across the urban space. Smart devices such as the Nest thermostat, Amazon Echo, smart fridges, Google Home, Wink Relay and Controller, etc., have been popularized across IoT infrastructure market and liberally deployed in smart homes, subject to their incredible benefits such as controlled energy consumption, automated notifications, weather alerts, etc. Fiercely vying with one another to consolidate their positions in IoT infrastructure industry, tech companies have been going the whole hog to introduce highly advanced connected devices for smart homes.
IoT infrastructure market outlook from smart buildings
The deployment of big data and IoT in smart buildings helps deliver actionable insights to improve consumer living comfort, optimize building operations, and reduce energy expenditure. The robust rise in the number of connected devices being installed in smart buildings bears evidence to the fact that IoT infrastructure industry share from smart buildings is likely to plummet in the years ahead. Companies have been planning strategies to brainstorm numerous connected devices for exploiting the potential of IoT in buildings. Recently for instance, Kone signed on a multi-year deal with IBM, with an aim to maneuver the IBM IoT Cloud Platform for connecting, monitoring, and optimizing building components such as doors, elevators, turnstiles, and escalators.
IoT infrastructure market outlook from smart cities
A recently compiled report depicts that close to 60% U.S. citizens prefer living in smart cities, given their incredible advantages. The rising proliferation of smart cities is evident from the incredible proportion of smart city projects that are being undertaken across myriad geographies – which may have a mammoth impact on the revenue graph of IoT infrastructure industry. The numerous advantages provided by smart cities with regards to planning, finance, energy safety, transportation, and other urban aspects have accelerated their demand and popularity across IoT infrastructure market. In consequence, tech behemoths have been signing public-private partnerships, that would lead to the generation of layered framework to address the many challenges of smart city projects by building effective, connected solutions.
The Internet of Things, conceived back in the 1980s at the Carnegie Mellon University, has now metamorphosed into a prodigy that defines efficiency, sustainability, and convenience. The deployment of this concept in infrastructure is likely to open up a plethora of opportunities for construction companies, real estate developers, technology behemoths, and infrastructure development firms, that would strive to brainstorm numerous solutions for connected infrastructure, augmenting IoT infrastructure industry trends. An IoT related report by a research firm claims close to 1.40 billion IoT units to be shipped ahead for smart city projects by 2020, for smart homes, smart buildings, smart transportation, sustainability and climate change. This provides ample evidence to the fact that IoT infrastructure market is here to stay, boasting of a widespread array of technologies, platforms, and applications. A report compiled by Global Market Insights, Inc., claims IoT infrastructure market size to surpass a valuation of more than USD 130 billion by 2024 – which is apparently close to 8.5 times its value in 2016.
Author Name : Saipriya Iyer
The last half a decade has remarkably witnessed the Internet of Things penetrating the utilities domain, effectively commercializing IoT utilities market, a realm which is of late, being characterized by intense competition among tech behemoths. Having earned the tag of being one of most dynamically transformative technologies brainstormed in recent times, IoT has successfully been exploited to a massive extent in the utilities sector. The deployment of this technology has helped utility companies monitor real time power consumption by effectively promoting connectivity, operational efficacy, & communication between smart meters, edge equipment, and sensors. Furthermore, IoT has necessitated the conception of contemporary business models in the utility sector, the mass acceptance of which has been forecast to have a profound impact on the overall IoT utilities industry size, pegged at a valuation of USD 4 billion in 2016.
UK IoT utilities market, by application, 2016 & 2024 (USD Million)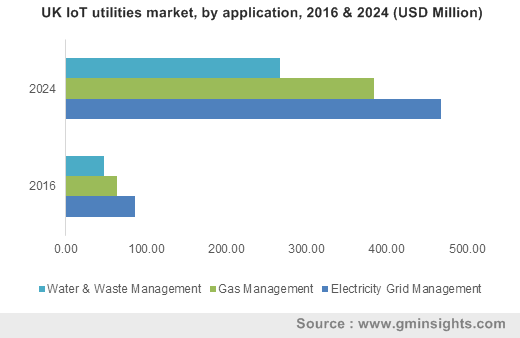 IoT applications assist utilities in interpreting the power consumption patterns and problem recognition, facilitating the effective allocation of resources. The evolution of IoT has made it viable for smart meters to connect with consumer electrical equipment through wireless connections and provide them with real time information about power consumption. On these grounds, over the last few years, the deployment of smart meters has gained intense popularity across the utility sector. The concept of smart cities has further helped promote the application of IoT devices across the construction sector, for the reason that IoT helps upgrade building and smart energy grid connectivity, which would eventually augment the profitability landscape of IoT utilities market. Leading technocrats predict that utility firms would exploit IoT extensively in the ensuing years to reduce power consumption across the oil & gas, water, transportation, and electric sectors. For instance, the ability of the smart sensors to check the quality, pressure, temperature, and consumption of water has led to smart water management gaining renewed traction lately. A leading industry report predicts that utility firms are forecast to reduce their expenditure by nearly USD 157 billion by 2035 through smart meter applications, thereby stimulating IoT utilities market trends in the years ahead.
Get a Sample Copy of this Report @ https://www.gminsights.com/request-sample/detail/2099
One of the most profitable avenues for the expansion of IoT utilities industry is the United States. Mass awareness regarding the benefits of IoT technology in sync with the presence of oil & gas production units across the country demanding the deployment of connected solutions are expected to drive U.S. IoT utilities market share. Across the APAC zone however, the escalating need for smart meters coupled with the development of smart cities & construction activities in China and India will help transform the regional IoT utilities market outlook. Furthermore, the huge presence of numerous power generating units and high government funding for the power sector will also provide a boost to the Asia Pacific IoT utilities industry trends.
The competitive spectrum of IoT utilities market comprises the big shots such as Cisco Systems, Huawei Technologies Company Limited, Intel Corporation, and Honeywell International Incorporation, striving to bring about up-to-the-minute technological advancements that would have a commendable impact on the revenue of this business space. In the years to come, IoT utilities market is likely to have firmly established itself amidst the realm of IoT influenced business spheres. Aided by extensive R&D investments, IoT utilities industry will, in all probability, carve out a profitable growth path over the forthcoming seven years, with a target valuation of USD 15 billion by 2024.
Author Name : Dhananjay Punekar
The fact that smart luggage is now a buzzword for the tech-savvy traveler legitimizes the massive commercialization matrix of smart luggage market. A prime factor that has augmented the popularity of this product is the substantial rise in the number of air travelers that has led to strict security compliance at airports. Furthermore, there has been an increase in the cases of baggage theft and luggage damage during travel lately, which has pushed the demand for connected suitcases and bags, thereby stimulating smart luggage industry share. The escalating penetration of IoT in the baggage fraternity has prompted manufacturers to include smart features such as remote locking system, Wi-Fi spots, GPS, Automatic built-in weighing, Bluetooth, USB chargers, built-in batteries, and SIM cards in luggage. Say for instance, Bluesmart, a key manufacturer of smart products for travel industry, recently introduced second generation technology referred to as Series 2 in its product line. The new smartphone-controlled locking & site tracking system is expected to lessen the trouble for passengers and airport officials during baggage check-ins.
U.S. Smart Luggage Market Size, By Application, 2016 & 2024 (USD Million)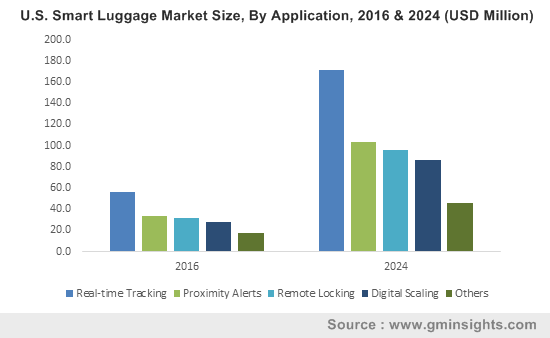 The concept of zipper-less baggage has been gaining traction in smart luggage industry. For instance, Trunkster, a U.S. based baggage startup has recently introduced smart zipper-less luggage – a self-weighing waterproof suitcase comprising sliding doors, offering secured as well as easy access to the luggage contents as compared to the zipped ones. Further on, Delsey, a France smart luggage market player is developing a unique fingerprint ID endowed with numerous features – it automatically locks and unlocks bags, is capable of checking the mobile application of the end-user to verify that the bag is actually locked, and provides a notification to the user during bag transit. The aforementioned instances testify that the launch of state-of-the-art technologies is thus likely to transform smart luggage market trends.
Smart luggage technologies are deployed to implement digital scaling, real-time tracking, remote locking systems, and proximity sensing devices. Real-time tracking technology, for instance, is heavily utilized in airports in cases of baggage loss. Luggage thefts and security violations have changed traveler preferences rapidly, enabling them to invest in smart luggage equipped with remote locking systems & proximity sensing devices. Furthermore, manufacturers have been focusing on preventing any kind of inconvenience to the traveler due to overweight baggage, which has resulted in the production of digital scaling systems. The development of unique smart technologies to be incorporated in suitcases and bags is thus certain to augment smart luggage market size.
Get a Sample Copy of this Report @ https://www.gminsights.com/request-sample/detail/2066
Speaking in the terms of geographical aspects, the product has been increasingly penetrating the APAC zone, given the growing frequency of air travel, subject to increasing consumer disposable incomes and the subsequent rise in their purchase parity of consumers. The robust surge in the demand for smart luggage foe security and comfort will thus generate a profitable growth map for Asia Pacific smart luggage industry. Countries such as Singapore, India, Thailand, China, and Malaysia being prime tourist destinations will, further contribute toward the revenue generation of this regional market.
North America, being one of the hubs of smart technology, is a profitable growth avenue for smart luggage market. The large-scale deployment of connected baggage has prompted companies to brainstorm and develop innovative products, which would considerably impel North America smart luggage industry. In fact, estimates claim North America to account for a rather huge share in smart luggage market.
With IoT firmly having established its predominance in the travel arena, smart luggage market is likely to emerge as one of most remunerative business spheres in the ensuing years. Companies partaking in smart luggage industry share have been hinting at incorporating a lot more user-friendly features in their products, which would considerably impel this business space. According to the Global Market Insights, Inc., smart luggage industry will hit a revenue of over USD 2 billion by 2024.
Author Name : Dhananjay Punekar
The deployment of IoT in retail market has indeed given rise to a more convenient, smart, and tremendously efficient experience for retailers and consumers. With connected solutions transforming the retail sphere, companies offering IoT and retail solutions have been partnering to provide an all-round, reliable, connected experience to global retail consumers. Demonstrating an instance of this fact, Fujitsu has scarcely collaborated with Arkessa to deploy connected retail and IoT solutions to customers. Through this partnership, Arkessa, a global M2M managed services provider specializing in easing IoT connectivity, plans to enable its ICT solutions for retail, thereby helping Fujitsu's retailers deliver a first-class consumer experience. The partnership is one of the many alliances that underlines the extensive developments prevalent in IoT in retail market, which, as per analysts, generated a valuation of close to USD 9 billion in 2016.
IoT in retail market, by application, 2016 & 2024 (USD Billion)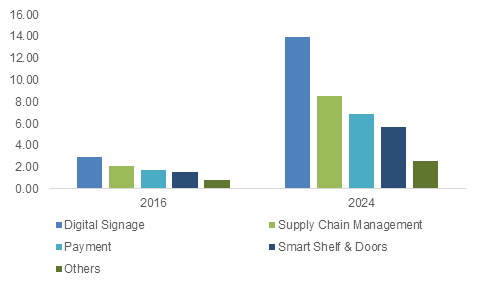 As per a recent research study, the Internet of Things is one of the most paramount trends emerging in the retail space. The scope of IoT in retail industry travels beyond the frontiers of modest customer satisfaction and retailer convenience, as it provides consumers with high-grade browsing service, digitized real-time coupons & offers, and an overall, sophisticated, connected shopping experience. Additionally, retailers are rewarded with smart store operations, smart pricing strategies, and smart inventory management, which enables further deployment of smart solutions in store, thereby fueling IoT in retail market share.
Get a Sample Copy of this Report@ https://www.gminsights.com/request-sample/detail/1591
An insight into some of the most innovative developments witnessed by IoT in retail industry in 2017:
In the middle of September 2017, an LA-based IoT technology provider, Mojix, announced a merger with CXignited, a European IoT firm, with an intent to create a global connected solution providing platform that would help retailers and brand owners boost their consumer experiences and automate their inventory management procedures. The joint entity is slated to be operating under the individual brand names, and is certain to have a considerable impact on IoT in retail market share.
Merely a few days post the Mojix-CXignited JV was announced, the renowned France-based fashion retail giant, Kiabi, declared the onset of a technology alliance with one of the world's most trusted and reliable IoT device management solution providers, Soti. Kiabi's intent behind the supposed runway ready collaboration was to exploit Soti's integrated mobility platform for its stock transfers, delivery processing, and inventory control. The retailer's alliance with Soti is remnant of how robustly IoT in retail industry has been making rapid inroads onto the path of success.
The onset of October witnessed IBM's cognitive AI platform, Watson, helping Indian retailers to decode consumer behavior and reach out to the most appropriate target audience. IBM thus, directs Watson to analyze data collected via IoT sensors, and collect insights for forecasting and upgrading the performance of machines and components to deliver tailor-made solutions to clients. IBM's move to exploit IoT for the Indian retail space is one of the most dynamic instances depicting the vast expanse of IoT in retail market.
Accurately defined as one of the top retail technology trends to look out for, the Internet of Things has been drastically disrupting the traditional retail business model, which has had a commendable impact on IoT in retail industry. Traditional retailers, in a bid to attract consumers and consolidate their stance, would have to live up to numerous challenges, in response to which they would need to keep abreast of the latest technologies influencing the retail sphere. This would subsequently have a massive impact on IoT in retail market outlook, given that retailers would desperately sign up to exploit connected solutions for their brick-and-mortar stores. In effect, retailers have been looking forward to outwitting their rivals when it comes to offering the choicest, most unique, comfortable, and tech-savvy retail experience for customers, which would single them out in IoT in retail market. Analyzing the depth to which IoT is being leveraged by retailers, it can be aptly presumed that IoT in retail industry would traverse a rather successful path over the forthcoming seven years.
Author Name : Saipriya Iyer