Services
The commercialization scale of data center infrastructure management (DCIM) market has been witnessing remarkable upswing in the recent years. The steady rise of this business space can apparently be accredited to the burgeoning complexity of managing large data centers and the limitations with regards to space and power. In addition to this, the robust proliferation of cloud technologies and big data along with the emergence of Internet of Things has necessitated numerous business verticals to focus on planning of physical infrastructure of IT based services. This has consequentially led to DCIM industry gaining tremendous traction over the past few years. In fact, according to reliable estimates, the overall revenue share of this business space is set to surpass USD 3 billion by 2024.
U.S. data center infrastructure management (DCIM) market size, by solution, 2017 & 2024 (USD Million)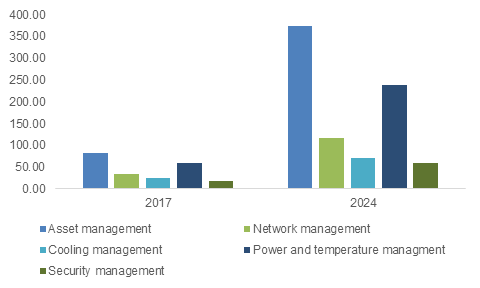 Government sector to emerge as one of the leading end use segments that would drive DCIM market expansion
In an era when cyber-attacks from 'nation state actors' have become an everyday occurrence across the globe, it has been observed that numerous governments are increasingly allocating massive resources to fortify network security. In addition to this, various regulatory authorities have mandated stringent guidelines to monitor and identify potential vulnerabilities in the digital infrastructure of developed and developing nations.
Get a Sample Copy of this Report@ https://www.gminsights.com/request-sample/detail/2496
Nlyte Software, one of the major US based DCIM market giant, has recently announced to have received the much-coveted approval of the Department of Homeland Security for its DCIM suite. Reportedly, the latest approval makes it the first DCIM solution across the U.S. to adhere to all the stipulations prescribed in the Phase 1 of Continuous Diagnostics and Mitigation (CDM) Program of the federal government. For the record, the U.S. federal government had rolled out a Continuous Diagnostics and Mitigation (CDM) Program a few years back to ensure security and integrity of software and hardware assets of the nation.
Apparently, industry experts claim that such approvals would provide advanced tools and capabilities to various governmental agencies to continuously monitor the safety of critical data centers across various nations. Furthermore, it is quite needless to mention that such encouraging developments would eventually impel the growth potential of the overall DCIM industry in the ensuing years.
Elaborating further, it would be prudent to mention a similar instance of governmental initiative that has provided a substantial boost to the firms operating in Australia's DCIM industry space. The Northern Territory government of Australia has recently declared its Budget for 2018-19 in which it has allocated a total sum of around AU$18.38 million to support initiatives under the Department of Corporate and Information Services.
As part of this scheme, the government plans to upscale the number of physical servers from 444 to 460 and intends to increase the number of its fully managed servers from 1600 to 1700 in the next financial year. With such enormous upgradation program in the pipeline, it is quite obvious that prominent firms partaking in DCIM industry of Australia sense an excellent opportunity to deploy their expertise in securing the nation's data center network.
One of the major challenges being faced by DCIM market players has been the responsibility of bridging the complex web of interconnections among a network of data centers. With the advent of enhanced automated tools, highly optimized management workflow procedures, and deployment of real-time monitoring systems, the aforementioned challenges are being gradually surmounted by DCIM industry stakeholders. This trend of improved functionality coupled with powerful IT-based applications would invariably have a favorable influence on the growth prospects of DCIM market share in the times to come.
Author Name : Saif Ali Bepari
With the robust penetration of smart technologies in the transit space, smart transportation market has been progressing at a prodigious pace in the recent years. The growth can be aptly credited to the efforts of the automotive industry players that have been striving to bring in innovative products to the masses. However, the governmental bureaucracy is also to be accredited with some appreciation, given that these authorized bodies have been extensively adopting smart technologies to solve traffic problems, in addition to providing substantial financial support for modernizing transportation.
Smart Transportation Market Size, By Mode of Transportation, 2017 & 2024 (USD Million)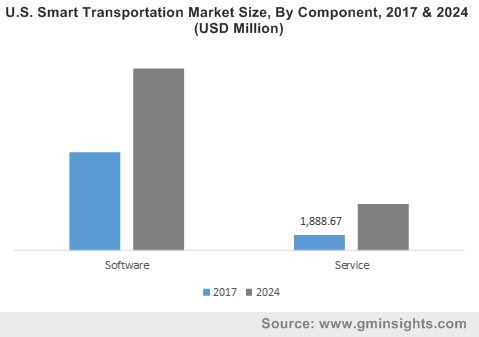 Urban planners along with technology experts are focusing on building smart cities that will use automated transportation, smart grids, artificial intelligence and digital sensors. Such cities are expected to become a hub for the expansion of the smart transportation industry. Furthermore, the advent of the Internet of Things (IoT) and artificial intelligence (AI) will also be playing a major role in popularizing smart transport, extending its reach across the masses. Indeed, it is being speculated that smart transportation market will emerge as one of most revolutionizing business spaces of the 21st century.
How China is contributing toward smart transportation market share
China, the biggest automotive market across the globe, has been highly proactive in improvising its automobiles, thereby emerging as a pivotal contributor in smart transportation market. The nation has seemingly deployed intelligent transportation systems such as traffic signal control systems, variable message signs, car navigation, speed cameras and automatic number plate recognition. This is being done primarily to update transportation systems and resolve various social issues that are often indirectly related to poor transportation. In fact, one of the most iconic instances demonstrating China's proactiveness in smart transportation industry is the construction of an intelligent highway equipped with battery chargers, solar panels and mapping sensors all along the 1.08 km stretch.
Get a Sample Copy of this Report @ https://www.gminsights.com/request-sample/detail/2512
China also aims at ensuring that at least 10% of all automobiles across the country are electric vehicles. This would warrant that smart highway projects such as the aforementioned are always on the run, thereby providing an added growth avenue for smart transportation industry. The Intelligent Transport System Association of China has recently even declared an investment of USD 30 billion in the intelligent transport industry by 2020 that would help construct electronic charging systems and encourage green transport system.
Dubai: Revolutionizing the dynamics of MEA smart transportation industry
Dubai has recently joined the trend of smart city development. Apparently, under the umbrella of the Dubai Plan 2021, the government is aiming at transforming infrastructure, designing ambitious projects and providing citizens with enhanced benefits. The regional smart transportation market has witnessed increased investment under the Dubai Plan, as transportation is being viewed as a key pillar to the development of a smart city.
The Roads and Transport Authority of Dubai has implemented unique smart car rentals that can be collected by tech-savvy commuters on an hourly basis and returned to kiosks located close to metro stations. Apparently, estimates claim that 40% of slow traffic movement in Dubai is caused by drivers looking for a parking spot. On these grounds, intelligent parking systems are being developed that will guide drivers to find parking spots near their destination. Safety of bus commuters is also being developed by the installation of a system of buses that will assess the physical condition of the driver and identify signs of exhaustion or illness. It has been estimated that IoT technologies can amplify Dubai's potential value to reach $5 billion by 2019.
Smart technology, ideally, is still a long time away from reaching market maturation. Besides, even regulatory systems have much progress to make with regards to helping existing roads adapt to the new smart mode of travel. However, smart transit systems offer ubiquitous connectivity, remote sensors, dynamic traffic signals and vehicular communications – commendable social and economic benefits that are certain to aid smart transportation industry emerge as a mainstream vertical.
Experts point out that between 2035 and 2045, the advent of autonomous vehicles can save around 585,000 lives while reducing commuting time by 250 million hours per year on a global basis. Also, machine directed vehicles are likely to stray from distractions and will contribute towards improving highway safety. According to certain statistics, autonomous vehicle technology is expected to add $7 trillion to the global economy by 2050 when they will come to constitute more than half the new vehicles sold worldwide.
In the forthcoming years, vehicle ownership is likely to be displaced with the rapid proliferation of Mobility-as-a-Service technology. Smart transportation market is expected to witness an altogether new scenario of ride-hailing services and pilotless vehicle options, revolutionizing the automotive & transportation space in its entirety. As per estimates, smart transportation industry size is anticipated to increase commendably in the ensuing years, with a target valuation of USD 130 billion by 2024.
Author Name : Paroma Bhattacharya
The paucity of currency as an aftermath of demonetization has led to a surge in India Point of Sales (POS) terminals market demand. The need for infrastructure supporting the use of debit and credit card payments has risen exponentially, due to cash crunch. The effects of demonetization have instantly generated demand for POS machines as the country witnessed a seismic shift from offline transactions to digital transactions. The massive opportunities engendered by this status have significantly attracted several industry players to offer best solutions with competitive pricing. Verifone, PAX Technology, and Ingenico are the major players utilizing the huge untapped potential in the country. Mswipe, one of the key players of India POS terminals has also created great buzz by announcing its proposal to deploy more than 50 thousand mPOS by the end of 2017.
India POS Terminals Market in Tier-One Cities, By Application, 2016 & 2024 (USD Mn)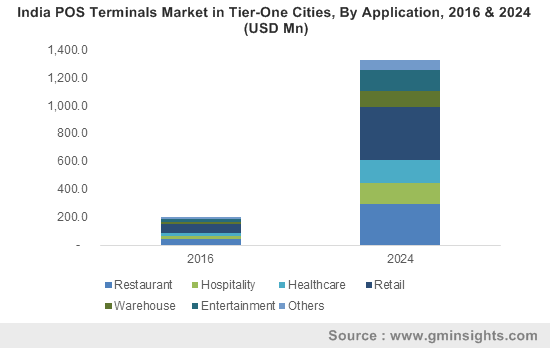 Verifone and Ingenico are amongst the two key companies accounting for major POS terminals market share in India. Together, both the companies account for more than 80% of market for POS terminals. The escalating demand for POS terminals from banks has further offered great opportunities to the India POS terminals market players to index their capabilities and take advantage of the situation to expand their business, as procuring POS systems from foreign players will consume more time with regards to shipment activities. Currently, 15 lakh POS devices are deployed across India, but astonishingly there are approximately more than 5 core registered businesses over the country. This huge difference in the number underscores the untapped opportunities in India POS terminals market and prospects for lucrative business. A report by Global Market Insights, Inc., has predicted "India POS terminals industry to surpass a valuation of USD 3 billion by 2024 having recorded a revenue worth USD 450 million in 2016". The total shipments in India POS terminals market for the year of 2016 was over 300 thousand units and is projected to record an annual growth rate of 10% over 2017-2024.
Get a Sample Copy of this Report@ https://www.gminsights.com/request-sample/detail/1844
Post demonetization, the card transactions at POS terminals have hit 60%, directing a twofold growth from 30% in 2016. The country has also witnessed a rise in operating mobile wallets and net banking options for seamless and faster payment mode. On account of this, mPOS Terminals Market is expected to gain renewed traction and generate lucrative avenues for India POS terminals industry. Portability and speed are the most impressive features offered by these mobile POS platforms which has accelerated the payment mode options through credit/debit cards via smartphones or tablets. Moreover, backed by features like low-cost, mobility, and convenience, India mPOS terminals market is slated to record a CAGR of 10% over 2017-2024.
POS terminals market in India has witnessed huge deployment across all the sectors including restaurants, retail, hospitals, supermarkets, warehouses, etc. Of these, the healthcare segment is likely to spectate massive demand for POS terminals, thus accounting for utmost growth. The retail sector on other hand contributed to majority of revenue share in India POS terminals market.
India POS terminals industry is poised to witness an increasing pickup in demand from the rural areas over the coming years. The rural areas are the prime region where the government bodies are emphasizing on facilitating the infrastructure development that is indeed needed to support the move of cashless India. For instance, the National Bank for Agriculture and Rural Development (NABARD) have initiated plans and programs to deploy POS terminals across 1 lakh villages in the country. Other initiatives such as the Jan Dhan Yojana, Micro ATMs, and Aadhaar-enabled systems have positively impacted the growth of India POS terminals industry trends.
Backed by the demonetization move, India POS terminals market is set to exhibit a period of triumph over the coming years. Innovations and further technological advancements are expected to resonate the growth of POS terminals market in India. This business is further likely to flood with multilingual POS terminals, in a step to centralize cashless payments. Companies including Reverie Language Technologies and India Transact Services Ltd. are working to enable multilingual POS terminals by the next quarter of this year. The new languages to be introduced in India POS terminals industry will be Gujarati, Malayalam, Marathi, Kannada, Punjabi, Tamil, Bengali, and Telugu.
Author Name : Ojaswita Kutepatil