shop Air
Owing to the widespread product usage across the food & beverage, manufacturing, oil & gas, and chemical industries, the membrane air dryers market is fast emerging as one of the most profitable niche verticals in the global HVAC and construction industry. Membrane air dryers are not only enhancing the effectiveness of compressor systems across industrial units but are also assisting enterprises in minimizing the production loss of these systems. Remarkably, these air dryers are being preferred across general manufacturing sector given that they offer air-supply reliability, minimal loss of air, and reduce dew points, thereby boosting the membrane air dryers market share.
China Membrane Air Dryer Market Size, By End-User, 2014 – 2025 (USD Million)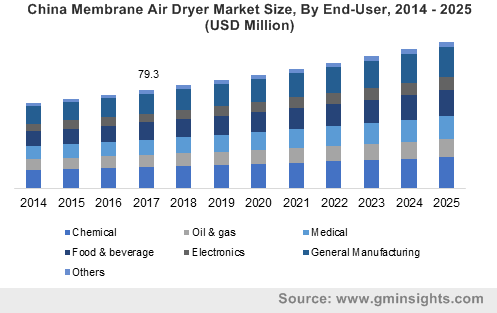 Launch of a highly innovative and technologically-superior product range is changing the face of membrane air dryers industry
Unsurprisingly, the usage of membrane air dryers is expected to replace the traditional air dryers as technological advancement continues to garner pace. The manufacturers of membrane air dryers appear focused on designing and developing new air dryers that can provide ultra-dry and ultra-clean air when and where it is truly needed at a lower cost. The membrane air-drying technology is considered one of the safest when it comes to Class I, Class II or Class III hazardous sites across the manufacturing industries. Moreover, these products can be wall-mounted to free up floor space and are environmentally safe – factors that have added to the popularity of these air dryers.
The trend of unveiling technologically-advanced membrane air dryers is rather evident from the recent instance of the launch of customizable OEM Membrane Air Dryers from the U.S-based Pentair. The new product range features membranes equipped with ultra-high resistance against the tough settings created by pressure cycling and piston air compressors. Moreover, these new air dryers provide extra robust protection against condensation in compressed air systems and have been designed to deliver clean and dry compressed air as low as -20 degrees Celsius. The new air dryers are lightweight, compact and easy to install, along with low purge air requirements owing to hollow-fiber design and technology.
Get a Sample Copy of this Report @ https://www.gminsights.com/request-sample/detail/184
Speaking in the similar context, selecting the most cost-effective, safest, and space-saving membrane air dryers is critical for various business verticals who are involved in drying compressed air at point-of-use. Moreover, the demand for membrane air dryers which are designed for water-sensitive applications, providing instrument-quality air that need flow rates ranging up to 100 standard cubic feet per minute (SCFM).
Keeping these characteristics and challenges in mind, numerous membrane air dryer industry players are creating products that would function for a longer duration and are cost-effective. For instance, WNA AMD-035 Membrane Dryer launched by Walmec North America has a four-stage pre-filtration which is crucial for the efficient functioning and longevity of the air dryers. It is also being said that the new product has a flexible input hose assembly which lowers the hazards of damage from vibrations in piped compressed air systems. Needless to mention, the launch of such highly innovative air dryers is bound to propel the commercialization scale of the membrane air dryers industry, which is slated to surpass USD 800 million by 2025.
As far as the geographical penetration of the membrane air dryers market is concerned, North America is expected to record an annual growth rate of about 4 percent over 2018-2025. Escalating spending in the healthcare sector along with strict environment, safety, and health standards in order to lower occupational respiratory ailments has been pivotal in boosting the product demand across North American countries.
The appreciable efforts of major companies to introduce advanced solutions to the mainstream is one of the prominent factors to have accelerated the pace of membrane dryers industry share expansion. The major firms leading the competitive hierarchy of the global membrane dryers market include Walmec, Bellex International, Ingersoll-Rand, Hankison, Atlas Copco, Gardner Denver, Omega Air, Kaeser Kompressoren, Parker Hannifin Corporation, Graco Inc., and Donaldson Company.
Author Name :Saif Ali Bepari
Myriad usage across many industries, such as healthcare, manufacturing, and food & beverage will stimulate compressed air treatment equipment market trends. Several industries are witnessing an increase in demand for treated compressed air. The food and beverage industry is a major end user of the market, which utilizes compressed air to cool and freeze products. In the food & beverage industry, consumption of compressed air is likely to surge owing to the consolidating trend of maintenance of a healthy lifestyle.
A research study conducted by Global Market Insights, Inc., suggests that compressed air treatment equipment market is likely to exceed the $12.8 billion mark by 2026, in terms of revenue.
Highly pure form of compressed air has found a multitude of applications in the healthcare and food & beverage industries. Research & development activities are increasing in the healthcare industry, which has multiplied applications of the product. Compressed air treatment equipment is used in dental applications as well for powering dental tools and dental milling machines. Numerous applications in various industries are expected to spur compressed air treatment equipment industry growth in the ensuing years.
Compressed air treatment equipment has found a variety of applications in the food & beverage industry owing to the massive consumption of contamination-free compressed air in several operations, such as nitrogen generation, pelleting & packaging, and cooling & freezing products. In addition, the market is anticipated to observe colossal growth from increasing demand for compressed air in processing, bottling, cleaning, and packaging applications in the food & beverage industry.
Compressed air treatment equipment is extensively used in critical instruments, such as transmitters, converters, indicators, thermostats, and recorders. The manufacturing sector, which is in the midst of industrial automation, has opened up new avenues for the expansion of instrument air application segment. The product is highly used in operating precision equipment and machineries. The instrument air application segment is projected to surpass a valuation of around $4.5 billion by 2026.

Get a Sample Copy of this Report:@ https://www.gminsights.com/request-sample/detail/421

The other product segment of compressed air treatment equipment industry consists of drain traps, condensate treatment equipment purifiers, etc. As per estimates, the other product segment is likely to account for more than $750 million by 2026. The segmental growth will stem from stringent government regulations pertaining to the disposable condensate, which will contribute to enhance compressed air treatment equipment market trends.
Elaborating on the regional contribution, North America is expected to emerge as a key compressed air treatment market. The region houses several leading manufacturing and food & beverage industry participants, which generates massive demand for compressed air treatment equipment. In addition, a series of investments directed towards the advancement of the healthcare industry is anticipated to fuel compressed air treatment equipment industry demand. North America compressed air treatment equipment industry is anticipated to register a 5.5% CAGR over 2020-2026.
Compressed air treatment equipment market is witnessing a forward integration owing to the high degree of competition among business players. The companies operating in the industry are prioritizing business strategies, such as expansions, acquisitions, product development, etc., to gain profits. Some of the notable compressed air treatment equipment industry players include Donaldson Company, Inc., Gardner Denver, Kaeser, Sullair, Sullivan-Palatek, Atlas Copco, Beko Technologies Corp., and Boge Compressors. A few more eminent business participants are Emerson Climate Technologies, Inc., CompAir Holdings Ltd., Precision Filtration Products, Seneca Companies, Quincy Compressor, SMC Corporation, etc.
Author Name : Anchal Solanki