SIEM
With global enterprises rapidly embracing cloud platforms as well as other networking technologies, cybersecurity market is anticipated to observe a massive upscale in revenue. As more and more organizations transition into the cloud and work to minimize security risks, making the enterprise network less vulnerable to a plethora of cyber-attacks, the average annual spending on cybersecurity is expected to rise significantly. In fact, back in 2017 the average spending on cybersecurity solutions by organizations went up as much as 23% accounting for more than $11.7 million. This increasing cyber security budget in several organizations globally is expected to be one of the most prominent growth inducing factors propelling cybersecurity market.
U.S. Cybersecurity Market Revenue, By Product, 2017 & 2024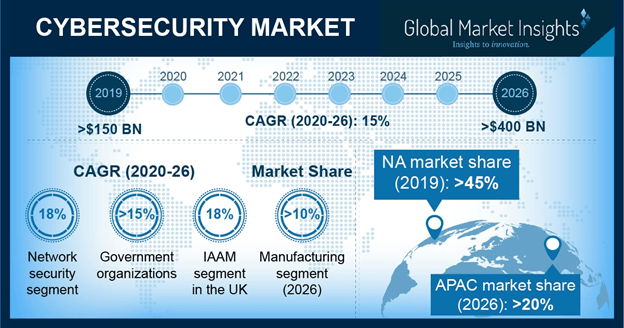 While the topic of cybersecurity once received perfunctory response from global governments, the scenario has undergone a drastic change today. A number of nations have increasingly begun looking for ways to protect their government agencies from malicious attacks by boosting their cybersecurity preparedness efforts. The potential of the threat is so much that in 2018, the World Economic Forum launched Global Centre for Cybersecurity to protect the world against hackers. These cyber security efforts were further magnified in late 2018 when more than 50 countries signing an international cyber security principles agreement that aims to put an end to malicious cyber-activities in peacetime – an act that is bound to significantly drive the growth prospects of cybersecurity industry.
Hefty adoption by large enterprises to fuel global cybersecurity market size
As businesses worldwide undergo a digital transformation, wherein they move the critical applications of their enterprise network onto the cloud, the issue of cybersecurity has garnered mainstream attention. The digital transition has undeniably allowed organizations to significantly improve their operating efficiencies, but has also made them vulnerable to a plethora of cyberthreats that could bring their operations to a grinding halt if they fail to manage the security risks properly. In fact, according to Telstra, over 59% organizations across Asia experience a business-interrupting cyberattack at least once a month due to inadequate cyber security measures.
Get a Sample Copy of this Report @ https://www.gminsights.com/request-sample/detail/3078
Driven by the threat potential of cyberattack more and more large enterprises are embracing cyber security solutions. Indeed, large enterprises accounted for over 60% of the global cybersecurity market share in 2017. It is also prudent to mention that 2017 was witness to one of the biggest cyberattacks ever, where the WannaCry ransomware, which affected over 400,000 machines across 150 nations, cost the world approximately $4 billion in losses. Large enterprises on an average lost over $10 million because of cyber security breaches.
Prompted by the WannaCry attack, that enabled the average cyber-attack cost to rise as much as 11%, enterprises were further encouraged to embrace more advanced security solutions. The cybersecurity market is also expected to attract sizable gains on account of the growing Bring Your Own Device (BYOD) trend, wherein businesses are allowing their employees to utilize their personal devices on the job.
How has the new U.S. national cyber strategy impacted the cybersecurity industry trends?
The United States of America has been facing consistent threats from an increasing number of highly-sophisticated malicious entities that are motivated by a whole host of different factors ranging from ideological & political interests to espionage & financial gains. The Armed Forces Communications and Electronics Association (AFCEA), in September of 2018 had pointed out that the U.S. government did not possess a comprehensive cyber security strategy leaving U.S. critical infrastructure and federal agencies extremely vulnerable to cyberattacks. In the days that followed, the Trump administration released the National Cyber Strategy, the nation's first, fully-articulated cyber strategy in over 15 years.
Propelled by the cyber strategy, in conjunction with the rising adoption of cybersecurity solutions by an extensive number of enterprises spanning the nation, the U.S. cybersecurity industry is anticipated to crop up as one of the most prominent regional markets over 2018-2024.
It is rather overt that the global cybersecurity market is well positioned to establish itself as a lucrative investment ground. As per Global market Insights, Inc., cybersecurity industry size, driven by the growing number of cyberthreats that are frequently cropping up, is anticipated to be pegged at $300 billion by 2024.
Author Name : Akshay Kedari
Industrial control systems (ICS) security market, tagged as one of the most revolutionary verticals of the smart & sustainable technologies space, has garnered massive remuneration in the recent years, given the increasing demand for network connectivity to support critical infrastructure. Industrial automation and digitization trends have practically computerized most of the machinery and engineering components that have undeniably changed the way operations are now performed but have however increased attack surface areas. Reports in fact claim that the industrial sector witnessed a significant increase in the number of vulnerabilities in ICS between the years 2015 and 2017. It has been estimated that the number of vulnerabilities reported by major companies offering ICS solutions were 115 in 2016 and the number rose to over 197 in 2017.
North America Industrial Control Systems (ICS) Security Market Size, By Security Type, 2017 & 2024 (USD Million)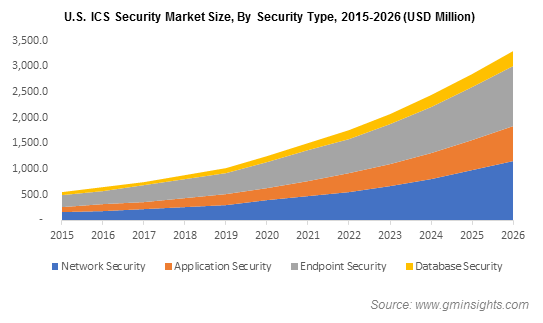 The growth in the ICS security industry can be attributed to these rising malware attacks that generally drain the bank accounts, steal identities, and blackmail organizations to bring services to a halt. A significant instance is that of the NotPetya ransomware that shut down several industrial IT networks across the U.S. and Europe. The gigantic outbreak resulted in losses of thousands of millions of dollars for large enterprises, from pharmaceutical company Merck to shipping firm Maersk. WannaCry was another popular ransomware that caused enormous damage, however it was later realized that this unsophisticated attack could have been easily prevented by following the basic IT security practices.
The robust prevalence of incidences similar to the aforementioned has served as a pivotal driver for ICS security market. Owing to these constantly evolving cyberattacks that are becoming more commonplace, security concerns have grown considerably in recent times, resulting into robust demand for ICS security solutions. Speaking of the growth in the commercialization potential, reports claim that the industrial control systems security market bagged USD 1.5 billion for the year 2017 and is expected to thrive further with industry players focusing on strategic collaborations and product innovation trends.
Get a Sample Copy of this Report @ https://www.gminsights.com/request-sample/detail/2680
Kepware's latest release of the KEPServerEX® version 6.5 industrial connectivity platform, in this regard is quite an example of the rising product innovation & diversification trends in the industrial control systems security market. The company's new product launch demonstrates its commitment to ICS security and its word in providing customers with best tools and services that support defense-in-depth programs. According to reports, the 6.5 version, which existing users can now avail for free, includes features such as enhanced password configuration, greater project file protection, comprehensive secure deployment guidelines, and other updated security components. Kepware, a business arm of PTC, also claims that it will introduce a Shared Responsibility Model that will enable the company to work together with its customers and address security issues experienced by industrial organizations of all sizes.
Industry experts speculate that in today's security landscape, the real pressure on all the industrial enterprises is to secure their operational networks. And Kepware's commitment in adding new security features and maintaining up-to-date components that would help customers reduce exposure to cyber-attacks and vulnerabilities will in turn strengthen its footprints in the competitive landscape of the global ICS security industry.
The partnership between Rockwell Automation and Claroty is another fine instance that portrays how leading industrial control systems security market players are constantly expanding their reach through such strategic collaborations. The partnership between the two is expected to develop a purpose-built anomaly detection software for the industrial network security.
Numerous other leading ICS security industry players like Cisco, Honeywell, IBM, Schneider Electric, and GE Digital are also expected to keep pace with the changing dynamics of cyberattacks while ensuring the delivery of comprehensive security solutions. On grounds of these efforts being undertaken by the industry players to innovate advanced & efficient products, industrial control systems security market is certain to tread along a lucrative roadmap in the years ahead. As per Global Market Insights, Inc., the overall industrial control systems security market size has been forecast to be pegged at USD 7 billion by 2024.
Author Name : Ojaswita Kutepatil