Slurry
Sodium bicarbonate market has recorded increasing returns over the recent years due to expansive use of the compound in manufacturing, food & beverages, agrochemical and various other industries. In the manufacturing sector a massive demand for sodium bicarbonate has been created due to its use as a soft abrasive blasting medium. Expanding demand for convenience foods has created a steady growth scope for sodium bicarbonate industry as well, reshaping the market outlook rapidly.
U.S. Sodium Bicarbonate Market Size, By End-User, 2013 – 2024 (USD Million)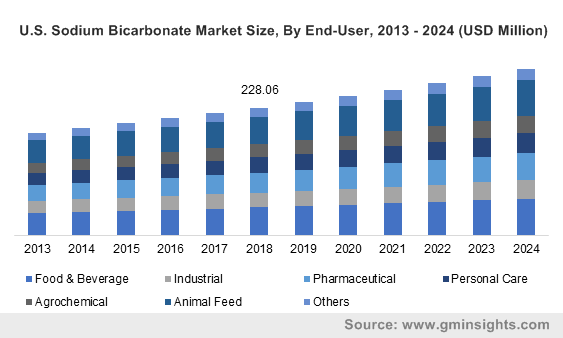 The expanding manufacturing sector has significantly supplemented sodium bicarbonate market trends. According to most recent data, manufacturers have been noted to contribute $2.38 trillion to the U.S. economy in the fourth quarter of 2018. Manufacturers in the U.S. perform 64 percent of all private-sector research and development in the country, bringing forth more innovation than any other sector. R&D in the manufacturing sector has risen from $132.5 billion in 2000 to $252.0 billion in 2017. Such actions not only have profound economic implications but are also slated to help the expansion of sodium bicarbonate market as increased manufacturing activities necessitate the use of the compound for abrasive blasting as well as for cleaning and maintenance of machinery.
Iron and steel manufacturing is one such sector that will contribute considerably in augmenting sodium bicarbonate market size. Granulated soda ash is a high-quality product which is used in the steel sector to eliminate Sulphur from iron ore, smoothen blast furnace operations, and give fluidity to slag during the manufacturing of iron and steel.
Get a Sample Copy of this Report:@ https://www.gminsights.com/request-sample/detail/2386
According to the European Steel Association, steel consumption was up 1.3% in 2017 to 159 million tons. Indexed steel use in automotive was up by 3.7%, in construction by 4.8%, in mechanical engineering by 6% and by nearly 7% in tubes. The figures represent a steady growth in consumption of steel. Similar growth patterns are expected to be witnessed by steel manufacturing sector which will also proliferate Europe sodium bicarbonate market share in the coming years. According to a research report compiled by Global Market Insights, Inc., Europe sodium bicarbonate market revenue is expected to exceed $400 million by 2024.
The food industry is yet another major consumer that has added impetus to sodium bicarbonate market growth. Sodium bicarbonate is used as a leavening agent in most baked goods that include quick breads, cookies, cakes, rolls etc. Evolving lifestyles across the globe have left less time for cooking which in turn has added a significant stimulus to the demand for ready mix cakes.
In 2015, $27.46 billion was collected from the retail sale of bread and baked goods in the U.S. Considering the fact that the U.S. is one of the largest consumers of baked products, this trend is expected to hold true in the coming years and lead to significant growth in the sodium bicarbonate market. In fact, food and beverage sector is expected to contribute more than $450 million to sodium bicarbonate industry over the forecast timeline.
Notable participants of the sodium bicarbonate industry are undertaking efforts that will expand their footprint in the market. For instance, Tata Chemicals Europe (TCE) is building the first industrial-scale Carbon Capture and Utilization (CCU) Demonstration Plant in the UK, which will decrease its carbon emissions while ensuring a secure and maintainable supply of carbon dioxide. It is the first one of its kind large-scale CCU project in the UK and also marks itself as world's first in trapping and refining carbon dioxide from power generation facility emission gases to be utilized as a key raw material to produce high purity sodium bicarbonate. TCE already exports 60% of its sodium bicarbonate to more than 60 countries throughout the globe. Many other companies are also toiling to penetrate sodium bicarbonate market by expanding their business globally.
Another effort to reinforce foundation in sodium bicarbonate industry has been depicted by CIECH Group. CIECH has started a number of initiatives aimed at increasing the efficiency of production in the soda business. The company has invested approximately PLN 40 million in the plant in Inowrocław which will increase its production capacity by 50,000 tons of soda ash per year and reduce the cost of production of baking soda or sodium bicarbonate. Businesses are also implementing collaborations, acquisitions, market flotations etc. as a part of their growth strategies to increase their revenue share in sodium bicarbonate industry.
Various companies are toiling to gain substantial revenues in sodium bicarbonate market as the compound is a high margin product targeted that can target various industrial segments. The growth of contributing sectors like iron and steel, food and beverage, glass etc. will also push the revenue graph of sodium bicarbonate industry. Sodium bicarbonate market size is expected to reach $2 billion by 2024.
Author Name : Anchal Solanki