Smart Buildings
Owing to the rising deployment of LPWA technologies, including LTE-M, NB-IoT, and LoRa, low power wide area network (LPWAN) market share is witnessing an increased traction in the recent years. Interestingly, LPWAN networks have emerged as popular choice among enterprises to support various IoT use cases and solutions for business sectors such as agriculture, manufacturing, logistics, and healthcare, among others. Enumerated below are three major factors that are shaping the growth prospects of LPWAN market.
Europe Low Power Wide Area Network (LPWAN) Market Share, By Platform, 2018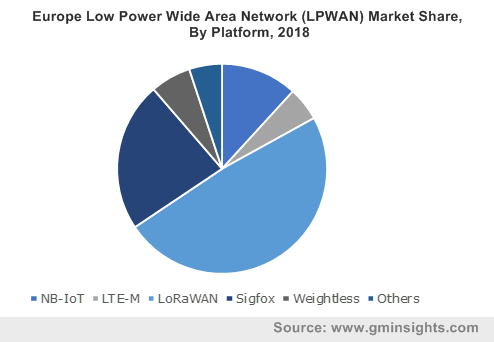 Increasing investment by telecom operators in laying NB-IoT and LoRaWAN networks across various cities is benefiting the overall LPWAN industry size
In 2018, the British telecom operator Vodafone announced NB-IoT network expansions in Spain and Germany, with ambitious plans to double the size of its NB-IoT footprint in Europe by the end of this year.
The NB-IoT network of Vodafone was deployed across Madrid and Valencia in 2017 in a number of verticals such as retail, electricity, agriculture, waste management, and smart city services. This technology has now been expanded to all localities in the cities of Seville, Malaga, Bilbao, and Barcelona, covering a population of about 25,000.
In 2016, South Korea's national telecommunications operator SK Telecom joined hands with semiconductors manufacturer Semtech Corporation to roll out LPWAN network across the nation. Additionally, the operator had also declared that it plans to provide 100,000 LoRa devices free of cost to its customers as part of its 'Partner Hub Program'.
This program has apparently played a vital role in scaling the development and deployment of LoRa devices (based on IoT solutions) and has been of immense significance for expanding the South Korea LPWAN industry size.
Digital Catapult, the UK's foremost agency for adoption of digital technologies, announced in 2016 that it is working closely with British telecom firm BT and a few educational institutes to boost the IoT network in London. To that effect, the company launched Digital Catapult Things Connected which will provide about 50 LoRaWAN base stations situated across London – an effort to establish the UK's largest IoT LoRaWAN network.
Needless to mention, this network and support program will provide an opportunity to digital start-ups and small and medium-scale enterprises to use IoT and drive innovation across London.
Apart from massive expansion programs and large-scale investment, the use of licensed spectrum enables the telecom operators to provide customers with the same levels of security as its LTE network. This makes it immune to disruptive and alternative technologies, essentially opening up numerous business opportunities for LPWAN market players.
Get a Sample Copy of this Report:@ https://www.gminsights.com/request-sample/detail/674
The rise in industrial IoT connections is favoring the growth prospects of LPWAN industry
Besides the rising volume of investment by telecom operators, the increasing prominence of industrial IoT market in various business verticals – especially the manufacturing sector – has invariably led to an escalation in the demand for LPWA technologies. This momentum is expected to remain consistent in the upcoming years as the industrial IoT connections are slated to increase by about five times by 2025.
In fact, the German wing of PwC released its findings last year of what the firm expects of the impact to be created by industrial IoT in the German manufacturing sector. Apparently, these findings note that about 90 percent of the respondents are investing in digital factories and a lot of these companies expect a 12 percent efficiency gains over the next five years owing to industrial IoT. Unsurprisingly, these statistics present an optimistic picture of the adoption of industrial IoT solutions, which will consequentially assist the regional LPWAN industry in reaching out to a new base of customers in the times to come.
The advent of 5G technology and its impact on LPWAN market share
One of the major factors fueling the commercialization prospects of LPWAN industry is the steady increase in the volume of investment pertaining to 5G technology. In this context, it is important to take note of the fact that the mobile IoT technologies, such as LTE-M and NB-IoT, offer a cost-effective wide area coverage while ensuring the success of 5G network deployment.
The 5G technology would enable major telecom firms across the globe to provide high connectivity to support numerous IoT use cases. Taking this factor into account, various telecom firms including Orange, Vodafone, and Airtel are deploying licensed cellular LPWAN as a prominent component of their 5G development strategies.
In a nutshell, the increasing volume of investment by telecom firms in expanding the NB-IoT and LoRaWAN networks, the advent of 5G technology and its development, and the rise in industrial IoT connections has been fueling LPWAN market share. As per a research report by Global Market Insights, Inc., LPWAN industry size is slated to exceed USD 65 billion by 2025.
Author Name : Saif Ali Bepari
Since its conception, IoT has been impacting numerous businesses in unprecedented ways than expected. IoT infrastructure market, one of contemporary niche verticals of the building construction and infrastructure development sphere, now holds the reputation of being encompassed among the many IoT influenced business spheres. The proliferation of the Internet of things in infrastructure development has led to the procreation of smart homes and cities, touted as a revolutionary phenomenon of the 21st century. With the rising demand for connectivity to enable smart security, social surveillance, smart transportation, energy safety, smart metering, and efficient governance for enhancing consumer lifestyle, IoT infrastructure industry is likely to garner much acclaim in the ensuing years. Estimates compiled in a recent IoT infrastructure market research report forecast this business space to have accumulated a valuation of close to USD 15 billion in 2016.
U.S. IoT infrastructure market, by application, 2016 & 2024 (USD Billion)
A succinct overview of IoT infrastructure market in terms of the application spectrum
IoT infrastructure industry outlook from smart homes
The proliferation of IoT in the home sector has brought about a barrage of changes in consumer standard of living. IoT-enabled homes offer some of the best advantages that can transform a person's lifestyle across the urban space. Smart devices such as the Nest thermostat, Amazon Echo, smart fridges, Google Home, Wink Relay and Controller, etc., have been popularized across IoT infrastructure market and liberally deployed in smart homes, subject to their incredible benefits such as controlled energy consumption, automated notifications, weather alerts, etc. Fiercely vying with one another to consolidate their positions in IoT infrastructure industry, tech companies have been going the whole hog to introduce highly advanced connected devices for smart homes.
IoT infrastructure market outlook from smart buildings
The deployment of big data and IoT in smart buildings helps deliver actionable insights to improve consumer living comfort, optimize building operations, and reduce energy expenditure. The robust rise in the number of connected devices being installed in smart buildings bears evidence to the fact that IoT infrastructure industry share from smart buildings is likely to plummet in the years ahead. Companies have been planning strategies to brainstorm numerous connected devices for exploiting the potential of IoT in buildings. Recently for instance, Kone signed on a multi-year deal with IBM, with an aim to maneuver the IBM IoT Cloud Platform for connecting, monitoring, and optimizing building components such as doors, elevators, turnstiles, and escalators.
IoT infrastructure market outlook from smart cities
A recently compiled report depicts that close to 60% U.S. citizens prefer living in smart cities, given their incredible advantages. The rising proliferation of smart cities is evident from the incredible proportion of smart city projects that are being undertaken across myriad geographies – which may have a mammoth impact on the revenue graph of IoT infrastructure industry. The numerous advantages provided by smart cities with regards to planning, finance, energy safety, transportation, and other urban aspects have accelerated their demand and popularity across IoT infrastructure market. In consequence, tech behemoths have been signing public-private partnerships, that would lead to the generation of layered framework to address the many challenges of smart city projects by building effective, connected solutions.
The Internet of Things, conceived back in the 1980s at the Carnegie Mellon University, has now metamorphosed into a prodigy that defines efficiency, sustainability, and convenience. The deployment of this concept in infrastructure is likely to open up a plethora of opportunities for construction companies, real estate developers, technology behemoths, and infrastructure development firms, that would strive to brainstorm numerous solutions for connected infrastructure, augmenting IoT infrastructure industry trends. An IoT related report by a research firm claims close to 1.40 billion IoT units to be shipped ahead for smart city projects by 2020, for smart homes, smart buildings, smart transportation, sustainability and climate change. This provides ample evidence to the fact that IoT infrastructure market is here to stay, boasting of a widespread array of technologies, platforms, and applications. A report compiled by Global Market Insights, Inc., claims IoT infrastructure market size to surpass a valuation of more than USD 130 billion by 2024 – which is apparently close to 8.5 times its value in 2016.
Author Name : Saipriya Iyer