Smart Elevator Market
The global smart elevator market share is on the rise lately owing to the product's growing adoption in emerging markets like India and China, coupled with growth in the construction and infra sectors worldwide. Smart elevators are estimated to make big strides in the global elevator market owing to the new wave of technology and advancements that are transforming the global landscape.
UK smart elevator market, by application, 2018 & 2025 (USD Million)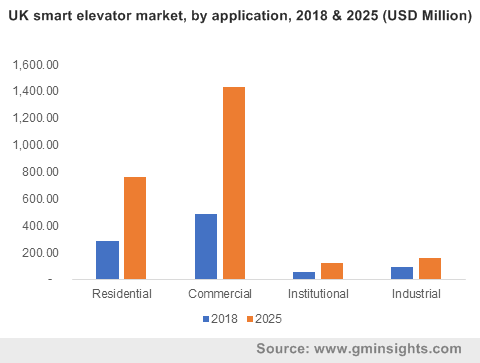 Enumerated below is an insightful summary of the top technological trends which are likely to offer impetus to smart elevators industry share.
1) Internet-connected elevators
The future of elevators is connectivity, which is expected to play a huge role in product demand over the coming years. With several smart elevator manufacturers already considering its implementation, it won't take long for internet-connected smart elevators to become common. A smart elevator company that is currently exploring this possibility is Otis Elevators. The company has initiated development of smart elevators that are capable of communicating with passengers, service staff, building managers, and others for enhancing performance and passenger experience.
Otis is also looking to develop technologies that can enable passengers to summon elevators through their phone. The implementation of connectivity and smart features is a major ongoing trend which is estimated to overcome problems concerned with efficiency, repair schedules, as well as waiting and traveling time. The burgeoning demand for the integration of such technologies within residential and commercial spaces will pump up smart elevator market share in the ensuing years.
2) IoT driven elevators technology
Technologies like IoT are reshaping the surroundings and helping countless businesses perform better. Smart elevators companies have also started recognizing the potential of these disruptive technologies and are beginning to embrace them. A smart elevator market analysis reveals that IoT seems to have majorly influenced the industry dynamics lately. Case in point, smart elevator company Schindler recently entered a partnership with Spanish telecom giant Telefónica to enhance its cloud-based digital offerings with Telefónica's IoT connectivity services.
Such provisions will offer greater convenience, interactivity, and personalized services to smart elevator passengers. Also, the extraordinary pace at which high-rise buildings are mushrooming across the globe offers numerous growth opportunities to the technology providers in the IoT domain. The surging adoption of IoT in smart construction and connected buildings will fuel the smart elevator market share over the forthcoming years.
Get a Sample Copy of this Report:@ https://www.gminsights.com/request-sample/detail/1593
3) Multi-directional elevators
With rapid urbanization, the population in cities will continue to rise, generating a high demand for residential establishments, which can be sufficed by building more high-rise and economical buildings. While the conventional elevator technology obstructs this possibility, the implementation of rope-free and multidirectional elevators seems a viable option.
German elevators giant Thyssenkrupp's latest innovation Multi is a ropeless multidirectional elevator, which can move up and down a shaft as well as move horizontally. The technology is estimated to bring considerable change to the elevator industry owing to its numerous benefits including more space, less wait time, and fewer restrictions due to elevator shaft height. Successful implementation of this technology could offer new opportunities for the smart elevators industry in the future.
4) Maintenance using augmented reality
Regular servicing and maintenance of a residential or commercial elevator system can fix small problems before they get big enough and end up costing a fortune. The elevator technology is evolving rapidly, triggering the next level of technically advanced maintenance technology. An ideal example in this context is of ThyssenKrupp which has equipped repair engineers with HoloLens, Microsoft's augmented reality technology.
HoloLens allows repair engineers to effectively communicate with coworkers back in office, by sharing schematics through the display, for accelerating servicing and repair. Such a technology will create a massive shift in the smart elevators industry, giving builders the confidence to invest in technologically advanced elevators that are compatible with such services and facilitate seamless functioning of a building.
The smart elevators market analysis based on the aforementioned trends sheds light on the possibility that this industry will embrace modernizations owing to constant innovation in information technology and other tech sectors. Numerous other trends in the world of technology and elevators overtly indicate a lucrative phase for the business space.
Furthermore, the construction of technically advanced structures and green buildings would spark a technological revolution, thereby boosting the smart elevator market share in the future. According to a smart elevator industry analysis by Global Market Insights, Inc., this market is anticipated to be worth more than $25 billion by 2025.
Author Name :Krithika Krishnan
With rapid economic progression and expanding infrastructure industry, Asia Pacific elevator market has emerged as one of the major hotbeds for the lift manufacturers worldwide. Touted as the world's top two elevator markets, China and India currently lead the way in this business sphere. The rapid urbanization and surging adoption of new technologies have been generating numerous business opportunities for the leading OEMs across this region. In addition, the implementation of new regulatory policies for increasing occupant safety has been encouraging giants to develop technologically advanced elevators. IoT assisted elevators for instance have been making inroads in elevator market, given that they help minimize the maintenance time.
U.S. Elevator Market Size, By End-user, 2014 – 2025 (USD Million)

Prominent industry players tapping the expanding Asia Pacific elevator market:
Kone
Touted as one of the foremost global elevator industry players, Kone has established itself as one of the most lucrative players in the Asia Pacific lift market. Reportedly, the giant holds 20% share in India market. Some of the recent expansion bids that the Finnish giant has created in the continent are enumerated below:
In July this year, Kone India, as a part of its strategy to address the growing mid-range markets announced the launch of its new range of elevators dubbed U MiniSpace and U MonoSpace. The new products allegedly have 26 cars and are claimed to be highly placed in terms of aesthetics and energy efficiency. The U MonoSpace elevators are said to carry 35 percent higher energy efficiency than the firm's earlier elevators. The company also detailed its plan to commission a new facility at Chennai in early 2019.
The company, earlier this year unveiled its foray into the connected space with the announce of its 24*7 connected elevator services in India in 2019. The services are reported to use IBM Watson and an IoT platform and are anticipated to be highly efficient with lesser equipment failures and system faults. Reportedly, the IOT elevator services by the company is operable in 11 countries.
In 2016, a leading media source claimed that the requirement of elevators and escalators had decreased over 5% in India pertaining to the implementation of demonetization and revision of taxes, however, the product demand has been increasing remarkably since the onset of 2018. The year's budget allotment for railway and housing infrastructure development has also been immense, further impacting India elevator market trends.
In addition to India, Kone has also received an opportunity to extend its reach across China after winning a contract for developing Ningbo Metro Line 4 across eastern China. Considering the hold that escalator and elevator market has in China, Kone has specifically designed heavy-duty escalator technology for metro projects. The global leader in elevator market will deploy three KONE MiniSpace® elevators, 25 KONE MonoSpace® machine room-less elevators, and 79 KONE TransitMaster(TM) escalators at Ningbo Metro Line 4, with an hourly transportation capacity of around 7,000 people.
Get a Sample Copy of this Report:@ https://www.gminsights.com/request-sample/detail/2834
Otis
Focusing on the ever-growing business opportunities across APAC, Otis, the U.S. based escalator manufacturer is looking forward to consolidating its place in APAC elevator market, in accordance with which it has taken a step forward to establish a manufacturing facility across India. As per reliable estimates procured in 2017, India elevator market witnesses an annual demand of 49,000 units.
In 2017, Otis unveiled its plan to extend its regional reach across India, pertaining to the growing product requirement for the modernization of railway stations. In line with its decision, it is looking forward to modernizing tier II and tier III cities and railway stations in India by the end of 2020. Reportedly, in the development of escalators, Otis would use 60% indigenous components and 40% global products.
Schindler
Schindler is counted among the renowned companies that have been massively investing in smart and connected devices. With the advent of smart elevators, the company plans to tap the growing business opportunities in APAC elevator market, owing to the increasing popularity of cloud computing and AI-based connected equipment.
Recently, Schindler India revealed its plan to invest INR 100 crore to build an escalator manufacturing plant in Pune, Maharashtra. The company is also focusing on the use of air-conditioners in the elevators mainly for commercial and residential buildings. The new facility is anticipated to be operational by the middle of 2019, and is endowed with a manufacturing capacity of 1,100 escalators a year.
The increasing investments in infrastructural development projects comprising shopping malls, railway stations, and metros across APAC are expected to attract numerous players to the region, prompting them to establish their facility centers across the continent. Powered by the increasing requirement of elevators across apartments and high rise buildings, global elevator market will surpass a revenue collection of USD 130 billion by the end of 2025.
Author Name : Sunil Hebbalkar