Smart Luggage Market Size
The fact that smart luggage is now a buzzword for the tech-savvy traveler legitimizes the massive commercialization matrix of smart luggage market. A prime factor that has augmented the popularity of this product is the substantial rise in the number of air travelers that has led to strict security compliance at airports. Furthermore, there has been an increase in the cases of baggage theft and luggage damage during travel lately, which has pushed the demand for connected suitcases and bags, thereby stimulating smart luggage industry share. The escalating penetration of IoT in the baggage fraternity has prompted manufacturers to include smart features such as remote locking system, Wi-Fi spots, GPS, Automatic built-in weighing, Bluetooth, USB chargers, built-in batteries, and SIM cards in luggage. Say for instance, Bluesmart, a key manufacturer of smart products for travel industry, recently introduced second generation technology referred to as Series 2 in its product line. The new smartphone-controlled locking & site tracking system is expected to lessen the trouble for passengers and airport officials during baggage check-ins.
U.S. Smart Luggage Market Size, By Application, 2016 & 2024 (USD Million)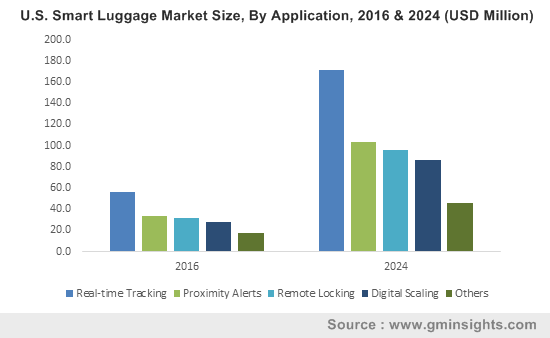 The concept of zipper-less baggage has been gaining traction in smart luggage industry. For instance, Trunkster, a U.S. based baggage startup has recently introduced smart zipper-less luggage – a self-weighing waterproof suitcase comprising sliding doors, offering secured as well as easy access to the luggage contents as compared to the zipped ones. Further on, Delsey, a France smart luggage market player is developing a unique fingerprint ID endowed with numerous features – it automatically locks and unlocks bags, is capable of checking the mobile application of the end-user to verify that the bag is actually locked, and provides a notification to the user during bag transit. The aforementioned instances testify that the launch of state-of-the-art technologies is thus likely to transform smart luggage market trends.
Smart luggage technologies are deployed to implement digital scaling, real-time tracking, remote locking systems, and proximity sensing devices. Real-time tracking technology, for instance, is heavily utilized in airports in cases of baggage loss. Luggage thefts and security violations have changed traveler preferences rapidly, enabling them to invest in smart luggage equipped with remote locking systems & proximity sensing devices. Furthermore, manufacturers have been focusing on preventing any kind of inconvenience to the traveler due to overweight baggage, which has resulted in the production of digital scaling systems. The development of unique smart technologies to be incorporated in suitcases and bags is thus certain to augment smart luggage market size.
Get a Sample Copy of this Report @ https://www.gminsights.com/request-sample/detail/2066
Speaking in the terms of geographical aspects, the product has been increasingly penetrating the APAC zone, given the growing frequency of air travel, subject to increasing consumer disposable incomes and the subsequent rise in their purchase parity of consumers. The robust surge in the demand for smart luggage foe security and comfort will thus generate a profitable growth map for Asia Pacific smart luggage industry. Countries such as Singapore, India, Thailand, China, and Malaysia being prime tourist destinations will, further contribute toward the revenue generation of this regional market.
North America, being one of the hubs of smart technology, is a profitable growth avenue for smart luggage market. The large-scale deployment of connected baggage has prompted companies to brainstorm and develop innovative products, which would considerably impel North America smart luggage industry. In fact, estimates claim North America to account for a rather huge share in smart luggage market.
With IoT firmly having established its predominance in the travel arena, smart luggage market is likely to emerge as one of most remunerative business spheres in the ensuing years. Companies partaking in smart luggage industry share have been hinting at incorporating a lot more user-friendly features in their products, which would considerably impel this business space. According to the Global Market Insights, Inc., smart luggage industry will hit a revenue of over USD 2 billion by 2024.
Author Name : Dhananjay Punekar