Smartwatch
The growth graph of wearable artificial intelligence market has remained exponential since the last few years, primarily driven by the explosive demand for AI across a spate of verticals. Wearables have been a part of the mainstream for a while now, however, they have registered increased prominence in recent times, driven by the rapid advancements in AI technology.
U.S. Wearable AI Market Share, By Product, 2018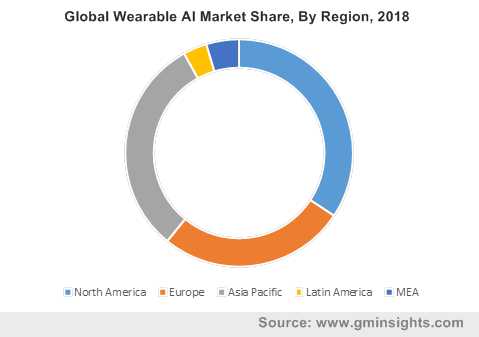 An extremely convincing litmus test of the potential held by wearable AI is the fact that it is gaining significant traction in the impenetrable healthcare industry. According to the Brookings Institution, this potential stems from wearable AI devices' innate ability to record medical data in a substantially reliable manner than their non-AI predecessors, allowing medical professionals to use the data to diagnose & treat diseases in their early stages. Despite being at a somewhat nascent stage, wearable AI industry seems to have garnered massive mainstream popularity.
How have Apple's innovations helped add momentum to the global wearable AI market?
Apple holds a pivotal position in the global wearables space, having pioneered its first Apple Watch back in 2015. According to The Yale Tribune, however, while the Apple Watch was not a complete failure, it did fail in living up to expectations and did not make a significant impact on the industry.
The Rise: According to the Harvard Business School, Apple's reputation surrounding the smartwatch changed when the company started to show significant potential in the field of wearables in 2017 with the release of Apple Watch Series 3. The launch elevated Apple to a leading position in the wearable AI industry, a business vertical expansively characterized by the presence of other smartwatch enterprises.
Get a Sample Copy of this Report @ https://www.gminsights.com/request-sample/detail/3245
The Accolades: Apple smartwatches boasted of being not only the world's most popular smartwatches but also the most popular 'watches' worldwide. Their shipments surpassed Swiss watch exports, reaching the 8 million mark during the fourth quarter (Q4) of 2017 against Swiss watches' 6.8 million.
The Potential: Apple has been instrumental in helping the wearable AI market foray in the lucrative healthcare industry, given that the company's new smartwatches are aimed at incorporating an FDA approved electrocardiograph. The EKG will be able to monitor the wearer's heart's electrical activity and look for signs of arrhythmia, thereby bringing considerable growth prospects for wearable AI market in the coming years.
Impact of expanding AR/VR gaming industry on wearable AI market
The gaming industry is quickly becoming a major business space, holding an edge over mainstream avenues of entertainment. According to the Association for UK Interactive Entertainment, global video game audience is estimated to range between 2.2 billion to 2.6 billion people.
The Potential: According to Fortune, fueled by the release of an array of highly anticipated videogames in 2018, the gaming industry recorded its largest sales over the previous seven years. In 2018, apparently consumers spent an overall $43 billion on video games – an increase of 18% against the 2017 numbers.
AR/VR: The gaming industry has always been a pioneer in incorporating latest technologies in video games to enhance a game's entertainment quotient. The advancements in augmented reality (AR) or virtual reality (VR) have thus facilitated a substantial opportunity for wearable AI market players.
The Projection: VR games facilitate a highly immersive gaming experience that, through more advancements, is expected to interact with all of the user's sensory inputs, actually tricking the mind into thinking that the experience is quite real. Driven by such advancements in AR/VR, the wearable AI market size from gaming applications, is projected to record a CAGR of 35% over 2019-2025.
On account of the expanding smartwatch industry and the exponentially flourishing gaming space, AI-based wearables are expected to command substantial attention in the years to come. According Global Market Insights, Inc., wearable AI market size is slated to surpass the $180 billion renumeration mark by 2025.
Author Name : Akshay Kedari
Predominantly driven by the surging demand for fine pitch panels, micro LED display market has witnessed a massive growth over the recent years. Renowned technology heavyweights have been increasingly deploying micro LED display panels in smartphones, smart watches, tablets and laptops to ensure a high wavelength uniformity suitable for fine pixel pitch LED displays. For instance, South Korean electronics giant LG Electronics, has recently announced its plan of introducing a new line of micro LED displays in the industry. Christened as XLµLED, XµLED, and SµLED, LG is finalizing the paperwork to trademark these displays in the EU.
UK micro LED display market size, by panel size, 2018 – 2024 (USD Million)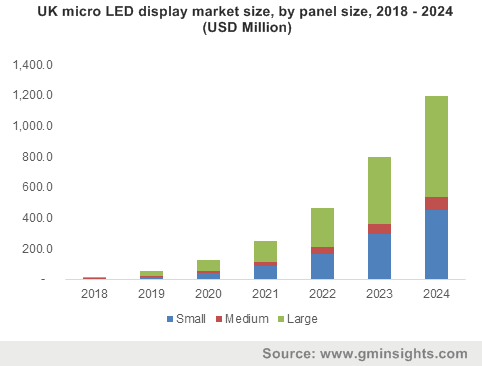 In recent times, micro LED display market has received quite a slew of investments from consumer industry giants. Apple is reported to have developed an advanced micro LED display technology for its next generation of smartwatches. Samsung too made its way to the headlines recently with its introduction of a micro LED TV at the 2018 Consumer Electronic Show. These aforementioned instances aptly underline the appreciable expansion of micro LED display industry over the recent years. Indeed, micro LED display industry is forecast to garner astounding proceeds from the sales of smartwatches, with a projected CAGR of 100% over 2018-2024, powered by their rising popularity.
Get a Sample Copy of this Report @ https://www.gminsights.com/request-sample/detail/2713
The commendable growth prospect of this particular business vertical can be majorly attributed to the growing investment by eminent companies to bring technological modifications in near-to-eye devices. In this regard, it is prudent to mention that the expansion of the semiconductor industry has proved to be a catalyst in augmenting miniaturized electronics component trends, concurrently sowing the seeds of developments in micro-LED display market as well. Justifiably so, Apple has recently entered into a strategic partnership with the globally acclaimed Taiwan Semiconductor Manufacturing Company (TSMC).  Through the agreement, Apple mainly intends to increase its research investment in micro LED panels for its upcoming smartwatch range.
MicroLED display industry is remnant of tech behemoths striving hard to include small micro LED components in devices which could lead to potential reduction in size of the wearable devices. With the increasing popularity of near-to-eye devices like smartphones and smartwatches, small micro LED display market is forecast to record an enormous CAGR of 105% over 2018-2024. Not only do small micro LEDs fit the suitability criteria in terms of size, but their properties such as high brightness, quick response time and self-illumination also contribute toward their popularity, by extension, augmenting the commercialization potential of small micro LED display market
The U.S. has emerged as a lucrative growth ground for micro LED display industry, given the robust demand for smart wearables in this region. As per reliable statistics, in 2017 alone, smartphone shipments in North America were valued at over 200 million units. Smartphone users in the U.S. are expected to grow to a staggering 230 million by the end of 2018. This would substantially necessitate the requirement of advanced micro LED displays, leaving an impact on the regional micro LED display industry share. Global Market Insights, Inc. projects U.S. micro LED display industry to exceed USD 7 billion by 2024.
While a considerable number of deployments have witnessed success early on, the commercialization matrix of the micro LED display market is still claimed to be at its nascent stage. In an effort to bring the business to the mainstream, leading industry players have been putting their efforts to enhance the distribution channels, so that manufacturers can conveniently shift from traditional LED components to technologically competent components. This, in consequence, would ultimately lead to robust product sales and popularity, thereby augmenting the profitability quotient of micro LED display market in the forthcoming years.
Author Name : Paroma Bhattacharya