SMBs
Rising demand for affordable and reliable communication services worldwide will be one of the key trends driving voice over internet protocol (VoIP) market growth over the forecast period. VoIP is a rapidly advancing technology that uses internet to make phone calls rather than conventional telephone systems. The cost of using a VoIP service is relatively low, especially for long-distance communication. Companies are increasingly leveraging VoIP solutions to improve their productivity and enhance mobility.
APAC VoIP Market Size, By Country, 2018 & 2025 (USD Billion)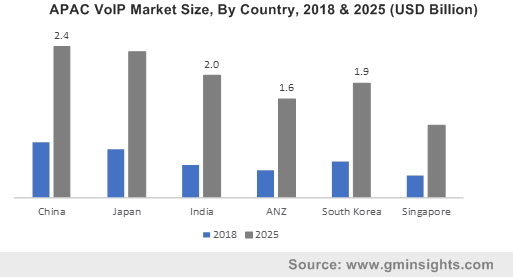 The voice over internet protocol (VoIP) market has garnered major share in developed nations owing to presence of high-speed broadband infrastructures which eliminate the need for maintaining a separate telecommunications network. In addition to making voice calls, VoIP can also conduct video conferencing calls, eventually allowing businesses to visually communicate with co-workers and clients to discuss deals, files, documents and agendas more effectively.
VoIP makes recording calls more efficient and easier, further enabling companies to integrate different communication services into a single device or software. With rapid technological advancements and recent innovations, VoIP market outlook has witnessed an immense transformation lately. For instance, in 2019, caller ID app Truecaller announced the beta-testing of its new app feature that allows users to make voice calls over IP. With such advancements, VoIP market trends are likely to expand and the industry players may garner a huge customer base, thereby augmenting business growth over the forecast period.
Voice over Internet Protocol (VoIP) market share is slated to record significant gains from the international VoIP call segment. Demand for international VoIP calling services is estimated to increase exponentially over coming years, on account of its low-cost service offering. Several affordable international calling plans are being offered by VoIP service providers that allow organizations to conduct business across borders at low calling rates. Credible reports also estimate international VoIP calls market to hold major share of over 50% by 2025.
Get a Sample Copy of this Report:@ https://www.gminsights.com/request-sample/detail/2989
VoIP providers also allow users to make calls to landline and mobile phone numbers without any restrictions. Being internet-based, the technology can effectively handle media types such as images, videos and texts along with voice. Rising technological advancements will propel VoIP industry growth. For example, VoIP service plans come with advanced features like caller ID with name, call waiting, conference calls and call forwarding among other.
An instance of initiatives that will effectively generate new growth opportunities in VoIP market include the one made by North Dakota Department of Human Services which recently awarded a $3.3 million worth call center contract to Noridian Healthcare Solutions. The grant will support North Dakota's Medicaid providers and customers by answering queries associated with Medicaid claims payment, submission of claims, and prior authorization.
Europe voice over internet protocol (VoIP) market will witness commendable growth over the coming years. Especially across Germany, the VoIP industry is recording lucrative growth on account of the region's strong telecommunication infrastructure. Consumer demand and adoption of broadband high-speed Internet services is also considerable within the nation. With rising demand for cheaper communications service and increasing use of VoIP solution, the region is forecast to be a major ground for VoIP market growth over the coming years.
Supportive government initiatives are also likely to expand Europe VoIP market size over coming years. For instance, as per Europe 2020 strategy, all Europeans are expected to own fast broadband services (over 30 Mbps) by 2020, a mission for which EU has implemented a series of regulatory measures and policies and has made around €15 billion available to Member States in the period 2014-2020.
Voice over Internet Protocol (VoIP) is an advanced communication technology that enables organizations to cost-effectively streamline different communication platforms to improve business productivity. International call centers are increasingly using VoIP to reduce cost expenditure and facilitate voice calls at affordable prices.
With growing traction in European countries and extensive use of internet-based voice communication apps worldwide, demand for VoIP solutions will increase significantly over coming years. Report from Global Market Insights, Inc., estimates voice over internet protocol (VoIP) market size to exceed USD 55 billion by 2025.
Author Name : Mateen Dalal
The developments and innovations in learning tools, delivery methods, and digital technology have revolutionized global e-learning market with regards to its revenue and profitability quotients. Increasing numbers of e-learning programs coupled with the growing prevalence of online education across a myriad range of geographies is set to carve out a lucrative roadmap for e-Learning market outlook in the ensuing years. With an appreciable value holding to boast of, the global e-learning industry is expected to hit a remarkable valuation of USD 300 billion by 2025, claims Global Market Insights, Inc. Emerging corporate trends and the escalating popularity of online or internet-based learning programs are some of the pronounced factors fueling the e-learning market demand globally.
U.S. e-learning market, by application, 2018 & 2025 (USD Million)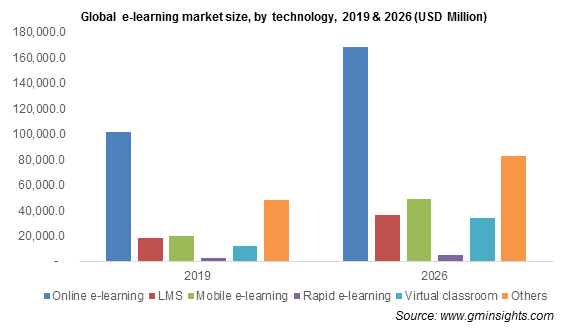 Instances validating the increasing penetration of e-learning tools include the CityCab's launch of web-based training programs to provide linguistic training to taxi drivers in order to improve their communication with the commuters. Another such move was recorded when Infosys Ltd. entered in an agreement with three firms including Udacity Inc., EdX Inc., and Coursera Inc., to train their personnel on Artificial Intelligence via e-learning tools. Reportedly, The Indian Department of Electronics and Information Technology is also embracing e-learning centered research and development activities in some of the renowned institutions including IIT and C-DAC.
Gamification is one of the recent trends characterizing the innovation landscape of e-learning industry, as this category of education has recorded a rather high rate of engagement by the learners along with providing a better understanding of the related concepts.  The recent implementation of this trend was through McDonald's, when the company partnered with City & Guilds Kineo to provide the till training on how to use a cash register. Reportedly, the process turned out to be highly effective and purposeful. The training involved real-time situations that required the learner to take customer orders in timed environment. As per reliable sources, over 85% of the users believed that learning via gamification learning helped them in better understanding new systems and improved their overall performance.
Get a Sample Copy of this Report@ https://www.gminsights.com/request-sample/detail/215
With such series of groundbreaking events, global e-learning market is certain to witness a rather substantial momentum in the coming years. Speaking of the geographical landscape, with significant rise in the enrollment of online programs and advanced learning methodologies, countries such as U.S., UK, India, China, and Australia are projected to be some of the most profitable avenues for the e-Learning industry growth.
Speaking along similar lines, North America, being one of the mature regions pertaining to the e-learning market penetration, is expected to be one of the most remunerative grounds for the global industry landscape over the coming years. Escalating adoption of m-learning and e-learning tools, which are becoming a preferred and viable choice for the corporate training programs, is one of the major factors driving the regional trends. Moreover, having an upper hand with regards to technological innovations, the region will further procure a major chunk of the global e-learning market share. As a matter of fact, North America, aided by the escalating product adoption by numerous organizations that intend to provide effective training to employees for high productivity, captured an appreciable 40% of the e-learning market share in 2018.
However, taking into consideration the future scope, where niche markets will witness a strong growth potential, Asia Pacific is deemed to be another significant region to exhibit a high demand for e-learning models. Industry analysts speculate that the widespread governmental initiatives to boost literacy and educational programs especially in the rural areas have rapidly escalated e-Learning market size in the region. An example supporting this fact is the initiative taken by HRD Ministry of Government of India with regards to launching NPTEL program as an e-learning approach to pursue courses in science, engineering, and humanities. Furthermore, increasing popularity of mobile technology in the region has further provided a major push to Asia Pacific e-learning industry size.
Speaking of the competitive and strategic terrain, most of the e-learning market players are vigorously working toward bringing technology and education under one roof. M&As, partnerships, and product & solution innovations are few of the major growth tactics adopted by the industry participants. Over the coming years, the fraternity is expected to witness a highly intense competitive landscape, where technology innovations will be one of the most renowned success parameters. With these trends, it is rather overt for the e-learning industry to be coined as one of the most innovative business domains, with a huge potential for developments in the coming years.
Author Name : Saipriya Iyer
The escalating demand for rapid query resolutions & online customer self-service are expected to propel intelligent virtual assistant (IVA) market alongside the path of progress. IVA has undoubtedly, in recent times, improved the users' online service experience as well as offered increased sales to e-commerce firms. Indeed, the product is becoming the preferred medium to gain information, make purchase decisions, and resolve issues. Companies like Microsoft and Google are adopting the technology to improve ease of access and streamline activities, and increasingly implementing the technology as well to enhance operational efficiency. For instance, ABIe, a virtual assistant developed by EIS for Allstate Insurance, efficiently helps agents to answer questions regarding business insurance policies.
Germany IVA market size, by application, 2017 & 2024 (USD Million)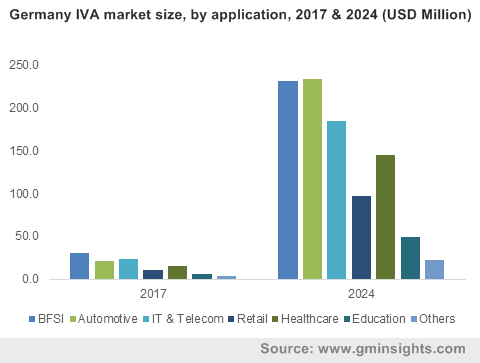 IVA is reportedly becoming more and more commonplace as consumer appetite for the product has been depicting an upsurge. According to an independent survey conducted with 1,500 consumers across Europe, 81% of the respondents said they would prefer interacting with a virtual assistant as it offers enhanced online customer experience. Close to 72% welcomed the product as a key part of every website while a similar proportion claimed that they would spend longer on a website that had one. This response can undeniably be credited to the fact that IVA can take on multiple roles on a website, such as performing various helpful tasks, answering customer queries and connecting to enterprise systems when needed. These features respond according to the marketing requirements of the customers, efficiently improving the site loyalty and experience.
In order to cater to the best plausible global clientele, companies are increasingly investing in IVA to reduce costs from fields such as email response, technical telephonic support, and assistance on call. The implementation of the technology will enable the reduction in the resolution time, call wait times and allowing call transfers when an issue escalates, thereby augmenting IVA market share. The growing deployment of IoT is also expected to supplement the IVA market growth. In fact, IoT is known to have increased the quality and quantity of data being collected by the product. IVAs responding to text or speech queries through apps and smartphones has further enhanced customer engagement, a fact that has further helped impel the IVA industry trends.
Get a Sample Copy of this Report:@ https://www.gminsights.com/request-sample/detail/1094
Speech recognition is one of the most vital technologies proliferating IVA market, as the system efficiently improves productivity, eliminating typing time, giving users additional time to focus on other work. Voice recognition software, in addition to being faster in task completion, are increasingly accurate when it comes to vocabulary. Speech recognition technology also makes invaluable contributions to businesses that offer customer services eventually reducing organizational costs. Furthermore, these systems improve interoperability owing to the adoption of IoT, further driving the IVA market size from speech recognition technology.
The Germany IVA market is expected to depict considerable growth in the years ahead, owing to the product's new-found usage in the region's thriving automotive market. Technological advancements in IVA have resulted in increased adoption of voice control and gesture control features in next-gen vehicles. IVA can now be integrated within vehicle systems such as automatic parking, lane change assist, adaptive cruise control, and other ADAS controls.
Regional automakers are constantly seeking ways to integrate the product in upcoming car segments to revolutionize driving experience. For instance, the German automotive giant, BMW has recently announced that its upcoming car segment would come with Intelligent Personal Assistant. Like Apple's Siri or Amazon Alexa, the new AI-based virtual assistant would reply to voice commands and could adjust the temperature, lighting mood and music, among other things in the car efficiently, claims the company.
North America, apart from Germany, is another region that is forecast to accumulate commendable gains by 2024, driven by the expansive technological advancements in the region. Major software companies, like, Microsoft & IBM, have also been investing in IVA, thereby enhancing the growth prospects for North America IVA market.
The competitive spectrum of intelligent virtual assistant market also comprises other players like Amazon, Google, Microsoft, Apple, Inc., Artificial Solutions, eGain Communications, IBM Corporation, Nuance Communications, and Speaktoit, Inc. These companies are known to increasingly invest in product development and innovation to bring in intelligent assistance into the mainstream. Meanwhile, several tech giant firms are adding the product to their portfolio to gain added sales. For instance, on January 7th, 2019, the world's leading television manufacturers Samsung, LG and Hisense announced that they would open their devices to Google Assistant and Amazon Alexa. As advancements in the fields of automation, machine & deep learning, conversation interfaces, and natural language processing continue to surge, IVA market share is certain to soar in the years to come.
Author Name : Mateen Dalal