SME
Wireless LAN controller market is estimated to exceed USD 3 billion by 2025, owing to the increasing business need to manage widespread and intricate LAN infrastructure along with the surging acceptance of cloud-based WLAN controllers for managing network devices. Increasing Bring Your Own Device trend, which necessitates the presence of robust network security in enterprises, will drive WLAN controller market growth through 2025. The rising need for integrated connectivity and security for mobile clients also impacts WLAN controller market trends.
APAC Wireless LAN Controller Market Size, By Region, 2018 & 2025 (USD Million)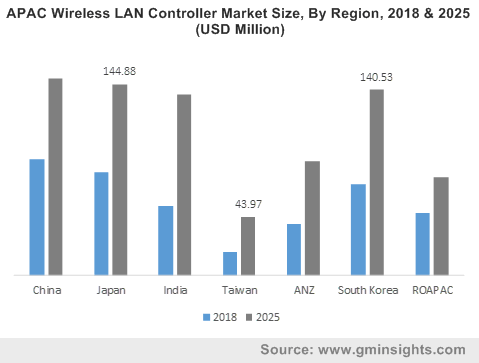 In terms of the application landscape, wireless LAN controller market is bifurcated into government and public sector, IT and telecom, healthcare, BFSI, manufacturing, transportation & logistics, retail, and others. The retail segment is anticipated to exhibit substantial growth between 2019-2025, primarily fueled by surging acceptance of latest technology by the retail sector to offer better customer experience and convenience. The constant increase in the number of retail companies across the globe will further advance WLAN controller market size. For instance, Aldi, supermarket chain with over 10,000 stores in 20 countries, has recently declared plans to open a new store in Chattanooga city, Tennessee, USA this fall.
WLAN controller market size from the BFSI segment is projected to witness modest growth in the foreseeable future, attributed to high adoption of digital platforms, workforce mobility trend, and increasing network complexity. The growing use of network devices and smartphones has burdened network administrators with complex network management tasks, resulting in the adoption of wireless LAN controllers by banking & financial institutions, for optimizing networks and boosting performance.
Get a Sample Copy of this Report:@ https://www.gminsights.com/request-sample/detail/3321
The establishment of new financial institutions and technological enhancements in Wi-Fi technology along with the fast-paced expansion of Wi-Fi market will elevate the revenue share of WLAN controller market from BFSI applications. For instance, HSBC, a renowned multinational banking and financial services company, has recently declared plans to open fifty new retail branches in the United States where it previously had no existence. Reportedly, this move is a part of British banking behemoth's plan to expand services to newer geographies with no prior foothold.
The rapid upsurge in digital data has led to the introduction of AI in BFSI market, which has positively impacted wireless LAN controller market share. Financial enterprises are leveraging artificial intelligence technology to gather, analyze, and report huge chunks of data to retrieve actionable insights regarding customers to serve their requirements better. Expanding artificial intelligence market size, owing to surging adoption across automotive, manufacturing, retail, healthcare, media & advertising, agriculture, and BFSI, would push network management requirements, thereby propelling WLAN controller market size over the future.
Rising urbanization and commercialization, especially across developing nations, will impact the industry growth. According to a report published by Our World in Data website, approximately 4 billion individuals resided in urban areas, whereas 3.4 billion individuals resided in rural regions, in 2016. Over the last 50 years, the share of people living in urban areas more than quadrupled in Nepal and Mali, and more than tripled in Nigeria and Kenya. By 2050, the global population is projected to reach 9.8 billion, and it is anticipated that the number of people living in the urban area (6.7 billion) will be double of that in the rural area (3.1 billion).
Growing urbanization and commercialization directly influence infrastructure development, healthcare, IT and Telecom, retail, manufacturing, transportation, BFSI, and various other sectors. As these sectors are the leading consumers of wireless technology, they are projected to support WLAN controller market share over the future. Expansion of the enterprise wireless local area network market is also bound to fuel WLAN controller market growth.
The increasing number of efforts by major companies present in wireless LAN controller market, to gain a competitive edge, will substantially fuel market share. Many organizations are taking huge steps towards innovation and new product development, to accelerate the shift towards cloud-enabled network services and ensure enhanced management & security of wireless LAN solutions. Global Market Insights, Inc. claims that large enterprises will accrue over 55% of wireless LAN controller market share through 2025.
Author Name : Nikita Chaurasia
With global enterprises rapidly embracing cloud platforms as well as other networking technologies, cybersecurity market is anticipated to observe a massive upscale in revenue. As more and more organizations transition into the cloud and work to minimize security risks, making the enterprise network less vulnerable to a plethora of cyber-attacks, the average annual spending on cybersecurity is expected to rise significantly. In fact, back in 2017 the average spending on cybersecurity solutions by organizations went up as much as 23% accounting for more than $11.7 million. This increasing cyber security budget in several organizations globally is expected to be one of the most prominent growth inducing factors propelling cybersecurity market.
U.S. Cybersecurity Market Revenue, By Product, 2017 & 2024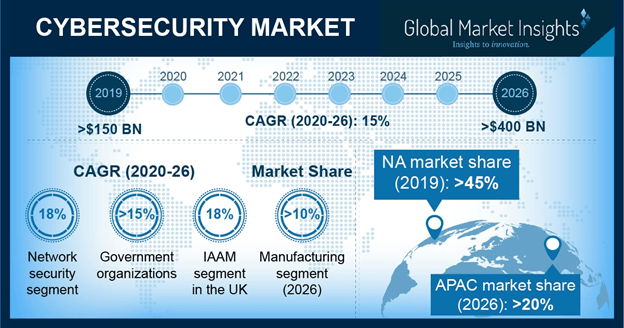 While the topic of cybersecurity once received perfunctory response from global governments, the scenario has undergone a drastic change today. A number of nations have increasingly begun looking for ways to protect their government agencies from malicious attacks by boosting their cybersecurity preparedness efforts. The potential of the threat is so much that in 2018, the World Economic Forum launched Global Centre for Cybersecurity to protect the world against hackers. These cyber security efforts were further magnified in late 2018 when more than 50 countries signing an international cyber security principles agreement that aims to put an end to malicious cyber-activities in peacetime – an act that is bound to significantly drive the growth prospects of cybersecurity industry.
Hefty adoption by large enterprises to fuel global cybersecurity market size
As businesses worldwide undergo a digital transformation, wherein they move the critical applications of their enterprise network onto the cloud, the issue of cybersecurity has garnered mainstream attention. The digital transition has undeniably allowed organizations to significantly improve their operating efficiencies, but has also made them vulnerable to a plethora of cyberthreats that could bring their operations to a grinding halt if they fail to manage the security risks properly. In fact, according to Telstra, over 59% organizations across Asia experience a business-interrupting cyberattack at least once a month due to inadequate cyber security measures.
Get a Sample Copy of this Report @ https://www.gminsights.com/request-sample/detail/3078
Driven by the threat potential of cyberattack more and more large enterprises are embracing cyber security solutions. Indeed, large enterprises accounted for over 60% of the global cybersecurity market share in 2017. It is also prudent to mention that 2017 was witness to one of the biggest cyberattacks ever, where the WannaCry ransomware, which affected over 400,000 machines across 150 nations, cost the world approximately $4 billion in losses. Large enterprises on an average lost over $10 million because of cyber security breaches.
Prompted by the WannaCry attack, that enabled the average cyber-attack cost to rise as much as 11%, enterprises were further encouraged to embrace more advanced security solutions. The cybersecurity market is also expected to attract sizable gains on account of the growing Bring Your Own Device (BYOD) trend, wherein businesses are allowing their employees to utilize their personal devices on the job.
How has the new U.S. national cyber strategy impacted the cybersecurity industry trends?
The United States of America has been facing consistent threats from an increasing number of highly-sophisticated malicious entities that are motivated by a whole host of different factors ranging from ideological & political interests to espionage & financial gains. The Armed Forces Communications and Electronics Association (AFCEA), in September of 2018 had pointed out that the U.S. government did not possess a comprehensive cyber security strategy leaving U.S. critical infrastructure and federal agencies extremely vulnerable to cyberattacks. In the days that followed, the Trump administration released the National Cyber Strategy, the nation's first, fully-articulated cyber strategy in over 15 years.
Propelled by the cyber strategy, in conjunction with the rising adoption of cybersecurity solutions by an extensive number of enterprises spanning the nation, the U.S. cybersecurity industry is anticipated to crop up as one of the most prominent regional markets over 2018-2024.
It is rather overt that the global cybersecurity market is well positioned to establish itself as a lucrative investment ground. As per Global market Insights, Inc., cybersecurity industry size, driven by the growing number of cyberthreats that are frequently cropping up, is anticipated to be pegged at $300 billion by 2024.
Author Name : Akshay Kedari
Over the last few years, the revenue graph of OSS/BSS market has been depicting an exponential growth, on account of the surging digitization across the telecommunication, BFSI, and IT industries which have been deploying new communication technologies to accelerate the organizational workflow. The lure for inexpensive, safe, and time-saving operations has been encouraging companies to implement OSS and BSS solutions at the workspace. In addition, for empowering intelligent network management and automation, most of the industries have been giving preference for operational support services on a large scale.
The noteworthy transformation across the IT, transportation, telecom, and BFSI sectors with the emergence of next-generation technologies such as blockchain, IoT (Internet of Things), and AI (artificial intelligence) will thus have a considerable impact on the OSS/BSS industry share over the years ahead.
Europe BSS Market Share, 2017 & 2024 (USD Million)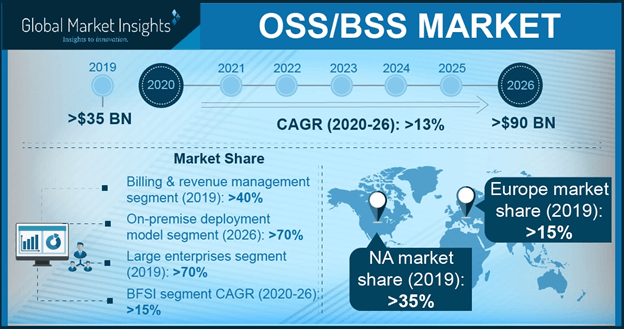 In line with the implementation of 5G networks across the telecom sector, players in the OSS/BSS market have been observing lucrative business opportunities. In fact, some telecom industries have been looking forward to strengthening their networking portfolio by automating working processes with regards to the use of 5G networks. For instance, recently, the Swedish multinational and telecommunication company, Ericsson acquired CENX to enhance its Operations Support Systems facilities. The acquisition will improve Ericsson's service assurance and closed-loop automation capabilities which will help it to leverage network visualization and automate the telecom network to serve enterprise customers effectively. The surging use of 5G networks with the assistance of OSS for improving the connectivity in service assurance, resource-inventory management, order management, product management, customer management, network management, and revenue management will strongly fuel the OSS/BSS market size.
Over the last few years, the increasing popularity of blockchain for decentralizing Network-as-a-Service (NaaS) for securing web wallets and wallet servers has also contributed toward the expansion of OSS/BSS industry. Leading technology companies have been deploying public blockchains to monetize their network resources that allow companies to analyze their operational and financial data. Considering the capability of OSS/BSS systems to secure financial data, BSFI companies have been shifting their focus toward the automation and digitization of financial processes, consequently demanding OSS/BSS technologies on a large scale. Powered by the surging adoption of modernized network security services, OSS/BSS market size from the BFSI sector will grow at an annual growth rate of more than 11% over 2018-2024.
Get a Sample Copy of this Report:@ https://www.gminsights.com/request-sample/detail/2911
Taking into account the vast expanse of OSS/BSS market, most of the software companies have been acquiring firms involved in the development of the operational support systems environments. For instance, recently, the U.S. based leading supplier of telecommunication equipment, software, and services, Ciena acquired DonRiver which provides service inventory management software for OSS environments. This acquisition has helped Ciena improve its business process through network resource planning and utilization of closed-loop automation. The software control and programmable infrastructure of DonRiver will further optimize the Ciena's inventory control solutions.
The shifting focus of end-use sectors toward the adoption of Software as a service (SaaS) and Cloud-based digitized deployment platform for fueling the use of automation and the effective network management has been augmenting the OSS/BSS industry outlook remarkably. The integration of Machine Learning and Artificial Intelligence technologies in the network services will transform the future of OSS/BSS market with its capability to manage complex network issues and improve the customers' experience.
The transition of companies towards automated operations from traditional manual processes to improve the working efficiency and accuracy is likely to stimulate the product demand over the years ahead. Indeed, the rising concerns among financial institutions, IT and telecom companies about data security and operational breaches are poised to increase the valuation of OSS/BSS market, slated to accumulate more than USD 50 billion by the end of 2024.
Author Name : Sunil Hebbalkar