Sodium
Predominantly driven by widespread applications in iron ore pelletizing, drilling muds, refining, and foundry sands, the global bentonite market is anticipated to garner considerable remuneration over 2018-2024. Subject to rising foreign direct investment from developed nations such as the U.S. and Japan, the steel market in India and China has promoted the iron pelletizing business. In this regard, it would be prudent to mention that bentonite is the major raw material that is utilized as a binding agent to speed-up mineralization rates in the steel manufacturing companies, essentially accelerating the bentonite industry share growth.
U.S. Sodium Bentonite Market Size, By Application, 2017 & 2024, (Kilo Tons)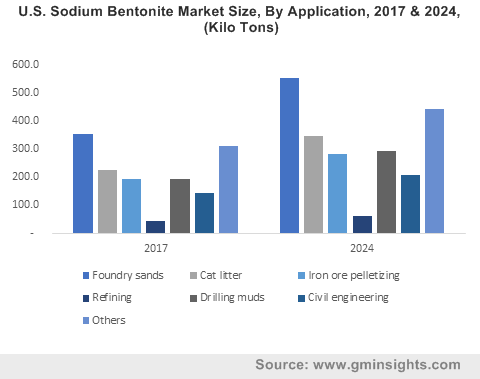 Elaborating on the numerous unique properties of bentonite, it is used to improve thermal resistance, increase drop strength, impart structural stability to iron pellets. Owing to these excellent features, the uptake of bentonite has increased in the steel mills. Moreover, bentonite increases the productivity of sponge iron with less amount of energy. Here, it is quite imperative to mention that steel companies have been feeding the output to iron palletization plants to make the ore usable in steel manufacturing – a factor that has undoubtedly provided immense business opportunities for the players operating in the global bentonite market.
Increasing O&G exploration activities across various geographies to boost calcium bentonite industry:
Numerous developed and emerging nations across the world have initiated large-scale oil and gas exploration activities, of late, to reduce the volume of petroleum imports so as to decrease the widening current account deficits of their respective economies. In this regard, it would be prudent to mention that calcium bentonite is utilized in drilling & fracking activities owing to its high viscosity and applications in drilling mud. It helps in keeping the stone detritus in suspension when purge pumps are inoperative while creating boreholes in the ground to access petroleum reserves.
Get a Sample Copy of this Report:@ https://www.gminsights.com/request-sample/detail/2939
Enumerated below are a few examples of developed and emerging economies where the increasing number of oil and gas exploration and mining operations have been instrumental in boosting the growth potential of calcium bentonite market:
The overall oil and natural gas production capacity of the U.S. has been reaching record levels in the recent time. In 2017, the North American country reportedly became a net natural gas exporter for the first time in 6 decades. According to the statistics published in the Annual Energy Outlook 2018, a report compiled by the U.S. Energy Information Administration, the total natural gas production capacity of the nation was registered to be 73.6 billion cubic feet per day (Bcf/d) in 2017 and is slated to reach 118 Bcf/d in 2050. The rising natural gas production has invariably benefited the overall U.S. calcium bentonite industry share which is slated to grow at a 5% CAGR over 2018-2024.
In an attempt to drastically enhance its domestic crude oil production and cut its mounting crude oil import bill, India has been increasing its natural gas production on the onshore blocks in the recent years. As per reliable estimates, India's natural gas output grew 2.5% to 32,649 Million Standard Cubic Meter in the fiscal year 2017-2018, the highest in six years. These statistics are a testimony to the growing number of oil and gas drilling activities in the nation – a factor that has contributed toward bentonite market share expansion in the past few years.
Driven by rising infrastructural growth, escalation in automotive manufacturing, and increasing activities of oil and gas drilling, the overall commercialization scale of bentonite industry is expected to exceed USD 1.95 billion by 2024. MIDPOINT Chemicals, Wyo-Ben, Halliburton, Black Hills Bentonite, CETCO, Delmon Group of Companies, and Mineral Technologies are the prominent companies spearheading the global bentonite market.
Author Name : Saif Ali Bepari
Lignosulfonates Market is expected to witness a striking growth over the next few years, owing to the widespread product applications in oil well additives, animal feed binders, concrete admixtures, and dust control. Key factors driving lignosulfonates market growth include the rising global population along with the escalating demand for high-grade infrastructure facilities across the residential and non-residential sectors. The product is basically used as a water-reducing chemical and is available at affordable costs, which explains its huge popularity amidst numerous end-use sectors. According to Global Market Insights, Inc., "Lignosulfonates industry revenue, which was estimated at USD 700 million in 2015, is slated to hit USD 973 million by 2024."
U.S Lignosulfonates Market size, by application, 2013-2024 (USD Million)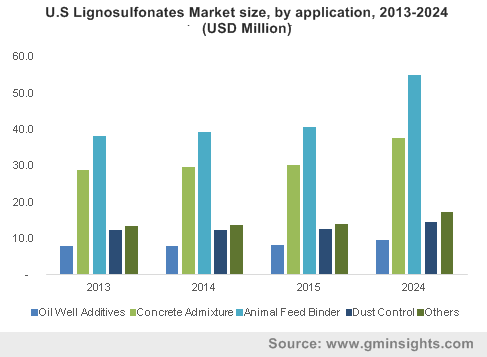 The thriving construction sector is expected to create lucrative growth opportunities for lignosulfonates industry, driven by the mounting product usage as a water-reducing agent in cement admixtures for enhancing its utility across construction activities at elevated temperatures. Cement admixture applications, which contributed to more than 25% toward lignosulfonates market size in 2015, are expected to witness a massive growth over the coming years. The growth can be attributed to high product usage in the construction projects.
Animal feed binder applications are forecast to grow at CAGR of more than 4% over 2016-2024, driven by the product's ability to increase the weight of animals. The product is also renowned to benefit the gastrointestinal tract of animals. Global animal feed size, which was assessed at 970 million tons in 2015, is forecast to surpass 1 billion tons by 2024, which in turn, will favorably leverage the lignosulfonates industry value in the near future.
Get a Sample Copy of this Report @ https://www.gminsights.com/request-sample/detail/786
Lignosulfonates industry size in the oil well additives sector, which was evaluated at USD 55 million in 2015, is anticipated to register a remarkable growth over the coming seven years. Growing explorations of oil wells across the Middle East and Africa and the U.S. will push the revenue. The product's ability to act as a cement retardant across the oil well additives sector will further boost the growth.
Considering the regional trends, North America lignosulfonates market, which produced a revenue of USD 130 million in 2015, is expected to display a substantial growth over the next few years. The growth can be attributed to thriving Animal Feed Additives Market across the region.  The U.S. is projected to make substantial contributions towards the regional revenue.
Asia Pacific lignosulfonates industry is expected to record notable gains of more than 4.5% over the years ahead, driven by the higher spending on construction activities across regions such as Japan, China, and India.
Magnesium, calcium, and sodium are the major lignosulfonates products. Sodium lignosulfonates industry size, which was estimated at USD 290 million in 2015, is projected to grow at a rate of over 3% during the period from 2016 to 2024. The growth can be ascribed to the product's commercial use as a plasticizer across concrete admixtures and pellet binders in the animal food. High product preference for dust control applications over the traditional chloride substances will further boost the demand.
Lignosulfonates industry share is highly consolidated with top six players contributing to more than 50% of the overall revenue in 2015. Industry players will try to increase their market share by implementing key business growth strategies such as product differentiation, strategic alliances and unique product developments. Domsjö Fabriker AB, Borregaard LignoTech, Nippon Paper Industries Company Limited, Tembec Incorporation, Green Agrochem, Burgo Group S.p.A., Qingdao New World Arts & Crafts Material Company Limited, Flambeau River Papers LLC, and Shenyang Xingzhenghe Chemical Company Limited are the key participants of Lignosulfonates market.
Author Name : Dhananjay Punekar