Software
Evolving digital technology along with increasing access to cashless payments will foster smart card market forecast over the analysis period. The growing need to promote a cashless economy has encouraged the production of credit and debit cards. Smart city initiatives have also helped companies to develop smart solutions that could initiate identification and digital payment through smart cards in various sectors like  transportation, financial, government, telecommunication, retail and healthcare.Smart city initiatives will be vital and effective to stimulate the demand for smart cards. According to United Nations Department of Economics and Social Affairs, about 68% of the population of the entire world is expected to live in cities by the year 2050. These cities will be deployed with Internet of Things devices that will collect data in order to maintain the resources and asset as well as smart cards that will help transactions get much easier. Bengaluru in India, for instance, has been planning to adopt smart cards that could be used for cashless traveling in all the public transport systems.
The payment card industry has introduced the EVM payment card method which has boosted the adoption of smart cards significantly. Increasing focus on security of organizations and user information has transformed smart card market outlook, with the advent of products capable of short-range wireless connectivity and can also be used as a token for multifactor authentication.
Described below are some factors influencing the demand for smart cards over the coming years:
Increasing applications for hybrid cards
Hybrid cards will witness a steady adoption owing to multifunctional features and several smart applications that will conveniently contribute towards smart card market size. With rapid urbanization, certain countries have increasingly provided mass transportation for public travelling for greater efficiency and lower cost.
Hybrid chips are typically used for such mass transits that demand fast transaction time. Surge in security concerns in association with transactions and personal information will foster the demand for hybrid cards owing to the high level of security possible.
A hybrid card is also useful in accommodating the technology and infrastructure of a legacy system with the addition of e-card technologies in a single card. The product's easy to use properties along with the high security provision will influence the product demand.
Surge in use of microprocessors
Rising use of microprocessors in the banking and mobile phone sectors will contribute to the product growth. Microprocessors have their own operating system that is capable of processing data as a reaction at a given situation. The smart card is practical and a powerful tool due to its capability to record and modify information in its own physically protected and non-volatile memory.
Get a Sample Copy of this Report:@ https://www.gminsights.com/request-sample/detail/4312
Emerging markets like E-passports, assess control, PKI and other applications wherein the cryptographic abilities addresses the issues of security particularly demand microprocessor cards, expanding smart card industry scope.
Growing telecommunication sector
Smart cards are secure elements and are widely used in the telecommunications industry around the world. These cards are used in two major applications like the prepaid telephone cards where the valued memory cards are stored as well as the Subscriber Identity Module (SIM), which are microprocessor based smart cards in mobile phones.
Moreover, smart cards are being used with NFC-enabled mobile phones that have incorporated secure elements and are being used for several applications that include ticketing, mobile marketing and other mobile contactless payments. This has tremendously bolstered global smart card market share from sim and telecom segment applications.
The smart card industry has UICCs and SIMs as the highest volume products for revenue and units. More than 100 countries use smart cards after having substituted coins in payphones in order to improve convenience for customers and telecommunication operators.
Rise in daily consumer purchases
Increasing consumer needs and purchases will stimulate the applications of smart card in the retail & gas sector in the forthcoming years. The card can be used as electronic wallets while the chip has funds in order to pay for purchases like cafeteria food, taxi rides, groceries and laundry services. Bank connections are not required due to the cryptographic protocols that the money exchange between machine and smart cards have.
In an effort to save time and provide easy access of customer service to consumer, the government has been making efforts to use technology. India's sole supplier of piped natural gas and CNG, Indraprastha Gas Ltd., recently launched prepaid smart cards in order to provide the customer with digital options for payment.
Key market players in the smart card industry like Oberthur, Inteligensa Group, CPI Card Group, American Banknote Corporation, IDEMIA, Perfect Plastic Printing Corporation, Watchdata, HENGBAO and Goldpac Group have introduced advanced smart solutions. Further collaborations and strategic acquisitions will influence the business outlook considerably. Global smart card market size is anticipated to surpass USD 65 billion by 2025.
Author Name : Riya Yadav
​The increasing demand for commercialization of the next-generation 5G technology will propel Intent-based networking (IBN) market size. Given the extreme data speeds of the 5G technology, the commercialization will enable the service providers to launch several customized virtual private networks (VPNs) targeted toward specific applications and customers.
Additionally, intent-based networking technology allows the enterprises to have software defined control over many aspects of the network including the segmentation, content filtering, Quality of Service (QoS) and malware detection. This AI-based smart technology also allows enterprises to automate the configuration of these network devices according to the changing business objectives.
How will networking hardware segment perform during the forecast period?
Networking hardware segment is expected to grow at a CAGR of over 30% during the forecast timeframe . Networking solution providers foresee expansion of their support for 5G technology owing to the increase in data-centric applications. This will create immense demand for networking components such as routers and switches. Rapidly changing business requirements in accordance with technology change is slated to drive IBN market share from networking hardware segment.
Get a Sample Copy of this Report:@ https://www.gminsights.com/request-sample/detail/2758
How will the cloud computing trend influence cloud deployment-based IBN market outlook?
The cloud deployment model is anticipated to achieve a steady growth rate of more than 32% over 2019-2025. The growth is mainly attributed to the growing adoption of cloud computing services across the enterprises. Network solution providers have been looking forward to developing cloud data center supporting IBN solutions that will accelerate the demand for cloud deployment model over the years ahead.
How will digitalization across SMEs impact APAC intent-based networking market forecast?
Enterprises across APAC region have been increasingly deploying NFV technologies to support rapid deployment of services and applications. The APAC intent-based networking market is projected to record a CAGR of more than 31% over 2019-2025, owing to the increasing digitalization across small and medium scale enterprises (SMEs). Growing deployment of virtual network across the region will further augment the product demand over the estimated timeframe.
Author Name : Amol Kothekar
​
Global space robotics market is estimated to procure commendable returns in the ensuing years, primarily owing to the increasing investments and efforts dedicated toward space research and exploration in countries such as the United States, India, and Russia. Space robotics is significant in the development of machines that are capable of expanding the human capacities in space by facilitating abilities beyond human limitations in extreme space environments.
China space robotics market, by application, 2019 & 2025 (USD Million)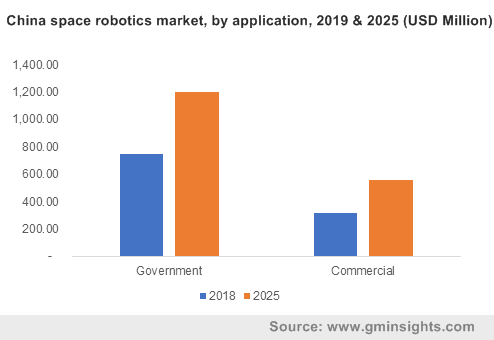 Space explorations have always attracted the interests of several private companies. Case in point, Boeing has built the Saturn V rocket, the 363-foot booster rocket capable of lifting the entire apparatus to the edge of space. In the last few years, the space exploration arena has witnessed the emergence of multiple competitors such as Blue Origin, SpaceX, Virgin Galactic, and more. The introduction of new technologies by key players, would positively influence space robotics industry trends over the forecast period.
A perfect example is the partnership between Tokyo's ispace and Elon Musk's SpaceX to send a series of robots to the moon. The Lunar Lander will orbit the moon in this mission that's scheduled in mid-2020. A rise in the integration of robotics technology for future space missions will substantially drive space robotics market outlook in the future.
Although government funding to organizations like NASA is facing a slump, the space industry is slowly moving to the private sector, with Elon Musk's SpaceX and Jeff Bezos' Blue Origin signing more contracts. SpaceX is reportedly gearing up to launch its eighteenth contracted CRS mission to the International Space Station through its Cargo Dragon spacecraft. The mission will also use the Space Station's robotic arm Canadarm 2 to extract IDA-3 from the Dragon's trunk. Increasing collaborations between established space stations and emerging private firms will present space robotics companies with major growth prospects in the ensuing years.
Get a Sample Copy of this Report:@ https://www.gminsights.com/request-sample/detail/3219
Increasing investments in space programs will also have significance in driving demand for space robots in the coming years. Recently, SpaceX was awarded a $50.3 million contract by NASA to launch its X-Ray Polarimetry Explorer mission. Major funding toward potential space missions will provide a huge scope for space robotics engineering, thereby augmenting space robotics industry share in the future.
A farfetched but plausible idea that has begun surfacing the international space industry is the possibility of space travel for recreational purposes. With numerous firms embarking on a quest to launch spaceflights for civilians, space travel is starting to seem less like a dream. Possibilities of recreational space travel could present a major opportunity for space robotics companies, thus augmenting the space robotics market share in the future.
In terms of segmental growth, the robotic arms segment is slated to witness immense demand over the coming years. Robotic arms have proved to be one of the most reliable machines in space missions. Recently, NASA's Jet Propulsion Laboratory finished installing a 2.1-meter-long robot arm on the Mars 2020 rover. The new arm has been designed to perform much more complex activities. Increasing penetration of robotic arms for advanced space mission will result in segmental growth for the global space robotics industry.
The North America space robotics market is currently a highly profitable growth ground owing to the presence of substantially funded organizations like NASA and the Canadian Space Agency. The region is also witnessing several ongoing and upcoming space missions that are anticipated to generate considerable demand for space robots, further strengthening the region's space robotics industry size.
The Asia Pacific market is also likely to emerge as a strong contender due to increasing implementation of major space projects. For example, the Indian Space Research Organization's second moon mission Chandrayaan 2 is the nation's first attempt at robotic space explorations. Increasing adoption of space robotics engineering for upcoming space programs and explorations would primarily contribute to expanding Asia Pacific space robotics market size.
The numerous benefits depicted by these technologies will accelerate the adoption of space robots in the coming years. Products like space probes are capable of exploring areas that are beyond human accessibility. Moreover, space robots can also withstand extreme temperatures and perform programmed tasks for longer durations. These advantages will play a major role in further accelerating the adoption of space robotics.
According to a research report by Global Market Insights, Inc., space robotics market is estimated to surpass $3.5 billion by 2025.
Author Name : Krithika Krishnan
Profound application in the commercial and healthcare sectors will drive human centric lighting market size. Human centric lightings (HCL) are designed to offer illumination solutions that physiologically and psychologically benefit human-beings. They are intended to promote improved concentration, efficiency and enhanced safety at offices and other work environments. HCL also supports healing processes and prevention of chronic diseases among people with irregular work routines.
Germany human centric lighting market, by application, 2018 & 2025 (USD Million)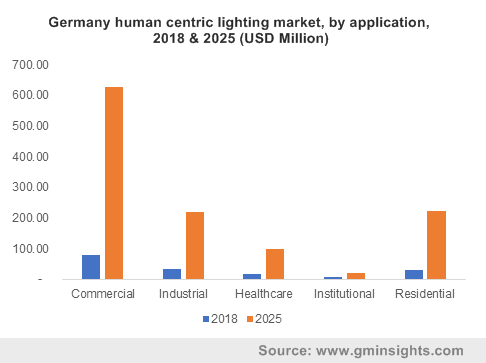 Increasing advancements in lighting technologies along with rapid adoption of Internet of Things (IoT) will support human centric lighting market growth globally. Using IoT, lighting systems can effectively be controlled and customized in real-time. IoT sensors can detect changes in environmental parameters, further directing and improving HCL capabilities.
With emergence of smart LED bulbs that offer a wide spectrum of colors and intensities along with advanced controller hardware, human centric lighting market will witness new growth opportunities over the coming years.
Human centric lighting market is anticipated to garner significant proceeds in the commercial sector. Renovation of enterprise infrastructure and installation of smart building and lighting products to develop comfortable workspaces will foster business growth. HCL solutions allow improved productivity and boost concentration in commercial work areas. In fact, research results suggest that the systems can increase work performance, reduce fatigue and significantly increase concentration and work satisfaction.
According to Lighting Society Europe, human centric lighting can significantly enhance employee performance to the point of improving productivity by 4.5%, reducing errors by 2% and further slashing rate of work absenteeism. HCL can also significantly improve visibility, thereby reducing the risk of tripping, falling and potential injuries. With employees spending more time in offices and other workplaces, HCL systems will become an essential lighting solution in the commercial sector, fostering HCL industry size.
Get a Sample Copy of this Report @ https://www.gminsights.com/request-sample/detail/3637
Increasing traction in the healthcare sector will augment human centric lighting market share. In hospitals and old age homes, HCL is well suited to implement lighting cycles comprising sunrise, sunset and daylight simulations. The system offers patients with enhanced benefits like higher activity levels during day, better sleep during night, reduced recovery time and lowered intake of anti-depressants.
In fact artificial lighting can compensate for biologically active effects of insufficient daylight exposure, thereby stabilizing the sleep-wake rhythm. It can also lead to more restorative sleep, thus ultimately improving the mental and physical wellbeing of hospitalized patients.
In old-age homes, HCL systems can offer high color temperatures, higher illuminance, and dynamically adjusted light distribution levels, further improving the quality of life of the elderly people. Additionally, in the healthcare sector, the systems can significantly reduce surplus cost of electricity bills.
For instance, according to a A.T. Kearney study, the annual efficiency gains achieved from human centric lighting in a hospital with 1,000 beds and 1,500 employees amounted to over €300,000. Instances such as these implicate growth opportunities in the healthcare sector, furthering human centric lighting industry outlook.
Europe human centric lighting market is expected to witness increased traction in commercial, residential and healthcare sectors. Infrastructure refurbishment in Europe currently focus on developing well-illuminated building environments.
The region naturally observes less exposure to sunlight which eventually creates an impact on human health, thereby creating the need for human centric lighting market solutions. With presence of leading market players along with rising investments, Europe human centric lighting market will witness rapid technological growth in the upcoming years.
Global human centric lighting market is being propelled on account of increasing application in healthcare and commercial sector. The industry is witnessing rising investments in R&D from leading players, government organizations, and lighting associations. Increasing consumer awareness and focus on the implementing energy-efficient work environments are anticipated to expand human centric lighting industry size in the future.
Author Name : Mateen Dalal
Rising digitalization and use of e-payment platforms are driving cloud POS market growth. Cloud-based POS is an adaptable, easy to implement and cost-effective solution compared to traditional POS systems. It is integrated with features like inventory management, customer relationship management, loyalty programs and more. For small-to-medium sized businesses (SMBs), a cloud POS system can ensure enhanced customer experience whilst coping up with rapidly upgrading technology.
U.S. SMEs cloud POS market, by application, 2018 & 2025 (USD Million)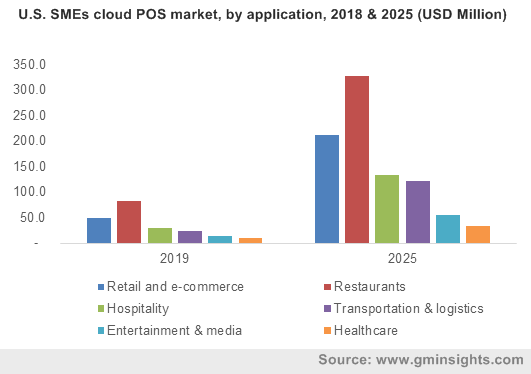 With cloud POS, SMBs can quickly, safely and securely access information using their mobile device. Using tools like data monitoring, inventory tracking, transaction history and more, cloud-based systems can offer enhanced profitability and become an invaluable resource for SMBs.
Notably, cloud POS can be integrated into existing system, increasing security and visibility of restaurant or retail store information. Additionally, it can easily be upgraded, and can track application growth and essential business needs. Product lines, features or stores can also be added to its software. Aided by such profound features, product demand has increased significantly over recent years, expanding cloud POS market size.
Cloud POS market is gaining massive proceeds from the restaurant and hospitality sector. A restaurant cloud POS system is an integral part of daily operations as it helps conduct tasks like billing, ticketing, tax management, invoicing and more. The system aims on delivering superior customer experience and cost control while further growing store revenues and overall profitability.
It enables restaurants to manage orders, make payment, and conduct promotions, and even supports the latest cashless and e-payment platforms that consumers use. The robust use of the system is rather overt from the extensive growth of restaurant POS terminals market as well. Indeed, with growing technological advancements, cloud POS has become a complete restaurant management system providing features like stock and inventory management, detailed reporting and analytics customer relationship management, marketing and more.
Get a Sample Copy of this Report:@ https://www.gminsights.com/request-sample/detail/3418
Growing demand and use of e-payment transactions will augment the cloud POS industry share in the restaurant sector. Furthermore, according to a recent study, the number of credit card payments have reportedly grown by 10.2% in the year 2016 to 37.3 billion with a total value of $3.27 trillion, while digital wallets such as Apple Pay and Android Pay are expected represent $503 billion in transactions by 2020. These instances aptly prove that cloud POS market is here to stay.
APAC cloud POS market is growing robustly on account of rapid digitalization and increased use of cashless payments. India's foodservice sector in particular, continues to grow rapidly on account of rising number of restaurant dining and foreign tourists. Increasing consumer income has made restaurant dining more accessible. International hotel brands have also been expanding their presence in the continent, that has further fostered the regional cloud POS industry size.
With cloud POS, restaurant outlets can acknowledge orders directly to these aggregators. Moreover, with growing technological advancements, the APAC cloud POS is poised to register increased demand in the forthcoming years. Indeed, it has been speculated that the Asia Pacific region will observe a commendably high adoption of restaurant POS solutions, on account of the increase in the usage of POS systems for food delivery. As per estimates, APAC cloud POS market size will register a CAGR of 27% over 2019-2025.
Cloud POS systems are web-hosted solutions that store information on remote servers which can be accessed online. The system is increasingly used in restaurants and retail stores for recording data, taking orders, making bills, managing inventory and more. Reports from Global Market Insights, Inc. estimate cloud POS market to surpass USD 6 billion by 2025.
Author Name : Mateen Dalal
Growing number of technological developments in the field of communication has fueled cellular vehicle-to-everything (C-V2X) market expansion worldwide, with considerable investments in advanced hardware and software components. A surge in disposable incomes and easy availability of automobile finance have driven the sales of mid to high-end luxury vehicles and allowed manufacturers to build in innovative features like telematics, cellular vehicle tracking, automatic parking and driver assistance systems. Consistent growth in transportation and logistics services have warranted the demand for latest fleet management systems, advancing the scope of global C-V2X industry.
Europe Cellular Vehicle-to-Everything (C-V2X) Market Share, By Region, 2018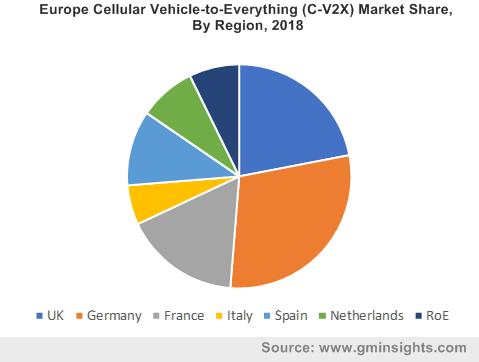 Enabling reliable and efficient connections between vehicles could implement co-operative driving to avoid traffic bottlenecks, accidents and allow smooth control of convoys. Vehicle to vehicle technology has reached a stage where a single platform can link multiple resources and help provide data for vehicle diagnostics and usage-based insurance, while powering advanced infotainment systems. Cellular vehicle tracking has become a norm amongst many large fleets, whether it is passenger transport or commercial goods movement.
Globally, 4G or LTE infrastructure has expanded tremendously and using the existing cellular infrastructure will lower the amount of new roadside components to be added. Deploying the established LTE networks will allow for cost-effective, dependable and easy communication at high speeds will significantly boost global C-V2X market share. It will also enhance line-of-sight of systems, facilitating communication over longer distances and improving the performance of GPS. With 5G networks on the way, upgrading existing LTE components would further propel adoption of vehicle to vehicle (V2V) or vehicle to network (V2N) communications.
Advanced driver assistance systems are being considered as an inevitable inclusion in future vehicles, with number of road accidents on the rise despite improvements in infrastructure and road safety awareness programs. C-V2X industry is poised to witness substantial revenues from collision avoidance application, to develop better V2V and vehicle to person (V2P) solutions. Reportedly, every year car accidents amount to nearly US$242 billion in economic costs across the U.S. Reducing the number of vehicle crashes is a priority among automakers and effective V2V solutions could help mitigate collision risks for drivers.
One of the world's leading auto manufacturers, Ford had indicated the lucrative future prospects existing for C-V2X industry last year when it began testing V2V communication system in the U.K. The aim of the experiments were to observe co-ordination between movement of cars for passing through intersections without having to stop, eliminating the need for traffic lights.  Although the vehicle had a human driver, the company is eyeing deployment of the system in self-driving cars as well.
Get a Sample Copy of this Report:@ https://www.gminsights.com/request-sample/detail/3383
The advent of hybrid and electric vehicles has produced immense growth opportunities for C-V2X industry, since these vehicles are dependent on the latest hardware components and communication technologies. Incorporating the most advanced chips and equipment, electric cars could easily communicate with each other for alerting about probable distress situations or roadside hazards. According to the International Energy Agency, a projected 125 million electric cars could be on the roads by 2030, signifying the vast potential of C-V2X market.
An important application area for V2V technologies are autofocus vehicles, which are fundamentally run by highly reliable, fast communication systems that have low latency. Several chip makers and auto manufacturers are attempting to enhance collision avoidance capabilities of driverless cars to ensure a safe product and to meet stringent regulatory requirements.
With the presence of many leading automotive companies and partnerships with global technology firms, Asia-Pacific C-V2X market can be expected to reign in enormous revenues over the coming years. In December 2018, a consortium comprised of automaker Nissan and companies like Qualcomm, Continental and Ericsson completed the first C-V2X testing in Japan using 5.8 GHz frequency for direct communication. Tests were conducted under various conditions and demonstrated the potential of not only V2V, but V2N and V2P communications.
Owing to remarkable achievements in deploying communication network equipment and integrating crucial V2V systems within vehicles, C-V2X market is slated to register a double digit growth from 2019 to 2025. Key players outlining the competitive dynamics of the industry include Autotalks, Bosch, Continental, Nokia, Qualcomm, Intel and Savari.
Author Name : Pankaj Singh
The global industrial communication market has thrived successfully in the recent decade as growing adoption of these components in Industry 4.0 has effectively helped increased productivity in major industries. Labor reduction, waste reduction, repeatability, enhanced quality control, and integration with existing business systems have given companies an added advantage by lowering long-term costs, which could indirectly increase product output and revenue.
U.S. Industrial Communication Market Revenue, By Component, 2018 & 2025, (USD Million)

An industrial communication network is the backbone for any automation system architecture as it can offer powerful means of data exchange, controllability and flexibility to connect to various devices. The use of digital communication networks in industries can also lead to improved end-to-end digital signal accuracy and integrity.
Communication networks like LAN (Local Area Network) or WAN (Wide Area Network) can communicate large amounts of data via limited number of channels. Whereas industrial networking enable implementing various communication protocols between field devices, digital controllers and several automation related software tools and external systems. Therefore modern industries have demonstrated increased adoption of industrial communication networks over traditional LAN and WAN. This has led to industrial communication market size depicting a substantial increase lately.
For instance, according to renowned automation conglomerate ABB, and one of the notable players in industrial communication market, the firm's revenue increased by 5% to $7,395 million in 2018. This has been credited to the strong growth in robotics & motion, robust performance achieved from electrification products and a steady result owing to industrial automation.
Some of the trends that industrial communication market is being defined by are mentioned below:
Long-term application of industrial communication in the industrial automation sector
Growing demand for increased data processing speed will foster industrial communication market size in the automation sector. As industrial operations are becoming more complex and variable, the market has registered immense growth over recent years. Indeed, a greater number of network-based programmable controllers and mechanisms are required within modern industries to attain faster decisions and increased productivity and efficiency.
With network-based automation, companies can also attain increased saving in work force, energy, raw material, better control on product quality and enhanced plant availability and operational safety. In fact, the technology can help in raising the levels of process control & continuity with improved efficiency, eventually bringing potential production figures to the nominal plant capacity by cutting downtime, corrective maintenance and the lack of raw material supply to minimum.
With efficient real-time communication system like PROFIBUS-DP or PA, Fieldbus and more, distributed peripherals such as Input/output (I/O) modules, transducers, drives, valves and operational panels can also communicate with automation systems more accurately.
Thus, with the advent of the automated systems that are based on advanced industrial communication and technology, the automation sector will attain enhanced benefits in terms of maintenance, and increase plant productivity, further augmenting industrial communication market size.
Get a Sample Copy of this Report:@ https://www.gminsights.com/request-sample/detail/3367
S. to emerge as a pivotal revenue pocket for industrial communication market in the forthcoming years
Being a major producer of automation equipment, U.S. is anticipated to drive massive growth in industrial communication market. Citing International Trade Association (ITA) reports, the country is the leading producer of hardware components that are used in automated systems as well as a major supplier to manufacturing or production industries across the globe.
In fact, in 2015, U.S. exported nearly $10.5 billion worth of automation equipment to foreign markets, claims ITA. Sources suggest that supportive government policies and the presence of global automation players like General Electric, Honeywell, Rockwell, Emerson Electric and more will pave the way for industrialization in the region. Additionally, the increasing adoption of Industry 4.0 will boost the demand for the industrial communication technologies in the coming years, successfully proliferating U.S. industrial communication industry size.
Wireless communication technologies to enhance industrial operations
Advancements in wireless communication along with growing adoption of advanced tech-based devices will drive the industrial communication industry. The key advantage of wireless systems is that they can be installed in remote locations in an efficient and cost-effective manner. As battery-powered transmitters don't require wired infrastructure or power supply, they can be installed across areas that are far away from power wiring and wired fieldbus.
They can also be installed in sites where setting up power and cabling systems would be dangerous or too expensive. This flexibility allows use of wireless in both Greenfield projects and ongoing Brownfield projects.
Owing to the low-power nature of Wireless HART devices, users can also operate such equipment for several years without replacing the battery. Moreover, engineering, procurement, and construction contractors and plant owners can increasingly shift to wireless communication technology as it is beneficial in terms of reducing physical fixed infrastructure, managing schedule risk and cost escalation, and reducing space requirements and weight.
According to reports, adopting wireless solutions have reduced commissioning time by 50% for some contractors. The technology further helped in streamlining the design and engineering process, maintaining project schedule and improving user's ability to manage change on their project. The prominence of this technology is rather overt from the estimate that wireless charging market size is slated to cross $14 billion by 2024.
Moreover, with industry-leading process plants installing wireless infrastructure, industrial communication market size from the wireless communication protocol is estimated to grow at a CAGR of over 22% over 2019-2025.
In a nutshell, it would not be incorrect to quote that industrial communication industry is likely to come up as a highly profitable vertical of the overall electronics cosmos. As per estimates, global industrial communication market size is anticipated to exceed USD 160 billion by 2025.
Author Name :Mateen Dalal
The revenue graph of operator training simulator market is projected to foresee exponential growth owing to the continuous improvement in these products and rising emphasis on recruiting skilled workforce. Skill development helps to enhance productivity, safety, profitability, controllability, and stability of the enterprise operations. The increasing focus to reduce injuries and fatalities to maintain safe operations across various business verticals is expected to aid the market growth.
Brazil operator training simulator market, by application, 2018 & 2025 (USD Million)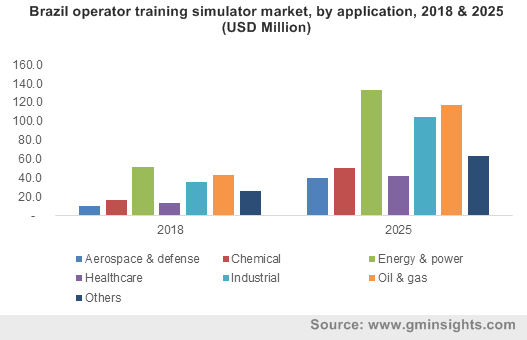 Industry professionals are training their operators to tackle life-threatening situations which has led to increased emphasis on safety of workers, optimization and efficiency of simulators – a factor that is likely to impel the operator training simulator market share in the times to come.
Operator training simulators improve decision making of the operators at critical times while increasing familiarity with the operations. Pilots are required to develop skills like decisiveness, quick thinking, confidence and situational awareness which can be enhanced by simulator trainings. Operator training simulators strengthen confidence to tackle the unfavorable situations. To underscore the significance of simulators, the recent instance of fatal aircraft crash of Ethiopian Airlines can be considered. The crash killed all 157 on board just five months after a similar crash on a Lion Air flight which killed all 189 passengers and crew.
After the accident, the Allied Pilot Association has demanded training on simulators which includes scenarios like those experienced by the pilots of Ethiopian Airlines and Lion Air and additional computer training for 737 MAX to cement the lessons of failure modes in the minds of pilots. Apparently, the deployment of advanced simulators would be crucial in building confidence among pilots, essentially boosting the growth of operator training simulator market.
Get a Sample Copy of this Report:@ https://www.gminsights.com/request-sample/detail/1285
Apart from aviation industry, the railway sector has also emerged as a major end-user to deploy operator training simulator for realistic and robust training to avoid fatalities. For instance, in the year 2018, Indian railways had announced to invest INR 350 crore in operator training simulators to train 1.5 lakh loco pilots and assistant loco pilots to bridge the gap between theoretical and practical learning. The investment is meant to make drivers learn how to navigate rail tracks, curves, signals, bridges and any other situation as if they are driving a real train.
Over 12,000 diesel and electric locomotives daily run on a 66,000-km network across the country. There are about 86,000 train drivers and the simulator training with real feel experiences will assist these drivers to run locomotives efficiently. Apparently, the Indian government's program is a testimony to the increasing prominence of governmental support to high-end simulator training across various geographies – a vital factor that will enhance the growth prospects of the operator training simulator industry.
Notably, defense academies have also been proactive in adopting operator training simulators for public safety and enhancing the overall skill-set of cops. As the police department is responsible for the safety of citizens and maintenance of peace across any country, cops face highly stressful situations on a regular basis which requires high level of patience and panic control. In this regard, simulator training has proved to be of immense help and numerous police academies are deploying these simulators on their premises.
For instance, the New Britain Police Academy has recently adopted simulator trainings to train police to manage stressful responses and make decisions under pressure. The Milo Simulator – chosen by the academy – is an advanced simulator in the state which combines driving an emergency vehicle in highly unfavorable situations such as armed encounters. The human reaction under pressure is unpredictable but this training simulator can help police officers to calmly handle stressful situations.
Operator training simulators have found usage in aviation, railways, police trainings and have applications in several other industries, including healthcare, energy, and chemicals. Operator training simulators play a vital role in training operators in manufacturing and industrial plants. The simulators enhance familiarity with the operations by creating a visual and real-time experience to cement the learnings by experiencing high-risk situations.
Retiring experienced workforce and the increasing demand for quality training of young staff will also contribute in proliferating the operator training simulator industry trends. According to a research report by Global Market Insights, Inc., the operator training simulator market is expected to surpass a remuneration portfolio of USD 20 billion by 2025.
Author Name : Anchal Solanki