Software
The unprecedented growth pace of the global restaurant POS terminals market is rather evident from the recent instance of Jamba Juice joining hands with Paytronix Systems, Inc. The popular smoothie and juice brand inspiring healthy living worldwide, through this partnership, aims to deploy Paytronix's POS platform and increase sales and gift card redemptions within all touch points. A highly reputed restaurant POS terminals industry contender, Paytronix, with this agreement, plans to enable Jamba's gift card sales across numerous distribution channels and POS platforms, inclusive of online ordering, third-party channel sales, Jamba Juice mobile apps, website sales, and stand-alone terminals, not only improving productivity for Jamba but also substantially strengthening its stance across the global industry.
China restaurant POS terminals market, by application, 2017 & 2024 (USD Million)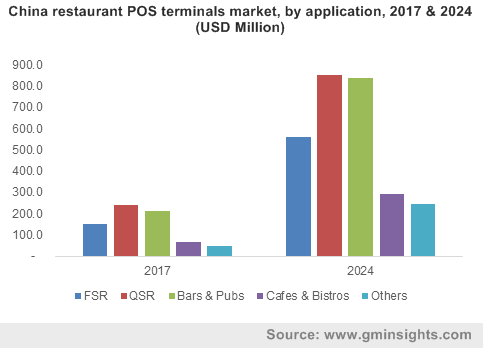 A business vertical of commendable repute, thriving extensively on shifting consumer preferences, restaurant POS terminals market as on today stands as one of the most fast-paced, lucrative industry spheres there is. Aided by the global shift toward digitalization and the accelerated adoption of advanced payment systems worldwide, driven by massive technological propagation, the commercialization potential of restaurant POS terminals market has only surged in the last few years. The robust proliferation of next-generation technologies has created an innovation-centric scenario in the competitive spectrum of restaurant POS terminals market, leading to prominent industry magnates tapping high-grade software to develop solutions to be incorporated in payment terminals. Endorsed by fierce competition and powered by the widespread requirement of specific, task-centric systems, restaurant POS terminals market participants have been going the whole hog to come up with a portfolio of innovative, proprietary solutions. A gist of some of the major companies that have been grabbing attention in this regards has been elucidated below:
TouchBistro
A highly reputed firm partaking in restaurant POS terminals market share, TouchBistro boasts of an enviable product portfolio and is frequently involved in M&As and product development strategies to consolidate its standing in the industry. Last year in March, the company launched TouchBistro Payments, powered by a Chase company – WePay. Through a highly strategic partnership, both these companies plan to offer two major time-efficient innovations demanded by most restaurant owners – an integrated mobile payment device and instant payment processing.
Get a Sample Copy of this Report @ https://www.gminsights.com/request-sample/detail/3073
TouchBistro's efforts to maintain its standing in restaurant POS terminals industry is also quite vivid from the firm's plan to diversify its offering and reach in the UK in 2017. The year saw the company extended its integration with Square to the restaurants in UK. Post the extension, all the restaurants in the UK using the TouchBistro iPad mPOS solution had been able to process payments seamlessly using Square.
Verifone
In the first quarter of 2018, Verifone forged a partnership with Paysafe, a global provider of payment solutions, in a bid to deliver quick services for restaurants across the United States. Reportedly, through this contract, Paysafe became the first firm to adopt the Verifone Connect to be used on its Carbon and Engage devices deployed by restaurants. The partnership was touted to pave the way for the easy acceptance of digital wallets, loyalty programs with smartphones, and near field communication payments in restaurants so that customers would be able to pay online or outside of businesses and even at the table, and drastically transform restaurant POS terminals market trends.
Shifting a tad bit away from its usual strategy and product offering, Verifone, in October last year, declared the launch of Navigator – the first-of-a-kind payment feature equipped with a fully integrated touchscreen, for earning certification for usability and accessibility by the Royal National Institute of Blind People. The goal behind the said launch was to ease payment transactions for the visually impaired, employed in restaurants or someplace else, in an era where payment devices continue to navigate toward touchscreens.
Toast
One of the most popular magnates of the global restaurant POS terminals market, Toast boasts of highly commendable public profile as far as payment solutions are concerned and has been touted to be one of fastest-growing restaurant management platforms in the U.S. A couple of years back, the company joined hands with SpeedETab, the leading company in mobile payments, analytics solutions, and native mobile ordering for merchants, to empower restaurant owners with an enterprise-level order ahead technology which works seamlessly with Toast.
2018 was an exceptionally profitable year for the restaurant POS terminals market contender, as Toast, in the second quarter, made it to the headlines with the launch of the Toast Go™ – a fully integrated POS handheld system custom-built for restaurants. The solution combined software, hardware, and payments together to exclusively cater to restaurants that can use Toast Go in conjunction with Toast KDS to improve table turn time and deliver exceptional guest experience. Merely a few months ahead, the restaurant POS terminals industry firm announced GoParrot, Rooam, and Avero as the key application partners in the Toast Partner Ecosystem to provide restaurants seamless access to technology partners in order to enhance operations, increase their revenue, and improve customer interaction. Equipped with a vision to empower the restaurant community, Toast, in the years to come, will emerge as one of the strongest contenders of the restaurant POS terminals industry.
The highly appreciable efforts of prominent companies to bring advanced solutions to the mainstream has quite irrefutably, expedited the commercialization potential of the overall restaurant POS terminals market. Not to mention, the industry trends have also undergone a major transformation with the exceedingly rising number of food outlets across the globe. Say for instance, the National Restaurant Association claims that the U.S. houses more than 1 million restaurant locations. Majorly driven by the robust proliferation of technology in payment solutions and the escalating proportion of restaurants across the globe, the overall restaurant POS terminals industry size has been estimated to be pegged at a commendable USD 25 billion by 2024.
Author Name : Saipriya Iyer
The rising occurrence of a host of advanced, complex cybersecurity threats has helped impel the global virtual private network (VPN) market, given that these threats stand to jeopardize the integrity, privacy and data of businesses. With globalization becoming widely commonplace, and businesses striving to expand their sphere of influence to operate on an international level, the need for organizations to connect their business units together has also risen in proportion. These factors, over the last decade, have made the internet the preferred platform for companies and individuals to conduct their business. However, the vulnerability characterizing the internet has rendered it extremely inadequate in terms of security, a flaw that cybercriminals typically exploit to commit frauds & thefts.
U.S. VPN Market Revenue, By Component, 2017 & 2024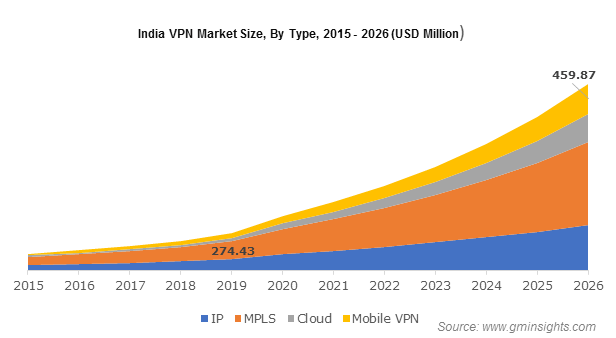 In a manner of speaking, the VPN technology facilitates a cost-effective and safe solution to the issue of safeguarding company networks. The growing prominence of wireless devices across different organizations & businesses would thus drive the growth of VPN market as improving internet speeds coupled with falling prices are catapulting the rate of adoption of a plethora of wireless & mobile devices. Given that such devices are commonly used across organizations to access several applications present on private company networks from remote locations, the VPN technology has consolidated itself as an extremely crucial business component, thereby driving VPN market trends.
Unveiling global virtual private network market trends from commercial applications:
The commercial sector is one of the most prominent application segments of the global VPN market. Comprising end-use domains such as the BFSI, healthcare, manufacturing, government and IT & telecommunication sectors, VPN market size from commercial applications is expected to grow at an impressive CAGR of about 15% over 2018-2024. This growth can be primarily attributed to the surging practice of digital recordkeeping and the adoption of cloud technology in these sectors that is completely changing the way customers access their information, rendering VPN technology as the backbone of these businesses.
Get a Sample Copy of this Report:@ https://www.gminsights.com/request-sample/detail/2756
While, organizations in these domains usually utilize a VPN of their own, a majority of them opt for commercial VPN services provided by private companies. According to Surveillance Self-Defense, an independent non-profit organization, a commercial VPN is a privately offered service that provides organizations a secure channel to relay their data over the service provider's own network. These services, if hosted in a foreign nation, while protecting users' data from cyber threats, also protect the information from local governments and allow the information to bypass national censorships.
Unveiling global virtual private network market growth via rising adoption of remote access connectivity:
Remote access connectivity has been touted to be one of the most deployed models in VPN market. The increasing need of organizations to find a secure as well as affordable way to relay secure company data from their private network to employees working at a remote offsite location is a primary factor driving the growth of the remote access-based VPN market. As opposed to site-to-site VPN, which allows a large-scale business to connect a cluster of its offices in several fixed geographical locations with each other, the ability of the remote access topology to connect individual hosts to their respective organization's private networks makes it an ideal match for small & medium-sized enterprises (SMEs).
Incidentally, the topology also allows employees from large organizations working through site-to-site VPN to connect to the company's network remotely and be able to perform their work from a remote location over home networks or public Wi-Fi networks without worrying about the security of company data. Aided by the convenience and reliability provided by this model, the remote access connectivity-based VPN market size is projected to register a CAGR of approximately 17% over 2018-2024.
Attributed to the rising need for facilitating proper secured channels for the exchange of data over an increasingly connected world, the global virtual private network is expected to successfully thrive in the overall technology space in the forthcoming years. According to a report by Global Market Insights Inc., driven by the increasing rate of VPN adoption in myriad businesses, the overall virtual private network market valuation is anticipated to surpass $54 billion by 2024.
Author Name : Akshay Kedari
Disrupting the conventional ways of building digital infrastructure, the network automation market has emerged as one of the most enterprising niche verticals of the sustainable and smart industry. Prominent tech giants and multinational corporations around the globe have increasingly focused on implementing new methodologies to reduce manual configuration errors which are believed to cause the majority of network outages.
China Network Automation Market Share, By Application, 2017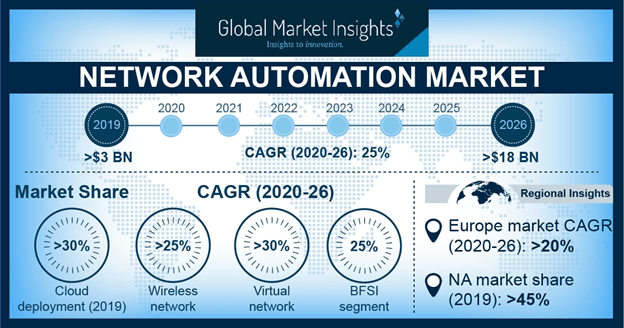 In this context, network automation has evolved into one of the crucial technologies that have enabled businesses to decrease manual configuration errors and risk through effective compliance reporting, improved network service availability, enhanced performance and staff efficiency, and augmented data security infrastructure. As per reliable estimates, the overall network automation market size had been pegged at an appreciable USD 1.7 billion in the year 2017.
Besides providing a wide range of connectivity applications, the SD-WAN technology has assisted numerous business verticals to reduce complexities in physical network infrastructure. The advent of advanced computing technologies such as machine learning and artificial intelligence has disrupted the digital business models – a factor that can be attributed for large scale adoption of SD-WAN technology in the last few years. In fact, as per a research study compiled by Global Market Insights, Inc., the SD-WAN technology apportioned more than 67% of the total revenue share of network automation market in 2017 and is anticipated to hold a prominent spot in the overall software segment in the upcoming years.
Get a Sample Copy of this Report:@ https://www.gminsights.com/request-sample/detail/2805
Concurrently, traditional networks are increasingly being replaced by virtual and cloud-based applications which has fundamentally transformed the growth strategies of major firms partaking in network automation market in the recent times. Numerous startups have been developing automation solutions that can configure manually-managed network devices, improve security capabilities, and supervise service offerings more efficiently. In this context, it would be prudent to mention that prominent tech giants have focused on acquiring these startups as it would assist them in augmenting their resources to deliver next-generation solutions that would serve all size and scale of customer needs. Enlisted below are a few instances that underscore how these acquisitions are shaping the network automation industry trends:
To strengthen its service management portfolio and optimize its digital assets, IBM acquired the California-based network automation software provider Intelliden in 2017. Reportedly, Intelliden assists telecom firms to manage, configure, and scale their networks and automate an array of other services. Apparently, the technology of Intelliden would be integrated into IBM's Tivoli Software which is known to enable various businesses to combine service delivery and significantly accelerate the automation of networks.
With an aim to offer its customers an SD-WAN solution that is easy to deploy across enterprise branch offices and other WAN installations, Cisco has recently acquired an emerging WAN solutions provider Viptela for USD 610 million. Even though Cisco has a robust WAN product portfolio consisting of Intelligent WAN and Meraki SD-WAN, the addition of Viptela's unique technology would reportedly expand and improve the overall functionality of the company's WAN solutions in the times to come.
Implementing network automation solutions through cloud-based services has lowered capital expenditure and operational costs, enabling enterprises to scale their technological capabilities at a faster pace. Primarily driven by growing opportunities to offer enterprises with additional services like monitoring, security, and application optimization beyond basic automation tasks, the network automation industry share is anticipated to expand vigorously over the estimated timeframe. With rising investments by major tech firms coupled with innovative products being launched by startups, the network automation market size is forecast to register an excellent y-o-y growth rate of 22% over 2018-2024.
Author Name : Saif Ali Bepari
Bringing about a disruptive change in the way present-day digital networks are being built, operated, and managed, the network function virtualization (NFV) market has established itself as one of the most profitable niche verticals of the sustainable and smart industry. Owing to a substantial increase in the demand for robust data management systems across various business sectors, the deployment rate of NFV technology has witnessed a massive jump over the past few years. Especially, the rising number of collaborations between IT giants and renowned cloud service providers has consequentially boosted the growth prospects of NFV industry. For instance, the recently formed partnership between Indian IT major Tech Mahindra and cloud computing behemoth VMware is a testament to the growing prominence of NFV technology in connecting virtual machines and physical interfaces.
Europe Network Function Virtualization (NFV) Market Share, By Application, 2017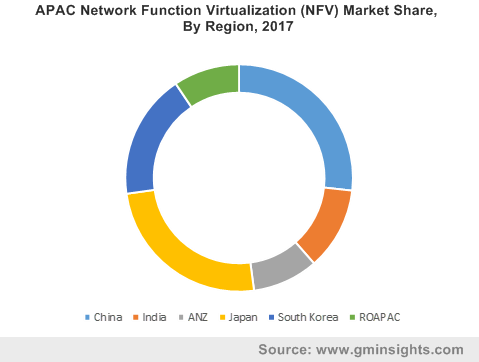 Elaborating further, both the firms are likely to integrate VMware's OpenStack ready NFV platform with digital transformation expertise of Tech Mahindra to assist global communication service providers in accessing new market opportunities, accelerating new service delivery, and enhancing the overall business economics. Moreover, the solutions provided by both the companies would be based on distributed micro data center architecture that will certainly lower the expenses related to network infrastructure. Apparently, the formation of such robust partnerships would optimistically impact the NFV market share in the years ahead.
Get a Sample Copy of this Report:@ https://www.gminsights.com/request-sample/detail/2768
At a time when the global IT and telecommunication sector has been recording unprecedented growth owing to a major shift toward automation, next-generation technology solutions such as NFV have garnered immense significance. With the help of a robust virtualized network architecture in conjunction with NFV technology, the telecommunications companies can now launch new services in a couple of months. Moreover, the deployment of NFV enables telecom network operators to significantly reduce power consumption through consolidating equipment, lower the maturation cycle, improve the flexibility of network service provisioning, and enhance operational efficiency. As a consequence of all these advantages, the IT and telecommunication sector has emerged as the major contributor toward NFV industry share expansion in the recent times. In fact, as per a research report compiled by Global Market Insights, Inc., the IT and telecommunication segment held over 32 percent of the revenue share of the overall NFV market in the year 2017.
In this regard, developing economies along the likes of India and China have emerged as the fastest growing terrains for the telecom industry in the last decade. This has, in turn, benefited the NFV market players operating in these nations as the deployment of NFV technology in the telecommunication sector has been on the rise. Testimony to the aforementioned statements is the recently organized SDN & NFV India Congress 2017 which aimed at deliberating on the opportunities and the evolving role of NFV technology on 5G networks in the context of India's telecom industry. Held for the first time in India, the Congress has been supported by tech giants such as IBM, Juniper Networks, Ericsson, Huawei, UT Starcom, ADVA Optical Networking, and Nokia. Needless to mention, the outcomes of such proactive initiatives would aid the IT and telecom sector to retain the top spot across the application spectrum of NFV industry in the upcoming years.
Meanwhile, it would be prudent to mention that the seamless deployment of NFV technology has been facing certain challenges which includes ensuring compatibility with legacy platforms, interoperability, performance trade-off, and simplicity which might prove to be roadblocks in rapid product penetration. However, the applications of NFV technology would undoubtedly drive various business verticals toward the next phase of network evolution and would prepare an ecosystem where the advantages of 5G connectivity would be leveraged in a highly efficient and agile manner. Driven by an escalating demand for server consolidation and data center virtualization, the remuneration portfolio of the global NFV market is projected to surpass USD 70 billion by 2024.
Author Name : Saif Ali Bepari
Nlyte's partnership with the IBM Watson IoT group is an exemplar precedent underlining rapid expansion of data center infrastructure market. Recently inked, through this deal, the companies intend to leverage maximum potential of advanced analytics and AI in its data centers.  Speaking of the strategic agreement, one of the spokesperson of Nlyte has been quoted saying that the complexity, scalability, and optimization of modern data centers demand the requirement of advanced analytic solution integration. Reportedly, Nlyte is amalgamating its patent NEO (Nlyte Energy Optimizer) with IBM Watson's advanced AI abilities in a quest to provide data centers with new heights of operational comprehensiveness. This alliance, as per experts' opinion, has surely strengthened Nlyte's stance in data center infrastructure market that pegged a valuation of USD 40 billion in 2017.
Europe data center infrastructure market, by product, 2017 & 2024 (USD Million)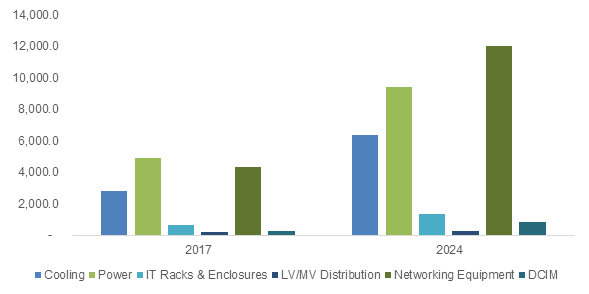 A stringent regulatory framework speaks volume and has much to contribute in data center infrastructure industry augmentation. With cyber-attacks becoming a global concern, various regulatory bodies have mandated guidelines to identify and continuously monitor potential vulnerabilities in digital infrastructure. Companies partaking in data center infrastructure market therefore, now are extremely particular to develop solutions that are completely in compliance with regulatory standards. In this regard, recently Nlyte Software made its way to headlines, for receiving the much awaited approval for its DCIM solution from the Department of Homeland Security.
Allegedly, the latest approval makes the America data center infrastructure industry giant to become the first DCIM solution provider in the United States that has strictly adhered to all the conditions mentioned in the Phase 1 of CDM program (Continuous Diagnostics and Mitigation) of the federal government. For the records, the U.S. federal government rolled out this aforementioned CDM Program few years back, in a bid to ensure integrity and security of hardware as well software assets of the nation. Not to mention, with increasing adoption of these regulations, U.S. data center infrastructure industry is certain to carve a profitable roadmap over the ensuing years.
Get a Sample Copy of this Report@ https://www.gminsights.com/request-sample/detail/2580
Citing yet another instance where governmental initiative has given a substantial boost to regional data center infrastructure market, the Northern Territory of Australia that has released its Budget for the year 2018-2019, has allocated a sum of AU$18.38 million to support initiatives that are under the Department of Corporate and Information Services. Reportedly, as a part of the scheme, the government has a plan to increase its number of physical servers and number of fully managed servers by 16 and 100 respectively in this financial year. With such enormous project in the pipeline, regional data center infrastructure market players are sure to gain monetary benefits in securing Australia's data center network.
Speaking of the regional aspect, it is prudent to mention that Asia Pacific is at the vanguard of data center infrastructure industry. In fact, Asia Pacific market is forecast to witness nearly 14% CAGR over 2018-2024. The growth can be primarily attributed to the increased penetration of digital technologies among consumers as well as businesses across this belt. Rapid industrialization along with robust growth in outsourcing activities especially in countries like India and China have led to a subsequent increase in organizational data traffic. In a bid to accommodate this huge traffic, companies are increasingly investing in new facilities, thereby proliferating APAC data center infrastructure industry.
Despite these growth opportunities, data center infrastructure market is still facing a challenge of bridging complex web of interconnections with a data center network. Nonetheless, with the advent of optimized workflow procedures, adoption of real-time monitoring system, and enhanced tools, the aforementioned stumbling block is likely to get overcome within a short span. Furthermore, the lure of big data analytics and extensive proliferation of cloud technologies would leave a complementary influence on data center infrastructure industry space. In terms of commercialization, the business space is forecast to exceed a massive valuation of USD 90 billion by 2024.
Author Name : Satarupa De