Solar PV
Some of the pivotal factors that have propelled North America microgrid market growth over the recent years are the governmental & regulatory inclinations toward network expansion and the rising financial backing to support such projects. Increasingly becoming the most resilient and sustainable options for industries to provide continual operation during blackouts and natural disasters, microgrids are becoming the essentials of the energy and utilities sector. A substantiation validating the aforesaid is that of a report by the Federal Energy Regulatory Commission that claims the utilities across the U.S. to have invested nearly USD 35 billion in 2016 for the expansion of the energy transmission network.
U.S. Microgrid Market Size, By Storage Device, 2017 & 2024 (USD Million)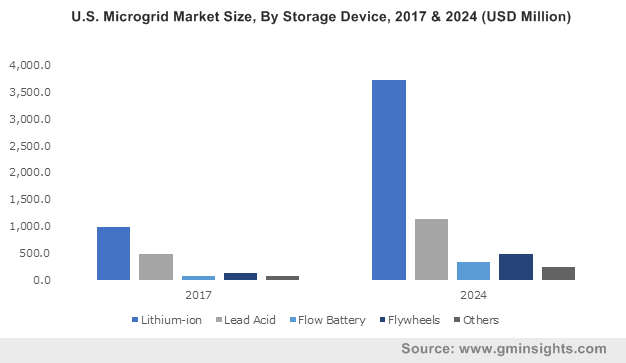 Rising adoption of renewable energy technologies to impel North America microgrid market size
Quite overtly, the spending on energy infrastructure to deliver power to businesses and households has increased remarkably in the past decade and is replacing the conventional poles, station equipment, and overhead lines and devices. With the rising penetration of renewable sources in the mainstream electricity supply, the operational dependability of the grid network has become an intricate issue for the power giants. In fact, several eminent companies are generously investing in microgrids for seamless integration and distribution of clean energy.
Get a Sample Copy of this Report:@ https://www.gminsights.com/request-sample/detail/2833
Recently in 2017, Ameren Corporation unveiled the completion of one of the most highly advanced utility scale microgrids in the North America microgrid market. As a part of its commitment toward building a smart and clean energy infrastructure, Ameren has built a microgrid facility with advanced automation & battery storage. The facility will also test, monitor, and control methods for aggregating renewable & clean energy sources from natural gas, solar, and wind. Reports claim that the Ameren microgrid has a significant production potential of up to 1475 kilowatts, which is enough to power more than 190 households and will be contributing immensely to the expansion of North America microgrid industry share.
North America microgrid market to be swayed by the rise in product demand from the military
Greater reliance on fossil fuel in remote & rural regions in the world is a vulnerable point in military operations, and the results could be devastating, given the transportation challenges. A microgrid solution, in this regard, has not only enabled an installation to generate its own power for the military sector but has also provided protection against cybersecurity risks. These grids have significantly met the needs for stable electricity supply and that too without relying on a larger regional grid that is more averse to interruption and compromises.
To illustrate further, under its Smart Power Infrastructure Demonstration for Energy Reliability and Security (SPIDERS), the U.S. military is aiming to deploy microgrids to supply power in the event of attack or loss of the utility grid. The program is also focusing to integrate solar PV and the diesel backup generators in order to provide diverse fuel sources, enabling uninterrupted power and lower carbon emission.
Recently, the U.S. Department of Defense, in this regard has issued a solicitation for multiple microgrid projects in the military sector that will assess large-scale energy storage. It is also imperative to mention here that the U.S. DOD is the largest petroleum & fossil fuel consumer and greenhouse gas emitter in the world – which is also one of the many reasons why U.S. military are looking at renewable energy microgrids.
Taking into consideration the aforementioned scenario, it wouldn't be wrong to say that the U.S. military has become one of the significant investment ground for potential North America microgrid industry investors. Further powered by government backing and funding advances, the military microgrid projects are expected to be more secure & reliable and are poised to be a lucrative sector of the North America microgrid industry, which according to reliable reports is expected to surpass 7 billion by 2024, with a capacity expansion of 3 GW.
Author Name :Ojaswita Kutepatil
Rising reliability on electricity coupled with growing need for uninterrupted power supply are major factors driving microgrid market growth. Of late, the proliferating industrialization trends have paved the way for escalating investments in industrial and urban establishments. This has been observed especially in emerging economies, leading to an increase in the demand for electricity. This factor in tandem with favorable government initiatives in electrification of rural areas are augmenting the demand for microgrid connectivity across the globe.
Rapid deployment of captive power sources in tandem with rising integration of clean energy technologies is stimulating the microgrid market outlook. Growing consumer inclination towards natural gas-based power generation sources in consort with rising adoption of solar technology in industrial sector are also contributing toward the growth of the industry.
The expansion of solar energy sector worldwide is a major parameter driving the demand for microgrids. The global microgrid market will register considerable growth owing to favorable federal reforms including FITs, tax rebates and investment tax credits, which are being introduced to increase the deployment of solar PV as a power source. Also, the rapid decline in component prices along with robust R&D activities to improve operational flexibility and product quality of solar PVs will drive microgrid industry growth.
According to estimates, microgrid market will register an annual installation of 13 GW by the year 2026.
Based on storage, the microgrid market is categorized into lead acid, lithium-ion, flywheel and flow batteries segment. Of these, the lithium-ion segment is likely to depict significant growth, attributed to the fact that lithium-ion batteries have longer life cycle and offer efficient performance properties.
Get a Sample Copy of this Report:@  https://www.gminsights.com/request-sample/detail/1187
Elaborating on the application spectrum, rising adoption of microgrid technology in remote areas owing to scarcity of electricity and fluctuating power supply will boost the growth of the remote application segment. Government officials are primarily focusing on introducing various programs in order to provide sustainable grid network solutions in off-grid areas. Escalating demand for electricity in isolated areas is thus compelling governments to focus on distributed power generation, increasing the demand for microgrids across remote locations.
Rising R&D activities along with surging investments by food & beverage, manufacturing and chemical companies is also contributing to the growth of the remote applications segment in microgrid market.
Considering the geographical landscape, estimates claim that the Asia-Pacific microgrid market is estimated to grow by 22% through the year 2026. Growing demand for electricity along with surging investments in urban and industrial development is driving the market growth. Moreover, the growth of Asia-Pacific market is credited to the increasing number of consumer awareness programs regarding the benefits of using renewable sources of energy.
For instance, South Korea and Japan are primarily focusing on integrating and supplying sustainable energy solutions in order to provide positive benefits to their respective citizens.
The governments of the emerging economies across APAC are also known to undertake efforts for bringing forth uninterrupted power supply in the region, which is further likely to drive the growth of this market in the years to come.
The prominent companies operating in microgrid market are Honeywell, Schneider, ABB and Siemens among others.
Author Name : Omkar Patwardhan
Global solar trackers market is anticipated to accumulate commendable proceeds over the forecast spell owing to emerging concerns pertaining to changes in climate condition. These changes have given rise to numerous government mandates encouraging the adoption of solar energy systems to cater to the growing demand for electricity due to rapid commercialization and urbanization, in turn boost industry demand.
Additionally, many regulatory norms regarding the mitigation of carbon emissions and specific emphasis on efficient and sustainable energy consumption are likely to add impetus to solar tracker market growth in the coming years.
Several targets for sustainable energy have been put forth by governments worldwide in order to proliferate the implementation of photovoltaic (PV) generation systems, thereby fueling solar tracker industry dynamics.
Moreover, industry demand is further bolstered by the product's beneficial characteristics including reduction in energy costs and high CUF. As per estimates from credible sources, global solar tracker installations are expected to surpass 30GW by 2025.
Get a Sample Copy of this Report@ https://www.gminsights.com/request-sample/detail/364
As environmental concerns continue to surge, myriad policies and strict mandates have been established across the commercial and utility sectors, encouraging industry players to inhibit their carbon footprints through the adoption of sustainable energy systems.
Growing expenditure towards the construction of commercial infrastructure, including hospitals, shopping centers, and schools has accelerated the deployment of solar panels to accommodate the demand for continuous supply of electricity.
Consumers, over the recent years, are beginning to make higher use of solar trackers in efficient energy systems, with the goal of augmenting the capacity utilization factor and reaping the benefits through tax credits, incentives, and subsidies.
Furthermore, solar tracker market forecast will be further driven by diminishing PV engineering costs combined with high electricity rates for commercial organizations.
Taking into consideration the product spectrum, the dual axis solar tracker segment is poised to amass hefty proceeds in the years ahead, given its strong capability for providing two-degree flexibility, leading to a nearly 45% improvement in energy generation as compared to its traditional PV counterpart. As a result, dual axis solar tracker systems are witnessing robust demand across Concentrated Solar Power (CSP) and Concentrator Photovoltaics (CPV) power plants.
In fact, these energy systems observe widespread acceptance across many industries due to their high-performance level as opposed to alternative energy sources, which in turn would impel solar tracker industry growth.
Dwindling solar panel costs alongside the enactment of ongoing strict environmental initiatives have resulted in extensive installation of solar trackers in North America. Due to their declining supply chain costs and enhanced module performance, PV tracker systems have seen a substantial rise in demand over the past few years. Manufacturing companies are making heavy investments towards R&D endeavors to further enhance the overall efficiency of the solar power system, thereby complementing industry outlook.
Optimistic outlook towards the deployment of photovoltaic systems across North America is expected to bolster solar tracker market size. In order to achieve a competitive edge over other market players, enterprises are largely focused on producing low-cost and efficient energy products.
Author Name : Saloni Walimbe