Solar PV
Some of the pivotal factors that have propelled North America microgrid market growth over the recent years are the governmental & regulatory inclinations toward network expansion and the rising financial backing to support such projects. Increasingly becoming the most resilient and sustainable options for industries to provide continual operation during blackouts and natural disasters, microgrids are becoming the essentials of the energy and utilities sector. A substantiation validating the aforesaid is that of a report by the Federal Energy Regulatory Commission that claims the utilities across the U.S. to have invested nearly USD 35 billion in 2016 for the expansion of the energy transmission network.
U.S. Microgrid Market Size, By Storage Device, 2017 & 2024 (USD Million)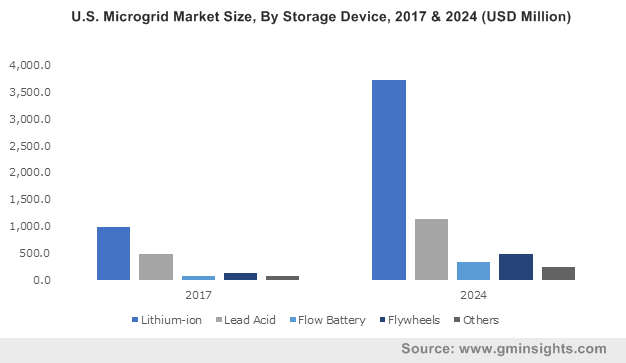 Rising adoption of renewable energy technologies to impel North America microgrid market size
Quite overtly, the spending on energy infrastructure to deliver power to businesses and households has increased remarkably in the past decade and is replacing the conventional poles, station equipment, and overhead lines and devices. With the rising penetration of renewable sources in the mainstream electricity supply, the operational dependability of the grid network has become an intricate issue for the power giants. In fact, several eminent companies are generously investing in microgrids for seamless integration and distribution of clean energy.
Get a Sample Copy of this Report:@ https://www.gminsights.com/request-sample/detail/2833
Recently in 2017, Ameren Corporation unveiled the completion of one of the most highly advanced utility scale microgrids in the North America microgrid market. As a part of its commitment toward building a smart and clean energy infrastructure, Ameren has built a microgrid facility with advanced automation & battery storage. The facility will also test, monitor, and control methods for aggregating renewable & clean energy sources from natural gas, solar, and wind. Reports claim that the Ameren microgrid has a significant production potential of up to 1475 kilowatts, which is enough to power more than 190 households and will be contributing immensely to the expansion of North America microgrid industry share.
North America microgrid market to be swayed by the rise in product demand from the military
Greater reliance on fossil fuel in remote & rural regions in the world is a vulnerable point in military operations, and the results could be devastating, given the transportation challenges. A microgrid solution, in this regard, has not only enabled an installation to generate its own power for the military sector but has also provided protection against cybersecurity risks. These grids have significantly met the needs for stable electricity supply and that too without relying on a larger regional grid that is more averse to interruption and compromises.
To illustrate further, under its Smart Power Infrastructure Demonstration for Energy Reliability and Security (SPIDERS), the U.S. military is aiming to deploy microgrids to supply power in the event of attack or loss of the utility grid. The program is also focusing to integrate solar PV and the diesel backup generators in order to provide diverse fuel sources, enabling uninterrupted power and lower carbon emission.
Recently, the U.S. Department of Defense, in this regard has issued a solicitation for multiple microgrid projects in the military sector that will assess large-scale energy storage. It is also imperative to mention here that the U.S. DOD is the largest petroleum & fossil fuel consumer and greenhouse gas emitter in the world – which is also one of the many reasons why U.S. military are looking at renewable energy microgrids.
Taking into consideration the aforementioned scenario, it wouldn't be wrong to say that the U.S. military has become one of the significant investment ground for potential North America microgrid industry investors. Further powered by government backing and funding advances, the military microgrid projects are expected to be more secure & reliable and are poised to be a lucrative sector of the North America microgrid industry, which according to reliable reports is expected to surpass 7 billion by 2024, with a capacity expansion of 3 GW.
Author Name :Ojaswita Kutepatil
In an era where distributed energy sources are continually promulgated in power networks, microgrid market stands to gain remarkable prominence, given the systems' exceptional credibility of ensuring reliable operation in distributed grids with robustness and high flexibility. As the energy demand in conjunction with the environmental concerns have increased dramatically since the past decade, experts believe, decentralized electricity supply through LT lines might not be an optimal solution to address the requirement, especially across remote areas. In fact, with the increasing penetration of renewable energy sources in mainstream electricity supply, the operational reliability of the grid network has become an intricate issue for the power giants. In a bid to address this critical aspect, eminent companies are highly banking on microgrids for a seamless integration of distributed generation systems into the network, ensuring highly efficient and reliable power delivery. Therefore, it goes without saying that the changing trend along with the dire necessity of reducing reliance on fossil fuels has provided a significant impetus to microgrid market.
Europe Microgrid Market Size, By Power Source, 2016 & 2024 (USD million)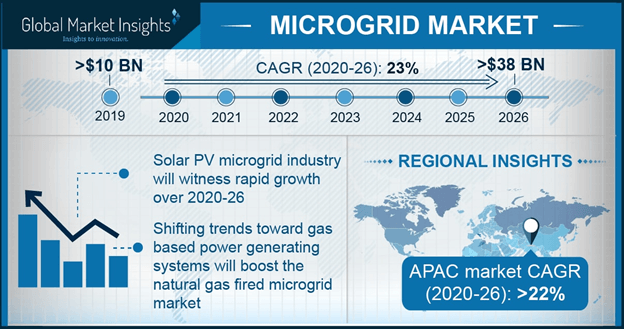 Having recognized the stupendous potential of microgrid network in the renewable energy cosmos, various government entities of major economies are making rigorous efforts to exploit its maximum utilization, which, quite overtly is leaving a positive influence on the overall microgrid industry share. This is quite evident from the massive number of microgrid projects that are presently operational across the globe. According to some of the trusted reports, more than 1840 projects that represent a power capacity of almost 19280 MW are under development worldwide, with a proposed plan of over 170 new projects reported to come onboard soon. Speaking of the contribution of the regional governments, it has been observed that U.S., Europe, and China witness upper hand in the overall microgrid marketplace.
Get a Sample Copy of this Report:@  https://www.gminsights.com/request-sample/detail/1187
Statistics depict that under the different framework programs such as FP5, FP6, FP7, initiated by European Commission, more than 80 projects are being funded by the regional government.  Add to it, Horizon 2020, EU's flagship initiative of research and innovation program spanning for a period of 2014-2020, with a funding of almost USD 77 million, has also spurred an interest for microgrid network, leaving a perpetual impact on the regional microgrid market share. Perhaps marred by the fact that this program mainly deals with an aim of modernizing European energy grid through integration of renewable energy sources, it is undeniable that it is bound to shed a positive light on microgrid industry share.  So far, as per the record, INEA (Innovation and Networks Executive Agency) has sanctioned almost 14 projects worth of almost USD 135 million under the canopy of the EU's Horizon 2020 program. These figures give a clear picture of the immense growth scope of Europe microgrid market in the coming years.
Other than Europe, China is also claimed to hold a strong ground in the global microgrid industry share. The exponential increase in power consumption in tandem with the growing investment by the regional government in rural electrification development can be primarily credited for the regional market demand.  For the record, presently there are over 20 large-scale microgrid projects operational in China. Looking at the promising microgrid sector, big shot investors are betting big on the regional microgrid market. For instance, recently, Capstone Turbine, the renowned California based gas turbine manufacturer has inked a deal with the Chinese Government to supply microturbine for the country's 10 MW microgrid network. With a strong pipeline of such encouraging initiatives, China microgrid market is slated to exceed a power generation capacity of 1 GW by the end of 2024.
The microgrid concept is aptly providing a platform that is proliferating distributed electricity generation and efficient power delivery with least compromise on environmental viability. However, in this regard, it is imperative to mention that microgrid market giants have been lately facing a wide array of daunting challenges such as establishing standards for microgrid design and extensive R&D requirement. Nonetheless, in the face of the severe energy crisis that has led to a subsequent penetration of renewable energy sources, microgrid market is set to amass exceeding proceeds from both industrial and commercial applications. In terms of commercialization, Global Market Insights Inc., forecasts overall microgrid industry to exceed a valuation of USD 19 billion by 2024.
Author Name : Satarupa De
Solar power has emerged from a niche segment to mainstream electricity source, the prime factor that has upscaled solar tracker market demand immensely. Solar trackers help in improving the energy output by orienting the payloads toward the sun.  In fact, estimates claim that these trackers are capable of increasing the power output by almost 10-25% than their conventional counterparts, depending upon the geographic location of the tracking systems. Undoubtedly, technological innovations have played a pivotal role proliferating the overall market trends.
    North America Solar Tracker Market Size, By Application, 2016 & 2024 (USD Million)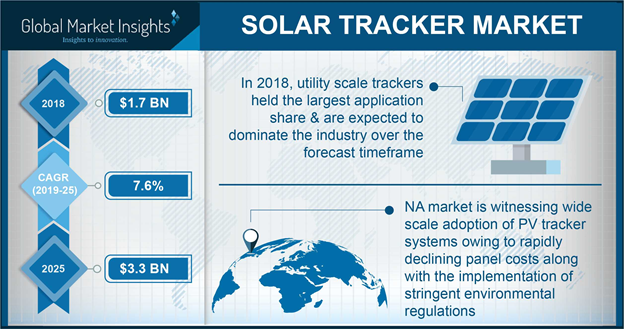 For instance, NEXTracker, one of the pioneers of solar tracker industry, has recently launched a solar plus energy storage solution named NX Fusion Plus, reportedly in November 2016. This groundbreaking innovation integrates a self-powered single-axis tracker, battery, software, and inverter into a single platform to provide a better ROI to the solar plant owner. This is arguably one of the biggest breakthroughs of recent times in the solar tracker market landscape, given the fact it is claimed to be the first of its kind. Some of the other biggies involved in solar tracker industry include Grupo Calvijo, Abengoa, SunPower, First Solar, and Wuxi Hao Solar, and, Array Technologies.
Favorable incentives such as soft loans, feed-in-tariffs, tax rebates implemented by governments of developing & developed nations have complemented solar tracker market penetration. Clean energy demand has witnessed a comprehensive upsurge with the growing urbanization, solar power demand being at the pinnacle. In this regard, it is important to note that the economics of solar power market has been improving rapidly. A large number of leading companies are inking solar deals not only to experience green credentials but also to diversify their supply sources at comparatively lower costs. Alongside, increasing global concern regarding the detrimental consequences of greenhouse gas emission has brought a renewed attention to the solar power sector, with a subsequent demand for solar tracker industry as well.  As per Global Market Insights, Inc. global solar tracker industry is forecast to exceed a revenue of USD 27 billion by the end of 2024, exceeding an annual installation of 70 GW over the coming seven years.
Get a Sample Copy of this Report@ https://www.gminsights.com/request-sample/detail/364
Speaking along the similar lines, a diversified range of strategies implemented by international organizations pertaining to the reduction of greenhouse gas emissions has catered solar tracker market commercialization. For instance, the Energy Star Program initiated by the United States EPA demonstrates the profitability potential by the reduction of GHG emission and energy consumption. The program deals with providing the consumers and the organizations enough technical information regarding the benefits of choosing energy efficient solutions. Driven by a favorable government participation in the deployment of energy efficient solutions, U.S. solar tracker industry is forecast to exceed an installation of 12GW by 2024. Indonesia has also profoundly enlisted its name in the global industry landscape, taking into consideration the country's National Action Plan of greenhouse gas reduction. Under the presidential reduction plan, the country has set a target to reduce GHG emission by 26% by 2020. Solar tracker market is indirectly characterized by such exemplary initiations across the globe, in extension to which the market investors are betting big on the commercialization landscape.
The growth of solar tracker industry is extremely dynamic and varies strongly with geographies. While many countries have already incorporated solar trackers in their solar panel for a more energy efficient output, there are many underdeveloped regions that are still hesitant about deploying this highly efficient technology. Subject to their inbuilt complex design and operation, these trackers are slightly more expensive than their stationary counterparts, which can be taken as a stumbling obstacle hindering the market penetration. However, ongoing electrification programs promoting deployment of energy efficient solutions along with several incentive benefits pertaining to clean energy power generation is expected to upswing solar tracker market demand in the coming years.
Author Name : Satarupa De