Solar Tracker Industry
Solar power has emerged from a niche segment to mainstream electricity source, the prime factor that has upscaled solar tracker market demand immensely. Solar trackers help in improving the energy output by orienting the payloads toward the sun.  In fact, estimates claim that these trackers are capable of increasing the power output by almost 10-25% than their conventional counterparts, depending upon the geographic location of the tracking systems. Undoubtedly, technological innovations have played a pivotal role proliferating the overall market trends.
    North America Solar Tracker Market Size, By Application, 2016 & 2024 (USD Million)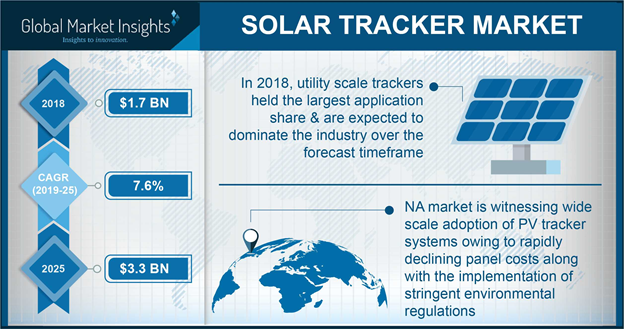 For instance, NEXTracker, one of the pioneers of solar tracker industry, has recently launched a solar plus energy storage solution named NX Fusion Plus, reportedly in November 2016. This groundbreaking innovation integrates a self-powered single-axis tracker, battery, software, and inverter into a single platform to provide a better ROI to the solar plant owner. This is arguably one of the biggest breakthroughs of recent times in the solar tracker market landscape, given the fact it is claimed to be the first of its kind. Some of the other biggies involved in solar tracker industry include Grupo Calvijo, Abengoa, SunPower, First Solar, and Wuxi Hao Solar, and, Array Technologies.
Favorable incentives such as soft loans, feed-in-tariffs, tax rebates implemented by governments of developing & developed nations have complemented solar tracker market penetration. Clean energy demand has witnessed a comprehensive upsurge with the growing urbanization, solar power demand being at the pinnacle. In this regard, it is important to note that the economics of solar power market has been improving rapidly. A large number of leading companies are inking solar deals not only to experience green credentials but also to diversify their supply sources at comparatively lower costs. Alongside, increasing global concern regarding the detrimental consequences of greenhouse gas emission has brought a renewed attention to the solar power sector, with a subsequent demand for solar tracker industry as well.  As per Global Market Insights, Inc. global solar tracker industry is forecast to exceed a revenue of USD 27 billion by the end of 2024, exceeding an annual installation of 70 GW over the coming seven years.
Get a Sample Copy of this Report@ https://www.gminsights.com/request-sample/detail/364
Speaking along the similar lines, a diversified range of strategies implemented by international organizations pertaining to the reduction of greenhouse gas emissions has catered solar tracker market commercialization. For instance, the Energy Star Program initiated by the United States EPA demonstrates the profitability potential by the reduction of GHG emission and energy consumption. The program deals with providing the consumers and the organizations enough technical information regarding the benefits of choosing energy efficient solutions. Driven by a favorable government participation in the deployment of energy efficient solutions, U.S. solar tracker industry is forecast to exceed an installation of 12GW by 2024. Indonesia has also profoundly enlisted its name in the global industry landscape, taking into consideration the country's National Action Plan of greenhouse gas reduction. Under the presidential reduction plan, the country has set a target to reduce GHG emission by 26% by 2020. Solar tracker market is indirectly characterized by such exemplary initiations across the globe, in extension to which the market investors are betting big on the commercialization landscape.
The growth of solar tracker industry is extremely dynamic and varies strongly with geographies. While many countries have already incorporated solar trackers in their solar panel for a more energy efficient output, there are many underdeveloped regions that are still hesitant about deploying this highly efficient technology. Subject to their inbuilt complex design and operation, these trackers are slightly more expensive than their stationary counterparts, which can be taken as a stumbling obstacle hindering the market penetration. However, ongoing electrification programs promoting deployment of energy efficient solutions along with several incentive benefits pertaining to clean energy power generation is expected to upswing solar tracker market demand in the coming years.
Author Name : Satarupa De