Solid State
The global automotive LiDAR market – a rapidly growing vertical of the automotive sector, has been strongly consolidating its stance in its parent industry since the last half a decade or so. This business space, valued at over $150 million in 2017, has been depicting commendable growth particularly on account of the fact that sensor technology has become the primary methodology for many automatic and semi-automatic vehicles to sense their surroundings. Back in the day, LiDAR was majorly used in aerospace, military, meteorological and robotics sectors, however, with the advent of artificial intelligence which has made assisted driving a reality, the commercialization scope of automotive LiDAR market has been on an incline.
U.S. Automotive LiDAR Market Share, By Vehicle, 2017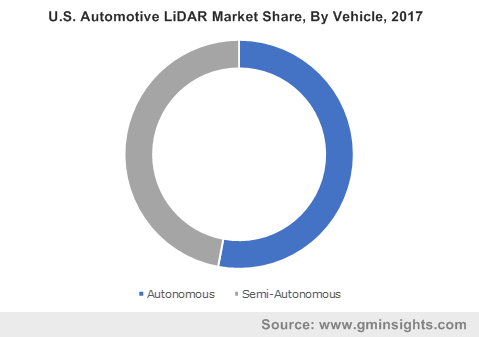 The expansion of the global automotive market is expected to further propel automotive LiDAR market growth as automakers across the world continue to invest in research and development activities to develop and incorporate semi-autonomous and autonomous vehicles in their respective product portfolios.
Unveiling automotive LiDAR market trends in terms of the vehicle landscape:
Autonomous Vehicles
Autonomous vehicles – which are capable of operating themselves without any help or interaction with humans, are rapidly becoming a reality. Unprecedented advancements are being witnessed herein – courtesy, renowned technology companies and automobile manufacturers racing to capitalize on the lucrative opportunities offered by autonomous technology. According to a 2018 report by Bloomberg, Waymo – a self-driving car initiative by Alphabet Inc., Google's parent company, is leading this race , leaving its nearest competitors in the lurch. The firm has already signed a deal with Chrysler to purchase thousands of their Pacifica minivans which would be retrofitted with Waymo's LiDAR sensors.
Automotive LiDAR market has also tastes success on account of the fact that other players such as General Motors Co. have been making inroads in this vertical. GM has been intending to deploy a ride-hailing service using an autonomous version of its Chevrolet Bolt – a version that won't have a steering wheel or pedals – by the end of 2019. To that end, GM has also received a $2.25 billion support form SoftBank Vision Fund. Driven by the significant efforts undertaken by automakers such as Alphabet and GM, the overall automotive LiDAR market size from autonomous vehicles is projected to grow at a CAGR of 35% over 2018-2024.
Get a Sample Copy of this Report:@ https://www.gminsights.com/request-sample/detail/2911
Semi-Autonomous Vehicles
Unlike the autonomous vehicle segment, which is currently in its infancy, semi-automated vehicles are relatively well established. Indeed, according  industry with the segment holding over 40% of stake in the automotive LiDAR market according to a 2017 estimate. A plethora of renowned automobile manufacturers have already incorporated driver-assist features in several of their vehicles. In case of these vehicles, LiDAR are deployed to enhance a driver's capabilities by constantly assisting in the vehicle operating activities. Vehicles that incorporate a LiDAR-based driver assist system also provide collision detection and avoidance capabilities. In addition, the integration of LiDAR helps drivers merge into the traffic and change or keep the vehicle in a lane. These features have become so commonplace that many vehicle manufacturers now provide it as an add-on option on their vehicles. Automakers are even developing their own software suits to allow drivers to interact with the driver-assist system.
Powered by the rising efforts undertaken by prominent automobile manufactures to exploit LiDAR in partially connected vehicles, semi-autonomous vehicles held close to 40% of the automotive LiDAR market share in 2017 and is expected to expand remarkably in the years to come.
It is prudent to mention that autonomous LiDAR market will continue to witness constant advancements in the sensor technologies as core companies work towards developing sharper and more robust sensors. Major vehicle manufacturers are even acquiring and incorporating newer LiDAR sensors to enhance the capabilities of their respective self-driving vehicles. According to a 2018 report, Volvo and Toyota both have already signed partnership deals with a LiDAR startup named Luminar to purchase their LiDAR units to help their cars "see" better.
Attributing to such advancements, the revenue graph of autonomous LiDAR market will continue to depict an exponential growth. The demand for LiDAR in myriad vehicles is projected to turn the global automotive LiDAR market into a $3-billion-dollar industry by 2024, claims a report by Global Market Insights, Inc.
Author Name : Akshay Kedari
With an escalating upsurge in the demand for 3D imaging solutions, the growth graph of LiDAR market is poised to remain exponential in the forthcoming years. The application of LiDAR spans a stream of sectors such as the automobile, construction, archeology, land surveying, and river surveying industries. Perpetual advancements in automation, construction, flood modelling, cartography, navigation, meteorology etc. have also been driving the demand for LiDAR technology. The augmented use of LiDAR technology by governments for different activities, like topographical surveys, pollution modelling, flood modelling, mapping and surveillance, is expected to majorly propel LiDAR market growth ahead.
U.S. LiDAR Market Revenue, By Product, 2018 & 2025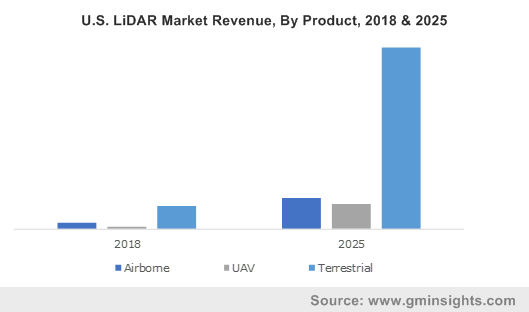 In initial times, heavy scanners were used for surveys, which called for an airplane with an entire managing team to compile the survey in question. The whole process was expensive and required a lot of manpower to complete the survey in a week. Only major government agencies could afford to conduct airborne LiDAR surveys, while the others had to rely on the data compiled by these official agencies.
Now however, with the advent of lightweight, low-cost scanners, equipped with advanced technological developments, the picture of the global LiDAR market has changed considerably. Many companies are incorporating LiDAR technology in their operations to embark on their own surveying activities. The continuous demand for LiDAR is bound to enhance its adoption, thereby fueling LiDAR market growth.
Back in day, companies struggled to procure detailed data for tropical surveys and other purposes due to scarce reliable alternatives. LiDAR however, has documented a revolution in terms of geospatial data and mapping. Currently, companies have started using LiDAR systems mounted onto a UAV for detailed and steadfast 3D mapping. Formerly, large historical sites used to take years for surveying, but now, entire cities can be mapped in 3D in a matter of minutes leveraging UAV aided with LiDAR technology. Versatility and ease of use, and the lure of accurate and visible details with effective mapping will further propel the expansion of LiDAR industry in the years ahead.
Get a Sample Copy of this Report:@ https://www.gminsights.com/request-sample/detail/421
Consumer demands have undergone a major upheaval in the last decade or so. Many leading companies – specifically automakers are seen striving to come up with something innovative by the day for expanding their consumer base. Say for instance, of late, automotive companies have been working tirelessly to manufacture efficient self-driving cars. These autonomous cars are incorporated with LiDAR technology to deliver a high-definition inch-precision map of the area where the vehicle is driving.
Specifically, automakers are known to incorporate mechanical LiDAR devices in the vehicles, given their excellent efficiency. This has also been attracting investments from many automotive companies, expediting the growth of the global mechanical LiDAR industry. As a matter of fact, the continuous spate of R&D activities to commercialize this technology in cars is expected to propel mechanical LiDAR market size, slated to record a CAGR of 32% over 2019-2025.
LiDAR technology has also found its deployment in environment applications. Airborne LiDARs are used to detect and map vegetation, deep waters and dense clouds. LiDAR is being used in oceanography to estimate general biomass and phytoplankton fluorescence in the surface layers of the ocean. LiDAR also enables scientists to determine the biodiversity of the forest helping to preserve ancient trees. This in consequence, is expected to drive LiDAR market share from environment applications, projected to register a CAGR of 32% over 2019-2025.
Boasting of numerous applications across several industries, LiDAR industry is slated to gain commendable traction across the globe. Core companies are focusing on enhancing their existing LiDAR portfolio and several other have been adopting LiDAR in their base operations as well. Driven by the escalating demand to collect highly accurate data across various project sites, LiDAR market valuation is expected to exceed USD 10 billion by 2025.
Author Name : Anchal Solanki
Gas sensors market is one among the few vibrant business spheres where innovations and technology quite aptly outline the key to profitability and opportunities. The industry participants are thoroughly investing in research activities to bring product improvisations in terms of advancements and sustainability quotients, that in extension is enhancing the product and commercialization matrix of this fraternity.
India gas sensors market, by end-use, 2017 & 2024 (USD Thousand)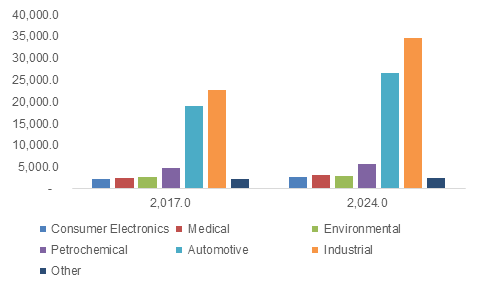 Backing the fact with a recent case in point – Sensirion AG, a leading manufacturer of high-end sensors, has bestowed the marketplace with novel gas sensors that are not only technologically progressive, but are also environmentally viable. As claimed by the experts, Sensirion's upgraded solutions offer precise air quality information based on some of the major environmental grounds such as VOC content, humidity, carbon dioxide presence, temperature, and particulate matter content. Undoubtedly, such exemplary initiatives undertaken by the renowned giants with regards to environmental sensing have opened up a slew of lucrative opportunities for gas sensors market players, in terms of commercialization and sustainability.
In terms of revenue, Global Market Insights, Inc. reports the global gas sensors industry to have surpassed a valuation of USD 2.5 billion in 2017. Safety measures, of late, have become an integral axiom in the manufacturing space, subject to the stringent regulatory framework regarding workplace safety and health hazards due to poor air quality. Gas sensors industry trends is heavily influenced by the growing governmental initiatives across the world. Companies involved in gas sensors industry are introducing innovative application-specific components that comply with the safety standardization such as CSA and ATEX.
Get a Sample Copy of this Report @ https://www.gminsights.com/request-sample/detail/123
In this regard, it is important to note that majority of these air quality standardizations and norms are implemented in industrial and automotive sectors. For instance, EPA's Clean Energy Act has already set limits on some of the air pollutants, that is claimed to be hazardous for the environment. The act also gives the EPA the power to limit harmful emissions of air pollutants from sources like utilities, chemical plants, and steel mills. These mandatory roll-outs have left a huge impact on gas sensors market penetration, subject to the fact that these aforementioned sectors are mandated to install gas sensors in the plants to curb air pollution by efficiently regulating harmful emissions.
Asia Pacific to strongly influence global gas sensors market growth
The expanding automobile sector and rising trend of automation across a myriad range of domains are chronicled to be some of the major factors driving APAC gas sensors market size. Reportedly, China and India are anticipated to be the major revenue pockets for APAC gas sensors industry. The growth in these regions can be primarily credited to the phenomenally increasing technological developments with regards to curtailment of hazardous air pollutant emissions.
Allegedly, China has been remarkably incorporating miniaturized and wireless sensors to enable convenient detection of toxic gases. Moreover, the growing urbanization and demand for technologically upgraded products such as E- compressor and E-turbo is further fueling China gas sensors market share. Beijing and Shanghai are touted to be pivotal contributors to the rapidly deteriorating outdoor air quality, that exceeded the set particulate matter concentration by the WHO by a substantial proportion in 2017, which has further impelled China gas sensors market.
However, in parallel to these developments the industry is also facing some major challenges with the exponentially increasing number of CO and CO2 sensors. The overcrowding of these devices has not only impacted the strategic landscape but has also raised a question on the product differentiation and innovations with regards to these sensors. Keeping this into consideration, the market players are vigorously investing in R&D activities to offer a diversified range of products, addressing the innovation and feasibility parameters. Some of the prominent names in the industry include Amphenol Corporation, Dynament, Bosch Sensortec, City Technology, Figaro Engineering Inc., Honeywell International Inc., Teledyne Technologies Incorporated, Trolex Ltd, and Siemens AG.
With the expanding application spectrum of gas sensors industry across a myriad range of sectors including consumer electronics, medical, environmental, petrochemical, automotive, industrial and the increasing trend of wireless and miniatured devices, it is overt for this business space to record commendable gains in the ensuing years. Statistics project the global gas sensors market size to surpass USD 3 billion by 2024.
Author Name : Saipriya Iyer