Solution
With data centers touted to be the miracle machines supporting critical IT infrastructure, data center rack and enclosure market seems to have registered an impressive growth in the recent years. Owing to the rapidly proliferating connected lifestyles, the use of data and connected devices has been staggering lately. In the United States, the number of devices and connections was 7.3 per person in 2015 and is expected to grow to over 12 per person in 2020. The popularity of video continues to grow more than ever, with internet video reaching 4.8 exabytes by 2020 – more than a fourfold growth as compared to figures in 2015. By 2019, 83% of all data center traffic is expected to be in the cloud, quite overtly impacting data center rack and enclosure industry trends.
UK data center rack & enclosure market, by application, 2017 & 2024 (USD Million)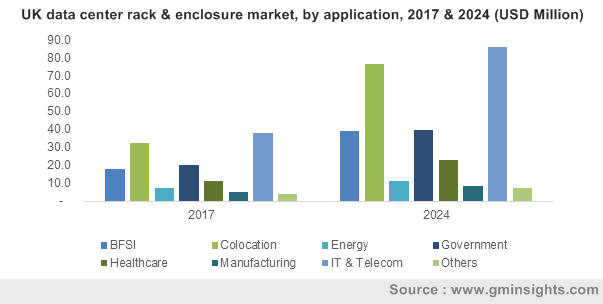 The rapid growth of data usage has brought about various changes in the data center infrastructure with some of the major changes being witnessed in data center racks and enclosures. Since racks are an essential part of data center cooling, high density data center has automatically come to mean maximizing the usage of power and cooling which has created a new growth avenue for data center rack & enclosure market. High density data centers have created an inevitable need for an infrastructure that can mount high capacity cables and manage airflow optimization. Driven by the rising demand for not only racks that can fit more servers but also data center cabinets, data center rack & enclosure market size from the hardware components is anticipated to witness a CAGR of 12% over 2018-2024. Several data center rack & enclosure market players are now focusing on manufacturing cabinets that are better than the rack system, as cabinets not only organize expensive electronics but also completely close down to offer concise management of temperature.
Get a Sample Copy of this Report@ https://www.gminsights.com/request-sample/detail/2599
Increased customer demand has also stimulated the expansion of data center rack and enclosure market based on rack unit height. To accommodate the growing demand, IT resources are continually looking for space to accommodate expanding physical infrastructure. Since the construction of a new facility can prove to be too expensive, most data centers are looking to accommodate more servers per rack, undergoing vertical expansion and stimulating the demand for 48u racks.
Though taller racks do not come without additional challenges, data center racks are being designed to revolutionize IT facilities by separating hot exhaust air that is emitted by equipment from the cold supply of air. This results in stable air temperatures and dry and warm air return to AC coil. Data center racks are also designed for increasing energy efficiency by organizing racks in a hot aisle cold aisle containment manner which in turn enhances equipment performance. As racks will not only elongate hardware life but also boost air efficiency and cut down on energy spending, data center rack & enclosure market will continue to grow at an unprecedented pace over 2018-2024.
Virtualization and innovation in rack and enclosure design are becoming an increased necessity in the era of high density data centers. While virtualization can reduce power consumption in a data center, it can also reduce energy efficiency if cooling and power are not adjusted with the new IT load. Key industry players such as Rittal GmbH and Co. KG, Dell, Emerson Electric Company, Hewlett Packard Enterprise, Eaton Corporation and Schneider Electric have come up with innovative rack and enclosure designs in addition to various means of increasing cooling efficiencies as the demand for big data and cloud-based IT are on the rise.
The requirement for the expansion of the existing infrastructure due to rapid progress of virtualization, adoption of IoT, high performance computing and enhanced data processing capabilities will create widespread opportunities for data center rack and enclosure market players. Powered by the rapidly changing demands of today's tech-savvy consumers, data center rack and enclosure market size is expected to cross USD 5 billion by 2024.
Author Name : Paroma Bhattacharya
The unprecedented evolution of cloud computing technology is undeniably driving new levels of innovation in data center networking industry. The extensive penetration of Internet of Things (IoT) has brought a renewed dimension in the business model, where the modern change in traffic patterns expose the limitation of conventional network. In the light of the recent scenario, data center networks are expected to exhibit not only scalability and high performance, but also flexibility, agility, and enhanced automation. Companies ranging from enterprises to cloud service providers are highly influenced by the growing trend of data & network virtualization and are seeking to integrate advanced technology solutions to curtail the overall operational expenditure. Incidentally this has encouraged core tech juggernauts to come up with newer innovations that could potentially change data center networking market dynamics.
China data center networking market size, by end-use, 2017 & 2024 (USD Million)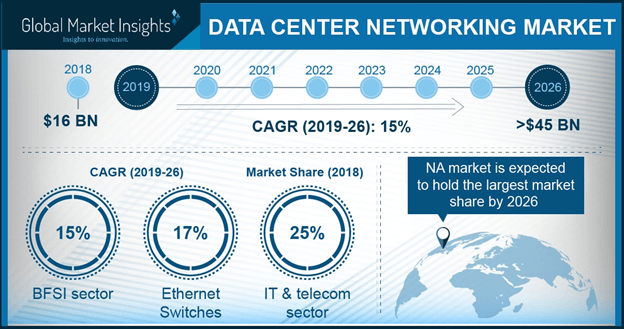 Globally acclaimed SDN solution provider, Nokia's Nuage Networks recently made its way to the front page with its latest data center transformation projects with China Mobile and Spanish multinational broadband, Telefónica. Reportedly in both these projects, Nuage's VNS (Virtualized Networks Services) has been used in a bid to provide more elasticity to these data center sites. Nuage Networks' initiatives, as per experts' opinion, coherently depict the progress of data center networking industry toward network slicing with SDN (software-defined networking).  For the records, Telefónica worked with Nuage in order to leverage its hefty yesteryear investment in SD-WAN infrastructure. The integration of VNS solution in its service is further to offer enterprises the facility of configuring and customizing value added services via a self-service portal. Not to mention, the extensive growth of cloud computing technology has indeed proved to be a catalyst in sowing the seeds for advancing the innovation in data center networking market.
Get a Sample Copy of this Report@ https://www.gminsights.com/request-sample/detail/2578
In yet another turn of events, American tech conglomerate, IBM Corporation last year announced its plan of launching four new data centers in the United States, in a bid to support the surging demand for cognitive capabilities. Experts believe the project is sure to leave a perpetual impact on U.S. data center networking market, as the transition to cloud-based software would necessitate the requirement of replacing the traditional networks. In fact, U.S. and Canada conjointly held almost a lion's share (40%) of data center networking industry in 2017. The subtly changing trends toward cloud-based software in tandem with growing popularity of streaming devices and social media is claimed to be a sure shot indicator of the fact that U.S. would experience an upper hand in data center networking industry over the ensuing years.
Data center networking market giants are betting big on highly advanced storage and memory technologies to gain a competitive edge. Klas Telecom for instance, has recently released an upgraded version of Voyager TDC. Christened as Voyager TDC 2.0, this groundbreaking technology claims to provide users the flexibility of the original system, in addition to NVMe and double storage capacity that ensure better and faster performance. If reports are to be relied on, the company will demonstrate how users can integrate AI and machine learning technology at tactical edge, leveraging the ultra-high-power process capability of Voyager TDC at SOFIC 2018. Yet another trend that is quite vivid in the competitive terrain of data center networking industry is technological proliferation via strategic partnerships. All in all, aided by the vast technology landscape where myriad companies are becoming consumer centric and data driven, data center networking market share is forecast to exceed a valuation of USD 35 billion by 2024.
Author Name : Satarupa De
The telecommunication sector is probably embarking on a transformational shift in recent years. Software Defined Networking (SDN) market is deemed to be a major stipendiary of this transition. Telecommunication networks, apparently, have migrated from traditional hardware and appliance centric deployment to cloud based model, with software playing a pivotal role in network functionality. The increasing popularity of SDN industry can be majorly attributed to this fundamental aspect.
Software defined networking emerged as an advanced architecture paradigm, amalgamating different technological capabilities applied to management of network functions, design, and service platforms. Pertaining to these benefits, numerous IT service companies have been feverishly changing their perspective toward adoption of software-based solutions for resolving several business challenges, which in a way is impelling SDN industry share. It had been stipulated by Cisco in one of its Cloud Index reports, that over 65% of all data centers would adopt SDN technology partially or fully by the end of 2021, a sharp rise from the 2016 records.
U.S. Software Defined Networking Market Share, By Solution, 2018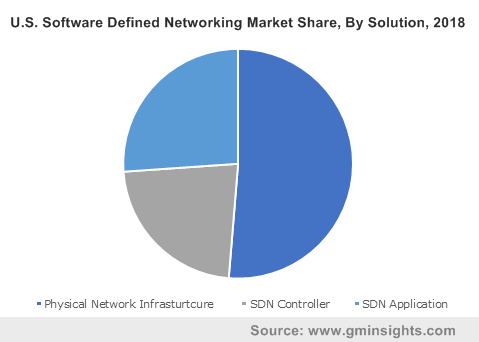 Cradlepoint, one of the formidable players dealing with SDN services, made it to the headlines a while ago, with the launch of its NetCloud service package, that reportedly includes advanced IBR1700 mobile router. Reportedly, this newly designed solution package for its NetCloud platform, brings the benefits of SD-WAN (Software-Defined Wide-Area-Network) to LTE mobile networks for transit operators, first responders, and other fleet-based organizations. As claimed by the cloud-4G network service provider, the new solution is in compliance with the security and performance requirements of FirstNet, the independent authoritative entity under NTIA within U.S.
In a bid to reinforce its position in SDN market, Orange Business Services signed a collaborative agreement with Cisco a while back. Apparently, in consequence of this deal, the former is planning to showcase the onboarding of Cisco's SD-WAN virtual network function on Cisco ENCS (Enterprise Network Compute System). In fact, with the aforementioned platform under its belt, Orange Business Services' customers would gain a fully functional visualized solution for their network services, as a part of Orange universal CPE offering.
The U.K. based telecommunications behemoth, Colt Technology Services, had apparently declared its plan of expanding its On Demand SDN service across APAC belt. Powered by Colt IQ Network, the firm's On Demand SDN services are characterized by high flexibility, real-time bandwidth variation, and agility. Making a profound headway in APAC SDN market share with the successful launch of these services in Japan, Colt had also planned to introduce the same On Demand SDN services in Hong Kong and Singapore as well.
Get a Sample Copy of this Report:@ https://www.gminsights.com/request-sample/detail/2395
Tremendous technological interventions in the telecom sector have evidently narrowed the gap between developing and developed nations, giving SDN industry players lucrative opportunities to extend their geographical reach. However, considering the immense investments by U.S. telecom service providers in software defined networking, the regional SDN market has undoubtedly turned out to be hotbed for potential investors. For instance, American telecom giant AT&T has recently poured in USD 200 million to support startups that mainly focusses on promoting SDN technology and connected services. These kinds of hefty investments toward integrating new age software facilities in the existing telecommunication network is certain to leave a positive impression on U.S. SDN market size.
Speaking of its commercialization potential at the global scale, overall SDN industry size is forecast to exceed a valuation of USD 100 billion by 2025. With incessant efforts undertaken by the tech giants to unlock software-based technology potentialities in telecommunication industry, which has, of late, become more insight driven, SDN market demand is claimed to be on a robust incline. In fact, looking at the pace of advancements and expansion in its application spectrum, this particular business vertical is deemed to be one of the most fascinating spheres to watch unfold, claim analysts.
Author Name : Saipriya Iyer