Solutions
The commercialization scale of data center infrastructure management (DCIM) market has been witnessing remarkable upswing in the recent years. The steady rise of this business space can apparently be accredited to the burgeoning complexity of managing large data centers and the limitations with regards to space and power. In addition to this, the robust proliferation of cloud technologies and big data along with the emergence of Internet of Things has necessitated numerous business verticals to focus on planning of physical infrastructure of IT based services. This has consequentially led to DCIM industry gaining tremendous traction over the past few years. In fact, according to reliable estimates, the overall revenue share of this business space is set to surpass USD 3 billion by 2024.
U.S. data center infrastructure management (DCIM) market size, by solution, 2017 & 2024 (USD Million)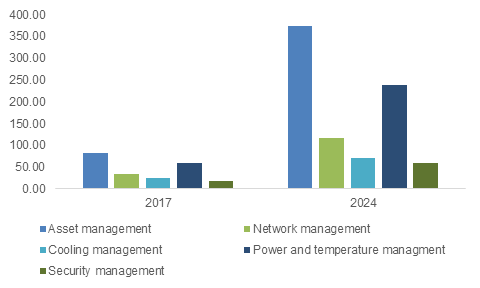 Government sector to emerge as one of the leading end use segments that would drive DCIM market expansion
In an era when cyber-attacks from 'nation state actors' have become an everyday occurrence across the globe, it has been observed that numerous governments are increasingly allocating massive resources to fortify network security. In addition to this, various regulatory authorities have mandated stringent guidelines to monitor and identify potential vulnerabilities in the digital infrastructure of developed and developing nations.
Get a Sample Copy of this Report@ https://www.gminsights.com/request-sample/detail/2496
Nlyte Software, one of the major US based DCIM market giant, has recently announced to have received the much-coveted approval of the Department of Homeland Security for its DCIM suite. Reportedly, the latest approval makes it the first DCIM solution across the U.S. to adhere to all the stipulations prescribed in the Phase 1 of Continuous Diagnostics and Mitigation (CDM) Program of the federal government. For the record, the U.S. federal government had rolled out a Continuous Diagnostics and Mitigation (CDM) Program a few years back to ensure security and integrity of software and hardware assets of the nation.
Apparently, industry experts claim that such approvals would provide advanced tools and capabilities to various governmental agencies to continuously monitor the safety of critical data centers across various nations. Furthermore, it is quite needless to mention that such encouraging developments would eventually impel the growth potential of the overall DCIM industry in the ensuing years.
Elaborating further, it would be prudent to mention a similar instance of governmental initiative that has provided a substantial boost to the firms operating in Australia's DCIM industry space. The Northern Territory government of Australia has recently declared its Budget for 2018-19 in which it has allocated a total sum of around AU$18.38 million to support initiatives under the Department of Corporate and Information Services.
As part of this scheme, the government plans to upscale the number of physical servers from 444 to 460 and intends to increase the number of its fully managed servers from 1600 to 1700 in the next financial year. With such enormous upgradation program in the pipeline, it is quite obvious that prominent firms partaking in DCIM industry of Australia sense an excellent opportunity to deploy their expertise in securing the nation's data center network.
One of the major challenges being faced by DCIM market players has been the responsibility of bridging the complex web of interconnections among a network of data centers. With the advent of enhanced automated tools, highly optimized management workflow procedures, and deployment of real-time monitoring systems, the aforementioned challenges are being gradually surmounted by DCIM industry stakeholders. This trend of improved functionality coupled with powerful IT-based applications would invariably have a favorable influence on the growth prospects of DCIM market share in the times to come.
Author Name : Saif Ali Bepari
Low availability of land and fluctuating weather conditions will lead vertical farming market to generate a sizable revenue over the next seven years. Of late, the issues of excess population, water conservation, crop production, and recycling have been plaguing the world, on the grounds of which vertical farming has been garnering traction as a feasible solution for these problems. Being the latest phenomenon in urban farming, vertical farming is secured with biosecurity procedures that prevent pest attacks on crops and restrict plant disease. Additionally, there is no concept of seasonal crop or run-offs, which eliminates crop spoilage and transport costs, thereby fueling vertical farming industry expansion. A report by Global Market Insights, Inc., states that vertical farming market size stood at a modest USD 2 billion in 2017.
North America Vertical Farming Market Size, By Application, 2013 – 2024 (USD Million)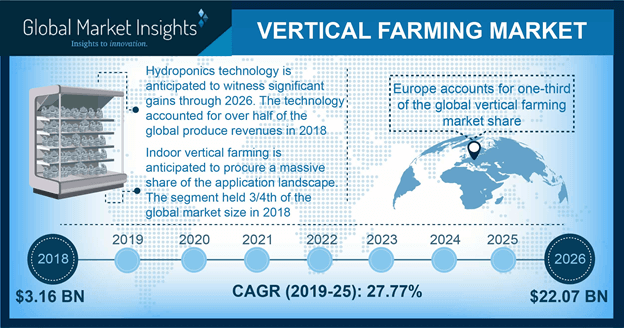 Vertical farming essentially involves plants being grown in vertical layers, stacked one after the other in warehouses, barren lands, deserts, high-rise buildings, and shipping containers. Given that it reduces the necessity of pesticides, sprays, and herbicides in cropping systems and helps farmers deliver their produce on time, vertical farming market is expected to massively proliferate the farming domain in the ensuing years.
Unveiling vertical farming market trends from indoor farming techniques
While outdoor vertical farms are a rather common phenomenon, the concept of farming indoors on account of lack of space in urbane locales has been gaining momentum lately. Basically, indoor farms is inclusive of growing fruits, fish, and vegetables in a controlled environment, such as freight containers, parking spaces, and warehouses. Driven by the fact that this type of farming consumes less water, minimum land, and provides high yield, indoor farming accounted for only slightly lesser than 70% of the overall market share in 2017.
Get a Sample Copy of this Report @ https://www.gminsights.com/request-sample/detail/1525
Being a massively practiced controlled environment agriculture technique, indoor farming plays a vital role in combating the rising food demand for the ever-increasing populace. Another pivotal advantage of this type of farming is that it is controlled from external adverse climatic changes and thereby lends extra protection to crops. On account of the fact that it helps produce feed in substantially higher quantities without crop damage, vertical farming market size from indoor farming is expected to depict a CAGR of 28% over 2018-2024.
Asia Pacific is expected to emerge as one of the most popular regional grounds for vertical farming market, primarily aided by countries such as Singapore and Japan where land scarcity has become an issue of national concern plaguing the country. Other countries such as China, India, South Korea, and Taiwan are also touted to become highly lucrative revenue pockets for APAC vertical farming market. Indeed, APAC accounted for 30% of the overall vertical farming market share in 2017. Powered by changing food patterns, rising population, and lack of arable land, APAC is expected to become the largest vertical farming market in the years to come. for vertical farming in coming years. Japan and Singapore are the major markets for vertical farming and it is expected to rise in future due to rising land scarcity.
Prominent players operating in this market often engage in collaborations to enhance crop yield and provide a positive impetus to vertical farming market. For instance, Philips Lighting, one of the global lighting technology leaders, announced last year that it has completed the installation of Philips GreenPower LED Production Modules at Ecobain Gardens, the largest commercial vertical farm operation in Canada. Through this venture of upgrading the previously used lighting in the facility from fluorescent to LED, Philips Lighting aims to help the vertical farming industry major enhance production on a commercial scale, improve growing cycles, and help to grow healthier plants. The move had been touted to save close to CAD 30,000 in energy costs per year.
Author Name :Saipriya Iyer