Solvent-Based
​
Growing application across the construction and transportation industries is driving spray adhesives market size. The key benefit of spray adhesives is the convenience of application which speeds up the jobs and thereby improves the overall efficiency. Each type of spray adhesive has its own set of distinct characteristics which ensures high quality despite the task variations.The increasing demand from the furniture industry owing to the property of spray adhesives to bind a wide number of substrates will also propel market demand. Spray adhesives market outlook is currently driven by a number of significant trends, mainly pertaining to the robust application landscape that this industry boasts of.
Robust urbanization trends to augment spray adhesives market size from construction sector:
The rapid growth of construction industry is attributed to the improving standard of living and increased migrations from rural to urban areas. As the construction industry continues to expand, innovative technologies like heavy duty construction adhesives will come into play. Spray adhesives find several applications across the construction industry across insulation, flooring, walls, roofs, doors & windows, etc.
High strength spray adhesives can hold extreme temperatures and are used to replace nails and machinal fasteners spray which simplify the workflow with very little or no training required for the laborers. Newly developed spray adhesives not only improve the sustainability of the construction products but also optimize the processes by the faster curing times.
For instance, Sika has come up with a new innovative spray-applied insulation adhesive which reduces the installation times by up to 20 per cent.  The high foaming adhesive is suitable for both refurbishment and new build projects which strongly binds the insulation boards and the substrate, within a very less time enabling rapid project completion.
In this context, it is also pivotal to mention that the Asia Pacific region is expected to hold a substantial proportion of the market share due to rapid urbanization and industrial development. The growing construction activities across countries including China and India will also positively impact market growth.
Expansion of transportation sector to add impetus to spray adhesives industry outlook:
Considerable growth in global transportation sector will be a primary driver for spray adhesives industry size expansion. The transportation industry serves as the backbone for a country's economy – seamless transportation functioning can be credited majorly for a nation's rising economic growth. accounts for a majority of the transportation systems. For instance, the U.S transportation industry represents over 8% GDP in the country's economy.
Get a Sample Copy of this Report:@ https://www.gminsights.com/request-sample/detail/4311
Spray adhesives are majorly used for various manufacturing and maintenance activities of aircrafts, automobiles, rails, etc. Their characteristics like durable bond strength which resists vibrations and provides chemical & thermal resistance will foster the product demand.  Automotive adhesives are now widely used for replacing the conventional methods of joining parts, such as welding, riveting, or screwing, which speeds up the assembly line.
Besides the curing time, the bond strength is a central constraint for any robust adhesive. The ongoing R&Ds in line with the technological advancements in adhesive science will lead to the manufacturing of enhanced adhesive products in the years to come.
For instance, Delo, a manufacturer of industrial adhesives just broke the world record for the heaviest lift using an adhesive material. A crane lifted a 17.5-ton truck on a bonded aluminum cylinder creating world record, beating the previous of 16.3 tons. Such achievements by leading market contenders will augment the spray adhesives industry outlook.
The increase in number of car ownerships due to rise in per capita income is also expected to fuel product demand from the transportation end-user segment. As the transportation infrastructure undergoes a massive overhaul, global spray adhesives market will achieve significant gains in the years ahead.
Rising demand for aesthetic furniture to drive the industry trends over the forecast period:
The booming furniture industry is going through a transition currently owing to changing consumer preferences which creates a necessity of advanced adhesives. Polyurethane spray adhesives are highly preferred for manufacturing diverse furniture products. The improvement in consumer lifestyle has propelled intense demand for modular and attractive furniture which includes wide range of materials such as wood, laminates, iron, leather, and many other upholstery materials.
Appealing furniture designs enhance the aesthetics of an office or a house, and consequently, the rise in sales of commercial and residential properties will in turn fuel demand for new furniture. The furniture sector in UK specially witnessed an annual growth rate of +8% in 2018, which represents a positive future for the industry. According to the Furniture Industry Research Association, total consumer spending on furniture increased by +24% between 2012 and 2016.
Leveraging the widespread application spectrum, spray adhesives market size is driven by the growing product demand across the globe. A sudden surge in the construction and automotive industries will also positively impact the market share. According to a research report by Global Market Insights, Inc., spray adhesives market size is anticipated to exceed USD 9 billion by 2025.
Author Name : Amol Kothekar
​
The growing prominence of low-emission & high-performance engines is projected to fuel automotive part cleaners & degreasers industry in the forthcoming years, owing to the rising significance imparted to maintenance and servicing operations. The array of products that are available across this domain are frequently used to rid the vehicle's engine of different contaminants before an oil change in an effort to enhance the vehicle's fuel efficiency. Moreover, with global vehicle sales growing at an exponential rate owing to improving economic conditions across a number of countries, the automotive part cleaners & degreasers market is expected to accumulate substantial momentum from their maintenance & servicing activities. Furthermore, there has been a growing trend for the sale of vehicle part & repair accessories online as more and more brands are starting to make their products available on global e-commerce platforms.
Automotive Part Cleaners & Degreasers Market Size, By Cleaners, 2017 & 2024, (Million Gallons)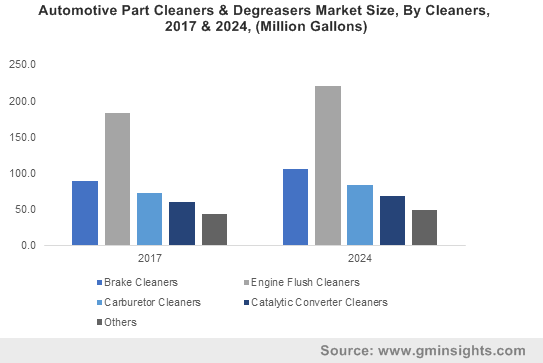 While improving economic conditions have propelled vehicle sales across the world, they have also fueled the sizable boom the construction & e-commerce industries which in turn have driven up the commercial & heavy vehicle demands, further propelling the automotive part cleaners & degreasers industry trends.
Automotive part cleaners & degreasers industry | Impact of growing vehicle demand in the U.S. on engine flush cleaner sales
Defying previous predictions, the sales of vehicles across the United States in 2018 experienced a slight rise in its numbers, highlighting the nation's strong economy with automobile manufacturers reporting a 0.3% surge to approximately over 17 million vehicles. This rise in sales comes despite a highly-volatile stock market, growing interest rates, and increasing vehicle prices that have pushed some of the prospective buyers out of the automobile market. This tendency for the U.S. vehicle market to draw in growth in the face of adverse market conditions would be responsible for driving the growth of the regional automotive part cleaners & degreasers industry, specifically from the sales of engine flush cleaner, on account of the fact that they impart efficiency and longevity to engines that is crucial for the U.S. auto industry.
As a matter of fact, across the United States, owning a vehicle is extremely critical since vehicles are viewed from a utilitarian perspective. Due to scarce options of public transport, a majority of the nation's population depends on automobiles to commute to & from work – that is to say, an average U.S. automobile experiences extensive amount of use throughout its tenure. This has driven the demand for engine flush cleaners that help elongate the shelf life of engines, by eliminating deposits, gum, and varnish, and improving fuel performance. Powered by the requirement of a clean lubrication system and the stringent norms governing VOC emissions, the U.S. automotive part cleaners & degreasers industry share from engine flush cleaners is anticipated to register a CAGR of 2.5% over 2018-2024.
Get a Sample Copy of this Report @ https://www.gminsights.com/request-sample/detail/3105
Automotive part cleaners & degreasers industry | Impact of catalytic converter cleaner sales
According to U.S-based non-profit organization, Manufacturers of Emission Controls Association (MECA), catalytic converters have been an extremely important aspect of mobile-source emission control across the world ever since the mid-1970s. Catalytic converters, from the initial two-way oxidation units to the advanced three-way units that are used today, have helped in cutting down air pollution by more than 10-billion-tons across the U.S. alone.
Today, advanced catalytic converters are more crucial than ever due to the increasing need globally to cut down on carbon emissions and manufacture more fuel-efficient & eco-friendly vehicles, which in consequence has surged the demand for catalytic converter cleaners worldwide. These cleaners, while helping to cut down on emissions also help improve fuel-efficiency & ensure vehicle safety by preventing the clogging of catalytic converters. Attributing to these prominent factors, automotive part cleaners & degreasers industry size from catalytic converter cleaners had been pegged at $2.5 billion in 2017.
The industry would also experience momentum due to increasing government regulations concerning the rate of emissions and the rising investments that automakers are making in their respective R&D activities to control emissions.
Automotive part cleaners & degreasers industry | Impact of China's rising vehicle sales on transmission degreaser sales
China's rapidly rising standard of living and purchasing power have majorly propelled the region's automotive industry, consequently driving the demand for maintenance and servicing products. As per reports, the region has observed exceptional sales of transmission degreasers, that are suitably designed to break down varnish deposits and clean internal transmission components. In a bid to ensure passenger safety and prevent damage, auto maintenance and repair establishments are found to be using these degreasers consistently. China automotive part cleaners & degreasers industry size from transmission degreasers apparently, is anticipated to be pegged at $1 billion by 2024.
Transmission degreasers are also known to maintain optimal gearbox conditions and enhance vehicle speed. In order to cater to the consumer demands for excellent vehicle performance, longevity, regular servicing, and leakage elimination, servicing setups are often found using transmission degreasers, that would further augment the industry growth in the region.
The aforementioned trends characterizing the product landscape of the global automotive part cleaners & degreasers market quite discernibly indicate that this business vertical is here to stay. According to a Global Market Insights, Inc., the overall automotive part cleaners & degreasers industry size is slated to surpass the $47.5 billion renumeration mark 2024.]
Author Name : Akshay Kedari