Solvent
The global methyl isobutyl ketone market is slated to amass huge gains over the coming years, owing to the substance's excessive use in insecticides and pesticides. These are essential for growing more food on less land by protecting crops from pests, weeds, and diseases. Whether from natural or synthetic sources, almost all commercial crop producers rely on pesticides, which include methyl isobutyl ketone.
U.S. Methyl Isobutyl Ketone (MIBK) Market Size, by End-use Industry, 2014 – 2025 (USD Million)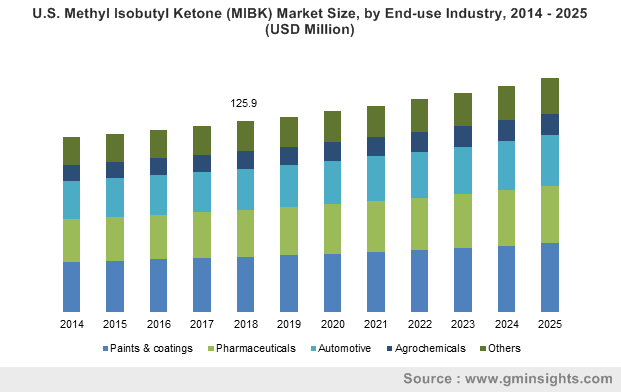 In this context, it would also make sense to state that the rapid expansion of crop protection insecticides market is a key indicator demonstrating the growth of methyl isobutyl ketone market in the upcoming years.
How is the availability of fertile land impacting the business arena?
The agriculture sector in today's day and age is under a stressful phase. The world needs more food, labor force, and fertile land to feed a rapidly growing population. The global population is anticipated to reach 9.8 billion by the year 2050. As a result, the demand for food will be 60 percent more than what it is today, but issues such as urbanization, climate change, and soil degradation will have reduced the availability of fertile land.
However, through pesticides, farmers can grow bigger crops on less land and increase productivity considerably. Since less area is used, it can also help reduce soil erosion, while controlling invasive pests and species. Hence, the declining availability of fertile land will pressurize farmers to focus on crop quality and quantity, which will in turn, boost the adoption of pesticides, thereby benefiting methyl isobutyl ketone industry share.
Are rising incidences of foodborne diseases driving product demand?
Crops are always susceptible to numerous kinds of species, weeds, and plant-eating pests that threaten the crop productivity. The threat doesn't stop there, once an infested crop leaves the field, it can spoil the produce during the storage and transportation process as well, impacting consumers via severe foodborne diseases.
Get a Sample Copy of this Report:@ https://www.gminsights.com/request-sample/detail/2561
According to a credible source, around 1 in 10 people globally fall ill from eating food that is contaminated. A huge example concerning the matter is the 2017 E coli outbreak in the US from Romaine lettuce, following which 200 people fell sick, 96 were hospitalized, and five succumbed to the disease. Pesticides can help prevent disease outbreaks by killing insect populations that carry deadly bacteria. The increasing prevalence of foodborne diseases, stringent norms, and rising awareness pertaining to food security will thus boost the demand for insecticides, thereby proliferating methyl isobutyl ketone industry share.
Is growing preference for organic farming a positive sign?
Speaking of food safety, synthetic pesticides have also taken a beating for their high toxicity. High exposure to pesticides is said to cause several serious illness and diseases in humans, including respiratory diseases and cancers. To enhance productivity without posing a threat to consumers, manufacturers are now experimenting with organic pesticides which is further supported by the increasing acceptance for organic farming. Incidentally, the rising preference for organic food is also driving biopesticides market, the expansion of which is impacting methyl isobutyl ketone industry outlook.
Along similar lines, biotech firm Bionema recently raised £180,000 to develop biopesticides that can substantially reduce the dependency on chemicals for crop pest control. The company already is already marketing some products and plans to launch new biopesticide products by 2021. Methyl isobutyl ketone manufacturers use this chemical in organic pesticides and agrochemicals, which makes organic farming and increasing use of organic agrochemicals a positive driving force for the methyl isobutyl ketone market.
The global methyl isobutyl ketone industry is slated to be fueled by the rising need to produce high-quality yields in tandem with increasing demand for food. In addition, increasing need to prevent wastage of potential produce due to bacteria and plant-eating insects will present methyl isobutyl ketone manufacturers with huge opportunities in the crop protection market.
Apart from this, increasing government efforts to boost agricultural development, particularly in rural regions, will further contribute to market growth. For example, the government of India is reportedly aiming to double farm incomes by 2022. Successful achievements of such targets will empower farmers and agricultural firms to adopt more effective practices that involve the use of expensive organic or synthetic agrochemicals, that will eventually favor the global methyl isobutyl ketone industry. Furthermore, a research report by Global Market Insights, Inc. estimates methyl isobutyl ketone market to be worth more than $800 million by 2025.
Author Name : Krithika Krishnan
Dimethyl Carbonate Market is projected to sketch a profitable roadmap over the years ahead, subject to the extensive product usage in pesticides, polycarbonates, pharmaceuticals, and solvents. Thriving paints & coatings sector, which is expected to accrue USD 165 billion by 2024, is likely to push the product revenue curve in the upward direction. Rapidly expanding electronics & automotive sectors across APAC along with rise in the number of construction activities in BRIC countries are expected to contribute considerably toward the business expansion. According to Global Market Insights, Inc., "Dimethyl carbonate industry, which generated a revenue of more than USD 410 million in 2015, is anticipated to hit USD 738.2 million by 2024."
Taking into consideration the geographical trends, Asia Pacific dimethyl carbonate industry, which dominated the regional landscape in 2015, is forecast to experience a considerable expansion over the years to come. Rising consumer preference for high quality paints with the increase in per capita income will drive the regional development. Indonesia, China, and India are expected to be the key regional revenue pockets.
U.S Dimethyl Carbonate Market size, by application, 2013-2024 (USD million)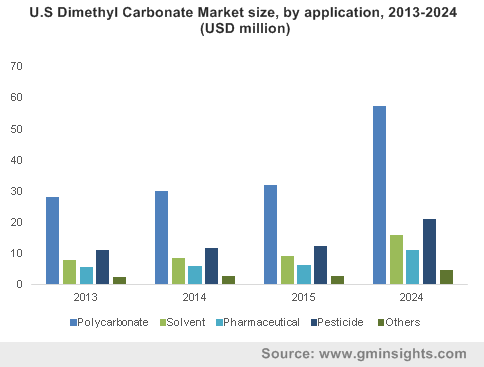 North America dimethyl carbonate market size, which was estimated at more than USD 90 million in 2015, is projected to expand remarkably over the coming seven years. Favorable government policies to improve the public infrastructure along with scaling up of the construction activities is anticipated to support the business expansion. U.S. dimethyl carbonate industry is likely to be a major revenue driver.
Get a Sample Copy of this Report @ https://www.gminsights.com/request-sample/detail/823
Dimethyl carbonate industry size in polycarbonate sector, which was evaluated at more than USD 200 million in 2015, is expected to experience a striking growth over the next few years. Escalating applications of polycarbonates across the medical, automotive, lightning & appliances, glazing, and electronics sectors are expected to boost dimethyl carbonate industry growth. Polycarbonate sector, which produced a revenue of more than USD 14 billion in 2015, is slated to hit USD 22 billion by 2024, which in turn, will help the market players to expand their profits through heavy business investments.
Dimethyl carbonate market share in the solvent sector is anticipated to grow at a CAGR of more than 6% over the coming seven years. The ability to provide exceptional solubility, odor, and low rate of evaporation is expected to make the product more useful in coating resins, concrete coatings, auto refinish, steel drum linings, architectural coatings, floor coatings, and traffic paints. Eco-friendly nature of the product along with its low costs are projected to enhance its demand in the production of solvents and automotive fuels, thereby catalyzing the growth of dimethyl carbonate industry.
Potential application of dimethyl carbonate as a gasoline additive across the energy sector will further enlarge the scope of the business.
Market players are adopting key business growth strategies such as new product development and high R&D funding to increase their ROI. AkzoNobel N.V., HaiKe Chemical Group Limited, EMD Millipore Corporation, Sigma-Aldrich Corporation, All-Chemie Limited, Alfa Aesar, Shandong Shida Shenghua Chemical Group Company Limited, UBE Industries Limited, Dongying City Longxing Chemical Company Limited, and Tangshan Chaoyang Chemical Company Limited are the key participants of dimethyl carbonate industry.
Author Name : Dhananjay Punekar