Stationary
ReWalk Robotics' soft exoskeleton launch a while back apparently took exoskeleton market by storm. The product has been exclusively designed by the USA-based exoskeleton industry player to help in the rehabilitation of patients suffering from lower leg limb disability due to strokes. The device would also help patients diagnosed with Parkinson's and multiple sclerosis to heal faster and regain their balance.
U.S. Exoskeleton Market, By Technology, 2018 & 2026 (USD Million)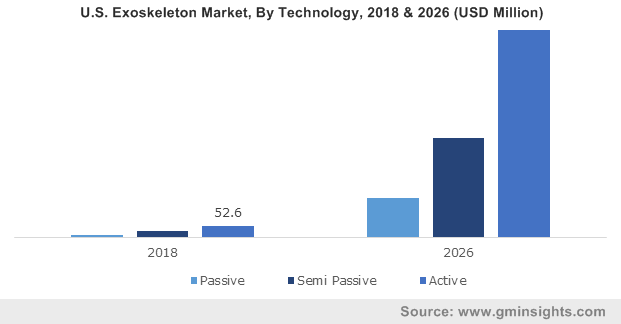 Characterized by technological innovations, exoskeleton market strives to bring about a transformation in rehabilitation devices for consumer comfort. In yet another breakthrough, Lowe's companies Incorporation, a key player across the retail industry, and Virginia Tech, an educational institute & university based in the U.S., have built a soft & light exosuit to help the employees working in Lowe's retail stores to easily lift and move heavy products across the store.
In the first quarter of 2017, exoskeleton market witnessed one of the most potentially lucrative deals, with Parker Hannifin Corporation, a key manufacturer of motion & control technologies, introducing a therapy software suite for its Indego exoskeleton across Europe. The new suite has made Indego a unique exoskeleton for non-trajectory based gait training & treatment. Furthermore, Lockheed Martin, a U.S. based aerospace, defense, and security firm, has also launched a computer-regulated exoskeleton device referred as FORTIS Knee Stress Release gear that helps soldiers counter stress on their legs & lower backs. It also improves their load carrying capacity and movement, preventing injuries and exhaustion. The advent of consecutive innovations will encourage other business players to follow suit, thereby contributing toward augmenting the overall exoskeleton industry size.
Get a Sample Copy of this Report@ https://www.gminsights.com/request-sample/detail/1946
Recently, scientists have unveiled a robotic exoskeleton that helps in restoring balance through accurate gait correction, thus avoid dangerous falls. The new device is also expected to help the elderly, amputees, and disabled people to maintain balance and steadiness. The WHO claims that potential falls resulting in fatal injuries are one of major causes of death. This is evident from the estimates – falls result in the death of over 640,000 people per year, with nearly 37.3 million severe falls requiring medical treatment.
Exoskeletons find wide applications across healthcare, industrial, and military sectors. The introduction of new technologies across the healthcare sector to ensure the safety coupled with the allocation of funds for healthcare will spur the product penetration. Healthcare applications are expected to emerge as the dominant application segment by 2026, owing to the rising demand for rehabilitation spurred by disorders such as Parkinson's disease, spinal cord injuries, and other gait disorders. Not to mention, exoskeletons offer numerous benefits to healthcare providers, reducing the burden that therapists endure during training and therapy.
Exoskeletons are rapidly gaining momentum across myriad geographies. The huge presence of exosuit manufacturers and escalated product demand across military & healthcare sectors are anticipated to stimulate APAC exoskeleton industry outlook. This regional market, as per estimates, is expected to record the highest CAGR over 2019-2026. Mounting awareness about the beneficial use of industrial robotics in manufacturing activities and the rise in the production of wearable robots across the defense sector are predicted to be the key factors driving APAC exoskeleton industry, with China and South Korea forecast to be the major revenue pockets. Additionally, countries such as Japan, and China have also been undertaking extensive R&D initiatives that would help impel exoskeleton industry. For example, in the year 2018, Norinco, a state-owned manufacturer in China, brought forth military exosuits in order to aid the weight carrying capacity of armed forces.
Major corporations such as ReWalk Robotics, Lockheed Martin, REX Bionics, Panasonic Corporation, and Cyberdyne Incorporation have made remarkable contributions toward augmenting exoskeleton market size in recent years. The recent breakthroughs witnessed across the business landscape indeed validate the claims put forward by market analysts, who state that exoskeleton industry size would be worth more than USD 3.5 billion by 2026.
Author Name : Saipriya Iyer
The demand for air compressors is expected to spur considerably over the coming years, partly due to its essential application across cold storage facilities. Technological advancements have led to the development of energy-efficient air compressors that offer reduced maintenance costs and have a lower impact on the environment.
Availability of compressors that come with multiple configurations and provide a varied range of supply pressures is aiding product demand. While the advent of high-capacity, portable air compressors that offer better performance and versatility could fuel new revenue proceeds in the industry.
According to a study led by Global Market Insights, Inc., the air compressor market is estimated to surpass US$107.56 billion by 2026.
The manufacturing sector is anticipated to amass a noteworthy share to this growth owing to rising demand for heavy-duty compressors that offer higher air pressure capacity for running diverse industrial applications. For the record, centrifugal air compressors are mostly used across such industrial operations. The product is renowned for its high air power output and pressure capacities. Notably, on the other hand, oil & gas, energy, construction and mining are some other areas where air compressors are gaining prominence.
Get a Sample Copy of this Report @ https://www.gminsights.com/request-sample/detail/377
However, heavy duty models of air compressors are usually expensive owing to their bulky nature, manufacturing & operational complexities and higher efficiencies. Nevertheless, with increasing investments aimed at driving new construction and mining activities, the adoption rate of such air compressors could spur considerably over time.
The food and beverage sector is also garnering a major share in the air compressor market. Growing consumer inclination towards packaged and perishable food products has led to the demand for efficient refrigerant compressors.
These systems are mostly installed across cold storage facilities and warehouses for maintaining and preserving various food products. Development of new food processing plants and warehouses to increase storage capacity may augment product demand. While estimates suggest that the food & beverage segment make accrue maximum gains of over 6% CAGR over the projected period.
According to regional share, Latin America air compressor market is expected to register a 3.4% CAGR between 2020 to 2026. Factors like easy availability of low cost labor, raw materials, and abundance of land have motivated manufacturing industries to expand their business capacity.
For the record, air compressors are widely used in the region across manufacturing processes like industrial good & machinery manufacturing. Supportive government initiatives to augment expansion of industrial hubs and manufacturing plants are likely to favor product penetration across LATAM.
Meanwhile, on a global scale, the demand for air compressors is expected to proliferate on account of surging infrastructural development activities and growing construction of green buildings. According to reports, countries like China, Indonesia, Vietnam and Thailand are undertaking AC manufacturing line conversion projects for supporting the Montreal Protocol. Initiatives such as these may favor the growth of global air compressor market size over 2026.
Author Name : Mateen Dalal
The global fuel cell market is expected to witness a significant growth trajectory attributed to the burgeoning need for space heating across commercial and residential sectors coupled with persistent efforts towards hydrogen fueling station development.
Many private and public establishments are stepping up their investment activities towards energy conservation. This proliferating financial support in tandem with advantageous government initiatives facilitating the advancements of sustainable energy technologies will be a tremendous driving factor in fuel cell market growth over the forecast period.
For example, in 2019, the Chinese government has proposed the construction of 20 hydrogen fueling stations and upwards of 3000 vehicles in the Hubei Province, expected to become functional by 2020.
A research report by Global Market Insights, Inc. estimates that the fuel cell market share is expected to exceed $7 billion over 2025.
Get a Sample Copy of this Report: @https://www.gminsights.com/request-sample/detail/621
The recent paradigm shift towards increasing financial interest in R&D and innovations coupled with the high efficacy and dependability of fuel cells as a substitute for traditional automobiles are likely to bolster fuel cell industry demand from the transport sector. As a matter of fact, in 2018, the Department of Energy or DOE announced their intention to spend $39 million for fuel cell and hydrogen fueling infrastructure development in North America.
Escalating demand for fuel cells across myriad automotive applications like trams, light vehicles, goods carrier vehicles, forklift trucks, two & three wheelers as well as small boats and ferries will contribute heavily to industry expansion. As per DOE reports in February 2019, fuel cell vehicles on road in the United States grew from 4000 in 2015 to an appreciable 6500.
Accelerating demand for fuel cell EVs and the subsequent rise in the installation of portable charging systems considering the proliferating number of recreational activities are set to add significant impetus to the fuel cell market outlook.
On the other hand, the need for stationary power stations, particularly in remote and off-grid locations is reinforced by several government-supported expenditures pertaining to infrastructure developments.
With respect to the product spectrum, the SOFC product segment is expected to exceed 30,000 units over 2025. Mounting fuel cell adoption across numerous small and large-scale stationary power generators, used to provide electricity access to remote locations is likely to present several lucrative growth opportunities to the market.
SOFC cells display commendable potential in high temperature applications, in the range of 800 degree Celsius to 1,000 degree Celsius and demonstrate efficiency levels of over 60% during their transition from fuel to energy.
Cost-effectiveness, high efficiency, reduced emissions, fuel flexibility and high stability are the key drivers propelling fuel cell market penetration over the projected timeframe.
Intensifying concerns regarding the security of energy and higher adoption of renewable energy sources is expected to foster South Korea fuel cell industry trends. Strong government support for R&D efforts towards development of innovative products alongside the steady expansion of hydrogen infrastructure will also enhance the business landscape in the region.
In fact, in 2018, the South Korean government revealed their plan of investing $2.33 billion towards the development of efficient hydrogen infrastructure nationwide, over the next five years.
Author Name :Saloni Walimbe