Statistical
The competitive spectrum of cloud natural language processing market proudly boasts of some of most acclaimed top-shots, such as Amazon Web Services, Fuji Xerox, Baidu, Google, Netbase Solutions, IBM, Microsoft, Verint Systems, Apple Inc., SAP SE, Dolbey Systems, HPE, Facebook, and Nuance Communication. Given the distinguished stance these firms have in the tech cosmos, it comes as no surprise that these companies have been going the whole hog to bring forth a range of highly innovative products that would benefit the cloud NLP industry. The intensely fierce combative environment has made it even more mandatory for companies to adopt tried-and-tested as well as unique, out-of-the-box growth strategies to sustain in cloud NLP market. For instance, tech giant Google, in March this year, had announced the acquisition of Kaggle, a platform hosting machine learning and data science competitions. Through this takeover, Google plausibly aims to acquire one of the most active communities for data scientists, taking a step further toward establishing external integrations with its cloud platform and strengthening its position in cloud natural language processing market.
U.S. Cloud NLP Market Size, By Product, 2016 & 2024 (USD Million)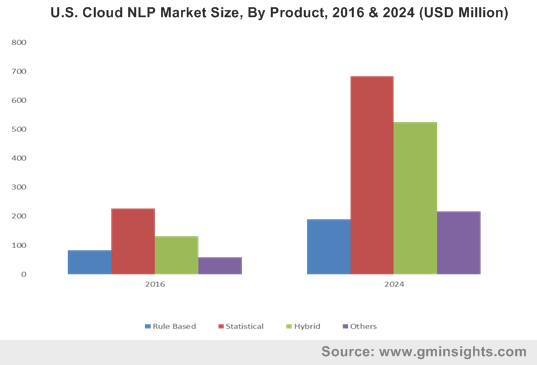 It is prudent to mention that prior to this acquisition, Google and Kaggle had also joined forces to host a machine learning competition worth USD 100,000, revolving around YouTube video classification. It is thus undeniable that similar to Google, numerous other tech companies have been going the whole nine yards to exploit IoT and big data technology, both which work in tandem with NLP, the result of which would be explicitly visible from the commercialization potential of cloud NLP industry. As per estimates, cloud natural language processing market size was pegged at USD 1.5 billion in 2016, primarily driven by the robust investments in artificial intelligence, that is deployed across a plethora of applications such as machine learning, advanced analytics, robotics, and more.
Get a Sample Copy of this Report:@ https://www.gminsights.com/request-sample/detail/2202
One of the most noteworthy instances that affirms the participation of tech giants in cloud NLP industry is the plethora of services that Amazon Web Services has announced to provide this year. Reportedly, the retail behemoth that holds a fair proportion of cloud natural language processing market share, has launched a wide-ranging series spanning 22 all-new services that comprise everything – right from data storage to analysis, and machine learning to convenient cloud transition. Amazon's prodigious expertise in tapping the cloud, big data tech, IoT, and other innovations to make technology access convenient and flexible for software developers is indeed commendable. The e-commerce player, through this mega launch, has indeed consolidated its presence in numerous business verticals, cloud NLP industry being one of the most prominent ones. Furthermore, it is unquestionable that Amazon's move would prompt dexterous rivals to break barriers and come up with intensely unique service portfolios of their own, which in consequence, would have a rather lucrative impact on cloud NLP market trends. As the resultant products and services would find pertinent utilization across myriad end-use sectors, such as the BFSI domain, for cross boarder payments, customer documentation, foreign exchange, customer voice processing, solving insurance queries, and text mining, cloud natural language processing market share would traverse a highly profitable growth path in the years ahead. The insights provided by Global Market Insights, Inc., with regards to the same, affirm the authenticity of the declaration – as per the firm's analysis report, cloud natural language processing market size is likely to cross a valuation of USD 6 billion by 2024, making this business vertical one of most remunerative spaces for potential investors.
As the elbowroom for technology transcends boundaries in the future, cloud natural language processing industry outlook is likely to witness a dynamic transformation, given the contribution of big data and IoT toward deriving powerful insights to ensure quicker decision-making in the fields of marketing, product management, competitive intelligence, etc. The robustly growing demand for content localization would also massively fuel the requirement of NLP services, thereby augmenting the revenue graph of cloud natural language processing industry. With major vendors attempting to launch extensively innovative products for a widespread application spectrum, and the increasing demand for ingenious analytics software that would command the deployment of the cloud space to derive business insights, cloud NLP market size is forecast to grow at an appreciable CAGR of 17% over 2017-2024, as per a report put together by Global Market Insights, Inc.
Author Name : Saipriya Iyer
Machine translation market is likely to chart out a flourishing growth path over the years, with many firms adopting MT tools to avoid the language barrier while expanding their business across the globe. The implementation of machine translation will help to provide a cost-effective solution to customers and reduce the overall project timeline. As per the report by Global Market Insights, Inc., "Worldwide machine translation market generated a revenue of more than USD 400 million in 2016 and will record an annual growth rate of 19% over the coming years of 2017 to 2024."
U.S. Machine Translation Market Share, By Application, 2016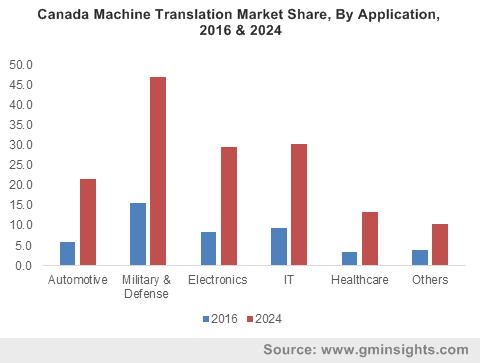 Healthcare, IT, electronics, automotive, and military & defense are the prominent applications of machine translation market. Healthcare application segment will exhibit noticeable growth rate over the coming years of 2017 to 2024. The growth can be attributed to the growing requirement of translating a vast number of clinical documents. Moreover, the escalating research across the healthcare sector will also boost the requirement of MT tools, which in turn, will influence machine translation industry size positively. Installation of this technology across the healthcare sector will help interpret insurance claim forms, medical documents, IVR scripts, patients records, and educational material.
The IT sector will generate a huge revenue due to the emergence of e-commerce, which needs machine translation tools to explore business opportunities around the globe. This, in turn, will stimulate machine translation market size over the coming seven years. The automotive sector is also another lucrative avenue that will generate noticeable gains over the years ahead.
Get a Sample Copy of this Report @ https://www.gminsights.com/request-sample/detail/159
Based on the technology, machine translation industry is mainly divided into RBMT and SMT. RBMT technology segment is anticipated to register an annual growth rate of more than 14% over the period of 2017 to 2024, primarily driven by its superior grammatical and predictable approach of breaking down the source and target languages pertaining to the incorporation of vocabulary.
SMT dominated the technology segment in machine translation market in 2016 by accounting for more than 60% of the global revenue contribution and will register a significant growth rate over the coming timeframe, due to the increasing requirement of fast computing and cheap hardware.
Geographically, U.S. will be the prominent revenue generator for North America machine translation industry share, owing to the availability of ample service providers across this region. Favorable government support from organizations such as the Defense Advanced Research Projects Agency (DARPA) will also augment the industry growth.
Asia Pacific machine translation market will generate lucrative revenue over the years ahead. The growth can be attributed to the growing adoption of MT tools, mainly across China and India, primarily owing to the fact that these regions exhibit the existence of various local languages. This, in turn, will boost the demand for machine translation market products. Most of the firms across India are implementing MT tools to minimize the communication barrier, which is predicted to create an attractive growth avenue for the industry participants.
Market players are investing significantly in research & development activities to introduce products based on advanced technologies into the market, which will help them gain considerable profit. Some select industry giants are also engaging in strategic partnerships to expand their customer base. The key players in machine translation market are Moravia IT, Lionbridge Technologies Inc., Google Inc., IBM Corporation, Systran International, and Microsoft Corporation.
Author Name :Sunil Hebbalkar