statistics
Global electronic thermal management materials market is poised to amass commendable returns over the ensuing years owing to the increasing demand for consumer electronics as well as the growing reduction in electronic device size. Electronic thermal management materials are extensively used in electrical assemblies for heat dissipation. These materials aid in controlling the heat emitted within the electronic assembly as well as help with proper heat conduction.
U.S. electronic thermal management materials market size, by end-user, 2014 – 2025 (USD Million)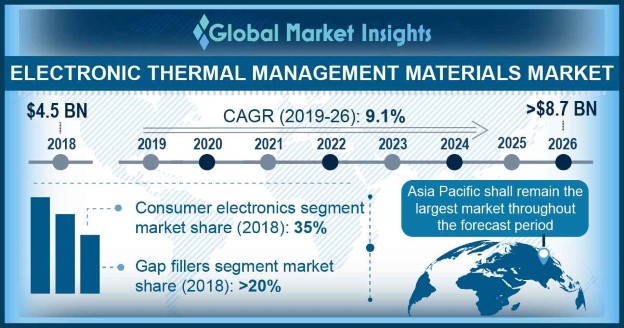 The emergence of nanotechnology has generated extensive demand for electronic thermal management techniques in the consumer electronics industry. Shrinking down devices is gaining popularity, as smaller devices tend to consume less power and are often reasonably priced and simpler to use. Owing to steady growth in consumer's disposable income, such devices are slated to witness higher consumption in the future, thereby influencing electronic thermal management materials industry trends over the forecast years.
The demand for consumer electronics has continued to grow, owing to the revolution of smart devices equipped with premium features. The demand for consumer electronics across the world is driven by major trends such as the rising demand for premium devices and reduction in prices. Due to an outburst in working women population, there has been a rise in dual-income within families. This trend has resulted in higher disposable income, which further stimulates the purchase of electronic products, thereby augmenting electronic thermal management materials market share.
Manufacturers of electronic thermal management products are bound to witness strong opportunities in the semi-urban and rural parts of developing nations in the coming years. The consumer electronics industry is observing considerable demand from the rural market, primarily due to the growing affordability of products as well as enhancements in the transmission network and electric supply. Construction companies are often awarded contracts to establish distribution networks comprising medium and low voltage distribution lines. Such developments will augment electricity access across rural and semi-urban regions, which is a positive sign for the increase in electronic thermal management materials industry share.
Get a Sample Copy of this Report:@ https://www.gminsights.com/request-sample/detail/3780
Rising affordability of digital connectivity has led to massive growth in eCommerce-penetration. Internet connectivity has helped in spreading product awareness and promotions, thereby surging consumer spending on electronics and home appliances, which would also favor electronic thermal management materials market size over the coming years.
In terms of product, thermal pastes are estimated to perform outstandingly over the coming years due to excessive use in CPUs and other electronic devices. For example, Intel recently announced that some of its Core i5-9400F series processors will feature thermal paste-based interface material, but CPUs with a KF suffix will continue to use soldered thermal interface material.
Additionally, the launch of new products will also result in segmental growth. For instance, Austrian firm Noctua recently launched a new thermal compound that depicted up to 2°C lower temperatures. Advancement in computer technology paired with an upsurge in digitization will foster growth in electronic thermal management materials market share over the coming years.
Based on regional growth, the Asia Pacific electronic thermal management materials market is poised to amass maximum returns in the future. This can be attributed to the region's rising population and its impact on the demand for consumer electronics. Moreover, developing nations within the region are witnessing increasing efforts to improve electrification in their rural and semi-urban parts, thereby boosting product demand in the consumer electronics application.
India is a leading driving region of the Asia Pacific market. The Indian government has been implementing numerous initiatives to achieve 100% electrification nationwide, which could positively influence electronics demand. According to the nation's 2019 budget, its consumer electronics industry is anticipated to experience double-digit growth rate if proposed tax exemptions on rural and middle-income consumers are successfully achieved. Increasing demand for white goods and digital electronics from India's changing rural setting will further contribute to growth in the Asia Pacific region.
Although the product has a wide scope in the consumer electronics application, electronic thermal management products also find excessive use in other end-use applications such as automotive, healthcare, telecom, and aerospace. Products like thermal greases are extensively used in automotive applications, and are anticipated to see immense growth due to the rise in disposable income and the worldwide push for the adoption of electric and hybrid cars. Meanwhile, increasing use of electronic thermal management products in digital and analog switches, routers, transmission switches, and controllers will strengthen market growth in the telecom sector.
According to a research report by Global Market Insights, Inc., electronic thermal management materials market is anticipated to exceed $3.1 billion by 2025.
Author Name : Krithika Krishnan
The high heat (heat stabilized) glass reinforced polyamide 66 market has emerged as one of the steadily growing niche verticals of the global polymers and advanced materials industry owing to continuous product development initiatives undertaken by major specialty chemical firms. The launch of a new series of high-heat glass reinforced polyamide 66 compounds by Teknor Apex is a testament to the extensive efforts being deployed to develop advanced polyamides that would cater to wide range of applications in the near future.
U.S. High Heat (Heat Stabilized) Glass Reinforced Polyamide 66 Market Size, By End-user, 2014 – 2025 (USD Million)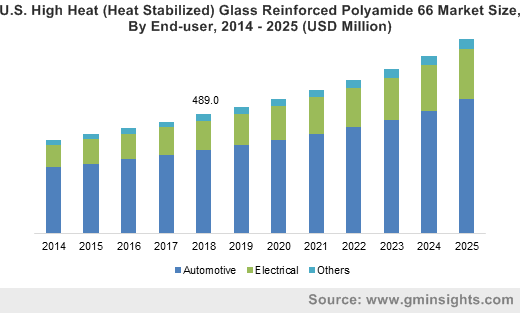 Named Creamid 240 H7.5, the new polyamides maintain high levels of critical mechanical features even after continuous service at temperatures of 240°C. It is also being said that the new product range offers the stiffness and strength of highly potent engineering polymers which is quite significant. Needless to mention, the launch of such compounds is favoring the commercial aspect of the high heat (heat stabilized) glass reinforced polyamide 66 industry. Moreover, the applications of the polyamide 66 are quite pronounced in the under-the-hood components of the automotive sector which has, in turn, fueled the product demand significantly.
Automotive sector to majorly drive the commercialization scale of high heat (heat stabilized) glass reinforced polyamide 66 industry
Amongst all the prominent application segments of high heat (heat stabilized) glass reinforced polyamide 66 market, the automotive sector has been majorly driving the demand for the polyamides in the last few years. It is being observed that almost all global automakers are undertaking metal replacement programs and are increasingly incorporating performance-boosting technologies along the likes of turbocharged engines, boosting the demand for glass reinforced polyamides.
In addition to the aforementioned factors, the demand for polyamides is gaining momentum owing to advanced transmission systems being recommended by regulators. In this context, it would be prudent to mention that these systems place stringent requirements for reduced water, chemical resistance, and heat resistance which necessitates the inclusion of glass reinforced polyamide 66 in a myriad of manufacturing processes.
Get a Sample Copy of this Report @ https://www.gminsights.com/request-sample/detail/3102
Speaking along similar lines, the product is used to manufacture several under the hood equipment such as oil filters, radiator tank parts, engines, and gears. Moreover, it has been observed that there is increasing trend of installing efficient combustion engines which subject plastic components under the hood to higher thermal loads.
Bearing this in mind, numerous high heat (heat stabilized) glass reinforced polyamide 66 market players are proactively upgrading their product lines and are focusing on development of new heat stabilization systems to increase the continuous operating temperatures of certain nylons. The Pittsburgh-based specialty chemical firm LANXESS, for instance, has recently launched its high-grade heat stabilization system's first glass-fiber-reinforced nylon 66 grade, named AKV35XTS2.
Elaborating further on the characteristics of the new product range, the new polyamides are being termed as ideal substitutes to heat-stabilized and costly specialty thermoplastics along the likes of fully and semi-aromatic PPS and nylons. In addition to this, AKV35XTS2 can be used to manufacture air intake modules with air ducts or an integrated intercooler near the turbocharger.
All in all, the launch of new heat stabilization systems and high-grade polyamides such as the aforementioned AKV35XTS2 is proving to be quite advantageous for the companies partaking in the high heat (heat stabilized) glass reinforced polyamide 66 industry. Furthermore, rising inclination of automakers to replace the conventional metal spare parts with new nylons has also benefited the growth prospects of this market sphere in the past few years. In fact, as per a research report prepared by Global Market Insights, Inc., the automotive sector is likely to register an annual growth rate of 8 percent by 2025, making it one of the fastest growing segments in the overall high heat (heat stabilized) glass reinforced polyamide 66 market.
Driven by the launch of new range of polyamides and heat stabilization systems along with increasing demand for the product from the ever-expanding global automotive sector, the remuneration portfolio of the high heat (heat stabilized) glass reinforced polyamide 66 industry is bound to exceed USD 4.6 billion by the year 2025.
Author Name : Saif Ali Bepari
Over the last few years, construction equipment market, on the grounds of surging investments in infrastructural development, has been witnessing a rather appreciable growth rate. The rising trends in industrialization and urbanization across the globe have also been majorly propelling the need for construction equipment. Taking into account the rapid growth of the construction industry, construction equipment market giants have been expanding their regional reach via renewed dealerships across myriad geographies. In addition, many equipment providers have been investing in new machinery as well as advanced technologies such as smart equipment to augment construction equipment industry trends.
China Construction Equipment Market, By Product, 2017 & 2024 (USD Billion)

Citing a recent instance about the expansion of dealership programs, on August 15, 2018, Hyundai Construction Equipment expanded its North American authorized construction equipment dealership network by adding one of the leading agricultural equipment dealers, Farm Depot Ltd., to its portfolio. Through this new dealership program, Hyundai Construction Equipment reached across more than 150 locations with more than 70 dealers who have been supplying wheel loaders, compaction rollers, excavators, and other construction equipment. In addition, for enhancing the customer base and meeting the increasing product demand, Hyundai has been providing training to the dealers for ensuring effective service and product delivery.
In another instance, recently, the U.S. based farm equipment supplier Bonnel collaborated with a leading manufacturer of multipurpose tractors, Multihog. With this partnership, Bonnell became an exclusive Multihog distributor across Indiana, Illinois, Iowa, and Wisconsin. The on-going development of sidewalks and small roadways across this region would propel the requirement of Multihog's tractors, which could easily work in tight alleys, sidewalks, and small roadways. This incidence validates that frequent collaborations among distributors and product manufacturers will considerably enhance the construction equipment industry size over the years ahead.
Get a Sample Copy of this Report:@ https://www.gminsights.com/request-sample/detail/2803
In European countries, the increasing involvement of the regional governments in infrastructure development has been generating lucrative opportunities for the construction equipment market contenders. More precisely, the shifting focus of governments and regulatory bodies toward the deployment of renewable energy facilities along with the implementation of smart city development programs have been tremendously pushing the need for construction equipment. In line with the rapidly growing number of construction activities, the sales of construction and earthmoving equipment across UK grew considerably in the second quarter of 2018 as compared to the same period in 2017.
The rise in the sales of construction equipment across European countries has been encouraging leading product manufacturers to invest in research and development activities to launch new product portfolios. In addition, many construction and earthmoving equipment manufacturers have been focusing on expanding their regional footprints with mergers and acquisitions as well as with new facility establishments. These initiatives incidentally, are also being supported by many regional finance companies, pushing the growth of the construction equipment market further. Validating the aforementioned fact, a few days before, Molson, one of UK's construction equipment specialists, secured a £6.3 million investment from UK's most active investment company, BGF. With the help of this investment, it is planning to expand its sales and aftersales services of construction equipment across UK. Additionally, it is looking forward to constructing a new parts center and extra depots as well.
In addition to capacity expansion, Molson and BGF plan to work on further acquisitions. Incidentally, Molson has already secured the distribution rights of the Terex Finlay machinery for Wales, England, and the Channel Islands. The combined approach of service providers and financial companies to invest in the improvement of existing infrastructure is certain to influence Europe construction equipment industry trends.
The changing focus of construction equipment suppliers toward establishing long-term relationships with customers and renowned OEMs is poised to boost industry growth over the years ahead. The adoption of frequent facility and dealer network expansion strategies is also deemed to emerge highly beneficial for the players in construction equipment industry. Driven by the growing demand for construction machinery along with the rapidly propelling infrastructural development activities, construction equipment market will surpass a revenue collection of USD 170 billion by the end of 2024.
Author Name : Sunil Hebbalkar