Structural adhesives market forecast
Rapidly developing global construction sector is expected to propel structural adhesives market share over the projected timeframe. Additionally, structural adhesive's prominent use in automotive manufacturing complemented by the exponential growth of automotive industry will majorly influence the product demand.
The increasing product utilization across aerospace industry to reduce weight and enhance security will play a crucial role affecting the market performance. Some of the application trends anticipated to drive structural adhesives market are stated underneath.
U.S. Structural Adhesives Market Share, by Application, 2013 – 2024 (USD Million)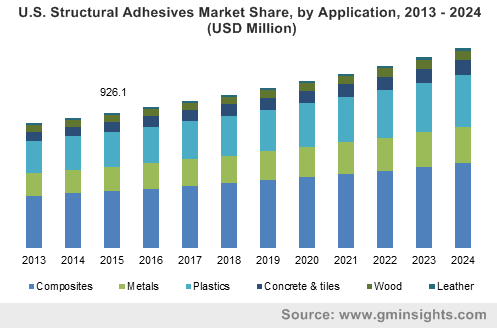 Increasing demand for fuel efficient and lightweight automobiles to accelerate structural adhesives market share
Structural adhesives find wide applications in automotive manufacturing, owing to different types of material used while assembling a vehicle. The product strongly resembles the welding, rivets, and other mechanical fasteners, which enables it to replace them, further decreasing the overall vehicle weight. With improved vehicle strength and durability, less time taken in metal bonding also improves the manufacturing efficiencies. Thereby, proper utilization of structural adhesives can drastically speed up the manufacturing and assembling processes.
The ability to join multi-substrate assemblies allow automotive manufactures to achieve weight savings without compromising the joint strength. Adhesive produces high strength joints between different materials like aluminum, steel, and plastic. Lowering the automobile weight directly improves the vehicle efficiency with lowered fuel consumption. Thereby, the deployment of stringent norms to curb GHGs emission will remarkably enhance structural adhesives industry outlook over the estimated timeframe.
The product is used in automotive chassis, hoods, engine compartments, door sealants, window glass attachments, electronic stuffs, cockpit, filters, brakes, clutch plates, lights, and headlamps. The huge product applicability across the automotive industry complemented with high demand for passenger cars will augment structural adhesives market share.
Get a Sample Copy of this Report @ https://www.gminsights.com/request-sample/detail/315
Need for high performance, structural stability, and security across aerospace sector to support industry trends
Incorporation of structural adhesives to replace conventional joints will help raising the aircraft's performance and security. The high strength glue bonds different components of the load bearing structure in aerospace, including the thick airframes with complex and multidirectional load paths. Although these types of joints are usually reinforced with bolts, screws, and other fasteners to improve security, the use of adhesives improves the strength of the structure by sealing the bonds.
It is most commonly used to join thin internal or external aerospace structures without the need of any extra reinforcements. The extensive applications for bonding metal-to-metal, composite-to-composite and metal-to-composites will propel high product demand.
Structural adhesives are used at every stage of aerospace manufacturing, ranging from OEM to the manufacturing of parts for civil aviation, helicopters, and fighter jets. Some of the applications include panel bonding and forming, edge filling and closing out, panel reinforcement, laminating, and repair patches.
Moreover, most of the adhesive products used in the aerospace manufacturing are flame retardant and exhibit the low-flame, smoke and toxicity characteristics which comply with the high standards set by the aerospace industry. Aerospace structural adhesives are engineered to meet federal regulations that govern materials used in aircraft interiors.
Also, it passes the extensive qualification tests to meet aircraft manufacturers specifications which will lead to product prevalence in the aviation industry for repairs and maintenances. Increasing orders for passenger planes along with the growing air force requirements among most of the emerging countries will boost structural adhesives market share.
Rapidly developing construction sector to boost structural adhesives market outlook
Apart from the automotive and aerospace sectors, the construction sector has also been responsible for augmenting structural adhesives market outlook, owing to the increased government spending on public infrastructure and commercial buildings. Additionally, the rising urbanization pertaining to the increased migrations has resulted in uncontrolled growth of the residential apartments.
Structural adhesives find extensive usage in construction applications such as window panels, roofing, and wall coverings. Along with this, the product is a bonding material for diverse home and office furniture. Changing consumer lifestyle with changing trends in interior designing and furniture designs are very likely to boost product demand over the years ahead.
Asia Pacific is anticipated to account for a substantial market share due to rapid urbanization and industrial development. Rapidly growing population and increased spending power will augment the investment in construction sector across APAC. The growing demand for structural adhesives from the construction and furniture industries across the countries comprising China and India will positively impact market growth.
Structural adhesives are engineered for strength, design innovation, and multi-material bonding. The product enables creation of robust and lightweight structures, without disturbing the aesthetics of the bonded materials. Hence, the chemical finds extensive applicability across some of the prominent applications sectors comprising automotive, construction, furniture, aerospace, and marine, which will drive structural adhesives industry size throughout the forecast period.
A research report by Global Market Insights, Inc, predicts that structural adhesives market size will surpass revenue collection of $7bn by 2024.
Author Name : Amol Kothekar