Structured Cabling Market
Propelled by extensive proliferation of digitization, the structured cabling market is slated to establish itself as an extremely lucrative investment ground in the forthcoming years. A number of legacy facilities are finding it difficult to maintain the order & ease with which a cabling infrastructure can be accessed. However, the extensively used cable management solutions & products in structured cabling can be installed with relative ease & can facilitate modular and simple designs, providing these legacy facilities with an ideal solution for the challenges they face, thereby driving the structured cabling market landscape.
U.S. structured cabling market, by application, 2018 & 2025 (USD Million)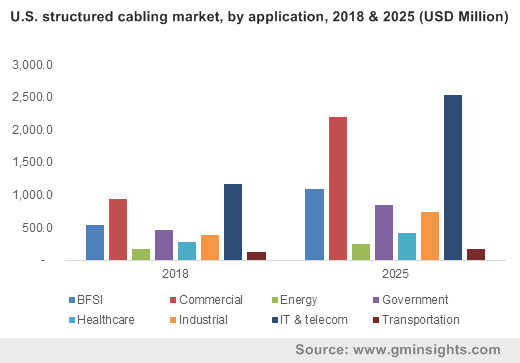 Apart from industrial applications, structured cabling is also finding deployment in modern residential & commercial construction projects. One of the latest avenues of growth for the market is the rapidly developing smart building & intelligent lighting industry, fraught with LED lights, integrated with sensors & controls that perform a number of different tasks, ranging from motion sensitive lighting and controlling brightness & color through the smartphone to managing ventilation according to the number of individuals in a room.
Global structured cabling market | Impact of the growing data center demands from businesses
The increasing adoption of several digital services as well as the growing population of internet users has been augmenting data center demands across the world, which is in turn fueling structured cabling market growth. The world is becoming increasingly more digital & connected – indeed, according to a Cisco Visual Networking Index, the annual IP traffic across the world would be reaching the 3.3 zettabytes (ZB) mark by year 2021 and would be increasing more than threefold over the coming five years, driving extensive demand for data centers.
Structured cabling systems are a crucial part of data centers as they facilitate faster data-transfer rates and ensure effective connectivity of the different IT devices in the facility, thus lessening the chances of system failure & downtime, which significantly improve the effectiveness of a business' decision-making process, helping it maximize its profits.
Get a Sample Copy of this Report@ https://www.gminsights.com/request-sample/detail/3125
Moreover, increasing high-speed connectivity demands of data center & device convergence would also be responsible for driving the market's growth. The industry is witnessing an increasing rate of adoption of coaxial & fiber optic cables to quench the high-speed connectivity demands. These cables boast of a significantly greater level of bandwidth & can transfer much larger amounts of data per unit of time in comparison to conventional metal cables, making them a must-have for modern networks and thereby driving structured cabling market further.
Global structured cabling market | Impact of the IT & Telecom sector's growing dependence on structured cabling
With increasing demand for faster connectivity & higher bandwidth, network designers are of the opinion that the fiber-optic structured cabling segment would be establishing itself as a backbone for the global telecom industry infrastructure. The modern technology-driven world has been changing the operating demands of almost all of the industrial sectors. Moreover, with the rapid evolution of smart devices such as tablets, smartphones & smart watches, that consume voice & data services on a regular basis, the integration of IT & telecommunication is getting rather advanced. This amalgamation is expected to drive more standardization in the two industries during the implementation of advanced technologies & infrastructures that enhance the voice & data services. This has put an increased amount of pressure on telecom companies to facilitate uninterrupted & better services to their customers.
The fiber-optic structured cabling solution is being termed an ideal way with which the industry can fulfil its connectivity requirements as they provide an optimal environment that can transmit voice & data at extremely high speeds. Moreover, as data centers are telecom operators' foundation in present scenario, the upgradation of these facilities to enhance user experience would also be driving the structured cabling industry size from the IT & telecom sector.
Furthermore, according to a 2018 report by TeleAnalysis, adapting to changing circumstances, more than 60% of the world's telecommunication network facilities are projected to become data centers over forthcoming years, enabling the structured cabling market to depict sizable growth from the IT & telecom applications.
Owing to the presence of a connectivity-driven foreground, the global structured cabling market would be drawing in significant growth over the years to come. In fact, according to a research report by Global Market Insights, Inc., the overall structured cabling market size would be exceeding a valuation of $25 billion by 2025.
Author Name : Akshay Kedari