Substrate
In the face of digital revolution, the global powder coatings market is unsurprisingly making an effort to keep up with the drastic changes being brought in by Industry 4.0 on a number of fronts. This includes incorporating better material handling techniques, automation controls linking machines together, allowing for better management of powder coating while spraying, and the launch of new products equipped with precision technologies.
North America Powder Coatings Market, By Application, 2017 & 2024, (USD Million)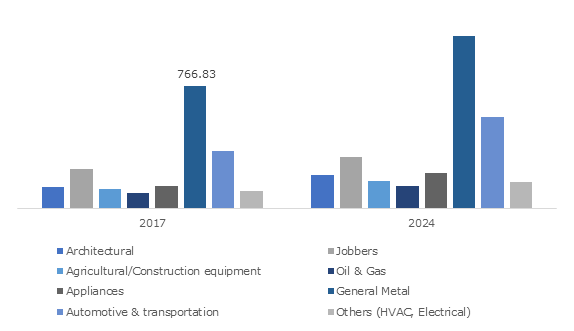 An exceptional instance of technological advancement pushing the limits of product development is of the new Encore manual powder coating spray gun range introduced by Nordson Industrial Coating Systems. Named Encore nLighten LED Kit, the new product illuminates the surface being coated, for easy inspection and precise powder application. An all-in-one inspection and application tool, the new spray leaves no margin for error and reduces the need for post-coating quality checks.
Speaking along similar lines, technological progression has resulted in excellent performance upgradation of numerous products being launched by leading powder coating manufacturers. AkzoNobel, for instance, has recently introduced a highly durable and sustainable range of coatings Collection Futura 2018-2021 under its Interpon powder coatings brand. Updated every four years, the new product range is created on globally-identified shifts for 2018-2021: Glam City, Time Out, Treasured Light and Wild Nature, essentially representing the environmentally viable products being developed by the foremost powder coatings industry players with the integration of technologically superior components.
Get a Sample Copy of this Report @ https://www.gminsights.com/request-sample/detail/379
Significance of the Asia Pacific region and the changing growth narrative: Why are major powder coatings market players building a robust presence in India and China?
Owing to the recent economic trends and the growing dominance of Asian politics, the 21st century is being increasingly projected as the Asian century. Apparently, India and China are termed as the growth engines of the Asian continent as their economy is based on strong fundamentals. Moreover, the estimates recently published by the World Bank corroborate the fact that these two Asian powerhouses are bound to perform well on the economic front in the years ahead despite temporary setbacks.
In this context, it is quite prudent to mention here that business verticals such as automotive & transportation components, electrical appliances, agricultural & construction equipment, and oil & gas are among the many significant industry sectors that contribute immensely toward the growth of Indian and Chinese economies. As per the recent trends, these sectors are set to register impressive growth figures in the times to come. Notably, these business verticals are also the major applications/end-users of the global powder coatings industry, which explains the resolve of prominent manufacturers to establish a strong base in India and China.
Enumerated below is a brief snapshot of initiatives being undertaken by well-known powder coating manufacturers that are reaching out to the emerging economies of Asia, especially tapping into the opportunities opened up across India and China:
AkzoNobel
In a bid to strengthen its manufacturing footprint and complement its existing production facilities in India, this Dutch paints and performance coatings giant recently inaugurated a new €9 million powder coating facility in Thane, Mumbai. Dedicated to manufacturing bonded metallic and functional powder coatings, the new facility is set to boost AkzoNobel's access to markets located in western and northern parts of India.
After opening an €11 million powder coatings facility in western China, AkzoNobel commenced production at its recently built largest powder coatings plant in Changzhou. To assure the plant's sustainable operation, the company would enable 100% recycling of waste water and zero emission. In addition to this, the new facility would become one of the few metal powder coatings manufacturing plant of the company in China.
Axalta
After setting up a high-grade technology center at Savli, Gujarat in 2016, this U.S.-based powder coating firm has recently built a new manufacturing facility at the same location. Over the past few years, Axalta has been gradually consolidating its presence in India with the help of massive investments and refurbishment of its training centers to deliver comprehensive coating solutions for the burgeoning automotive market and other industry sectors of the nation.
Arkema
In 2016, this French specialty chemicals and advanced materials firm announced that it would construct a new polyester powder coating resin production facility in Navi Mumbai, India – the first of its kind in the country. Representing an investment of about $US 15 million, the new facility would also include a dedicated laboratory to provide technical support and application development to the rapidly expanding powder coatings industry in India. Being built on its existing resin platform, the new facility would manufacture a low-VOC coating resins portfolio.
Considering the long-term implications of the aforementioned expansion bids by some of the prominent powder coating manufacturers, the Asia Pacific region, especially developing economies like India and China, are certain to fuel the growth prospects of powder coatings market. In fact, as per a research report of Global Market Insights, Inc., the Asia Pacific terrain recorded more than 40% of the total revenue share of the overall powder coatings industry in 2017 and is slated to maintain the growth momentum in the years ahead.
Author Name : Saif Ali Bepari
This entry was posted in Bulk & Specialty Chemicals and tagged Agriculture Equipment, Appliances, Architectural, Automotive & Transportation Components, Construction equipment, Europe Powder Coatings Market, Fusion Bonded Epoxy, General Metal, Global Powder Coatings Market, Jobbers, Metallic, Non Metallic, Oil & Gas, Powder Coating Manufacturers, Powder Coating Market Revenue, Powder Coatings Market, Powder Coatings Market Size, Resin, Substrate, Thermoplastic, Thermoset, World Powder Coating Market.