Sulfone polymers market share
Sulfone polymers market size has been forecast to be fueled by the product's diverse utilization range in various end-use domains, mainly because of the combination of its characteristics that make it highly heat resistant, mechanically tough, resilient to hydrolysis and transparent in high temperatures. Sulfone polymers find widespread usage across the automotive and aerospace industries, that require the application of thermally stable and light weight but tough plastic components. The growth of sulfone polymers industry can also be attributed to the product's demand from the medical sector, owing to the fact that various polymers including polysulfone (PSU) and polyphenylsulphone (PPSU) have found varied usage in healthcare. It is noteworthy to mention that polyethersulfone (PESU) has contributed greatly to the growth of the sulfone polymers market in the pharmaceutical and biotechnology sectors, as it is a basic ingredient for filtration membranes.
Europe Sulfone Polymers Market Size, 2013 – 2024 (USD Million)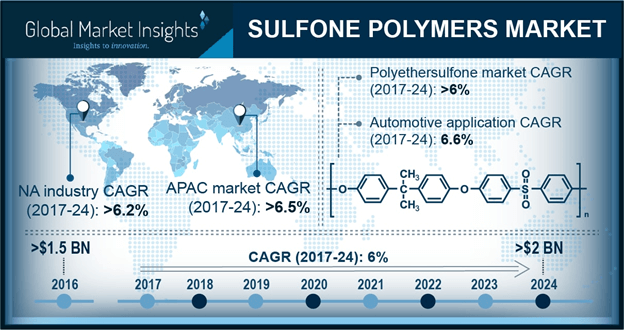 The aerospace and automotive sectors, in recent times, have been moving away from using metals and leaning towards using engineering plastics to reduce weight and increase the fuel efficiency of aircrafts and vehicles. Sulfone polymers are widely used in these industries to manufacture vehicle and aircraft components that are highly creep resistant, register low mold shrinkage and remain stable at high temperatures. Automotive industry has a considerably huge share in the sulfone polymers market registering a CAGR close to 6% over 2017-2024. The application of sulfone polymers in aerospace industry has also been on a rise, as the demand for light but highly heat resistant material used to manufacture aircraft radomes, connectors and terminal blocks has been increasing lately. In consequence, this would have a commendable impact on sulfone polymers market share from the aerospace sector.
Get a Sample Copy of this Report:@ https://www.gminsights.com/request-sample/detail/1468
The field of medicine has been revolutionized by the use of engineering plastics, making patients' lives safer and bringing about a dynamic change in the development of innovative medical devices, which in the years ahead, will commendably influence sulfone polymers industry share. In terms of volume, the medical field has made rather appreciable contributions toward the growth of sulfone polymers market, as plastics made of sulfone polymer have helped reduce medical costs, simplified pain management and prevented infections.
Among various sulfone polymers, polyethersulfone (PESU) has been forecast to register the fastest growth in sulfone polymers industry, given its numerous applications across myriad verticals. Polyethersulfone has gained popularity in sulfone polymers market for its specific features such as light weight, low smoke emission and high impact resistance. When reinforced with glass fiber, it creates a composite that exhibits high tensile elasticity and strength, while otherwise, the product is also used to manufacture filtration membranes that can be used to remove salmonella, mycoplasma and mammalian cells from liquids. Its widespread application spectrum has thus led analysts to forecast that polyethersulfone-based sulfone polymers industry share will register a CAGR of 6% over 2017-2024. Sulfone polymers have proven to be the most apt choice for the manufacturing of filtration membranes as they have excellent biocompatibility, outstanding hydrolytic stability and impressive mechanical properties. The deployment of sulfone membranes has found widespread usage in food processing, water treatment and gas separation as well, providing sulfone polymers industry with the much-needed stimulus.
Asia Pacific has been projected to witness the fastest growth in sulfone polymers market over the forthcoming seven years, driven by the growing automotive and aerospace industries in the emerging economies of China and India. The multibillion-dollar sulfone polymers market firm, Solvay has recently invested heavily in India to expand its plant capacity at Panoli.  Solvay alone has projected the increase of its global sulfone polymer production by 35% in the next 5 years, with significant investments in Asia and USA. Speaking of which, North America accounts for a major share in the production of leading medical instruments and automobiles. Driven by the demand for high performance engineering plastic in these industries, North America sulfone polymers market will witness a CAGR of 6.2% over 2017-2024.
Sulfone polymers market has taken a hit in the food and medical industry, as these products are derived from a combination of Bisphenol A (BPA) and disphenol. Scientific studies have shown that consumption of BPA has been deemed harmful to human lives and the environment. Therefore, some countries around the world have banned the use of polycarbonates in baby bottles. However, the FDA, CDC and WHO have all confirmed that low levels of BPA contamination is inconsequential to the human body, which may contribute toward eliminating some of the restraints in sulfone polymers market. The concern about BPA may affect consumer opinion about the presence of sulfone polymers in food containers and can liners. However, sulfone polymers market as an entity will remain unaffected and will continue to grow despite government regulations, as chemically stable and light weight engineering plastics obtained from sulfone polymers have been used to great advantage in the aerospace, medical, biotechnical and automotive industries.
Author Name : Paroma Bhattacharya