Supply Chain Management
The surging adoption of advanced technologies along with rising globalization trend will propel the process orchestration market growth in the years to come. Businesses nowadays are primarily focusing on reducing production cost, improving operational functioning, gaining enhanced competitive skills and delivering improved customer satisfaction to clients, functions that can be fulfilled by means of adopting process orchestration. The technology effectively helps design, implement, integrate and monitor customer process applications and integration scenarios more quickly and flexibly, helping businesses innovate faster and respond to changing business demands more efficiently.
Latin America Process Orchestration Market Revenue, By Professional Service, 2018 & 2025 (USD Million)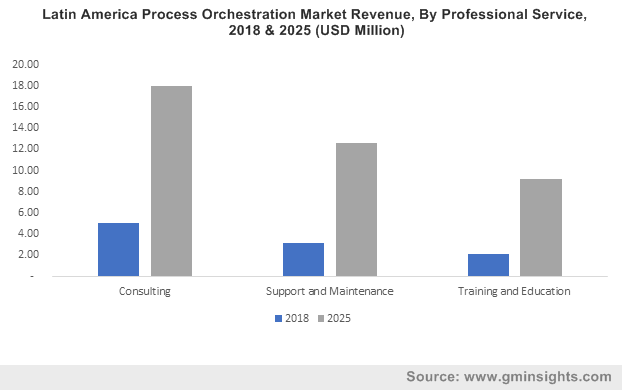 Speculating the technique's profound benefits, companies are now investing in developing innovative solutions for transforming their businesses and to deliver unique customer satisfaction. For instance, in 2018, around 55% of the start-ups adopted digital business strategy, while around 85% intend to invest in digital transformation in the future. Moreover, major sectors include energy & utilities, retail, manufacturing, healthcare, IT & telecom are also adopting process orchestration solutions for improving business efficiency, that would quite overtly expedite the industry growth over 2019-2025.
With the increasing adoption of advanced technologies such as AI and machine learning, the demand for process orchestration solutions to efficiently manage, integrate, and optimize computer systems and cloud architectures to further help serve and retain customers has only been surging. The deployment of the cloud has also been of concern to numerous businesses as their data and information is located in off-premises servers, making the adoption of process orchestration vital for managing cloud-based application and services.
Get a Sample Copy of this Report @ https://www.gminsights.com/request-sample/detail/3143
Speaking along similar lines, it is prudent to mention that the process orchestration market has been depicting quite some growth from the deployment of the cloud. Cloud-based process orchestration services help in simplifying deployment and centralizing automation processes, making it easier for expanding and transforming processes at a lower cost and at a faster speed. Given the cloud's off-premise feature, orchestration brings dependency management, high availability, failure recovery, scaling and numerous other tasks and attributes all into a single process, significantly reducing staff effort. The rapid growth and adoption of cloud solutions across SMEs are thus contributing majorly to the expansion of cloud-based process orchestration industry.
Enumerating the application landscape of the process orchestration market, the retail & consumer goods sector is anticipated to emerge as a pivotal avenue for this industry. With increasing market competition and rapidly evolving consumer needs, it has become vital for the retail sector to improve its service offerings. Process orchestration solutions will enable such businesses to transform their operations and enhance customer reach, and will also help in automating manual processes, minimizing operating costs, improving customer shopping experience and identifying new revenue streams in the highly competitive sector. This in consequence would majorly accelerate process orchestration market share from retail & consumer goods applications, slated to depict a CAGR of 14% over 2019-2025.
Speaking of the regional terrain, it comes as no surprise that the Asia Pacific region is primed to evolve as a highly competitive ground in the years to come. The key factors contributing to market demand across the continent include rapid globalization, increasing demand for industrial automation and strategic government initiatives targeted towards the manufacturing sector. The growing awareness regarding process orchestration benefits, such as the elimination of process redundancy and enhanced business planning, will act as a driving factor for APAC process orchestration industry. Powered by the increasing use of IT infrastructure and resources to gain cost optimization, APAC process orchestration industry share will register the fastest growth rate of 18% over 2019-2025.
Proliferation in the retail sector coupled with the integration of advanced technologies, such as AI and machine learning will contribute to the growing adoption of process orchestration. Businesses are continuously launching newer products in the market to meet the growing customer requirements, further driving market growth. The growing demand for cloud technologies is also contributing to the process orchestration industry growth. According to Global Market Insights, Inc., the process orchestration market size will exceed $9 billion by 2025.
Author Name : Mateen Dalal
Endorsed with a rich portfolio of digitally empowered consumers, artificial intelligence in retail market has been acclaimed as one of the most progressive verticals in the recent years. In the year 2017, this business space registered a global share of USD 650 million and is forecast to record a CAGR of 40% over 2018-2024, which is indeed humongous. With retail space becoming affluent with more number of e-commerce platforms as well as startups with huge technology appetite, the adoption of AI in retail market is bound to proliferate. Add to it, the technology is witnessing a slew of opportunities in sync with the hi-tech trends including the like of blockchain, AR, and Internet of Things establishing its footprints in the retail domain. Amidst all these tech interventions, the focal point of this consumer-driven industry remains delivering unrivaled shopping experience to the customers as well as ensuring optimal management of resources and stocks.
U.S. Artificial Intelligence (AI) in Retail Market Share, By Technology, 2017 (USD Million)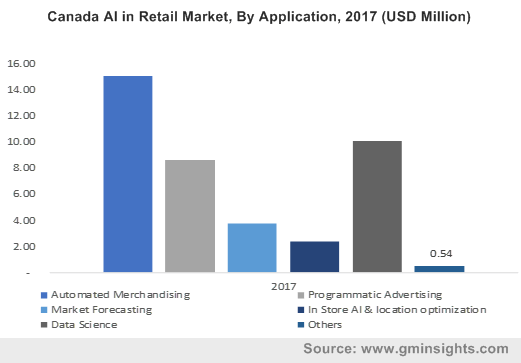 One of the classic examples of leveraging the AI technology is of Baidu, China's renowned artificial intelligence market player. The company grabbed the headlines with its attempt to promote its AI technology in aiding convenience stores manage their food stock more efficiently and resourcefully. For the record, the search engine giant has been supporting Ping++, an AI service provider since September 2017 to work with Today, convenience store chain with regard to a fresh food project. Under the terms, the company utilizes PaddlePaddle, a deep learning platform by Baidu along with its CTR model. Reportedly, the implementation of these technologies had a positive impact on the sales, post which Baidu introduced this model to dozens of stores for testing. In testing stores, the profits surged by 20% and food waste dropped by 30%. The instance vividly portrays the huge scope of artificial intelligence in retail industry. Since the past two years Baidu has invested over USD 1.5 billion in AI research in addition to its investment of USD 200 million for the development of a new R&D facility.
In fact, the Chinese market having the three most powerful names of the retail and tech space – Alibaba, Baidu, and Tencent (collectively touted as BAT), is betting big in the global AI in retail industry space. The three giants which are claimed to have a cut throat competition with the U.S. in terms of resources and capital are positioning themselves to become the 'future AI platforms'. The trio is also expanding in other Asian countries and investing heavily in U.S. based AI startups to leverage the power of AI. Backed by such powerful initiatives and presence of these conglomerates, APAC AI in retail market is forecast to be the fastest growing region, with an anticipated CAGR of 45% over 2018-2024.
Get a Sample Copy of this Report @ https://www.gminsights.com/request-sample/detail/2568
Further elaborating on the geographical trends, North America having procured more than 50% of the global share in 2017, has been leading the regional landscape of AI in retail market. U.S. has a major credit in the phenomenal regional trends with over 65% of investments (including M&As, private equity, and venture capital) in artificial intelligence technology. Add to it, the region is a major hub for startups in tandem with the presence of tech titans such as Google, IBM, and Microsoft.
Analyzing the aforementioned trends and the penetration of AI in retail industry, it is overt that the traditional retail model is bound to witness a disruption of sorts. The technology penetration will reshape the entire inventory management and operation cycle of the retail stores, thus providing a renewed shopping experience to the customers. Not only the efficiency and sales of the retail space will see an upsurge but through the proliferation of AI in retail market, the worldwide economy will progress massively, opening doors for several hi-tech startups and a plethora of new job opportunities. In terms of profitability scope, the overall AI in retail industry share is anticipated to surpass USD 8 billion by 2024, with untapped economies gaining major traction in terms of investment.
Author Name : Ojaswita Kutepatil
The deployment of IoT in retail market has indeed given rise to a more convenient, smart, and tremendously efficient experience for retailers and consumers. With connected solutions transforming the retail sphere, companies offering IoT and retail solutions have been partnering to provide an all-round, reliable, connected experience to global retail consumers. Demonstrating an instance of this fact, Fujitsu has scarcely collaborated with Arkessa to deploy connected retail and IoT solutions to customers. Through this partnership, Arkessa, a global M2M managed services provider specializing in easing IoT connectivity, plans to enable its ICT solutions for retail, thereby helping Fujitsu's retailers deliver a first-class consumer experience. The partnership is one of the many alliances that underlines the extensive developments prevalent in IoT in retail market, which, as per analysts, generated a valuation of close to USD 9 billion in 2016.
IoT in retail market, by application, 2016 & 2024 (USD Billion)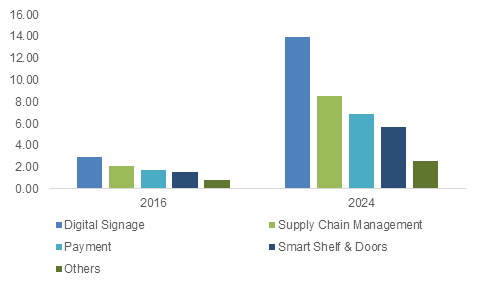 As per a recent research study, the Internet of Things is one of the most paramount trends emerging in the retail space. The scope of IoT in retail industry travels beyond the frontiers of modest customer satisfaction and retailer convenience, as it provides consumers with high-grade browsing service, digitized real-time coupons & offers, and an overall, sophisticated, connected shopping experience. Additionally, retailers are rewarded with smart store operations, smart pricing strategies, and smart inventory management, which enables further deployment of smart solutions in store, thereby fueling IoT in retail market share.
Get a Sample Copy of this Report@ https://www.gminsights.com/request-sample/detail/1591
An insight into some of the most innovative developments witnessed by IoT in retail industry in 2017:
In the middle of September 2017, an LA-based IoT technology provider, Mojix, announced a merger with CXignited, a European IoT firm, with an intent to create a global connected solution providing platform that would help retailers and brand owners boost their consumer experiences and automate their inventory management procedures. The joint entity is slated to be operating under the individual brand names, and is certain to have a considerable impact on IoT in retail market share.
Merely a few days post the Mojix-CXignited JV was announced, the renowned France-based fashion retail giant, Kiabi, declared the onset of a technology alliance with one of the world's most trusted and reliable IoT device management solution providers, Soti. Kiabi's intent behind the supposed runway ready collaboration was to exploit Soti's integrated mobility platform for its stock transfers, delivery processing, and inventory control. The retailer's alliance with Soti is remnant of how robustly IoT in retail industry has been making rapid inroads onto the path of success.
The onset of October witnessed IBM's cognitive AI platform, Watson, helping Indian retailers to decode consumer behavior and reach out to the most appropriate target audience. IBM thus, directs Watson to analyze data collected via IoT sensors, and collect insights for forecasting and upgrading the performance of machines and components to deliver tailor-made solutions to clients. IBM's move to exploit IoT for the Indian retail space is one of the most dynamic instances depicting the vast expanse of IoT in retail market.
Accurately defined as one of the top retail technology trends to look out for, the Internet of Things has been drastically disrupting the traditional retail business model, which has had a commendable impact on IoT in retail industry. Traditional retailers, in a bid to attract consumers and consolidate their stance, would have to live up to numerous challenges, in response to which they would need to keep abreast of the latest technologies influencing the retail sphere. This would subsequently have a massive impact on IoT in retail market outlook, given that retailers would desperately sign up to exploit connected solutions for their brick-and-mortar stores. In effect, retailers have been looking forward to outwitting their rivals when it comes to offering the choicest, most unique, comfortable, and tech-savvy retail experience for customers, which would single them out in IoT in retail market. Analyzing the depth to which IoT is being leveraged by retailers, it can be aptly presumed that IoT in retail industry would traverse a rather successful path over the forthcoming seven years.
Author Name : Saipriya Iyer