Supply Chain
The revenue graph of blockchain in energy market is poised to depict exponential growth as the need to develop & deploy new efficient ways of generating & delivering electricity, under the Paris Agreement, intensifies. According to the International Finance Corporation, the Paris Agreement aimed to tackle climate change by generating energy through reliable, clean energy sources. However, countering climate change by completely overhauling the way energy is generated would require emerging markets to mobilize trillions of dollars through different sources.
Germany Blockchain in Energy Market Size, By Power Application, 2018 & 2025 (USD Million)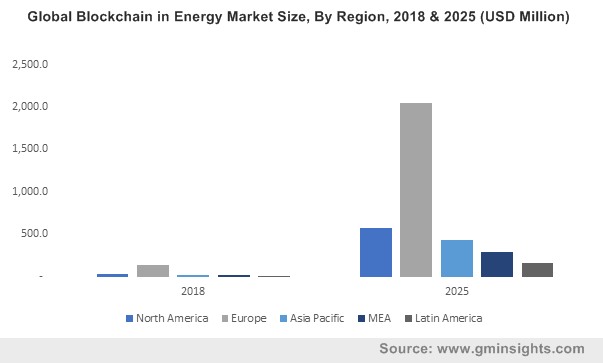 Moreover, the agreement also requires power generation to be more flexible, distributed and through resources that could be managed through bi-directional communication, allowing investors to easily evaluate & track the impact of their investments. To achieve this mammoth task, investors, policy makers & regulators are likely to utilize blockchain technology, combining it with the Internet of Things (IoT), smart devices and big data. In a nutshell, this requirement would majorly help augment the deployment of blockchain in energy industry.
The advancements in blockchain technology have made it a critical 'trustless' component in big data and smart IoT-based devices, making it capable of unlocking the new business models that are extremely necessary for the proposed transformation of the energy sector.
According to the World Energy Council, in 2017 a sum ranging between $100-300 million was invested in more than 100 blockchain applications related to the energy sector. Considering its key role in shaping an energy-efficient future, the implementation of blockchain in energy market is expected to increase extensively in the forthcoming years.
Get a Sample Copy of this Report @ https://www.gminsights.com/request-sample/detail/3223
Impact of blockchain technology on the renewable energy sector
The Challenge: One of the key demands put forward by the Paris Agreement was decentralization of the energy generation system. However, increasing installation of small renewable energy systems, such as rooftop solar, could exert a lot of stress on traditional electricity grids, which were specifically designed with large, centralized energy generation facilities in mind.
The Solution: The blockchain technology's ability to enable peer-to-peer energy transactions is expected to be a viable solution to this problem as it could effectively stabilize the grid by enabling peer-to-peer energy trading and by incentivizing local consumption during the time of production.
The Potential: According to the United Nations, several nations across the globe are rapidly boosting their share of wind power & solar photovoltaics. Indeed, renewable energy is slated to account for 40% of the world's energy production by 2040.
The blockchain in energy market is thus projected to accrue substantial gains in the years to come, propelled by the explosive growth of renewables sector.
Impact of blockchain technology on the conventional energy sector
While clean energy is gearing up to represent a majority of the world's energy production in the coming years, the sector would still require the support of the conventional energy industry to be able to meet consumer demands. Although it would be playing a supportive role, the conventional energy sector would still need to keep its carbon emissions in check. To adhere to the carbon emission rules, natural gas is becoming the fuel of choice.
The Drivers: According to the Union of Concerned Scientists, this paradigm shift to natural gas can be credited to the fact that it emits approximately 50% to 60% less CO2, when it is burned in a new & efficient natural gas power facility, compared to the emissions from a typical coal-fired plant.
The Numbers: According to the International Energy Agency, natural gas accounts for 22% of the energy utilized across the world and also makes up approximately a quarter of electricity generation. Moreover, natural gas is also projected to overtake coal as the world's second largest energy source by 2030.
The Potential: The oil & gas sector, in recent times, is transforming into a data-intensive industry. According to the Society of Petroleum Engineers, the industry is increasingly incorporating machine learning, artificial intelligence & IoT into its operations.
With such depicted levels of growth, the industry is also scaling up the adoption of blockchain technology, carrying its transformation a notch further. Not to mention, lesser overhead costs, lowered cash cycle times, and fewer cost intermediaries will also help propel the blockchain in energy industry from O&G applications.
Propelled by the expanding renewable and natural gas sectors, the blockchain in energy market is slated to record substantial growth in upcoming years. According to Global Market Insights, Inc., blockchain in energy market size is estimated to cross the $3 billion renumeration mark by 2025.
Author Name : Akshay Kedari
One of the latest trends proliferating retail analytics market is that of multiple operational channels. Or, as the experts say so – omni-channels. The technique has brought about a modest amount of consolidation in retail analytics industry, surreptitiously eliminating supply chain chaos and location glitches. While global markets have been attempting to emulate high-grade technology and big data analytics, the retail sector has quietly been engaging with omni-channels to entice more customers, keep them continually engaged, draw data from a stream of sources, and bring about extensive social engagement to trigger a better understanding among consumers regarding the distribution chain. This initiative fosters the deployment of efficient analytics, which will ultimately usher in a new dawn for retail analytics market. The extensive reach of the retail business, in conjunction with the steadfastly developing e-commerce sector, is also certain to act as a catalyst to Retail Analytics Market, which, as per experts, is forecast to cross a valuation of USD 13 billion by 2024.
U.S. Retail Analytics Market Size, By Function, 2016 & 2024 ($Mn)

Retail analytics is essentially the process of delivering critical insights about a myriad range of retail verticals such as supply chain models, distribution chain, inventory levels, sales, and consumer demand, that form the crux of making crucial decisions, In a nutshell, retail analytics industry encompasses an enormous scope, given the fact that the deployment of data analytics in the retail market gives companies an inherent overview of business, processes, and customer insights, thereby opening up the channels for improvement and progress.  IBM's recent partnership with SAP for jointly developing data solutions for the retail sphere is an instance of how companies have been forging partnerships to lead retail analytics market on the path of progress.
Top trends underlining retail analytics market:
Cross-platform analytics
With the retail space spread across numerous distribution channels, the onus is on big data analytics solutions to track data as minutely as possible. Consumers may use one or more channels to view a product and make an informed choice. Analytic solutions need to able to penetrate this barrier and unearth the audiences through all these platforms in order that retail giants are able to provide a seamless shopping experience.
The extensive demand for real-time data to be communicated across the value chain – sales staff, consumers, distributors, and the like will thus, prompt retail analytics market players to come up with a range of effective solutions. Lately, the proliferation of technology has led to the massive deployment of both on-premise and cloud-based solutions, which will eventually result in the development of retail analytics market.
Get a Sample Copy of this Report@ https://www.gminsights.com/request-sample/detail/319
The proliferation of IoT
IoT is the latest incantation being followed by major giants partaking in retail analytics industry share. With the retail sector, consumer is king, and high-grade consumer experience can only be obtained via the deployment of IoT and augmented reality. The former in fact, is nearly on the verge of encapsulating retail analytics market. If estimates are to be believed, retailers may spend more than USD 2 billion on IoT-enabled devices by 2020. Furthermore, more than 65% retailers will depict an earnestness to integrate connected devices in their business models – a fact which may transform the face of retail analytics market.
The deployment of IoT has a plethora of benefits to offer, right from efficient data collection, consumer movement monitoring, real-time supply and demand analysis, and so on. Considering the vast expanse of the retail sector and the intense competitive aura that permeates this space, it is certain that the adoption of connected technology will augment retail analytics market.
An inherent shift of dynamics has been observed in the deployment of predictive analytics lately. This type of analytics basically entails guesswork regarding consumer behavior and choices and has proved to be fairly successful in retail analytics industry, in the initial years of inception. With the passage of time however, the need for a more efficient, practiced methodology arose in retail analytics market, which resulted in the genesis of an explanatory business model. This type of analytics gives an extended explanation of data – inventory requirement, store requirements, consumer demand, and product trends -in other words, this type of analytics identifies trends that may have a sizable impact, which is a godsend in retail analytics market.
What can be deduced from this transformative trend is that the retail sector has been on the lookout for novel technologies to forge a connection with consumers. In order to be a part of this ever-changing spectrum, it is essential for retailers to bring about a change in their outlook to create value. This modified school of thought is certain to usher in a unique speculation of sorts for retail analytics market giants, who have been bending over backwards to codify a new set of advanced solutions for the retail sector. Inadvertently, it is expected that their efforts will bear fruit, and retail analytics market will establish new frontiers of growth in the years ahead.
Author Name : Saipriya Iyer