Support & Maintenance
Growing adoption of mobile banking services driven by rapid digitization trends has fueled digital lending platform market size over the past few years. Consumer inclination towards using digital lenders for automotive loans is growing steadily owing to minimal documentation required, transparent and quick loan processing, as well as lower interest rates compared to conventional lending. Increasing implementation of software solutions among financial institutions to reduce operating costs and deliver services via digital channels is anticipated to bolster product demand worldwide.
South Korea Digital Lending Platform Market Revenue, By Business Model, 2018 & 2025 (USD Million)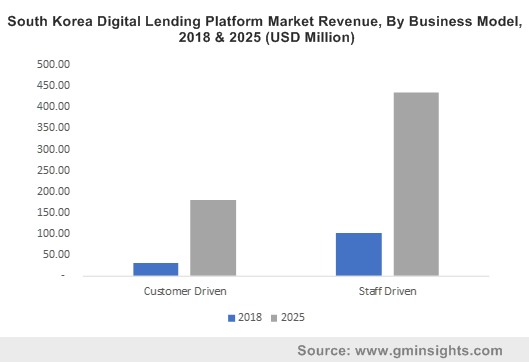 A digital lending platform will essentially reduce operational, business as well as regulatory risks in digital lending organizations with a responsive and configurable approach. Use of digital platforms will cater to the mounting demand among financial organizations for enhanced customer experience while interacting with lenders and borrowers, providing speed and transparency. These platforms also improve loan collection and repayment methods for institutions with efficient real-time loan approval, processing and disbursal, which will augment digital lending platform industry share over the forecast period.
Studies have estimated that 53% of adults worldwide will be using smartphones, PCs, tablets or smartwatches to avail financial services by 2021. Cloud-based digital lending platforms are already being used by banks and NBFCs to reach customers across the globe, informing them about the status of their loan payments as well as basic account information.
Get a Sample Copy of this Report:@ https://www.gminsights.com/request-sample/detail/3019
A large number of banks are leveraging the opportunity to offer digital lending services for expanding their customer base, impacting product demand. Moreover, expansion of IoT coupled with the cloud computing revolution in digital banking will help meet customer expectations by redefining loan processes, strengthening digital lending platform market outlook.
Technology has been the driving force in business transformation over the years, but the speed at which advanced technologies are being launched has reached an unprecedented level. Increasing digitalization worldwide along with growing adoption of digital platforms for conducting business is anticipated to stimulate digital lending platform industry prospects.
Digital transformation is not solely based on development of new technology, but also an organization's ability to accept transformation at the intersection of business and people. Reportedly, 55% of startups had already switched to digital business strategies in 2018 as opposed to 38% of conventional organizations. This suggests that startups will be accountable for increasing revenue via digital platforms, expanding the scope of digital lending platform market.
Built Technologies, which focuses on taking construction lending into the digital age, had raised close to $21 million in a Series A round in 2017. The company was aimed at using digital transformation to enable lenders to use data for making more informed decisions on their loans while simultaneously providing borrowers a conveniently digital user experience with quicker access to money and propelling projects forward. Rising adoption of digital technology for lending among financial companies for loan repayments is expected to complement digital lending platform industry trends over the forecast timeframe.
Increased utilization of internet services coupled with changing end-user requirements are encouraging financial organizations to shift to digital business models for managing consumer needs on their choice of channel. Advent of advanced technologies such as biometric-based authentication, e-signatures, e-mandates, ML, AI, advanced analytics and blockchain for mitigating fraud and NPAs risk is estimated to bolster digital lending platform market expansion.
Declining costs of internet connectivity and fast-paced advancement in smartphone technology will support the rising digitalization across financial institutions, proving to be crucial factors in pushing the market growth.
Leading market players are relying on strategic alliances through mergers and acquisitions to enhance product offerings and expand their regional presence. Key players comprising digital lending platform space are Built Technologies, Finastra, Finantix, Nucleus Software, Arena Limited and Newgen Software Technologies Limited, among several others. Global digital lending platform market size is projected to surpass USD 17 billion in annual revenues by 2025.
Author Name : Hrishikesh Kadam
The global smart elevator market share is on the rise lately owing to the product's growing adoption in emerging markets like India and China, coupled with growth in the construction and infra sectors worldwide. Smart elevators are estimated to make big strides in the global elevator market owing to the new wave of technology and advancements that are transforming the global landscape.
UK smart elevator market, by application, 2018 & 2025 (USD Million)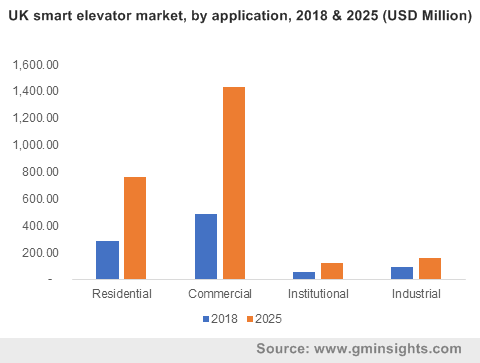 Enumerated below is an insightful summary of the top technological trends which are likely to offer impetus to smart elevators industry share.
1) Internet-connected elevators
The future of elevators is connectivity, which is expected to play a huge role in product demand over the coming years. With several smart elevator manufacturers already considering its implementation, it won't take long for internet-connected smart elevators to become common. A smart elevator company that is currently exploring this possibility is Otis Elevators. The company has initiated development of smart elevators that are capable of communicating with passengers, service staff, building managers, and others for enhancing performance and passenger experience.
Otis is also looking to develop technologies that can enable passengers to summon elevators through their phone. The implementation of connectivity and smart features is a major ongoing trend which is estimated to overcome problems concerned with efficiency, repair schedules, as well as waiting and traveling time. The burgeoning demand for the integration of such technologies within residential and commercial spaces will pump up smart elevator market share in the ensuing years.
2) IoT driven elevators technology
Technologies like IoT are reshaping the surroundings and helping countless businesses perform better. Smart elevators companies have also started recognizing the potential of these disruptive technologies and are beginning to embrace them. A smart elevator market analysis reveals that IoT seems to have majorly influenced the industry dynamics lately. Case in point, smart elevator company Schindler recently entered a partnership with Spanish telecom giant Telefónica to enhance its cloud-based digital offerings with Telefónica's IoT connectivity services.
Such provisions will offer greater convenience, interactivity, and personalized services to smart elevator passengers. Also, the extraordinary pace at which high-rise buildings are mushrooming across the globe offers numerous growth opportunities to the technology providers in the IoT domain. The surging adoption of IoT in smart construction and connected buildings will fuel the smart elevator market share over the forthcoming years.
Get a Sample Copy of this Report:@ https://www.gminsights.com/request-sample/detail/1593
3) Multi-directional elevators
With rapid urbanization, the population in cities will continue to rise, generating a high demand for residential establishments, which can be sufficed by building more high-rise and economical buildings. While the conventional elevator technology obstructs this possibility, the implementation of rope-free and multidirectional elevators seems a viable option.
German elevators giant Thyssenkrupp's latest innovation Multi is a ropeless multidirectional elevator, which can move up and down a shaft as well as move horizontally. The technology is estimated to bring considerable change to the elevator industry owing to its numerous benefits including more space, less wait time, and fewer restrictions due to elevator shaft height. Successful implementation of this technology could offer new opportunities for the smart elevators industry in the future.
4) Maintenance using augmented reality
Regular servicing and maintenance of a residential or commercial elevator system can fix small problems before they get big enough and end up costing a fortune. The elevator technology is evolving rapidly, triggering the next level of technically advanced maintenance technology. An ideal example in this context is of ThyssenKrupp which has equipped repair engineers with HoloLens, Microsoft's augmented reality technology.
HoloLens allows repair engineers to effectively communicate with coworkers back in office, by sharing schematics through the display, for accelerating servicing and repair. Such a technology will create a massive shift in the smart elevators industry, giving builders the confidence to invest in technologically advanced elevators that are compatible with such services and facilitate seamless functioning of a building.
The smart elevators market analysis based on the aforementioned trends sheds light on the possibility that this industry will embrace modernizations owing to constant innovation in information technology and other tech sectors. Numerous other trends in the world of technology and elevators overtly indicate a lucrative phase for the business space.
Furthermore, the construction of technically advanced structures and green buildings would spark a technological revolution, thereby boosting the smart elevator market share in the future. According to a smart elevator industry analysis by Global Market Insights, Inc., this market is anticipated to be worth more than $25 billion by 2025.
Author Name :Krithika Krishnan
In the recent years, smart grid market has earned substantial revenue due to the increasing awareness about the incredible benefits provided by these products. In addition, this vertical has also received quite some impetus on account of the rising requirement of power grids that can accommodate and support increasing numbers of electronic devices in each household. The importance of smart grids has been recently upheld by the city council of Sault Ste. Marie in Canada when a multi-million-dollar implementation of smart grid technology was cleared. Authorities managing the development of the project assured citizens that the upgrading to smart grid will have no financial, reliability or environmental drawbacks. In fact, it would bring about a 11-cent reduction in the monthly energy bills and drastically reduce CO2 emission to 2,804 tons annually within the city.
U.S. Smart Grid Market Size, By Technology, 2017 & 2024 (USD Million)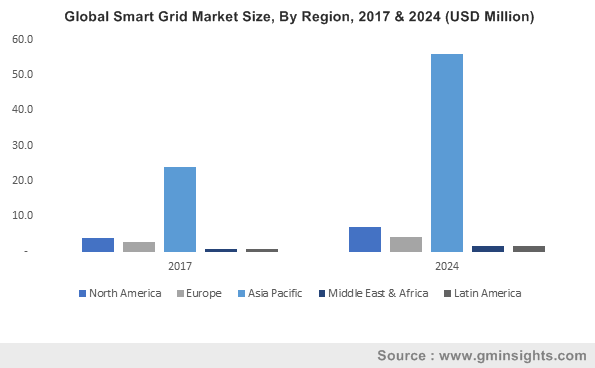 As the disasters caused by rapidly incremental climate change have plagued the news headlines of late, investment in the smart grid industry in the United States has also registered a cumulative upsurge. In 2017, U.S. smart grid market was valued at $3 billion. Recently the Massachusetts Department of Public Utilities issued an approval for significant upgrade in the state's electric grid. The order authorized utility companies of the state to invest $220 million in the modernization of the existent grid. The improvement project, which is expected to improve reliability and efficiency, will require 3 years for the upgrade. Agencies with environmental interest such as Energy and Environmental Affairs of U.S. have acclaimed the order to be a recognition to the role advanced meters and smart grids play to reduce costs, increase energy efficiency and maximize clean energy generation.
The grid modernization investments will automate the process for improved visibility of mechanical equipment, creation of a self-healing grid and automated command and control. These improvements will help reduce power outages and improve the process of storm restoration, as well as enhance the utility companies' ability to integrate distributed energy resources onto the electric grid. The success of the modernization is expected to encourage such investments in other states as well thus contributing to the expansion of the smart grid industry in the United States.
Get a Sample Copy of this Report @ https://www.gminsights.com/request-sample/detail/1365
Similar efforts are also in motion in Europe where the EU is aiming at replacing 80% of the electric meters with smart meters by 2020. In a recent venture, EU and China have released a joint statement with the intention of exchanging potential innovative and legislative solutions to meet the global demand of clean and green energy alternatives. Both China and EU agreed that improvement of energy supply security will enhance energy efficiency, support switching to low carbon energy sources and increase the share of renewable energies. According to findings presented by the European Commission, China and EU consume 22% and 12.5% of the global energy respectively and both are trying to break the dependence on fossil fuel imports. To achieve this goal, increasing the share of renewable energy sources and upgrading the potential of smart grids has been mentioned to be pivotal, pointing towards the increase in investment in the smart grid industry over the coming years. The smart grid market is being predicted to perform well in these regions as EU is currently drafting a 2050 decarbonization strategy and China has committed to bring down its carbon footprint by setting carbon reduction goals and other renewable targets to be met by 2030.
Speaking about China's investment in the smart grid industry it will be prudent to mention that other Asian countries are also recognizing the potential of a smart grids. Indeed, APAC smart grid industry is estimated to grow over 12% over 2018-2024. Citing an instance, the Indian government recently announced that it would develop a smart grid project in the financial and technological hub near New Delhi, Gurugram. The underground smart grid is expected to be completed by 2022, saving 120-150 MW of electricity every day and solving the long-standing issues of power theft and technical faults. A software-based technology will be used to replace manual maintenance in all low-transmission (LT) lines that will be located underground. The underground placement of the lines will potentially curb pilferage and theft that has been impairing power supply by almost 20%. The incidence provides apt evidence that India smart grid market is poised for a bright future.
Smart grids add monitoring, control, analysis and communication capabilities to electrical delivery system while reducing energy consumption. Utilities also benefit from smart grids as it allows them to move electricity around the system more economically and efficiently. Smart grids are also positioned to take advantage of new technologies such as hybrid electric vehicles, smart metering, distribution automation and solar energy. As governments look to optimize the operation of the entire electrical grid, increased smart grid deployment will be witnessed across the globe. As per reliable estimates, smart grid market is anticipated to surpass $70 billion by 2024.
Author Name : Paroma Bhattacharya