Surveillance
Driven by the rapidly surging deployment of IR LEDs across a plethora of application verticals, the global infrared (IR) LED market has emerged one of the most transformative business spheres over the last few years. Companies forming a part of the automotive, consumer electronics, medical equipment, and myriad other industrial sectors are increasingly using IR assisted products. The use of IR LED helps to maintain working stability, accuracy, improve security, and reliability. The emerging technology trends such as automated driving assistance system, IoT, augmented reality, and artificial intelligence have also had a positive influence on the product demand.
Japan infrared LED market size, by application, 2017 & 2024 (USD Million)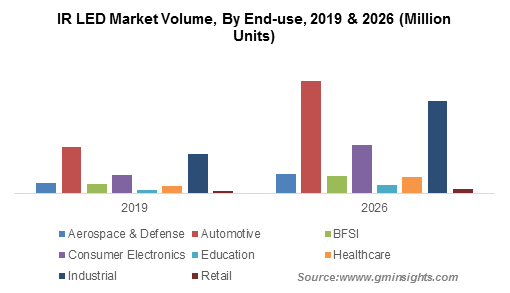 In most of the countries, in order to control the chances of accidents, automakers have been developing connected cars in which IR LEDs have been used prominently. It is thus rather overt that the advent of technically advanced features in every end-use sector will stimulate the infrared (IR) LED industry share. In line with the surging use of sensors in the various products, equipment, and vehicular systems, giants in infrared LED market have been investing in the enhancement of their product ranges.
A summary of the IR LED market trends from the automotive and consumer electronics sectors has been outlined below:
Automotive:
In the last few years, the automotive industry has witnessed a remarkable transformation with the advent of electric vehicles, connected cars, and self-driving cars. In addition, the growing concern among the automakers about the safety of occupants and the driver has encouraged them to bring new sensor assisted technologies such as excellent night vision, parking assistance, and blind spot detection. One of the renowned German automakers, Mercedes has implemented the Night View Assist system in its newly launched vehicle models that have full-LED headlamps incorporated with anti-dazzle infrared technology. The deployment of such IR LED technologies helps drivers bypass animals and pedestrians at night.
In addition, the company has also deployed a thermal imaging and IR camera which could enhance the chances of spotting the objects ahead of the vehicle effectively. The use of IR technologies and innovative features in the recently developed automobiles for improving the safety, driving efficacy, and comfort is poised to propel infrared LED industry share. For the record, in 2017, the automotive sector accounted for 30% share of the infrared LED industry.
Speaking more about innovations, it is prudent to mention that in order to gain competitive benefits, many companies are striving to launch new products in the automotive industry that could have a significant influence on IR LED industry outlook. For instance, recently, in January 2018, the Taiwan based company, Innolux Corporation has launched the first active matrix (AM) based Mini LED technology that has been used in automotive backlight panels. In addition, they are planning to develop a free shaped LCD for improving the appearance and design of future concept vehicles.
Get a Sample Copy of this Report:@ https://www.gminsights.com/request-sample/detail/437
Consumer electronics:
With the deployment of next-generation technologies such as IoT, AR, and AI, consumer electronics sector has emerged as one of the revenue generating business areas lately. In this regard, the giants in the infrared LED market have already increased their focus on research and development activities. Currently the leading smartphone makers and security system providers are innovating a new range of sensor technologies for deploying the same in smartphones and security cameras. As on today, for attracting more customers, smartphone makers are adopting new product designs like the multiple camera setup where they are extensively using sensors and LEDs. Recently, Nokia has unveiled its plan to develop a new smartphone having five rear cameras that could be incorporated with IR focusing apparatus, five lenses, and LED flash.
In another instance, a multinational lighting manufacturer, Osram is planning to invest 1 billion euros to expand an LED chip factory across Malaysia, the products of which will be used in phones, laptops, drones, fitness watches, security cameras, and automobiles. Moreover, Osram has been continuously involved in the invention of infrared LED chip for optimizing the effectiveness of security cameras. The Increasing requirement of CCTV cameras across the Asia Pacific region will further generate lucrative opportunities for the players in the infrared LED industry.
The extensive deployment of technology across the automotive and consumer electronics industries will have a favorable influence on the infrared LED market. The involvement of many industries in digitalization for improving work efficiency, product performance, and consumer comfort also will fuel the product demand over the years ahead. In line with the shifting trends toward digitalization, infrared (IR) LED market will generate a revenue of more than USD 1 billion by the end of 2024.
Author Name :Sunil Hebbalkar
Given the current threats associated with cyber-attacks and potential damages to the aviation industry, airport security market is gaining tremendous traction of late. Of late, the aviation industry has been highly prone to threats relating to terrorism, smuggling activities, and other crimes, a factor that has highly driven the demand for strict security measures in this space. In response to this fact, the airport security technologies that offer enhanced security to the existing surveillance systems and better situational awareness are witnessing increasing adoption in the aviation industry. Furthermore, with the digital and connected solutions transforming the security landscape, companies are launching enhanced security systems to provide advanced surveillance and safety to the airports. Demonstrating a recent instance, Bosch, a leading supplier of security systems launched a Video Management System 7.5 software which has now allowed the security operators to have much faster access to video footage along with seamless management of space. Such product advancement trends are considered one among many factors that is underscoring the extensive developments prevalent in airport security market, which as per analysts generated revenue close to USD 9 billion in 2016.
China airport security market size, by technology, 2016 & 2024 (USD Million)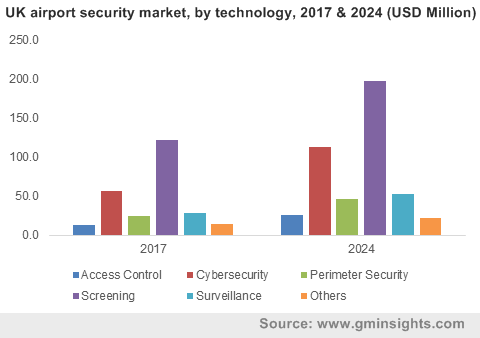 As per the recent research study, increase in the number of travelers and rising globalization trends have been the most pronounced factors contributing to rising growth of airport security industry. Development of new airports, owing to rising airline passenger, traffic has resulted in a tremendous demand for airport security systems. As per the estimates provided by the Centre of Aviation, currently more than 2,500 aviation projects are under operation, with Asia pacific solely spending USD 125 billion on airport construction. Developing economies in the region including India and China are experiencing rapid industrialization trends which have led to a massive increase in passenger traffic. The fad, in turn, has significantly led to rise in the demand for biometrics, full body x-ray scanners and other security technologies & processes at the airports which has fueled the airport security market size.
Get a Sample Copy of this Report @ https://www.gminsights.com/request-sample/detail/367

Speaking of the advanced technologies and product developments pertaining to airport security market landscape, Smiths Detection, a leading airport security industry giant has recently launched the HI-SCAN 6040 CTiX checkpoint scanner. Reportedly, this scanner was developed to deliver higher levels of security, optimize checkpoint performance, and improve the operational efficiency. The new HI-SCAN 6040 CTiX is being incorporated at several airports across Europe, where it has allegedly enhanced security check to the airport baggage system. Other airport security industry giants are offering technologies such as thermal cameras, video analytics systems, motion sensors, and advanced surveillance that can help airport authorities to easily enforce security protocols. Axis Communications, RedXDefense LLC, IBM Corporation, Thales Group, and Siemens AG are some of the prominent names in airport security market that are bringing end-to-end product and solutions, enhancing the product spectrum of the airport security industry.
Considering the geographical aspects of airport security industry, although Asia Pacific is expected to be a major investment hub, experts claim North America to dominate the regional landscape in terms of revenue in the following seven years. Stringent regulatory compliances to reinforce airport security and mitigate terror attacks have been the key factors leading to robust adoption of airport security technologies.
Amidst the perpetually rising terror attacks pertaining to the aviation industry, it is rather overt for the global airport security industry to garner huge proceeds and developments in the coming years. Global Market Insights, Inc., projects the overall airport security market size to register a y-o-y growth rate of 7% over 2017-2024, crossing a valuation of USD 16 billion by 2024.
Author Name : Ojaswita Kutepatil
A slew of advancements in geospatial technology has been instrumental in adding impetus to aerial imaging market lately, to such as extent that government organizations to commercial businesses, have now found ways to utilize the technology to their own advantage. Hurricane Harvey is one of the most iconic examples that demonstrates the progress of aerial imaging industry. The prompt intervention of EagleView Technologies had then restored some relief to the hurricane affected victims, while simultaneously increasing the popularity of aerial imaging.
Aerial Imaging Market Size, By Application, 2017 – 2024 (USD Million)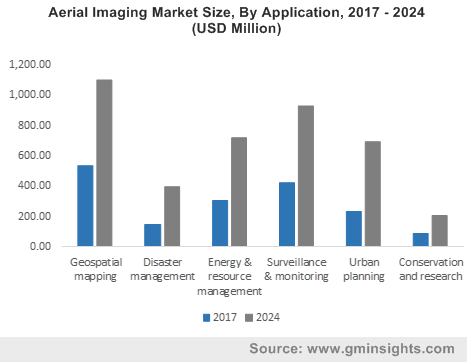 Elaborating further, when Harvey flooded Texas and Louisiana with 27 trillion gallons of water in 2017, it turned out to be one of the most devastating natural disasters in the US history. Besides, it also happened to be one of the most expensive catastrophes which cost approximately $190 billion. Amidst a scenario where thousands of people were displaced from their homes and thousands of others did not know if they had any home left to go back to, the Henrietta based aerial imaging company EagleView Technologies presented a possible means of relief to the victims of the destruction Harvey left in its wake. The company launched a website that depicted aerial views of the streets ravaged by the hurricane. Users could enter a street name and view before and after images to access the extent of damage. EagleView Technologies has so far collected almost 350 million images of over 90% of the most populated areas of the U.S. on behalf of clients which comprise local and state governments as well as insurance companies, that may benefit the hurricane victims.
Get a Sample Copy of this Report @ https://www.gminsights.com/request-sample/detail/105
However, aerial imaging industry is not limited to amassing millions of pictures alone. The vertical is now focusing on collecting images and teaching machines to look at images and generate a report if something of crucial importance is being reflected in those images. For instance, when an electric utility company requires aerial imaging, they do not just want thousands of images of power lines, what they want is to discern which poles are damaged or have broken conductors and need to be repaired. Machine learning facilitates this process by analyzing each image and producing a report for the repair crew with the location of the problem spots. Information collecting companies that are mainstream end-users of aerial imaging market are heavily dependent on this technology to access damage of personal and public property after natural catastrophes. Since it is not possible to send out claim adjustors to every place right after the disaster despite the crucial importance to assess damages as quickly as possible, aerial imaging market has received a considerable boost from the insurance industry.
As such implications clearly point out, disaster survey and management is expected to become one of the most lucrative growth avenues for the aerial imaging industry. In fact, aerial imaging market size from disaster management is expected to register a CAGR of 16% over 2018-2024. Most governments have regulations dictating the pilot of an aerial imaging vehicle to be in the visible range of the vehicle. But as climate change has increased the incidence of natural disasters, such restrictions are being slowly lifted. Advancement of technology is also ensuring that human pilots can be replaced with self-flying drones. This not only decreases the chance of harming human life while they are out in disaster zones but also helps in better assessment as machines can be taught to fly straight and maintain constant altitude. The advent of advanced technology will thus play a pivotal role in aerial imaging market expansion.
Recently Airbus Aerial and DroneBase announced a partnership that will deliver a multi-source data service solution for aerial imaging from a single provider. Such an initiative will enable companies to use a single service provider for all their data and imagery insights. With an international leader and pioneer in aerospace industry like Airbus and DroneBase which has 100,000 commercial missions flown in over 70 countries making a significant investment, other investors are also expected to join in the battle. As the contributions by prominent contenders strengthens the case for this vertical, aerial imaging industry size is expected to cross USD 4 billion by 2024.
Author Name : Paroma Bhattacharya