System on Module Market Trends
Fueled by rapid technological advancements in embedded systems and growing demand for compact, power-efficient products, system on module market outlook has effectively transformed in recent years. Essentially, the product is a fully featured single board computer comprising a single microprocessor, RAM, input-output controller and many other components, and is designed specifically for integration into embedded applications.
Germany system on module market size, by application, 2018 & 2025 (USD Million)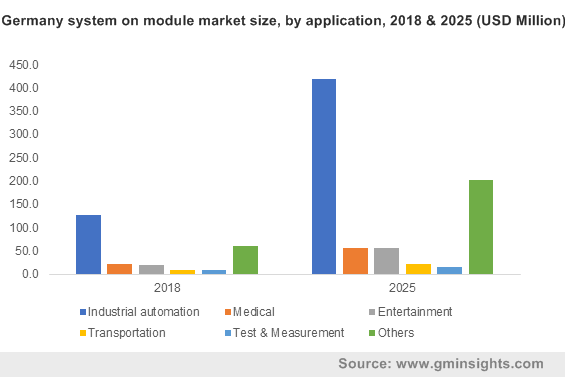 With multiple embedded wireless solutions like 802.11a/b/g/n/ac and Bluetooth, the product can offer cellular connectivity and mobility as well as offer device security for connected IoT applications. With such profound features, manufacturers are increasingly opting for system on modules (SoM) to significantly reduce development efforts and time to market (TTM) by eliminating the challenges associated with designing boards with complex microprocessor, further offering a more reliable and cost-effective embedded platform for building end-products.
Designed by British semiconductor giant ARM Holdings, ARM is one of the major processor architectures used for SoM modules. In an era of proliferating IoT and industrial automation sectors, the processor holds a significant market share and is projected to exhibit high growth rates in the coming years. It offers a wide range of features like low cost compared to other processors in the market, higher battery life, faster operational speed, and compatibility for numerous end-user application.
Get a Sample Copy of this Report:@ https://www.gminsights.com/request-sample/detail/3224
Moreover, rapid technological advancements and growing demands have led manufacturers to develop newer versions of SoM offerings. For instance, in 2018, chip designer Arm unveiled its new Cortex-A76 CPU, claiming it would deliver 35% better performance than its predecessor. Advances such as this will enable development of more power-efficient end-user products, supplementing SoM market size.
Portable medical devices are increasingly gaining traction by improving health care for millions of patients worldwide. With products like blood glucose monitors, heart rate monitors, pain-blocking implants, ingestible gastrointestinal (GI) tract monitors and several other devices, the technology has effectively enhanced patient's quality of living in recent years. Notably, these clinical aids are integrated with miniature SoMs that enable high-level integration of analog components, offering more enhanced capability in smaller spaces.
By using portable medical equipment, patients with chronic diseases can easily and quickly monitor their own vitals and look for abnormalities that can eventually help them call for medical services as well as further help doctors better diagnose their condition and take necessary steps.
In addition to such profound benefits, device manufacturers are also developing more compact, battery-powered products like smart patches, health monitors, and even inhalers that use machine learning technology to effectively allow clinical diagnosis, delivery or monitoring conditions remotely. For instance, Respiro smart inhaler, an Arm-based clinical device, can effectively track and record parameters like inhalation technique & frequency, inhalation flow rate, volume, flow acceleration and inspiration time, allowing doctors to gain a deeper understanding of patient's varied conditions.
Considering the SoMs play a vital role in making these devices functional, a trend of proliferation of such devices will lead to increased system on module industry revenue.
The Europe system on module market trends are garnering traction due to soaring demand for powerful & efficient embedded systems in industrial automation. According to the International Federation of Robotics (IFR) reports, Germany is one of the most automated countries in Europe and ranks third worldwide with 309 units. Further, in 2016, the country's operational stock and annual supply of industrial robots had a share of 41% and 36% respectively. Moreover, between 2018 and 2020, the annual supply in Germany is anticipated to grow by at least 5% on average per year due to the increasing demand for robots in the region's general industry and in its thriving automotive sector.
Escalating demand for automated technologies in operations like assembly, manufacturing, logistics and supply chain support has led to the widespread integration of embedded computing solutions. Additionally, the rising demand for energy-efficient, smart electronic products for automation applications has led to rapid consumption of embedded systems, in turn driving the SoM market trends.
Author Name : Mateen Dalal