Telecommunication)
Rapid industrialization and increased demand for electronic components has propelled the automated optical inspection (AOI) system market expansion, with rise in consumption of automotive and consumer electronics. AOI systems have gained immense momentum for fast and accurate inspection of electronics assembly lines to facilitate the production of only the highest quality PCBs and surface-mount devices. Constant innovations in smartphone technologies and automotive electronics has reinforced the need for lowering time and cost of production, necessitating the involvement of the AOI system industry. Estimated to have recorded earnings of more than US$500 million in 2017, the global AOI system market will experience an accelerated growth rate from augmented industrial automation.
U.S. automated optical inspection (AOI) system market, by end-use, 2017 & 2024 (USD Million)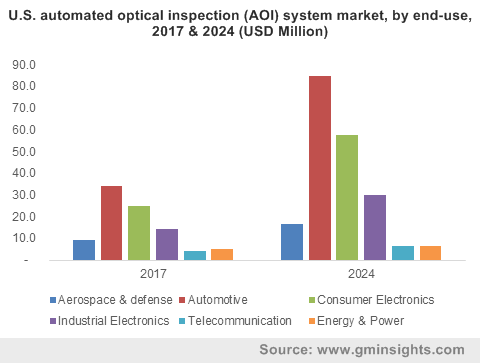 Automation has been a trending process among manufacturers around the world, and more factories are expected to be completely automated in the near future with advancements in communication and robotics. As the field of electronics production get more competitive, achieving the balance between manufacturing speed and quality through automation is considered to be a major factor for success. The AOI system industry is crucial in providing powerful solutions to help manufacturers monitor processes and greatly improve their overall quality. AOI systems can now be integrated with robots, pneumatics and other process components to offer precision quality control.
Increasing focus on consumer protection and the need for reducing the costs involved in 100% inspection process will further bolster the AOI system market. 100% inspection is critical for segments where a human life could be put at risk, for instance medical devices, portable electronics and automobiles. A while back, certain smartphone product launched by Samsung was under scrutiny due to exploding batteries which endangered the users while being charged or operated. It was found out that the leading cause of explosions was improper assembly of batteries, stressing the importance of inspection in automation. Experts believe the company could have avoided this fiasco by adopting quality inspection systems, such as AOI, for inspecting all batteries and not just samples.
Get a Sample Copy of this Report:@ https://www.gminsights.com/request-sample/detail/2969
Speaking further on the significance of the AOI system market, electronic components are becoming smaller in size, making it difficult to perform accurate and fast checks manually. PCBs for different applications require hundreds of parts to be soldiered or mounted on them in a short period of time, needing AOI systems to inspect each and every part, either in pre-manufacturing stages or post-production. Many global industries are adopting fully-automated manufacturing processes for not only PCB production but also cars and consumer electronics. Subsequently, the AOI system industry will witness robust demand over the coming years.
To elaborate, Volkswagen recently announced that it would be construction its electric vehicle manufacturing facility near Shanghai, China, where fully-electric SUVs and other e-vehicles will be made. The company said the new facility will consist mainly of robots, around 1,400 of them, and will be operational by 2020. The expected 300,000 per year capacity of the factory represents extremely high
levels of automation that will be implemented and signifies a key application area for the AOI system market. Government rules and international standards regarding vehicle quality and safety have boosted the demand for advanced AOI systems, as they can match the complexity and speed of automated manufacturing.
Over the years, AOI systems have been optimized to collect data and provide feedback so that the manufacturing process can be improved, and any suitable adjustments are made. When used during the assembly or soldering process, AOI helps to inspect the quality of the product as it is being made, which considerably lowers the need for post-production inspections. The AOI system industry can benefit from the tremendous development in optical sensors and miniaturization of inspection cameras. The enormous opportunities for the implementation of AOI can be surmised from industry estimates which peg the global process automation segment to be valued at nearly USD 50.3 billion by 2020.
As more companies look towards AOI for ensuring a fast, reliable and cost-efficient quality control in manufacturing and process automation, the AOI system market is anticipated to register a 12% CAGR between 2018 and 2024. Viscom AG, Cyberoptics Corporation, AOI Systems, Nordson, ASC International, Omron Corporation and Kurtz Ersa, are some key players outlining the AOI industry dynamics. Compliance with evolving engineering standards and demand for higher quality of products will drive innovations in AOI technology.
Author Name :Pankaj Singh
The increasing importance for geospatial technologies for visualizing and analyzing geospatial data has stimulated mobile mapping industry trends. The advent of new technologies such as Lidar, AI, and IoT has also significantly transformed mobile mapping technology over the last few years. With more innovations across this technology, it has become easier and effective to carry various tedious projects like urban development, rail-road creation, and power plant construction across inaccessible areas. Thus, the increasing use of this technology to survey numerous mobile platforms is poised to propel mobile mapping industry share.
U.S. Mobile Mapping Market Revenue, By Component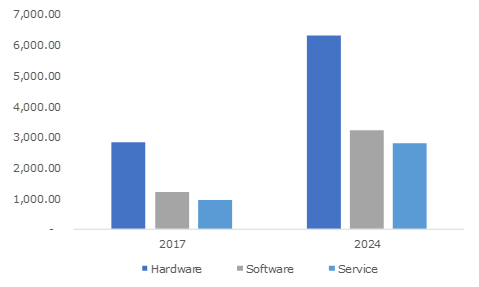 The involvement of companies in novel product development activities for high efficiency and productivity will have a notable impact on the business over the years ahead. In the last few years, companies have come up with a diverse set of products that can deliver remarkable benefits to users and asset owners. Validating the aforementioned fact, in February 2018, the California based software development company, Trimble developed a next-generation mobile mapping system, which has been designed with multi-camera imaging, mobile lidar system, and field software. This newly launched Trimble MX-9 mobile mapping technology has the capability to capture 360-degree immersive geo-referenced imagery with the help of already installed laser scanning sensors, GNSS technology, and spherical camera. The improved accessibility of such newly developed mobile mapping devices via smartphones and tablets will augment the growth of mobile mapping market.
Speaking more about the recent advancements, it is prudent to mention that 3D mobile mapping is also one of the latest developments in geospatial technologies that helps users to record, measure, visualize, and understand environments. The advent of 3D mobile mapping has overcome the limitations of conventional mobile mapping systems and helps to carry out a detailed visualization of climatic conditions. In 2018, a German company which develops software and hardware to navigate, map, and digitize the indoors, NavVis made it to the headlines for generating a fully integrated product for indoor mapping aided with six cameras. NavVis has developed this product in accordance with customers' request to have sophisticated and more versatile systems. This product is likely to prove beneficial for the end-users like construction product manufacturers, construction companies, and AEC (architecture-engineering-construction) professionals to generate high-quality data owing to its capability to capture immersive imagery.
Get a Sample Copy of this Report:@ https://www.gminsights.com/request-sample/detail/2652
The increasing importance for geospatial technologies has also been encouraging the players in the mobile mapping market to carry out vigorous research and development activities for capturing more business space. For instance, the Italy based SITECO Infomatia SRL has been proactive in developing varieties of products from road-scanners to pave-scanners. In 2018, it has launched software assisted mobile mapping devices. The integration of software and LiDAR system has helped the company to enhance the performance of mobile mapping platform. The widespread availability of multi-scanners and high-performance mobile mapping platforms is slated to propel the industry growth over the years ahead.
In addition to higher performance, cost-effectiveness is also one of the major factors promoting mobile mapping market size. As of now, Google is one of the leading contributors of navigation applications, but due to rise in subscription amounts for accessing its Google Maps, other contributors in mobile mapping market have been able to race ahead with the launch of low-cost navigation features. For instance, a few days before, a digital mapping company, TomTom has started offering free software development kits to Android and iOS users to access maps and traffic information for free. Such initiatives will help IoT companies and autonomous vehicle manufacturers to load the traffic and routing data free of cost.
The advancement in consumer electronics and shifting trends toward the deployment of autonomous vehicles for the betterment of the environment will have a positive influence on the mobile mapping industry share. As of now, most of the automotive companies have been involved in the development of highly modernized infotainment systems for improving the driving experience that is likely to enhance the product demand. In accordance with the expanding end-use sectors, the strategies adopted by the key player will help them to strengthen their business position over the years ahead. Reportedly, driven by new product launches, mobile mapping market will generate a revenue more than USD 40 billion by the end of 2024.
Author Name : Sunil Hebbalkar
Growing focus on infrastructure growth coupled with an increase in real-estate investments are predicted to boost the demand for aerial work platform trucks. Furthermore, the rising need for material handing in factories as well as in production activities is expected to boost the industry trends over the coming years. According to Global Market Insights Inc., "Aerial Work Platform (AWP) Truck Market share worth USD 2.4 billion in 2015, is estimated to reach USD 11 billion mark by 2024, growing at a CAGR of 18.5% over the period of 2016-2024." Modernization in electrically propelled elevating platforms to fulfill emission norms and address the ecological concerns is expected to benefit the market in future. AWP trucks are predicted to find their use in various industries owing to its safety features, maneuverability, and ease of handling features.
China Aerial Work Platform Truck Market size, by product, 2013-2024 (USD Million)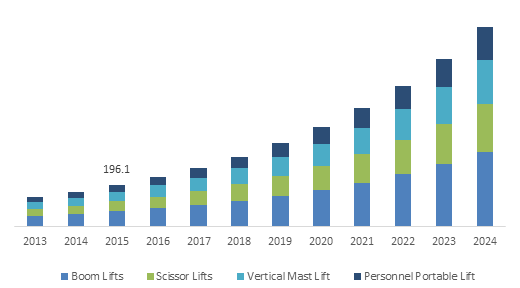 The rising installations of power cables and transformer & street light maintenance is predicted to boost the market trends over the coming years. Large scale use of AWP trucks in mining & construction activities due to the high risks involved in the work is predicted to benefit the market. The rapid growth of telecommunications industry due to the growing number of smartphone users will fuel AWP truck demand. These vehicles find their use in event management activities such as organization of corporate events, conventions, conferences, festivals, formal parties, and concerts.  They are also used in disaster management operations as well as defense activities.
Get a Sample Copy of this Report:@ https://www.gminsights.com/request-sample/detail/689
AWP truck applications in the construction industry is predicted to be worth USD 4 billion by 2024 owing to big construction projects along with heavy infrastructural growth. Logistics & Transportation industry is also predicted to witness high market penetration over the coming years, with vehicle applications worth USD 550 million in 2015.
Asia Pacific AWP truck market is forecast to record a CAGR of 18.7% over the period of 2016-2024 due to the growing number of mobile phone users coupled with the requirement of good telecommunication infrastructure.
North America AWP truck market size is anticipated to witness a substantial growth over the forecast timeline. U.S. market is predicted to contribute noticeably towards the regional growth due to high capital investments along with an increase in the renovation work activities in the country.
Driven by various applications in the construction, telecommunications, and transport & logistics industry, AWP truck is deployed in the form of vertical mast lifts, boom lifts, personal portable lifts, and scissor lifts.
Scissor lifts AWP truck market is predicted to grow at a CAGR of 18.3% over the period of 2016-2024 owing to its increasing demand in various applications requiring direct overhead access. Boom lifts AWP truck market contributed over 35% of the global industry share in 2015 and is expected to dominate the industry over the forecast period. Rising use of the vehicles to enable entry in blocked areas is projected to boost the industry demand.
Key industry players include Terex Corporation, Haulotte, Ruthmann, Aichi Corporation, Tadano Limited, CTE, Shen Yang North Traffic Heavy Industry, Hunan Runshare, Time Benelux, and Teupen.
Author Name : Dhananjay Punekar
Molded Interconnect Devices (MID) market is poised to witness an accelerated growth over the ensuing years, amidst the backdrop of the frequent technological advancements in telecommunication sector. The ability of the device to facilitate miniaturization has largely added to the expansion of its application portfolio in a range of consumer products.
U.S. molded interconnect devices (MID) market size, by end-use, 2017 & 2024 (USD Million)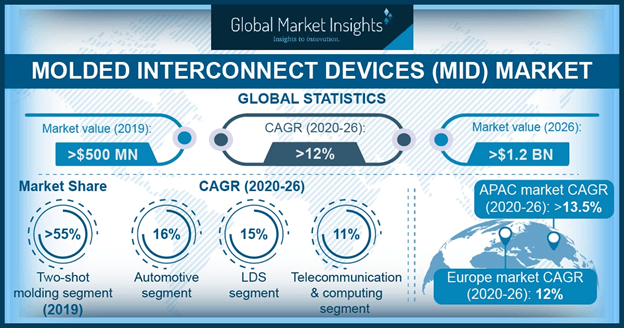 MIDs have gradually become the prime circuitry solution choice in the automotive and electronics industry, owing to its easy assembling, smaller circuitry. and light weight when compared to conventional PCB circuits. It is prudent to mention that the eco-friendly tag that these devices carry is one of the major factors fueling the MID market growth worldwide. These devices reportedly incorporate thermoplastic materials that are recyclable and do not involve hazardous manufacturing processes.
The growth of MID market has been greatly boosted by economies that rely on their manufacturing industry for growth, with the Asian economy – majorly China, South Korea, Japan and Taiwan in the lead.
Below is an outline of molded interconnect devices market trends with regional frame of reference:
Asia-Pacific MID Market Outlook:
Touted as one of the major growth avenues in the MID market, China is estimated to contribute over $155 million to the MID industry by 2024, aided by the increasing demand for MIDs in the consumer electronics sector. China has achieved a rapid growth rate because of its ability to provide cheap labor for manufacturing industries, which has prompted many multinational companies to shift their manufacturing units in the country. The nation has now turned into a global manufacturing hub, with Apple setting one of the most prominent examples of this trend.
The technology company with an expansive product portfolio comprising portable electronic devices that are more compact and reliable is an ideal target consumer for the MID market. China also boasts of other domestic tech companies who have recently began dominating the smartphone market owing to their competitive sleek devices, the One Plus flagship line being an example of this phenomenon. Not to mention, the region being a key automotive manufacturing hub hosting the presence of many international and domestic brands also adds to its strong contendership in the global MID industry fraternity.
Get a Sample Copy of this Report:@ https://www.gminsights.com/request-sample/detail/424
Japan is another prominent nation fueling APAC molded interconnect devices market growth. The region's thriving automobile manufacturing industry is slated to be one of the top-notch regional drivers. With circuitry designed using MID facilitating the incorporation of these cutting-edge technological features, it is overt that APAC will be one of the most lucrative hubs for the MID market expansion. As per reliable estimates, overall APAC MID market is projected to surpass a valuation of USD 400 million by 2024.
Europe MID Market Outlook:
European nations have been renowned for their active participation toward ensuring environmental sustainability trends, making the continent one of the leading players in the MID market expansion. The MID Laser Direct Structuring (LDS) manufacturing process allows MID to be made via a single-shot molding process which is relatively less harsh on the environment than conventional methods.
The continent's expanding vehicle manufacturing sector in tandem with the presence some of the world's major automotive OEMs is expected to boost the Europe MID market share in the coming years. The rapid technological advancements with regard to automotive safety such as seatbelt safety systems and sensor positioning will further provide massive growth opportunities to the MID industry players. The regional demand is slated to record a CAGR of about 10.5% from 2018 to 2024.
Besides the consumer electronics and automotive sectors, one of the most anticipated trends in the MID market remains the contribution of healthcare fraternity to this space. With rapid R&D investments toward healthcare prototyping gaining prominence, the sector is certain to be a profitable end-user for the molded interconnected devices manufacturers. Global Market Insights, Inc. forecasts the healthcare MID industry to record an appreciable double-digit CAGR of 15% over 2018-2024.
Author Name : Akshay Kedari