Telecommunications
The rising demand for enhanced storage memory in consumer electronics for extensive data management is likely to drive semiconductor memory market growth in the years to come. Lately, the demand for advanced semiconductor memory has travelled beyond the realm of the traditional personal computer. The requirement of electronic systems including digital consumer electronics, mobile communications, networking, automotive electronics, and industrial/medical electronics has seemingly surged in recent years, subsequently increasing the need for semiconductors.
China semiconductor memory market, by type, 2017 & 2024 (USD Million)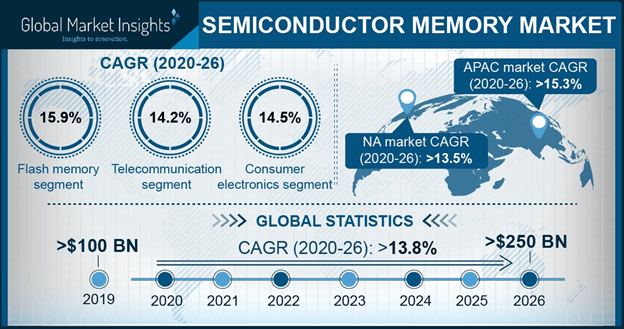 As a matter of fact, all digital consumer electronic products incorporate highly advanced semiconductor memory devices to enable and enhance system storage and performance. Semiconductors are consequently growing in importance as they offer industries with new manufacturing opportunities to develop highly efficient products for customers. The need for high-speed interconnects continues to accelerate and is driving the architecture of next-gen memory technologies. As a result, memory devices and architectures are changing rapidly to satisfy the demand for higher performance electronics, further driving the semiconductor memory market growth.
Android smartphones to offer remarkable growth opportunities to the semiconductor memory market players
Smartphones have reportedly become the preferred computing device for a variety of applications. Reports suggest that over 70% of the world's population is anticipated to use smartphones by 2020, while over a billion Android devices will be used by the same year. For several Android smartphones, varying the flash storage drastically improves the device's overall performance, typically between 100% to 300% across applications.
Storage performance on mobile devices will enhance the end-user experience in the years to come, as its impact is expected to grow owing to emerging wireless technologies that offer much higher network throughput as well as the advent of faster networks and I/O interconnects. This considerably validates the fact that the rising number of smartphones is expected to help drive the remuneration potential of the semiconductor memory market.
Get a Sample Copy of this Report @ https://www.gminsights.com/request-sample/detail/2548
Will India emerge to be a potential investment ground for stakeholder over 2018-2024?
The India semiconductor memory market is anticipated to procure substantial proceeds by the end of the projected timeframe owing to the rising proportion of smartphone users and emerging consumer electronic companies. The region has a steady growth infrastructure and develops emerging embedded technology that offers both hardware and firmware solutions.
The country also depicts considerable growth prospects for the automotive, agriculture, pharmaceutical, IT, construction and defense sectors. The growing adoption of IoT in these sectors will further enhance the demand for semiconductor memory, thereby impelling the regional industry trends. Emerging smartphone applications and the escalating demand for storage memory will also foster industries to develop enhanced memory solutions, expediting the India semiconductor memory industry share.
Some of the key players in the semiconductor memory market include Samsung Electronics, Nvidia, On Semiconductor, Micron Technology, Inc., etc. Manufacturers are focused on product development by investing in R&D activities & engineering capabilities to cater to the needs of mobile industry customers. To stabilize the component pricing, companies are reportedly developing strategies to maintain the average prices of ROM and RAM products. Manufacturers in the semiconductor memory market are also likely to face challenges in the future owing to the emergence of replacements such as MRAM, ReRAM and phase change memory.
As semiconductor memory technology rapidly evolves to meet the ever-growing needs of the electronics industry, it is likely to experience high demand from end-use industries including electronics and automotive. Increased demand and the rapid evolution of smartphones and PCs across the globe will continue to impact the product requirement, on the grounds of which manufacturers will constantly seek ways to expand their production facilities and know-how. This could considerably impact the remuneration portfolio of the overall semiconductor memory market, slated to cross a mammoth USD 730 billion by 2024.
Author Name : Mateen Dalal
The global reed sensor market is lately witnessing an exponential growth rate, driven by the rapidly rising demand for advanced sensor technologies across industries such as military, aerospace, medical, security, transportation, smart grid & utilities and telecommunications. Attributing to a widespread application spectrum, the global reed sensor market was valued at over $1 billion according to a 2017 estimate. Reed sensors are basically devices made up of reed switches that incorporate a pair of flexible magnetic reeds and can be used in various applications ranging from flow and liquid level measurement to motion detection and sensing, proximity sensing and metal detection. One of the major factors behind the sensor's rapidly growing demand is its robust and reliable nature and the low power consumption that allows for the device to be used in a plethora of battery operated applications.
China reed sensor market size, by application, 2017 & 2024 (USD Million)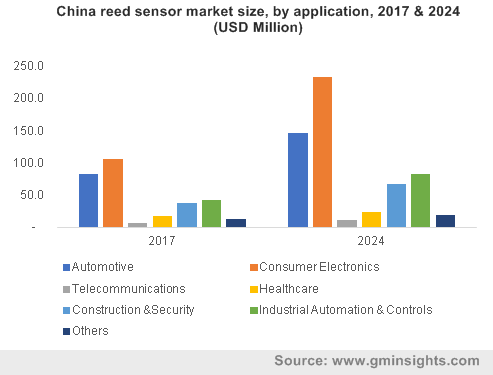 It is anticipated that the expansion of the smart home market in developed nations across the world would be further fueling the growth of the reed sensor market. Moreover, the incredible rate of production that the consumer electronics market is witnessing across developing nations would also be responsible for propelling global reed sensor market further.
Unveiling global reed sensor market trends through a regional frame of reference:
Asia Pacific (APAC):
Home to nations such as China, India, Japan, South Korea and Taiwan – some of the world's biggest consumers as well as manufacturers of automotive and consumer electronics, APAC presently holds the largest share in reed sensor market. According to a report by Standex Electronics, the device's high demand is attributed to its availability in hundreds of different shapes and sizes and its ability to survive billions of operations without experiencing much wear and tear.
The aforementioned features have made reed sensors the go-to solution for the established automotive and consumer electronics markets in the APAC region. Moreover, government initiatives that support and encourage the growth of these industries are also likely to augment reed sensor demand further. Additionally, demands for remote home monitoring systems from the smart home markets of South Korea, Japan and China is projected to be another major contributing factor that will impel the APAC reed sensor industry growth.
Driven by a highly established manufacturing sector and robust industrialization trends, it is projected that APAC reed sensor market will grow at an impressive CAGR of 12.5% over 2018-2024 in terms of unit shipment.
Get a Sample Copy of this Report:@ https://www.gminsights.com/request-sample/detail/2965
North America:
A significant contributor toward the global industry, the North America reed sensor market is primarily driven by the booming smart home industry as the sensors are witnessing wide-scale adoption across a plethora of connected home systems such as voice controlled temperature modulating systems and automated intrusion-detecting smart home systems. The regional market is also simultaneously receiving a considerable boost from the automotive industry as more and more automobile manufacturers are implementing the systems in their vehicles to facilitate a number of features like power windows, fuel and oil level measurement.
The U.S. reed sensor market size, had been pegged at over $350 million according to a 2017 estimate. It is expected however, that the anticipated rise of the autonomous vehicle market in the region would be fueling reed sensor market growth as well. Furthermore, with major domestic companies unveiling new products and expanding their respective distribution networks to improve their capabilities of quenching the growing demands of reed sensors across various key application sectors, the North America reed sensor market has positioned itself on a lucrative path towards future growth.
Attributing to the extensive regional growth, the revenue graph of the reed sensor market is projected to etch out an exponential growth trajectory in the years ahead. According to a report by Global Market Insights, Inc., the global reed sensor market is anticipated to surpass $2 billion by 2024.
Author Name :Akshay Kedari