Telemedicine
IoT in healthcare market has been forecast to witness remarkable growth prospect in the years ahead, subject to the robust enhancements in healthcare infrastructure. Digitization, having paved its way toward healthcare, has prompted numerous hospitals and regional governments to undertake initiatives to deploy IoT in the healthcare sector, owing to the rise in the requirement for mobility and communication in medical care. With the implementation of IoT facilities, healthcare service providers may be able to deal with the challenges related to consumer data sharing, since this technology is highly capable of dealing with patient data operations very efficiently. The emergence of the internet of things has significantly impacted the overall IoT in healthcare industry trends since the last few years. Statistically, in 2016, IoT in healthcare market held a revenue of more than USD 2 billion.
US IoT healthcare market, by application, 2016 & 2024 (USD Billion)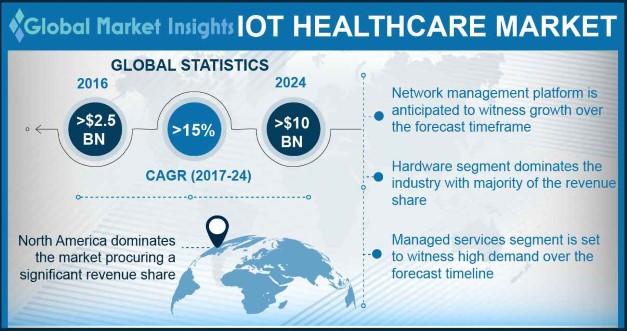 Nowadays, medical research institutes and healthcare product manufacturers have been joining hands to accelerate digitalization across the healthcare sector by deploying technologically advanced digital health products. For instance, Oxford University and National Institute for Health Research (NIH) have signed a five-year agreement with the London based giant in IoT in healthcare market, Drayson Technologies to build and commercialize digital healthcare tools. Through this research agreement, the Oxford Biomedical Research Center aims to deliver excellent benefits to patients from hospital to the comfort of their homes. For this research and development program, NIH has provided funding to Drayson Technologies, which also raised USD 53 million from several other funding agencies.
Get a Sample Copy of this Report:@  https://www.gminsights.com/request-sample/detail/2103
Recently, the integration of the internet of things with artificial intelligence (AI) has changed the outlook of healthcare institutions, having fortified medical care data maintenance with improved storage capability, robust connectivity, and high security. The well-known participants in IoT in healthcare market are also focusing on AI-based IoT healthcare facilities. For instance, IBM has recently developed an AI system for hospitals that will help to carry out tedious tasks much more efficiently and flawlessly than humans. In fact, IoT has helped bring about a paradigm shift in healthcare, subject to the introduction of smart devices that help provide and secure patient data. IoT also enables doctors to get in touch with patients staying in remote areas very easily through video conferencing, on account of which patients can eliminate the need for routine checkups. With numerous benefits under consideration, healthcare professionals are increasingly adopting IoT systems, which is certain to have a positive impact on IoT in healthcare industry.
The stand taken by regulatory bodies and regional governments have also influenced IoT in healthcare market outlook considerably. In fact, it has been observed that governments have been pressurizing healthcare centers to implement IoT, on the grounds of which numerous hospitals and clinics have deployed IoT technology to maximize patient comfort. In addition, many countries have commenced smart city programs incorporating healthcare IoT projects, which would also push IoT in healthcare market share. For instance, the Singapore government has collaborated with Intel and Dell to deploy the Internet of things for eldercare patient pilot project at the Saensuk Smart City. The large-scale deployment of smart city projects across several other countries will further stimulate IoT in healthcare industry size over the years ahead.
In the future, the integration of IoT in healthcare facilities is likely to increase the possibility of operating analytical tools and maintaining electronic health records. The growing renovation of established healthcare facility centers is another major factor that will push IoT in healthcare industry size, slated to cross USD 10 billion by 2024.
Author Name : Sunil Hebbalkar