Test & Measurement
Fueled by rapid technological advancements in embedded systems and growing demand for compact, power-efficient products, system on module market outlook has effectively transformed in recent years. Essentially, the product is a fully featured single board computer comprising a single microprocessor, RAM, input-output controller and many other components, and is designed specifically for integration into embedded applications.
Germany system on module market size, by application, 2018 & 2025 (USD Million)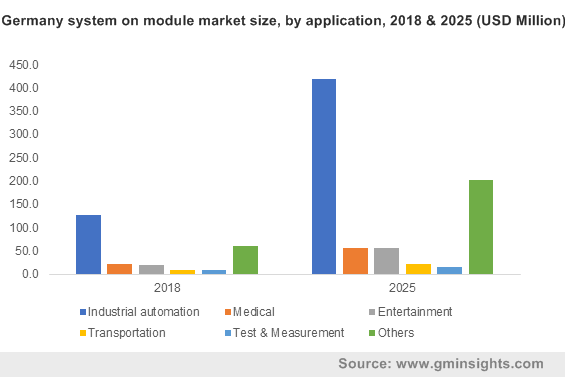 With multiple embedded wireless solutions like 802.11a/b/g/n/ac and Bluetooth, the product can offer cellular connectivity and mobility as well as offer device security for connected IoT applications. With such profound features, manufacturers are increasingly opting for system on modules (SoM) to significantly reduce development efforts and time to market (TTM) by eliminating the challenges associated with designing boards with complex microprocessor, further offering a more reliable and cost-effective embedded platform for building end-products.
Designed by British semiconductor giant ARM Holdings, ARM is one of the major processor architectures used for SoM modules. In an era of proliferating IoT and industrial automation sectors, the processor holds a significant market share and is projected to exhibit high growth rates in the coming years. It offers a wide range of features like low cost compared to other processors in the market, higher battery life, faster operational speed, and compatibility for numerous end-user application.
Get a Sample Copy of this Report:@ https://www.gminsights.com/request-sample/detail/3224
Moreover, rapid technological advancements and growing demands have led manufacturers to develop newer versions of SoM offerings. For instance, in 2018, chip designer Arm unveiled its new Cortex-A76 CPU, claiming it would deliver 35% better performance than its predecessor. Advances such as this will enable development of more power-efficient end-user products, supplementing SoM market size.
Portable medical devices are increasingly gaining traction by improving health care for millions of patients worldwide. With products like blood glucose monitors, heart rate monitors, pain-blocking implants, ingestible gastrointestinal (GI) tract monitors and several other devices, the technology has effectively enhanced patient's quality of living in recent years. Notably, these clinical aids are integrated with miniature SoMs that enable high-level integration of analog components, offering more enhanced capability in smaller spaces.
By using portable medical equipment, patients with chronic diseases can easily and quickly monitor their own vitals and look for abnormalities that can eventually help them call for medical services as well as further help doctors better diagnose their condition and take necessary steps.
In addition to such profound benefits, device manufacturers are also developing more compact, battery-powered products like smart patches, health monitors, and even inhalers that use machine learning technology to effectively allow clinical diagnosis, delivery or monitoring conditions remotely. For instance, Respiro smart inhaler, an Arm-based clinical device, can effectively track and record parameters like inhalation technique & frequency, inhalation flow rate, volume, flow acceleration and inspiration time, allowing doctors to gain a deeper understanding of patient's varied conditions.
Considering the SoMs play a vital role in making these devices functional, a trend of proliferation of such devices will lead to increased system on module industry revenue.
The Europe system on module market trends are garnering traction due to soaring demand for powerful & efficient embedded systems in industrial automation. According to the International Federation of Robotics (IFR) reports, Germany is one of the most automated countries in Europe and ranks third worldwide with 309 units. Further, in 2016, the country's operational stock and annual supply of industrial robots had a share of 41% and 36% respectively. Moreover, between 2018 and 2020, the annual supply in Germany is anticipated to grow by at least 5% on average per year due to the increasing demand for robots in the region's general industry and in its thriving automotive sector.
Escalating demand for automated technologies in operations like assembly, manufacturing, logistics and supply chain support has led to the widespread integration of embedded computing solutions. Additionally, the rising demand for energy-efficient, smart electronic products for automation applications has led to rapid consumption of embedded systems, in turn driving the SoM market trends.
Author Name : Mateen Dalal
The growing technological advancements in IoT coupled with the rising demand for smart connected devices will drive single board computer (SBC) market in the years to come. Basically a compressed, low-cost version of a typical computer, an SBC comprises similar components such as microprocessors, memory, input/output (I/O) and other features all embedded on a tiny circuit board.
China single board computer market size, by processor, 2018 & 2025 (USD Million)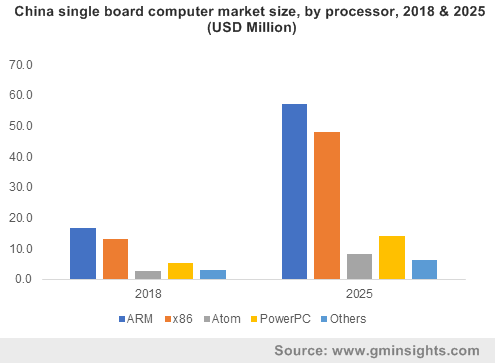 The product has become significantly important for developers seeking ways to design products with greater intelligence, performance and connectivity while reducing power consumption, costs and size. Indeed, the product continues to evolve in sophistication, while its range of possibilities expand. For instance, nowadays SBCs come with features like Bluetooth and Wi-Fi compatibility making them ideal in applications associated with IoT (Internet of Things).
The deployment of the Internet of Things (IoT) in almost all industrial applications will significantly boost the growth of the SBC market in the years to come. By using SBCs, manufacturers are now able to offer efficient IoT solutions to customers. The product has certainly propelled the growth of the IoT sector in the last few years, offering a much smoother commercialization. According to reports, business infrastructure and operations professionals are rapidly shifting towards IoT, while studies indicate that a major proportion of decision-makers are already using IoT-enabled applications from building connected products to transforming operational processes. With rising IoT adoption, IoT software providers like IBM, Cisco, Amazon, GE, and other giants are now developing solutions that simplify the design, creation, integration, and management of IoT infrastructure and enterprise data. This in consequence will majorly propel the product demand, eventually pushing SBC industry trends.
Technological advancements in embedded technology will boost the SBC market
Semiconductor processors, being the core of any SBC, are rapidly evolving to match the capability of modern day applications. To attract the vast tech-savvy customer base, engineers are constantly adopting advanced embedded technologies to gain a competitive edge. For instance, the neural processing unit (NPU) is anticipated to be the next focus for chipmakers as it helps speed up computer-vision applications, such as object and image recognition, and offers enterprises and manufacturers a more powerful platform for developing products used from smart building applications to driverless vehicles.
Get a Sample Copy of this Report @ https://www.gminsights.com/request-sample/detail/1570
Prominent companies are investing heavily in the development of these new technologies. The Chinese tech giant Huawei, in collaboration with Linaro, recently launched its new SBC called HiKey 970 AI computing platform which uses the world's first AI mobile processor, Huawei's Hisilicon Kirin 970 chipset along with a dedicated Neural Processing Unit (NPU). This is quite vividly, an instance that demonstrates how product innovation and investments in technological advancements will add momentum to the expansion of the SBC industry.
Powered by rapid technological developments, single board computers have paved their way into medical sector as well. Medical devices are increasingly being integrated with SBCs to perform and monitor a wide range of clinical processes. The product's reliability, power and versatility have made it ideal for developing customized medical electronic devices, medical monitoring systems, fault-tolerant wearable computers and more. Strategic partnerships between tech giants and medical healthcare firms will thus majorly augment the growth graph of SBC industry.
While SBC market has quite appreciable consolidated itself worldwide, the APAC is said to emerge as a prominent revenue pocket for this industry in the years to come. This may plausibly be the case on account of the expanding electronics industry in the region. With the presence of several consumer electronics and tech firms, the APAC SBC industry is anticipated to depict considerable growth over 2019-2025. Growing government support toward building in-house consumer electronics, such as smartphones, tablets and other gadgets in countries like India and China, will also boost the APAC single board market demand.
Being highly-scaled versions of traditional PCs and laptops, SBC are expected to continue finding long-term application in IoT-driven verticals and consumer electronics. Powered by rapid technological advancements in semiconductor processors and AI, single board computer market is forecast to chronicle itself in the billion-dollar business sphere by 2025.
Author Name :Paroma Bhattacharya