Textile
The rising requirement for fabrics that are longer-lasting, need less maintenance, and are comfortable have chiefly propelled blended fibers market. It goes without saying that the apparel and home furnishing sectors are the key arenas driving blended fibers industry growth. As the population of millennials with disposable incomes is on a rise, coupled with consumer interest for luxurious lifestyles, it is estimated that blended fibers market size will exceed 18 million tons by 2024 in terms of volume.
North America Blended Fibers Market, By Application, 2016 & 2024, (Kilo tons)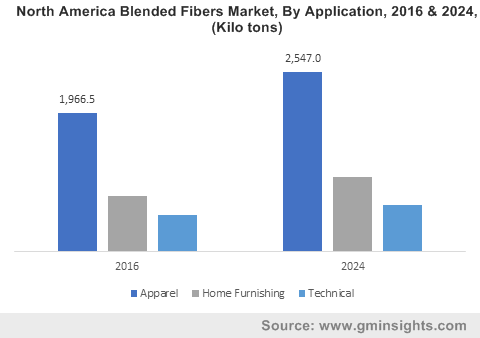 Blended fibers market had first come to evolve with the idea of 'blending' fibers to yield a fabric with unique properties that is much more comfortable than the original and is less taxing to care for. In this regard, a blend of cotton and polyester is one such fabric that has gained mass prominence in this business space. In 2016, cotton/polyester based blended fibers industry size was valued at USD 7 billion. It is noteworthy to mention that cotton is a natural fiber that is comfortable to wear but wrinkles easily. On the other hand, polyester is a synthetic fiber that is not very comfortable to wear but when mixed with cotton keeps the fabric from wrinkling. Blended fibers industry outlook thus depends on the identifying a balanced amalgamation of fibers that complement each other to produce the perfect fabric. A nylon/wool blend is another popular fabric that drives blended fibers market share, as nylon is resilient while wool adds to the warmth and softness of the garment. This blend is deemed perfect for winter wear apparels owing to its enhanced durability and quick-drying quality, thus marking significance in blended fibers market.
Get a Sample Copy of this Report:@ https://www.gminsights.com/request-sample/detail/1718
With the evolving fashion industry and the rising proportion of fashion consciousness consumers, it is important for the apparel industry to delve deeper in blended fibers market to brainstorm new mixed fabrics that will lend a certain charm and appeal to an ordinary piece of clothing. For instance, a draped cardigan made of a warm fabric like Merino can give the warmth of a cardigan but will not drape as beautifully as required. If the same cardigan is made of viscose it may be draped beautifully but will miss out on providing warmth. Ultimately, if a blended fabric like Merino Modal is used, i.e., 60% Merino and 40% Modal, the cardigan will have a beautiful drape while being essentially warm. Driven by appealing challenges such as the aforementioned, blended fibers market share from apparel applications is estimated to witness a CAGR of 3% over 2017-2024.
The home furnishing arena is another lucrative end-use domain of this business vertical. In 2016, 20% of the market valuation was attributed to the home furnishing industry. Rising urbanization, expanding real estate and easy access to home décor items made available through online portals like Amazon, Alibaba and eBay have thus provided a lucrative boost to the home furnishing domain, inherently fueling blended fibers market size.
Asia Pacific is one of pivotal regional markets for blended fibers industry. In fact, APAC market is forecast to surpass 9 billion tons by 2024, driven by the fact that several countries like China, India, Indonesia and Taiwan have expanded their apparel and home décor export base with a surge in demand of handcrafted products and government encouragement campaigns to boost indigenous production. Blended fibers industry has also been expanding in North America – estimates claim the continent to have contributed to 20% of the overall industry share in 2016. The introduction of nanotechnology as well as growing demands for new fabrics in the apparel and home furnishing industries has fueled North America industry trends.
The surging demand for better textile products with enhanced durability and a rather appealing visual appearance will drive blended fibers market. Blending expensive fibers with inexpensive ones offsets the production cost of the overall fabric as well, thus making the fabric more affordable and reliable. Growing economies comprising highly an urbanized, millennial population with disposable incomes will lead to a massive growth in the home furnishing and apparel sectors, thus directly stimulating blended fibers market size.
Author Name : Paroma Bhattacharya
White Oil Market revenue is projected to observe a massive surge over the next few years, driven by the escalating product popularity in the healthcare, cement, pharmaceuticals, textile, plastic & polymer, food, precision equipment, bakery, wood, and personal care & cosmetics sectors. The product also finds massive utilization in tanks, gears, compressor cylinders, hydraulic equipment, vats, medical equipment, and packaging. Pertaining to the broad application spectrum alone, white oil industry exhibits the competence to flourish over the forthcoming years. As per estimates, white oil industry, which accumulated a revenue of more than USD 1.1 billion in 2015, is anticipated to surpass USD 2 billion by 2024.
U.S. White Oil Market Size, By Application, (USD Million), 2013-2024

The rapid expansion of certain industries such as those of cement, textiles, and farming has brought about an appreciable change in the dynamics of white oil industry in the Asia Pacific region, which accounted for over 60% of the overall industry share in 2015. The introduction of the beneficial government schemes is certain to support the regional growth. For instance, the Indian government launched a Pharma Vision 2020 program to promote developments in the pharmaceutical and medical sectors, a move which is likely to favorably influence the growth of white oil industry across the country. Besides India, Taiwan and China are the other regions that are expected to make considerable contributions toward APAC share.
MEA white oil market is projected to register notable gains of nearly 2.6% over the coming seven years. Intense demand for the product from the end-use sectors such as petroleum and petrochemicals along with its surging application in personal care & cosmetic items will push the revenue. Saudi Arabia and South Africa are likely to be key regional growth drivers.
Get a Sample Copy of this Report@ https://www.gminsights.com/request-sample/detail/1192
High product popularity across food & packaging and healthcare sectors along with a greater urge for refined as well as clean oil will augment the growth of Europe white oil industry. North America white oil industry is projected to expand at a CAGR of over 2.7% over the period of 2016-2024, subject to the introduction of new products specifically in the healthcare sector. The U.S. is predicted to make remarkable contributions toward the regional revenue.
White oil industry size in the personal care & cosmetics sector is projected to experience gains of more than 2.5% during the period from 2016 to 2024. Favorable features such as chemical & biological stability, softness, good emollient effect, and resistance to toxicity & germs will boost the growth.
Food applications are expected to contribute more than USD 68 million towards white oil market revenue by 2024. Rising product application in wrappers, packaging & filling equipment, sugar refining, and the egg-coating will boost the business trends. The thriving animal feed sector will further augment the revenue.
Growing product use in garments, apparels, and fabrics will boost white oil industry size in the textile sector, which is expected to grow at a rate of nearly 2% over the coming timeline. Anti- corrosive features of the product are expected to enhance its use as an anti-rust lubricant in sewing machines, thereby lucratively influencing the business space.
White oil market value in the pharmaceuticals sector is projected to surge at a rate of more than 2.8% over the years ahead. Rising health consciousness among the consumers along with the rising need for laxatives, excipients, and medical ointments are forecast to generate immense growth opportunities for the business.
Plastics & polymers sector, which contributed to more than 50% of the overall white oil market share in 2015, is expected to remarkably influence the business growth. Rising product demand for PVC lubricants, rubbers, extenders, thermoplastic elastomers, and plastic annealing will boost the industry landscape. High usage of the product as mold release agents as well as extrusion aids in the plastic production will also push the revenue.
British Petroleum Plc, Exxon Mobil Corporation, Renkert Oil Incorporation, Sasol Limited, Sinopec Limited, Royal Dutch Shell plc, JXTG Nippon Oil & Energy Corporation, and Seojin Chemical Company Limited are the major players of white oil industry.
Author Name : Dhananjay Punekar
Mandatory roll outs by governments of various developed economies have played the most influential role in escalating biobased polypropylene market demand over the recent years.  Two global regulatory bodies whose initiations regarding the curtailment of carbon footprints have enhanced the market outlook are EPA and EU, which undoubtedly translates a noticeable expansion and development of North America and Europe's biobased PP industry. Europe market dominated by Germany, UK, and France is projected to show a steep growth curve, at an annual rate of 6% in the next five years. In addition to this, increasing consumer demand for lightweight vehicles that allows lower fuel consumption is further fueling the market growth. Light weighted materials are also being widely deployed in medical space, pressure vehicles, wind vehicles and other alternative energy bases
.
A report by Global Market Insights, Inc., states that
Biobased Polypropylene Market
will surpass a revenue of USD 40 million by 2022, with a CAGR estimation of 4.5% over the period of 2016-2022.
Europe Biobased Pp Market Size, By Application, 2014 & 2022 (USD Million)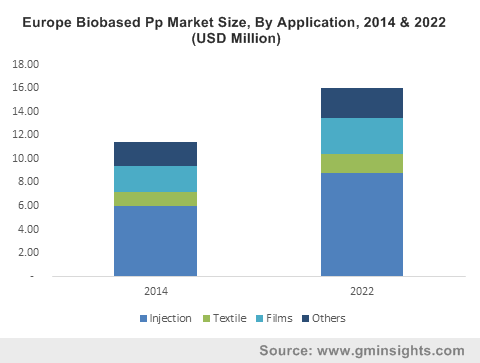 Injection applications represent a major share of biobased polypropylene industry and are expected to attain the highest gains in the coming five years. Growing demand for lightweight materials in myriad end use industries including automotive, construction, industrial as well as packaging is driving this application landscape. The influential impact of the advanced automobile sector has also played a crucial role in changing the market dynamics. Countries such as Malaysia, China, Thailand, and Mexico are encountering a heavy surge in the vehicle sales which is further creating a lucrative consumer base to biobased PP market. As per an estimation, the overall market from injection application is anticipated to record a revenue of more than USD 20 million by the end of 2022.
Positive outlook of some of the automotive manufacturing giants like Toyota Motor Corp., General Motors, and Ford flex in this regard also have had a persuasive impact on the overall biobased polypropylene market development. An announcement by Toyota Motor Corp. which states that 20% synthetic polymers will soon be replaced by biobased PP is expected to complement the overall market dynamics in the coming time frame.
Get a Sample Copy of this Report @ https://www.gminsights.com/request-sample/detail/175
Regionally, North America has established profound grounds enhancing biobased PP industry outlook. The trend of light weight vehicle in U.S. is acting as a prime factor catering the regional market growth. Concurrently, regulatory mandates supported by EPA to curb the greenhouse gas emission has further fueled the demand for biodegradable polymers. North America biobased polypropylene industry size is expected to expand massively in terms of volume coverage in coming five years by accounting for almost over 6 kilotons by 2022.
Textile is another niche application segment of global biobased polypropylene industry. Geotextiles which are gaining a global popularity owing to its rising scope of application in soil erosion and drainage activities is primarily favoring the overall market growth. Biobased PP market demand from textile applications is foreseen to rise high in the coming five years, with an estimated volume coverage of 1.5 kilotons by 2022. Biobased polypropylene films are being extensively implemented in green packaging especially for food and beverage and medical purposes owing to its strengthening properties and transparency. Biobased PP industry from this application is projected to show an upswing in its growth chart with a CAGR projection of 4.5% over the period of 2016-2022.
Considering the market analysis based on textile application, Asia Pacific has marked its footprints in the global landscape. With rapid industrialization of emerging economies of APAC belt such as Japan, China, India, biobased polypropylene industry is slated to register a signification growth at an annual rate of 5% over the coming five years.
Biobased PP industry is gaining a substantial traction with increasing number of market players focusing on enhancing the raw material portfolio to minimize the production cost. Some of the prominent industry participants working rigorously in this domain include Biobent Polymers, Global Bioenergies, Dow Chemicals, and Braskem.
Author Name :Satarupa De