Textile
With expansion of industries like textile, paper & pulp and wastewater treatment, it is now rather evident that bleaching agents market will register significant growth over 2018-2025 as such chemicals find extensive application in the aforementioned industries. For instance, in October 2018, textile and apparels exports in India recorded a notable 38% jump as overseas demand for Indian clothing accelerated. As the global economy has begun to recover, U.S. has led the demand for Indian clothing and compared to October of 2017 which recoded the export of Rs147.79 billion worth of apparels, in October 2018, exports stood at Rs203.53 billion.
U.S. bleaching agents market size, by application, 2014 – 2025 (USD Billion)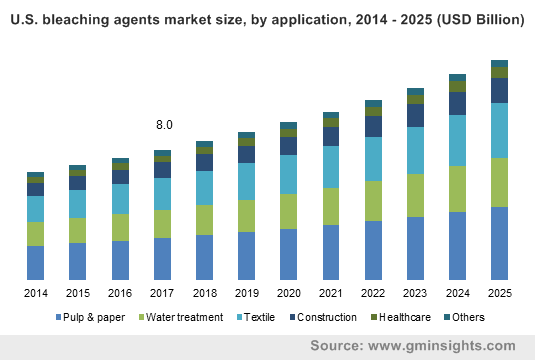 Considering that the Confederation of Indian Textile Industry is actively working to maintain such export revenues, it is rather overt that the Indian textile industry will receive a prominent boost from such endeavors and the bleaching agents market will in turn reap the benefits of such developments over 2018-2025.
It should be noted that Asia Pacific bleaching agents market generated quite some appreciable returns in 2017 that can be largely attributed to not only the textile industry of India but also the textile industry of China, which is incidentally the largest textile producer and exporter in the world. The rapidly growing Chinese textile industry has become one of the pillars in the country's economic development with China's textile exports being valued at approximately $10 billion in 2017, which is estimated to be 37.2% of the global market share. A massive and low-cost labor force as well as material supply availability has lent a competitive edge to China in the textile industry landscape. As a result, the country has come to occupy a leading position in the bleaching agents market as well as bleaching agents are one of the most essential chemicals involved in the textile industry.
Get a Sample Copy of this Report:@ https://www.gminsights.com/request-sample/detail/2525
A part of the Asia Pacific bleaching agents market revenue in 2017 can also be attributed to the use of bleaching agents in the paper & pulp and chemical industries in countries like China and India. Bleaching agents like hydrogen peroxide find extensive application in digital printing and flex printing as well as in manufacturing of packaging materials. Other Asian countries like Indonesia have come to realize the potential in the paper & pulp industry and are increasing investments not only to bring in the latest technology to support the growth of the industry but also to increase competitiveness of its products in the global market.
Indonesia apparently has the raw materials and favorable subtropical climate that makes it a major competitor in the paper & pulp industry. With national industrial policies being aligned to prioritize the paper & pulp industry in Indonesia as it provides a significant contribution to the national economy, the bleaching agents industry in the country is also expected to receive a significant boost over 2018-2025.
It should be mentioned that in world increasingly concerned about the ecological effects of harsh bleaching agents, the bleaching agents market has faced some major challenges when it came to expanding operations. However, active research and development in the bleaching agents industry and innovative new agents have effectively by-passed such hurdles that stood in the way of the industry's growth.
For instance, the pulp and paper industry has made efforts to reduce the chloro-organic and chloride discharges by substituting harmful chlorine-based chemicals with oxygen, hydrogen peroxide and ozone. Modifications at the pulping and bleaching stages in the manufacturing process have been made to reduce the toxic effect of bleaching waste water in order to adhere to stringent emission standards and environmental concerns.
The utilization of industrial waste water to manufacture products like enzymes and the utilization of enzymes in bleaching to minimize the chemical consumption of chlorine-based bleaching agents offer innovative and environmentally sensible technologies that can significantly reduce the environmental impact of the bleaching agents industry. With innovations paving the way for a profitable bleaching agents industry, it is estimated that the bleaching agents market will record a commendable growth rate in the years ahead.
Author Name : Paroma Bhattacharya
With expanding global demand for various pharmaceutical, agrochemical, personal care, additives and chelating agents, the ethyleneamines market is expected to witness exponential growth opportunities over 2018-2024. This can be essentilayy credited to the fact that ethyleneamines have emerged as some of the basic ingredients required for the manufacturing of such products. That chemical industry giants like AkzoNobel Specialty Chemicals are heavily investing in the ethyleneamines market speaks volumes for the future growth prospects for the industry.
U.S. Ethylenediamines Market Size, By Application, 2017 & 2024, (Kilo Tons)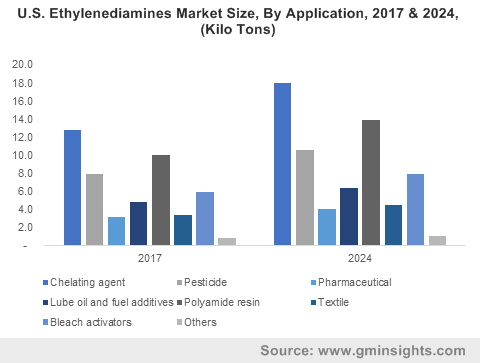 In 2017 AkzoNobel developed a technological breakthrough in the production of ethyleneamines and derivatives, a technology that has been hailed as a game changer in the ethyleneamines market. The process made it possible to reduce raw material consumption which in turn has contributed towards lowering production costs and improving environmental performance when compared to the current process of ethyleneamines production.
Considering the fact that ethyleneamines are potent intermediate chemicals involved in the production of epoxy curing agents that are in high demand in the expanding wind turbine fabrication industry and they also act as additives for oil, road materials, and paper, it is easily explicable why leaders in the chemical industry are interested in increasing their investments in the ethyleneamines market. Key chemical industry players such as Dow Chemical Company, BASF, Huntsman Corporation, Delamine etc. have all made substantial investments in the ethyleneamines industry noting the immense potential held by the business.
After the development of the revolutionary procedure for the production of ethyleneamines, recently AkzoNobel started the construction of a prototype plant in Sweden that is meant to demonstrate the more sustainable production procedure of ethyleneamines from ethylene oxide. The facility is being viewed as a further step towards the commercialization of the innovative technology and with the construction underway, AkzoNobel has started to explore options for a world-scale manufacturing facility.
Get a Sample Copy of this Report:@ https://www.gminsights.com/request-sample/detail/2388
The ethyleneamines industry is expected to register increasing demand with the rapid expansion of the pharmaceutical industry as ethyleneamines find immense application as a raw material for the production of antidepressants, antimalarials, antibiotics, antihistamines, local anesthetics and muscle relaxants. The global population is estimated to increase by 1.24% each year until 2030, and 28% of the global population will be aged between 65 to 80 which is a significant rise when compared to approximately 22% in 2000. The aging population will necessarily add to the demand of common medications such as painkillers and prescription drugs like antibiotics, in turn adding momentum to the ethyleneamines market.
Besides the pharmaceuticals industry, extensive application of ethyleneamines in the agrochemical industry has added significant impetus to the ethyleneamines market. The expanding population will once again promote the scope for the use of agricultural chemicals which will in turn fuel the ethyleneamines industry as it acts as one of the notable ingredients in pesticides. Indeed, ethylenediamines market size from pesticides is anticipated to surpass $290 million by 2024. Ethylenediamines, a sub-product of ethyleneamines, are used in the production of fungicides for the prevention of mildew, scabs, rust and blight in agricultural products. As the population increases, it becomes imperative to improve agricultural production that would help ethyleneamines market to forge new growth avenues.
Chelating agents also make for a considerable portion of the ethyleneamines market revenue. The size of the diethylenetriamine market is poised to surpass 10 kilo tons by 2024 solely due to the increasing demand of chelating agents. The expanding size of the paper & pulp industry is expected to act as a driving factor for the chelating agents market. Paper-based packaging materials demand observed in the packaging sector will register growth due to the developments in e-commerce and the increasing demand for door step delivery system of perishable goods, home appliances and other products.
The increasing global awareness for the usage of recycled paper products will also have a positive influence on the chelating agents market in the ensuing years. Estimates show that global paper and pulp industry registered more than $500 billion in 2015, a growth rate that is expected to be maintained in the forthcoming years adding impetus to the growth of the chelating agents sector, and inconsequence, impacting the expansion of ethyleneamines market.
The application scope of ethyleneamines is immensely humongous, and the product being used as a building block in several industries will eventually contribute towards the growth of the ethyleneamines market. For the record, ethyleneamines industry size is anticipated to surpass $3 billion by 2024.
Author Name : Paroma Bhattacharya
In the recent times, sodium acetate market has witnessed a rather lucrative commercialization prospects owing to its extensive application across numerous business verticals including food processing, leather and textile, and pharmaceuticals. Prominently utilized as a food preservative, sodium acetate has further found widespread usage as a neutralizing agent, diuretic agent, and buffering & pickling agent across various end-use domains –  a factor that has contributed significantly toward sodium acetate industry share augmentation. Moreover, rapid industrialization and enormous FDI investment in emerging nations across the globe has spurred the growth potential of the aforementioned industry verticals, which has, in turn, driven the sodium acetate market size expansion.
U.S. Sodium Acetate Market Size, by Product, 2013 – 2024 (USD Million)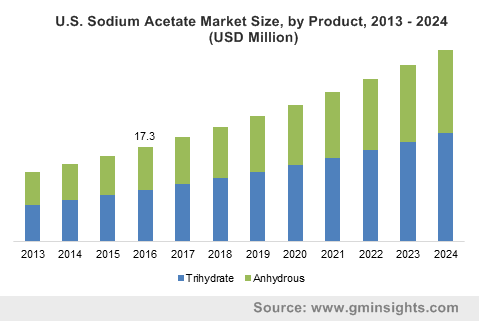 Food processing sector to emerge as a prominent end-user of sodium acetate industry
Owing to its excellent food preservation qualities, sodium acetate has been increasingly preferred by food processing industry over the past decade, which has proved to be quite beneficial for the overall sodium acetate market. The widescale applicability of this chemical can be attributed to the massive rise in the consumption of canned food items subject to fast-paced lifestyles and a drastic variation in dietary habits across developed and developing countries. This has, in consequence, provided a significant boost to the growth potential of sodium acetate industry. Apparently, sodium acetate is being utilized as an acid regulator to prevent the growth of harmful bacteria in canned meat, vegetables, and fruit. Furthermore, it would be prudent to mention that the addition of sodium acetate during the canning and drying procedures not only desists bacterial growth but also extends the shelf life of the product.
Get a Sample Copy of this Report:@https://www.gminsights.com/request-sample/detail/2408
Concurrently, sodium acetate market has found a major foothold in the global dairy sector, as the chemical is being utilized as an emulsifier and preservative in numerous dairy products. Apart from being widely used in condensed milk, sour cream, buttermilk, whey-based yogurts and drinks, sodium acetate has emerged as a preferred preservative in cheese preparations such as processed cheese, ripened cheese, cheese analogues, and processed cheese. In view of the rapid advancement of the global dairy sector, the growing prominence of sodium acetate as a preservative in the overall dairy industry is likely to impel the sodium acetate market size expansion.
Thus, the rising significance of sodium acetate in the global food processing sector can be validated from the aforementioned declarations. In fact, as per the research report compiled by Global Market Insights, Inc., food processing vertical accounted for more than USD 26 million of the revenue share of the total sodium acetate industry size in the year 2016.
The Asia Pacific region has indeed established itself as a profitable growth terrain for sodium acetate market stakeholders, as the expansion of numerous end-use verticals in this region has been much more pronounced when compared to other developing economies. For instance, sodium acetate is regarded as one of the most popular preservatives in Japan with the total demand for the chemical, as per reliable sources, being a humongous 3,500 tonnes. Apparently, such statistics demonstrate the necessity of sodium acetate across various verticals in the Asia Pacific region. For the record, Asia Pacific sodium acetate industry is estimated to have apportioned more than 55% of the total revenue share of this business space in 2016.
Elaborating further, it is quite imperative to mention that this multimillion-dollar business sphere is set to exhibit robust growth rate over the forthcoming years owing to the humongous deployment potential of sodium acetate – right from modest domestic uses to intricate chemical and industrial applications. In addition to this, the leading sodium acetate industry participants have been investing massively in vital research and development activities to strengthen their position in this swiftly emerging bulk and specialty chemicals vertical. Apparently, considering the aforementioned aspects, it quite undeniable that the sodium acetate market growth prospects appear to be substantially profitable in the ensuing years, with a target revenue of USD 220 million by 2024.
Author Name : Saif Ali Bepari
The rising requirement for fabrics that are longer-lasting, need less maintenance, and are comfortable have chiefly propelled blended fibers market. It goes without saying that the apparel and home furnishing sectors are the key arenas driving blended fibers industry growth. As the population of millennials with disposable incomes is on a rise, coupled with consumer interest for luxurious lifestyles, it is estimated that blended fibers market size will exceed 18 million tons by 2024 in terms of volume.
North America Blended Fibers Market, By Application, 2016 & 2024, (Kilo tons)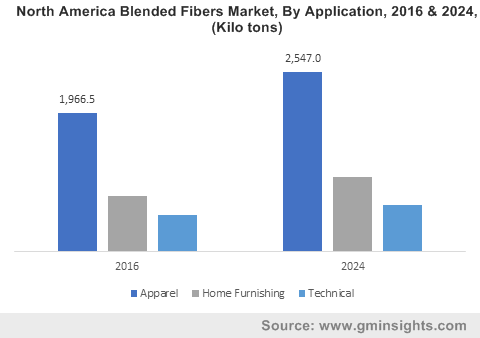 Blended fibers market had first come to evolve with the idea of 'blending' fibers to yield a fabric with unique properties that is much more comfortable than the original and is less taxing to care for. In this regard, a blend of cotton and polyester is one such fabric that has gained mass prominence in this business space. In 2016, cotton/polyester based blended fibers industry size was valued at USD 7 billion. It is noteworthy to mention that cotton is a natural fiber that is comfortable to wear but wrinkles easily. On the other hand, polyester is a synthetic fiber that is not very comfortable to wear but when mixed with cotton keeps the fabric from wrinkling. Blended fibers industry outlook thus depends on the identifying a balanced amalgamation of fibers that complement each other to produce the perfect fabric. A nylon/wool blend is another popular fabric that drives blended fibers market share, as nylon is resilient while wool adds to the warmth and softness of the garment. This blend is deemed perfect for winter wear apparels owing to its enhanced durability and quick-drying quality, thus marking significance in blended fibers market.
Get a Sample Copy of this Report:@ https://www.gminsights.com/request-sample/detail/1718
With the evolving fashion industry and the rising proportion of fashion consciousness consumers, it is important for the apparel industry to delve deeper in blended fibers market to brainstorm new mixed fabrics that will lend a certain charm and appeal to an ordinary piece of clothing. For instance, a draped cardigan made of a warm fabric like Merino can give the warmth of a cardigan but will not drape as beautifully as required. If the same cardigan is made of viscose it may be draped beautifully but will miss out on providing warmth. Ultimately, if a blended fabric like Merino Modal is used, i.e., 60% Merino and 40% Modal, the cardigan will have a beautiful drape while being essentially warm. Driven by appealing challenges such as the aforementioned, blended fibers market share from apparel applications is estimated to witness a CAGR of 3% over 2017-2024.
The home furnishing arena is another lucrative end-use domain of this business vertical. In 2016, 20% of the market valuation was attributed to the home furnishing industry. Rising urbanization, expanding real estate and easy access to home décor items made available through online portals like Amazon, Alibaba and eBay have thus provided a lucrative boost to the home furnishing domain, inherently fueling blended fibers market size.
Asia Pacific is one of pivotal regional markets for blended fibers industry. In fact, APAC market is forecast to surpass 9 billion tons by 2024, driven by the fact that several countries like China, India, Indonesia and Taiwan have expanded their apparel and home décor export base with a surge in demand of handcrafted products and government encouragement campaigns to boost indigenous production. Blended fibers industry has also been expanding in North America – estimates claim the continent to have contributed to 20% of the overall industry share in 2016. The introduction of nanotechnology as well as growing demands for new fabrics in the apparel and home furnishing industries has fueled North America industry trends.
The surging demand for better textile products with enhanced durability and a rather appealing visual appearance will drive blended fibers market. Blending expensive fibers with inexpensive ones offsets the production cost of the overall fabric as well, thus making the fabric more affordable and reliable. Growing economies comprising highly an urbanized, millennial population with disposable incomes will lead to a massive growth in the home furnishing and apparel sectors, thus directly stimulating blended fibers market size.
Author Name : Paroma Bhattacharya
White Oil Market revenue is projected to observe a massive surge over the next few years, driven by the escalating product popularity in the healthcare, cement, pharmaceuticals, textile, plastic & polymer, food, precision equipment, bakery, wood, and personal care & cosmetics sectors. The product also finds massive utilization in tanks, gears, compressor cylinders, hydraulic equipment, vats, medical equipment, and packaging. Pertaining to the broad application spectrum alone, white oil industry exhibits the competence to flourish over the forthcoming years. As per estimates, white oil industry, which accumulated a revenue of more than USD 1.1 billion in 2015, is anticipated to surpass USD 2 billion by 2024.
U.S. White Oil Market Size, By Application, (USD Million), 2013-2024

The rapid expansion of certain industries such as those of cement, textiles, and farming has brought about an appreciable change in the dynamics of white oil industry in the Asia Pacific region, which accounted for over 60% of the overall industry share in 2015. The introduction of the beneficial government schemes is certain to support the regional growth. For instance, the Indian government launched a Pharma Vision 2020 program to promote developments in the pharmaceutical and medical sectors, a move which is likely to favorably influence the growth of white oil industry across the country. Besides India, Taiwan and China are the other regions that are expected to make considerable contributions toward APAC share.
MEA white oil market is projected to register notable gains of nearly 2.6% over the coming seven years. Intense demand for the product from the end-use sectors such as petroleum and petrochemicals along with its surging application in personal care & cosmetic items will push the revenue. Saudi Arabia and South Africa are likely to be key regional growth drivers.
Get a Sample Copy of this Report@ https://www.gminsights.com/request-sample/detail/1192
High product popularity across food & packaging and healthcare sectors along with a greater urge for refined as well as clean oil will augment the growth of Europe white oil industry. North America white oil industry is projected to expand at a CAGR of over 2.7% over the period of 2016-2024, subject to the introduction of new products specifically in the healthcare sector. The U.S. is predicted to make remarkable contributions toward the regional revenue.
White oil industry size in the personal care & cosmetics sector is projected to experience gains of more than 2.5% during the period from 2016 to 2024. Favorable features such as chemical & biological stability, softness, good emollient effect, and resistance to toxicity & germs will boost the growth.
Food applications are expected to contribute more than USD 68 million towards white oil market revenue by 2024. Rising product application in wrappers, packaging & filling equipment, sugar refining, and the egg-coating will boost the business trends. The thriving animal feed sector will further augment the revenue.
Growing product use in garments, apparels, and fabrics will boost white oil industry size in the textile sector, which is expected to grow at a rate of nearly 2% over the coming timeline. Anti- corrosive features of the product are expected to enhance its use as an anti-rust lubricant in sewing machines, thereby lucratively influencing the business space.
White oil market value in the pharmaceuticals sector is projected to surge at a rate of more than 2.8% over the years ahead. Rising health consciousness among the consumers along with the rising need for laxatives, excipients, and medical ointments are forecast to generate immense growth opportunities for the business.
Plastics & polymers sector, which contributed to more than 50% of the overall white oil market share in 2015, is expected to remarkably influence the business growth. Rising product demand for PVC lubricants, rubbers, extenders, thermoplastic elastomers, and plastic annealing will boost the industry landscape. High usage of the product as mold release agents as well as extrusion aids in the plastic production will also push the revenue.
British Petroleum Plc, Exxon Mobil Corporation, Renkert Oil Incorporation, Sasol Limited, Sinopec Limited, Royal Dutch Shell plc, JXTG Nippon Oil & Energy Corporation, and Seojin Chemical Company Limited are the major players of white oil industry.
Author Name : Dhananjay Punekar