Textile
Permethrin market outlook is anticipated to depict a robust transformation due to rising incidence of scabies and growing awareness among people regarding treatment of the same. Scabies is one of the pervasive dermatological conditions known for effecting substantial proportion of population with skin disease in developing countries.
U.S. Liquid Form Permethrin Market, By Application, 2018 & 2025, (Tons)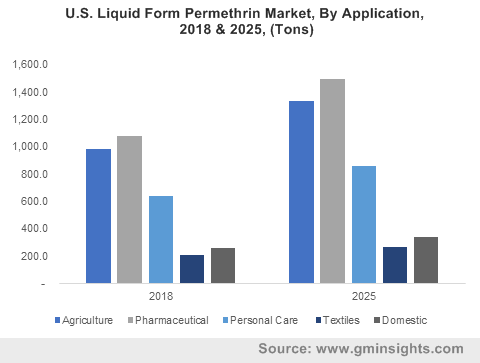 Globally, scabies is estimated to affect more than 200 million people at any time, a factor that will help to augment the revenue share of permethrin. Approximately, 300 million new cases of scabies occur each year in men, women and children of all ages and races. In 2015, it was assessed that the direct impact of scabies infestation on the skin alone led to 0.21% of disability-adjusted life-years (DALYs) from all conditions globally.
In India, during a case study follow up, 81% of inmates of an orphanage in rural area of Maharashtra, were found to be suffering from scabies. All the inmates were successfully treated with mass scabies treatment and health education. An epidemiological study conducted in rural community has reported the prevalence rate of scabies as 13%. The occurrence of scabies in India is common due to lack of awareness of the condition but due to the pharmaceutical usage of the product, permethrin market is expected to witness significant growth in the region.
Get a Sample Copy of this Report:@ https://www.gminsights.com/request-sample/detail/4146
Permethrin industry may observe commendable gains due to its pharmaceutical applications on account of its utilization as pediculicide, scabicide, and antiparasitic agent. Permethrin can be applied externally as cream, ointment, powder, and lotion which is likely to boost product demand. Powder form segment of permethrin industry may witness strong gains of 3.5% over 2019-2025.
Trend of wearing fabrics treated with insecticides is growing among armed forces including U.S. and British will promote permethrin market share. Actions to prevent arthropod exposure and mite bites are vital to protect the soldiers from diseases such as West Nile encephalitis (mosquito), mite infection, dengue (mosquito), malaria (mosquito), Lyme disease (tick), and others. For instance, dengue fever affects about 40% of population in the world. Malaria is one of the most common mosquito-borne diseases in the world. Personal protection approaches, like wearing insecticide-treated clothes, can be opted to reduce arthropod and mite bites and can be the first line of defense against vector-borne diseases for armies and population.
Several companies are also toiling to expand their share in permethrin market by launching new products. For instance, in 2018, Neogen added Fly-Die Ultra™ to its line of effective Prozap equine fly protection products with a long-lasting, sweat-proof formula. Fly-Die Ultra guards horses from horn flies, stable flies, house flies, deer flies, horse flies, ticks, face flies, gnats, mosquitoes, and lice including those which transmits the West Nile virus. Such products innovated by the industry players will considerably contribute to support permethrin market trends.
China has played a major role in permethrin industry growth as it has the world's largest textile sector. The rising exports and domestic demand for high quality apparels in China has efficiently added stimulus to permethrin market share. Permethrin is majorly used to eradicate insects such as silverfish, moths, and carpet beetle that causes textile degradation. In 2015, there were 4,632 enterprises reported in textile sector with assets of CNY 440.805 billion. The 2016-2020 development plan of the textile industry in China emphasizes that a large number of new technologies should be widely applied in energy conservation and consumption reduction. China permethrin market size may exceed $15 million by the end of 2025.
Permethrin is also majorly utilized in agriculture sector as an insecticide to protect wheat crops from insects including brown wheat mite, aphids, army worms, termites, and legume pod borer. In the year 2018, France's wheat production was noted to reach 36.9 million metric tons. Wheat production in France remains the largest within European Union with 27 percent of total production and wheat yields in France are among the highest in the region. Such a huge yield and production is expected to favor permethrin industry growth. France permethrin market size is forecast to surpass $8.5 million by 2025.
According to the prevalent research, pesticide use has seen a massive increase in the UK over the last 40 years. The pesticide active ingredients applied to three British crops, staples wheat, potatoes and onions, have increased between 6 and 18 times. Far from a 50% cut, increase in active ingredients applied to these crops range from 480% to 1,700% over the last 40-odd years.
With growing usage of insecticides, permethrin will be much in demand to protect crops, especially wheat, from insects and increase production. Global Market Insights, Inc. has compiled a research report which forecasts that permethrin market is likely to surpass a valuation of $200 million by 2025.
Author Name : Anchal Solanki
Increased product demand from pharmaceutical and textile industries will drive bleached linter cellulose market growth in the forecast years. Bleach linter cellulose is a high viscosity substance made primarily from cotton linters. Compared to wood cellulose, cotton linters offer significant advantages like higher purity, higher brightness, and a lower content of hemi-celluloses. These characteristics make purified linters cellulose an ideal raw material for manufacturing high-quality products like tissue, gazes, high-quality paper for bank notes, nitrocellulose and cellulose ethers.
U.S. Bleach Linter Cellulose Market size, By Application, 2014-2025 (USD Million)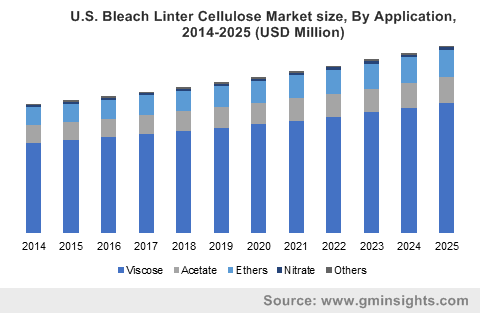 Increasing investments and rapid technological advancements are likely to expand bleached linter cellulose market size over the forecast period. For instance, in 2019, the GRETE project that aims to improve the existing wood-to-textile value chains by developing breakthroughs and increase production of man-made cellulose fibers in Europe was granted EUR 2.6 million by the Bio-based Industries Joint Undertaking (BBI JU). Swiftly growing food industry across developing nations is also anticipated to foster industry trends.
Based on application, it would be apt to state that cellulose ether will accrue a significant proportion od bleached linter cellulose market share over the coming years. Cellulose ethers are often used as viscosifiers, suspending agents, thickeners, binders, protective colloids, film formers, and stabilizers in industries like food, drilling, textile, building, ceramics, detergent, and cosmetics.
Increasing use of cellulose ethers like carboxymethylcellulose (CMC) and methylcellulose (MC) will drive industry outlook. For example, in the construction industry, CMC is used in cement and other building material compositions owing to its hydrophilic and stabilizing properties.
Get a Sample Copy of this Report:@ https://www.gminsights.com/request-sample/detail/3858
Supportive government strategies and investments in the construction sector will positively supplement cellulose ether segment in the coming years. For instance, according to European Construction Sector Observatory (ECSO) 2018, the UK government plans to deliver 400,000 affordable housing units by 2020-2021, financed through a new EUR 2.7 billion Housing Infrastructure Fund.
Growing demand for personal care and pharmaceutical products is likely to drive bleached linter cellulose market growth by 2025. In personal care industry, bleached linter cellulose is used to thicken and stabilize cosmetics and improve their moisturizing effects. Cellulose ether, pertaining to its characteristics like high glass transition temperatures, limited crystallinity, high chemical & photochemical stability, solubility, hydrogen bonding capability, and low toxicity is used widely in the pharmaceutical sector. Colored cellulose ether products can also be decolorized or bleached to attain an increased whiteness.
Growing use of cellulose ether in various medicinal drug formulations will accelerate product demand. For instance, methyl cellulose (MC) can be used for thickening, suspending, and achieving emulsion stability of liquid pharmaceuticals, and for film coating materials of low viscosity aqueous solution.
Ethyl cellulose (EC) can be used as the binder of tablets, as film coating material, or as the matrix material for developing various types of matrix sustained-release tablets. With growing application of cellulose ether and ethyl cellulose, bleached linter cellulose market will witness commendable proceeds from the personal care and pharmaceutical sector over the coming years.
Asia-Pacific bleached linter cellulose market is anticipated to record gains of over 3.5% in the forecast period. Availability of low cost raw materials in countries like India and China will supplement industry growth. In addition, surging demand from end-user industries like textile, food, pharmaceutical and personal care due to improving socio-economic trends will expand market size.
According to IBEF, India's pharmaceutical industry is expected to reach US $55 billion by 2020. Whereas the country's textiles industry is estimated to reach US$ 250 billion in 2019. With rapid proliferation in such key sectors, the Asia-Pacific bleached linter cellulose market is estimated to witness new growth opportunities over the forecast period.
Bleach linter cellulose is high viscosity cellulose made from cotton linters. Being non-toxic, odorless in nature and easy-absorbent, bleach linter cellulose can effectively be used in industries like food, ceramics, detergent, and cosmetics. Rising product penetration in the textile, personal care and pharmaceutical industries will majorly drive global bleached linter cellulose market growth. Global Market Insights, Inc., estimates bleached linter cellulose market size to reach US $1.3 billion by 2025.
Author Name : Mateen Dalal
The increasing intensity of climate change and the subsequent issue of water scarcity have led to zero liquid discharge systems market gaining substantial significance. Indeed, the system has become an integral component of numerous industrial sectors, consolidating the market into a lucrative investment ground.
U.S. Zero Liquid Discharge Systems Market Size, by End-user, 2014 – 2025 (USD Million)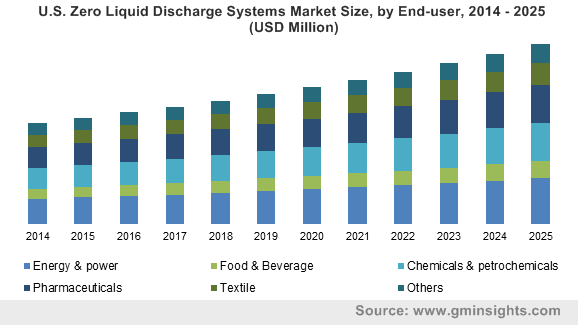 According to a research by the World Resources Institute, climate change is rampant, turning the world's hottest regions even hotter. Meanwhile, as the planet warms, clouds are moving away towards the poles from the equator, further depriving equatorial regions such as Central America, sub-Saharan Africa and the Middle East of rainwater. According to the United Nation's UN Water, the issue of water scarcity is being further exacerbated as rapidly expanding urban areas are placing heavy pressure on water resources nearby, further straining the relationship between water demand & world development.
As these challenges continue to proliferate across the globe, the zero liquid discharge (ZLD) process of water treatment is expected to witness a substantial rise in adoption rates. With more and more enterprises looking to purify & recycle wastewater to dampen their impact on the environment, ZLD systems industry is expected to garner commendable traction ahead..
Role of Europe's environment protection directives on ZLD systems market
In 2018, the European Commission proposed new rules to promote and facilitate water reuse across the European Union for agricultural irrigation. These steps were introduced with the sole purpose of alleviating the pressure of water demands on natural water sources.
The Numbers: According to a recent infographic posted by the European Commission, the challenge currently grips approximately 11% of the European population, severely impacting over 17% of the European Union's territory.
Get a Sample Copy of this Report @ https://www.gminsights.com/request-sample/detail/1961
Moreover, the challenge of water scarcity is no longer confined to a select number of regions across Europe and has started to rapidly become a major concern across the EU. In fact, water scarcity & stress is slated to affect approximately 50% of Europe's river basins by 2030.
The Potential: The European Commission has identified that the EU needs to manage its water resources in a more efficient manner and an effective way to achieve that efficiency is to treat recycled water from ZLD systems as an alternative water supply source. In 2018, the Europe ZLD systems market raised over $1.5 billion in revenues, having treated more than 40,000 million m3 of waste water, however, the continent only reuses 964 million m3 of the treated wastewater.
The potential for additional uptake is quite massive, as the region could reuse more than six times the volume of recycled water that is used currently, presenting a substantial opportunity for the growth of the regional ZLD systems market.
Impact of APAC's developing economies on ZLD systems market
The Asia Pacific is home to a majority of the earth's population & houses two of the world's fastest growing economies; China & India. Apart from these two countries, the region is also home a number of developing nations.
According to a report by China Water Risk (CWR), the adoption of ZLD systems in China is being fueled by the unlikeliest of factors – the nation's thermal power air pollution reduction process, which produces complex and extremely hard to treat wastewater as a byproduct. Moreover, unless a power plant is air cooled, water is by far the most prominently used cooling solution in China, which accounts for approximately 70% to 80% of wastewater volumes.
Driven by such copious availability of waste water, ZLD systems are gaining considerable traction across many industrial sectors across the nation, providing further growth opportunities for the regional ZLD systems market players.
According a report by Global Market Insights, Inc., propelled by severe environmental challenges and the ongoing economic development of several nations like India and China, the global ZLD systems market is projected to surpass the $9 billion renumeration mark by 2025.
Author Name : Akshay Kedari
With expansion of industries like textile, paper & pulp and wastewater treatment, it is now rather evident that bleaching agents market will register significant growth over 2018-2025 as such chemicals find extensive application in the aforementioned industries. For instance, in October 2018, textile and apparels exports in India recorded a notable 38% jump as overseas demand for Indian clothing accelerated. As the global economy has begun to recover, U.S. has led the demand for Indian clothing and compared to October of 2017 which recoded the export of Rs147.79 billion worth of apparels, in October 2018, exports stood at Rs203.53 billion.
U.S. bleaching agents market size, by application, 2014 – 2025 (USD Billion)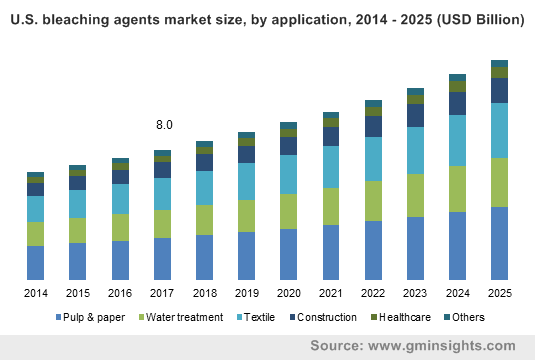 Considering that the Confederation of Indian Textile Industry is actively working to maintain such export revenues, it is rather overt that the Indian textile industry will receive a prominent boost from such endeavors and the bleaching agents market will in turn reap the benefits of such developments over 2018-2025.
It should be noted that Asia Pacific bleaching agents market generated quite some appreciable returns in 2017 that can be largely attributed to not only the textile industry of India but also the textile industry of China, which is incidentally the largest textile producer and exporter in the world. The rapidly growing Chinese textile industry has become one of the pillars in the country's economic development with China's textile exports being valued at approximately $10 billion in 2017, which is estimated to be 37.2% of the global market share. A massive and low-cost labor force as well as material supply availability has lent a competitive edge to China in the textile industry landscape. As a result, the country has come to occupy a leading position in the bleaching agents market as well as bleaching agents are one of the most essential chemicals involved in the textile industry.
Get a Sample Copy of this Report:@ https://www.gminsights.com/request-sample/detail/2525
A part of the Asia Pacific bleaching agents market revenue in 2017 can also be attributed to the use of bleaching agents in the paper & pulp and chemical industries in countries like China and India. Bleaching agents like hydrogen peroxide find extensive application in digital printing and flex printing as well as in manufacturing of packaging materials. Other Asian countries like Indonesia have come to realize the potential in the paper & pulp industry and are increasing investments not only to bring in the latest technology to support the growth of the industry but also to increase competitiveness of its products in the global market.
Indonesia apparently has the raw materials and favorable subtropical climate that makes it a major competitor in the paper & pulp industry. With national industrial policies being aligned to prioritize the paper & pulp industry in Indonesia as it provides a significant contribution to the national economy, the bleaching agents industry in the country is also expected to receive a significant boost over 2018-2025.
It should be mentioned that in world increasingly concerned about the ecological effects of harsh bleaching agents, the bleaching agents market has faced some major challenges when it came to expanding operations. However, active research and development in the bleaching agents industry and innovative new agents have effectively by-passed such hurdles that stood in the way of the industry's growth.
For instance, the pulp and paper industry has made efforts to reduce the chloro-organic and chloride discharges by substituting harmful chlorine-based chemicals with oxygen, hydrogen peroxide and ozone. Modifications at the pulping and bleaching stages in the manufacturing process have been made to reduce the toxic effect of bleaching waste water in order to adhere to stringent emission standards and environmental concerns.
The utilization of industrial waste water to manufacture products like enzymes and the utilization of enzymes in bleaching to minimize the chemical consumption of chlorine-based bleaching agents offer innovative and environmentally sensible technologies that can significantly reduce the environmental impact of the bleaching agents industry. With innovations paving the way for a profitable bleaching agents industry, it is estimated that the bleaching agents market will record a commendable growth rate in the years ahead.
Author Name : Paroma Bhattacharya
With expanding global demand for various pharmaceutical, agrochemical, personal care, additives and chelating agents, the ethyleneamines market is expected to witness exponential growth opportunities over 2018-2024. This can be essentilayy credited to the fact that ethyleneamines have emerged as some of the basic ingredients required for the manufacturing of such products. That chemical industry giants like AkzoNobel Specialty Chemicals are heavily investing in the ethyleneamines market speaks volumes for the future growth prospects for the industry.
U.S. Ethylenediamines Market Size, By Application, 2017 & 2024, (Kilo Tons)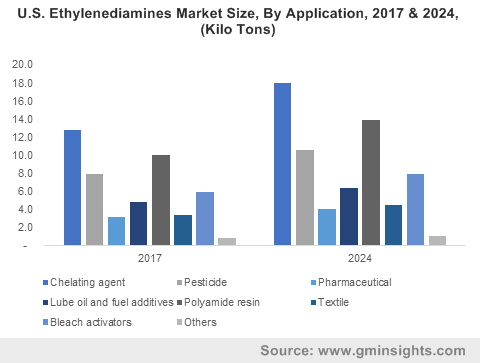 In 2017 AkzoNobel developed a technological breakthrough in the production of ethyleneamines and derivatives, a technology that has been hailed as a game changer in the ethyleneamines market. The process made it possible to reduce raw material consumption which in turn has contributed towards lowering production costs and improving environmental performance when compared to the current process of ethyleneamines production.
Considering the fact that ethyleneamines are potent intermediate chemicals involved in the production of epoxy curing agents that are in high demand in the expanding wind turbine fabrication industry and they also act as additives for oil, road materials, and paper, it is easily explicable why leaders in the chemical industry are interested in increasing their investments in the ethyleneamines market. Key chemical industry players such as Dow Chemical Company, BASF, Huntsman Corporation, Delamine etc. have all made substantial investments in the ethyleneamines industry noting the immense potential held by the business.
After the development of the revolutionary procedure for the production of ethyleneamines, recently AkzoNobel started the construction of a prototype plant in Sweden that is meant to demonstrate the more sustainable production procedure of ethyleneamines from ethylene oxide. The facility is being viewed as a further step towards the commercialization of the innovative technology and with the construction underway, AkzoNobel has started to explore options for a world-scale manufacturing facility.
Get a Sample Copy of this Report:@ https://www.gminsights.com/request-sample/detail/2388
The ethyleneamines industry is expected to register increasing demand with the rapid expansion of the pharmaceutical industry as ethyleneamines find immense application as a raw material for the production of antidepressants, antimalarials, antibiotics, antihistamines, local anesthetics and muscle relaxants. The global population is estimated to increase by 1.24% each year until 2030, and 28% of the global population will be aged between 65 to 80 which is a significant rise when compared to approximately 22% in 2000. The aging population will necessarily add to the demand of common medications such as painkillers and prescription drugs like antibiotics, in turn adding momentum to the ethyleneamines market.
Besides the pharmaceuticals industry, extensive application of ethyleneamines in the agrochemical industry has added significant impetus to the ethyleneamines market. The expanding population will once again promote the scope for the use of agricultural chemicals which will in turn fuel the ethyleneamines industry as it acts as one of the notable ingredients in pesticides. Indeed, ethylenediamines market size from pesticides is anticipated to surpass $290 million by 2024. Ethylenediamines, a sub-product of ethyleneamines, are used in the production of fungicides for the prevention of mildew, scabs, rust and blight in agricultural products. As the population increases, it becomes imperative to improve agricultural production that would help ethyleneamines market to forge new growth avenues.
Chelating agents also make for a considerable portion of the ethyleneamines market revenue. The size of the diethylenetriamine market is poised to surpass 10 kilo tons by 2024 solely due to the increasing demand of chelating agents. The expanding size of the paper & pulp industry is expected to act as a driving factor for the chelating agents market. Paper-based packaging materials demand observed in the packaging sector will register growth due to the developments in e-commerce and the increasing demand for door step delivery system of perishable goods, home appliances and other products.
The increasing global awareness for the usage of recycled paper products will also have a positive influence on the chelating agents market in the ensuing years. Estimates show that global paper and pulp industry registered more than $500 billion in 2015, a growth rate that is expected to be maintained in the forthcoming years adding impetus to the growth of the chelating agents sector, and inconsequence, impacting the expansion of ethyleneamines market.
The application scope of ethyleneamines is immensely humongous, and the product being used as a building block in several industries will eventually contribute towards the growth of the ethyleneamines market. For the record, ethyleneamines industry size is anticipated to surpass $3 billion by 2024.
Author Name : Paroma Bhattacharya