Textile
Boasting of a wide-ranging application portfolio, the global white oil market, of late, has emerged as one of the fastest growing niche verticals of the bulk and specialty chemicals industry. Increasing uptake of white oil by foremost lubricant manufacturers along with the implementation of innovative technologies is positively favoring the white oil market sphere in the recent times. As per reliable estimates, the remuneration portfolio of this industry is slated to surpass USD 6 billion by 2024.
North America White Oil Market, By Application, 2017 & 2024 (USD Million)

A brief overview of recent trends shaping the application landscape of the global white oil industry
Speaking of the application spectrum, as per a research report collated by Global Market Insights, Inc., the plastic and polymer segment accounted for more than USD 750 million of the white oil market share in 2017. The paraffinic base, low volatility, and high purity are some of the characteristics of white oil which make it ideal to manufacture PVC, LDPE, TPE products. In addition to this, the increasing demand for extrusion aids and mold release agents in plastic manufacturing has augmented the pace of product adoption in the recent times.
Apart from the plastic and polymer segment, two major rapidly expanding application segments of the white oil industry are personal care & cosmetic and food sector. In fact, reliable sources state that the personal care & cosmetic applications apportioned a remuneration of more than USD 1.5 billion in 2017. White oil is chiefly used as a base material in baby oils, lotions, and skin creams as it provides exceptional lubricity, resistance to moisture, and superior smoothness.
Reliable estimates claim that the food industry segment is set to apportion more than 6 percent of the total revenue share of the white oil market by the end of 2024. Usage of white oil in the food industry is further likely to gain traction, given the product has robust application scope in packaging and food grade lubes, release agents, and processing-related activities. Additionally, prominent regulatory organizations such as U.S. FDA have been approving the utilization of white oil in applications that require direct and indirect contact with food, essentially boosting the growth potential of white oil industry.
Get a Sample Copy of this Report@ https://www.gminsights.com/request-sample/detail/1192
One of the major factors that has been strongly driving the expansion of the white oil market is the increasing consolidation of the established players who have been focusing on acquisitions lately. For instance, Fuchs Petrolub SE had acquired the white oils and food machinery specialty lubricants business of energy giant Chevron Corporation in the year 2016. The objective of the takeover was to strengthen the FUCHS Lubricants Co., the subsidiary of Fuchs Petrolub SE which is regarded as the world's largest independent manufacturer of lubricants.
Although the commercialization matrix of the white oil market appears highly promising in the years ahead, there exist a few aspects that may prove to be quite detrimental to the product price trends and subsequently impact the industry negatively. In this regard, it is prudent to take note of the fact that geopolitical events often result in output loss, supply disruption, and harm steady market functioning. Moreover, constant fluctuation in crude oil prices due to political and economic uncertainties can decelerate the pace of white oil market expansion in the times to come.
In terms of geographical penetration, the Asia Pacific region is one of the most lucrative growth avenues for the white oil industry players. Owing to favorable FDI policies and ease of doing business, the APAC nations are transforming themselves into large manufacturing hubs – a factor that has helped market participants to expand their reach in this region. Moreover, the high adoption rate of white oil in food processing, plastic, textile, and agricultural sectors has fostered business growth. For the record, the APAC white oil market recorded a revenue collection of USD 2.5 billion in 2017, cite authentic estimates.
Owing to the presence of numerous prominent firms and regional manufacturers, the overall competitive hierarchy of the white oil market can be termed as moderately fragmented. Encompassing a wide range of product and application domains, the global white oil industry comprises of major companies along the likes of Sasol, British Petroleum, Royal Dutch Shell, JX Nippon, Sonneborn, Chevron, Exxon Mobile, Sinopec Corporation.
Author Name : Saif Ali Bepari
Mandatory roll outs by governments of various developed economies have played the most influential role in escalating biobased polypropylene market demand over the recent years.  Two global regulatory bodies whose initiations regarding the curtailment of carbon footprints have enhanced the market outlook are EPA and EU, which undoubtedly translates a noticeable expansion and development of North America and Europe's biobased PP industry. Europe market dominated by Germany, UK, and France is projected to show a steep growth curve, at an annual rate of 6% in the next five years. In addition to this, increasing consumer demand for lightweight vehicles that allows lower fuel consumption is further fueling the market growth. Light weighted materials are also being widely deployed in medical space, pressure vehicles, wind vehicles and other alternative energy bases
.
A report by Global Market Insights, Inc., states that
Biobased Polypropylene Market
will surpass a revenue of USD 40 million by 2022, with a CAGR estimation of 4.5% over the period of 2016-2022.
Europe Biobased Pp Market Size, By Application, 2014 & 2022 (USD Million)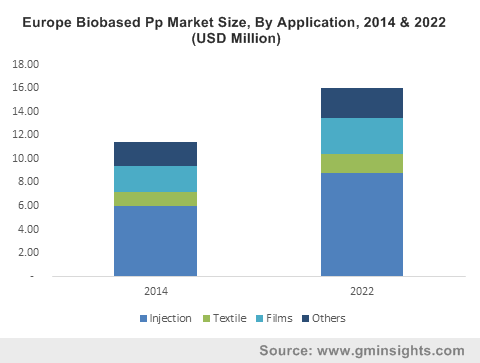 Injection applications represent a major share of biobased polypropylene industry and are expected to attain the highest gains in the coming five years. Growing demand for lightweight materials in myriad end use industries including automotive, construction, industrial as well as packaging is driving this application landscape. The influential impact of the advanced automobile sector has also played a crucial role in changing the market dynamics. Countries such as Malaysia, China, Thailand, and Mexico are encountering a heavy surge in the vehicle sales which is further creating a lucrative consumer base to biobased PP market. As per an estimation, the overall market from injection application is anticipated to record a revenue of more than USD 20 million by the end of 2022.
Positive outlook of some of the automotive manufacturing giants like Toyota Motor Corp., General Motors, and Ford flex in this regard also have had a persuasive impact on the overall biobased polypropylene market development. An announcement by Toyota Motor Corp. which states that 20% synthetic polymers will soon be replaced by biobased PP is expected to complement the overall market dynamics in the coming time frame.
Get a Sample Copy of this Report @ https://www.gminsights.com/request-sample/detail/175
Regionally, North America has established profound grounds enhancing biobased PP industry outlook. The trend of light weight vehicle in U.S. is acting as a prime factor catering the regional market growth. Concurrently, regulatory mandates supported by EPA to curb the greenhouse gas emission has further fueled the demand for biodegradable polymers. North America biobased polypropylene industry size is expected to expand massively in terms of volume coverage in coming five years by accounting for almost over 6 kilotons by 2022.
Textile is another niche application segment of global biobased polypropylene industry. Geotextiles which are gaining a global popularity owing to its rising scope of application in soil erosion and drainage activities is primarily favoring the overall market growth. Biobased PP market demand from textile applications is foreseen to rise high in the coming five years, with an estimated volume coverage of 1.5 kilotons by 2022. Biobased polypropylene films are being extensively implemented in green packaging especially for food and beverage and medical purposes owing to its strengthening properties and transparency. Biobased PP industry from this application is projected to show an upswing in its growth chart with a CAGR projection of 4.5% over the period of 2016-2022.
Considering the market analysis based on textile application, Asia Pacific has marked its footprints in the global landscape. With rapid industrialization of emerging economies of APAC belt such as Japan, China, India, biobased polypropylene industry is slated to register a signification growth at an annual rate of 5% over the coming five years.
Biobased PP industry is gaining a substantial traction with increasing number of market players focusing on enhancing the raw material portfolio to minimize the production cost. Some of the prominent industry participants working rigorously in this domain include Biobent Polymers, Global Bioenergies, Dow Chemicals, and Braskem.
Author Name :Satarupa De