Textiles
Growing application in electrical & electronics appliances as well as in the textile industry will drive decabromodiphenyl ether market growth. Decabromodiphenyl ether (decaBDE) is an additive flame retardant that has wide applications in plastics, sealants, textiles, adhesives, coatings and many other products. It is used to protect items like electronic equipment, furniture cushions, upholstery textiles, mattresses, carpet backings, vehicles, aircrafts and building materials from the risk of fire.
U.S. 83% Purity Decabromodiphenyl Ether Market Size, By Material, 2018 & 2025, (Kilo Tons)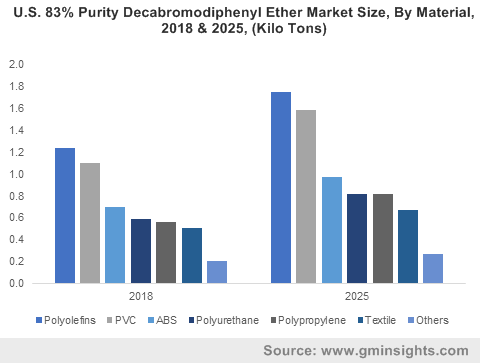 In the past, commercial decabromodiphenyl ether (decaBDE) constituted 75%-80% of the global production of PBDEs (Polybrominated diphenyl ethers), while the total production of c-decaBDE over  1970-2005 was recorded around 1.1 million to 1.25 million tons. DecaBDE consumption peaked in the early 2000's and continues to be used worldwide.
In the building industry, decaBDE is used to develop paper foil laminate, home insulation, hot melt adhesive and architectural foam. In the rubber industry, decaBDE powder is used to manufacture flame retardant rubber conveyor belts that are used in underground coal mines, and to manufacture ventilation bands used as air ducts sealants in mine ventilation systems.
DecaBDE is also found in plastics used in electrical appliances and equipment such as computers, circuit boards, cable insulations and casings. Other uses in the transportation sector include fabrics of automobiles and aircrafts. Driven by a widespread application spectrum, decabromodiphenyl ether industry size may register significant growth over the coming years.
Based on material, decabromodiphenyl ether market is segmented into acrylonitrile-butadiene-styrene (ABS), polyolefins, polyvinylchloride, polyurethane, polypropylene. ABS is often used in automotive and electrical equipment. It exhibits excellent mechanical properties, thus offering good impact strength.
ABS offers good electrical insulating properties, on account of which it finds applications in products like electrical connections, light switches, power points and more. Control housing covers are also made using ABS. Additionally, ABS resins are used in injection molding of parts for medical devices, domestic electrical appliances, and automotive casings. Rising inclination toward the product owing to its superior surface appearance and fire-retardant properties will impel ABS-based decabromodiphenyl ether market share.
Get a Sample Copy of this Report:@ https://www.gminsights.com/request-sample/detail/3414

Surging ABS demand in electrical & electronics appliances and in the construction industry will also fuel the overall acrylonitrile butadiene styrene (ABS) market, a marginal impact of which will be felt across decaBDE industry.
Decabromodiphenyl ether market has registered considerable growth from textile industry. DecaBDE is used to treat a wide range of synthetic, blended and natural fibers. It is used in products like upholstery, window blinds, curtains, mattress textiles and more. It may also be used in synthetic latex foam in protective clothing, carpets, upholstery fabric, tents, and interiors fabrics used in cars, trains and aircraft.
DecaBDE is commonly applied using back coating process in the textiles industry. Padding processes and printing processes are also used to apply this flame retardant chemical. Increasing disposable incomes along with changing lifestyles have enhanced consumer spending on household fabrics, which is anticipated to accelerate product demand in the textile industry.
APAC decabromodiphenyl ether industry is growing on account of high-production demand for flame retardant, especially across China and India. Indeed, the demand for flame retardants has increased exponentially in China, mainly as the country produces large volumes of electronic devices for global markets. According to reliable reports, China's electronics production volume grew from 10% in 2016 to 14.5% in April 2017.
Demand for improved fire retardant and durable plastics for consumer electronics should foster decaBDE demand. Moreover, rapid urbanization has led to increased demand for decaBDE in the residential and commercial building sectors, accelerating the APAC decabromodiphenyl ether market share.
Decabromodiphenyl ether is a flame retardant used to enhance the strength, durability and chemical resistance of numerous end-user products. Increasing application in the automotive, textile and construction industries has accelerated industry growth in recent times. Global Market Insights, Inc., estimates decaBDE market size to exceed USD 430 million by 2025.
Author Name : Mateen Dalal
Boasting of a widespread application spectrum encompassing mineral flotation, wood pulp bleaching, and textile sectors, sodium hydrosulfite market already held a billion-dollar business space in yesteryear. Rooted from sodium dithionite, sodium hydrosulfite is basically used as a bleaching and reducing agent in various dyeing applications that are increasingly in demand across a myriad range of emerging markets, textile sector is one of the many. For instance, in textile, these chemical compounds observe high demand in vat dyeing application and in bleaching cotton, wood, nylon etc. It is therefore of no surprise, that the robust growth of textile industry is directly proportional to the sodium hydrosulfite market growth. global textile industry size in 2016 was almost around 90 million tons in terms of demand, which, as per market forecast, is likely to reach around 130 million tons by the end of 2024. This speculation is quite a testimony to sodium hydrosulfite market growth in the coming years.
U.S. sodium hydrosulfite market size, by application, 2013 – 2024 (USD Million)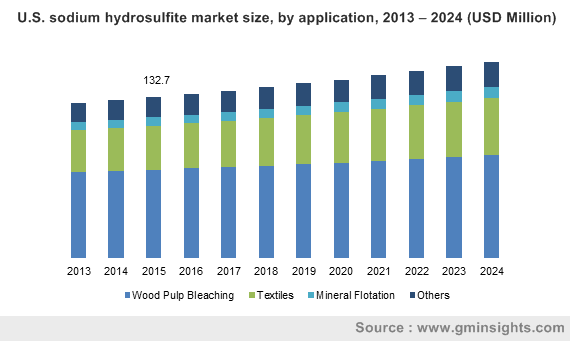 With textile sector leading the application landscape, Sodium Hydrosulfite Market is slated to exceed a revenue of USD 1.4 billion by the end of 2024, with 4% CAGR over 2017-2024. As per estimates, textile application will witness a revenue contribution of USD 700 million by 2024, with a y-o-y growth of 4% over the forecast span. Other than textiles, the steady product demand in the metakaolin and kaolin synthesis will also act in favor of the market growth. Worldwide, global sodium hydrosulfite industry is rather concentrated with leading four players holding a chunk of the business space. These players have been increasingly focusing on research activities to come up with some innovative products, thereby attracting a wider consumer base. Some of them are also concentrating on strategic collaborations to expand their global presence to establish a strong foothold in sodium hydrosulfite industry space.
Get a Sample Copy of this Report@ https://www.gminsights.com/request-sample/detail/1803
Overall, global sodium hydrosulfite market is forecast to carve a sizable growth in emerging economies especially across APAC belt. North America and Europe sodium hydrosulfite market, on the other hand, is likely to witness rather a moderate growth over the coming seven years.  The increasing importance of paperless economy in these two regions is negatively impacting the sodium, hydrosulfite business space. In 2016, the overall paper board production capacity in North America was 79.6 million tons, which the market expert forecast to scale down to 70 million ton by 2024. Western Europe is also foreseen to follow the similar trend to fall down to 80 million tons by the end of 2024, from 88.2 million tons in 2016. Considering the aforementioned issues that may hamper the regional market growth, North America and Europe sodium hydrosulfite market is slated to witness 2% and 1.5% CAGR respectively over 2017-2024.
Forecast to be the most profitable region for the market investors, APAC accounted for almost 45% of the overall sodium hydrosulfite market share in 2016. The expanding paper & pulp and textile industries in this region is the prime factor that is driving the regional market outlook. This is quite evident from the impending demand for paper products in the regional packaging market, which has experienced a significant impetus post e-commerce entry in the retail space. In fact, as per estimates, the demand for paper products in the APAC countries is forecast to exceed 350 million tons in terms of volume by 2024, subsequently upscaling sodium hydrosulfite industry share as well. China, Pakistan, Bangladesh, and Vietnam are some of the prominent nations which are expected to contribute significantly toward the regional market share in the coming years. Other factors that are catapulting the business growth are the cost-effective workforce, availability of raw materials, and favorable government support. Global Market Insights, Inc., predicts APAC to be at the forefront of the global sodium hydrosulfite industry landscape by 2024, with a market coverage of almost 70% of the total volume.
Prominent industry players include AZ Chemicals, Guangdong ZhongCheng Chemicals, BASF SE, and Jinhe Group.
Author Name : Satarupa De
The recent news about Suricate Minerals looking out for hydrothermal barite deposits in North Mauritania depicts the reach of Barite Market across the globe. Mauritania reportedly represents extensive mining investment opportunities, pertaining to the socio-economic and political conditions affiliated with the region. The government has also initiated a favorable mining policy, which is a major factor that may drive the global barite industry. In the milieu of this background, Suricate Minerals has planned to invest USD 4 million for the development of barite, gold, quartz, and lithium projects.
U.S. barite market size, by application, 2013 – 2024 (USD Million)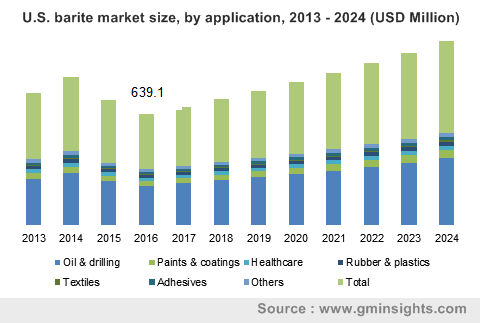 Barite is basically a naturally occurring, barium-based mineral, and is found extensively across United States, Morocco, China, and India. Endowed with the properties of chemical inertness and high density, barite finds utilization across a humongous range of applications, across pharmaceuticals, adhesives, oil & drilling, rubber & plastics, paints & coatings, and textiles. Subject to its widespread application terrain, barite market size was pegged at USD 2.2 billion in 2016, and is apparently poised to cross a valuation of USD 4.1 billion by 2024.
It is noteworthy to mention that some of the African countries also serve as major mining grounds for barite, which are heavily imported by the countries across the North America belt. As per surveys, Asia Pacific and North America are expected to be major growth avenues for barite industry. This is obvious from the slew of mining and export activities that are being undertaken in both the regions.
Get a Sample Copy of this Report@ https://www.gminsights.com/request-sample/detail/1328
Barite market trends across North America
Here's a breakdown of the contributions made by the regional players toward the growth of North America barite industry in the years 2016 and 2017 (until now)
Year – 2016
Companies involved
Contribution toward barite market
Schlumberger
Texas-based Schlumberger's M-I Swaco unit had proposed to develop a classic barite resource in Scotland, which had been approved by the local regulatory authority. The initiative aimed to mine 120,000 tons of barite annually.
Voyageur Minerals Ltd.
Canada-based Voyageur Minerals Ltd. strengthened its position in regional barite market by executing 3 prime projects for barite exploration project. The firm had then, planned to drill 500,000 tons of industrial grade barite at Frances Creek, undertake drilling beyond 100 m of the mined-out zones at Jubilee Mountain, and perform geological research to mine 20,000 to 50,000 ton of barite at Pedley Mountain.
Year – 2017
Companies involved
Contribution toward barite market
Honey Badger Exploration
Honey Badger Exploration recently announced the acquisition of three essential zinc and barite assets in Quebec, thereby contributing its bit toward the regional barite market growth.
Voyageur Minerals Ltd.
Voyageur Minerals Ltd. built a strong portfolio of three wholly-owned BaSO4 (barium sulfate) deposits in British Columbia.
Benz Mining Corp.

Silver Range Resources Ltd.,

Benz Mining Corp. entered into a partnership with Silver Range Resources Ltd., though which the former can buy 100% of the latter's Mel zinc-lead-barite project, for a valuation of CAD 2.7 million in southeast Yukon.
North America barite market size was valued over USD 1 billion in 2016. This comes as no surprise, considering the enormous number of shale gas exploration and oil drilling activities in the area. The region will continue to remain a major contributor of barite industry, with U.S. retaining its paramount position. The continent has also experienced the usage of unconventional energy sources to meet the never-ending demand across the power generation, automotive, and oil & gas sectors, on the grounds of which, analysts claim North America barite market to register a growth rate of 4.5% over 2017-2024.
Barite deposits in North America:
| | |
| --- | --- |
| Country | Regions |
| United States | Missouri, Tennessee, Georgia, Nevada |
| Mexico | Durango, Hermosillo, Pueblo, and Monterrey |
| Canada | Nova Scotia, Newfoundland, and Yukon Territory |
One of the major states that has been achieving great heights in barite production is Nevada. Barite production in this state had risen by more than 20% from 2010 to 2013. In 2012, the numbers had increased to more than 740,000 tons from that of around 690,000 tons in 2011. With the continued shale gas boom and the robustly growing oil & drilling industry North America barite industry will carve out a lucrative roadmap over the years ahead.
Barite Market Trends across the Asia Pacific
Here's a breakdown of the contributions made by the regional players toward the growth of Asia Pacific barite industry in the years 2015, 2016, and 2017 (until now)
Year – 2015
Companies involved
Contribution toward barite market
AsiaPhos

LY Resources (LYR Group)

AsiaPhos, the mineral resource group had declared the acquisition of LY Resources for USD 36.8 million. The deal aimed to acquire the ownership of 55% of Deyang Fengtai Mining, which held the license for the barite rocks in Sichuan.
Year – 2016
Companies involved
Contribution toward barite market
Andhra Pradesh Mineral Development Corp. (APMDC)
Andhra Pradesh Mineral Development Corp. had announced the approval of the Indian barite tender that provided the company with exclusive rights to mine and sell barite for a 12-month period. The govt. approval was a major milestone in the development of the regional barite market.
Year – 2017
Companies involved
Contribution toward barite market
Thermax

Barite Investment

Thermax recently acquired Denmark-based Barite Investment with a view to establish barite facilities in the region.
Asia Pacific barite market is expected to emerge as one of the most lucrative growth avenues for barite market, given that the region has been experiencing a commendable growth across numerous sectors. As per analysts, the continent is anticipated to generate substantial revenue from the sales of white and off-white barite, which is slated to grow at a CAGR of 3% over 2017-2024. This is primarily due to the growing prominence of the paints & coatings sector in the region, since the product is heavily utilized in this industry.
APAC barite market is expected to register a CAGR of 7% over 2017-2024, with India and China at the helm. The substantial shale gas exploration activities in China, say experts, will serve to be one of the major drivers pushing the growth of the regional barite market. Besides, the ever-growing construction, automotive, paints & coatings, and consumer goods will prove to make a marked impact on the growth path of APAC barite industry.
Experts predict that major companies operating in global barite market will make substantial investments toward the global revenue in the future. Having established its footprints across major geographies, barite market is also likely to tap into the areas on lesser potential, especially across Europe. Considering the fact that the mineral is used across numerous sectors, barite market is slated to exhibit an appreciable growth rate over the forthcoming years of 2017-2024.
Author Name : Saipriya Iyer
In recent years, silver nanoparticles market has emerged as one of the most lucrative business spheres pertaining to the increasing product acceptance across the healthcare and food processing sectors. Silver nanoparticles are prominently integrated into medicines used to treat various infectious diseases including influenza, diarrhea, cholera, and so on. An upsurge in disease burden has been observed across the global economies lately, owing to the surging prevalence of infectious diseases. In order to prevent such outbreaks of infectious diseases, most of the healthcare service providers have suggested the deployment of silver nanoparticles owing to its unique property such as high antimicrobial activity.
North America Silver Nanoparticles Market, By Application, 2017 & 2024, (Tons)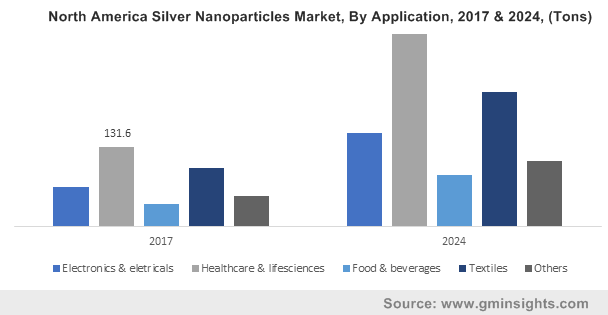 Though toxic in nature, the use of silver nanoparticles is still being researched, to increase their applicability for infectious outbreaks. The rising involvement of the scientific community in discovering the effective usage of silver nanoparticles in biomedical devices is slated to boost the product demand over the years ahead.
Recently, Russian scientists carried out a study to find the eco-toxicity of silver nanoparticles. Since it is vital ingredient is various medicinal formulations and other industrial applications, experts are continuously studying the safety characteristics and risk factors associated with the use of silver nanoparticles. In addition, some of the pioneering biotech companies have been putting their efforts to increase the number of research and development activities to manufacture high-grade cosmetics and nutraceuticals.
Taking into account the primary use of silver nanoparticles in drug formulations, leading medical product manufacturers have been looking forward to acquiring research organizations that have been involved in the development of new formulations. For instance, recently, Apotheca Biosciences unveiled a plant to purchase Nano Creaciones S.A. P.I. de D.V. Research LLC, also known as Nano, which is known for its patented work in the formulations of several medical remedies. Currently, it has been developing cutting-edge nanotechnology that would be used for the development of cotton fiber gauze with silver nitrate nanoparticles which can be deployed for the tissue generation process.
Get a Sample Copy of this Report:@ https://www.gminsights.com/request-sample/detail/1118
This acquisition is also slated to emerge beneficial for Apotheca Biosciences to strengthen its knowledge and level of expertise in the development of CBD products. In addition, it will also enhance its delivery technologies and product portfolio comprising sublingual and transdermal solutions. It is rather discernible that with the adoption of various strategies like mergers and acquisitions, silver nanoparticles market contenders have been attempting to consolidate their stance in the industry. Driven by the product's versatile usage in medical applications, Global Market Insights, Inc., forecasts silver nanoparticles market size from healthcare & life science applications to be pegged at an appreciable USD 1 billion by 2024.
Over the last few years, numerous start-up companies have invested in this business vertical, considering the product's remarkable use in textile applications. The New Jersey-based PurThread is also one of the startup companies that had invested USD 9 million in the development of silver nanoparticle-based solutions to destroy microorganisms in the textile fibers. This technology has been extensively used across military, healthcare, and athletic applications for processing used clothes and textile fabrics. Reportedly, in 2017, textile application accounted for a 25 percent share of silver nanoparticles industry. The continuously increasing adoption of silver nanoparticles across the textile industry will further fuel the market trends remarkably.
In addition to the medical and textile applications, silver nanoparticles have also gained popularity across the food packaging sector. The shifting trends toward the consumption of packaged food along with the prevalence of strict regulations related to packaged food hygiene have also been promoting the usage of silver nanoparticles. In the U.S., the federal government has implemented food hygiene regulations and food safety standards to ensure consumers' safety. The strict initiative taken by the U.S. government has encouraged most of the food processing industries to use silver nanoparticles commercially, which has had a positive impact on the product demand. For the record, with increasing importance for hygienic packaging trends, food and beverages application is poised to generate a revenue of more than USD 300 million in silver nanoparticles industry by the end of 2024.
It is noteworthy to mention that despite having toxic properties, silver nanoparticles have emerged as one of the most massively demanded specialty chemicals. Significant use of nanoparticles in most of the medical formulations will further augment the industry share over the years ahead. The rising efforts by the industry magnates to gain dominance across myriad regions will further expedite silver nanoparticles market. As per estimates put forth by Global Market Insights, Inc., silver nanoparticles market is poised to surpass a revenue collection of USD 3 billion by the end of 2024.
Author Name : Ojaswita Kutepatil