Thin Film
Solid state battery market is poised to experience remarkable changes in the years to come, owing to a wide application base and growing environmental concerns which have triggered the demand for electric vehicles. Solid state batteries provide better safety, longer life cycle and entail lower cost compared to the Li-ion batteries, which have helped foster their demand. Several government initiatives for the development of more efficient energy solutions will heavily influence solid state battery industry trends.
UK Solid State Battery Market Size, By Product, 2018 & 2025 (USD Million)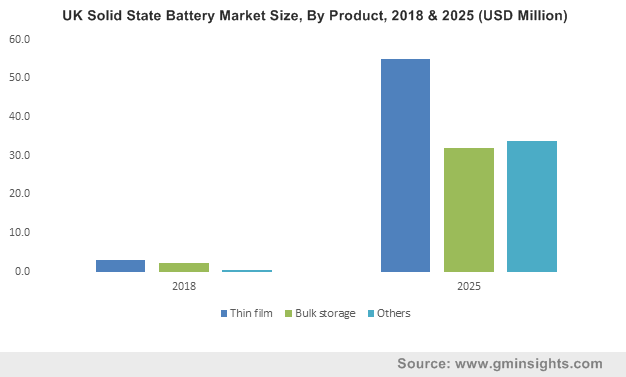 Technological advancements have attracted several customers towards the consumption of smart devices, which will stir the adoption of solid state batteries that are more reliable than most other alternatives. In fact, the consumer electronics segment in solid state battery market is slated to witness a CAGR of more than 30% by the year 2025. The ability to provide enhanced storage capacity and short recharging time will strengthen the industry prospects. These batteries have solid electrolyte present in them that ensures enhanced safety when in use, emerging as a key driver for the use of the products in digital cameras and smartphones.
Private investments for research and development of energy storage solutions as well as corporate initiatives will help develop innovative and long-lasting products. For instance, Ricardo, a global engineering and environmental consultancy firm had begun a project in 2018, supposed to last for 30 months, under a collaboration with numerous battery technology experts in the U.K. for the development of solid state battery for electric vehicles (EVs). Similar efforts across the region will certainly lead to swift expansion of Europe solid state battery market size.
Get a Sample Copy of this Report:@ https://www.gminsights.com/request-sample/detail/3885
The German government had recently announced that it will be investing about USD 1.2 billion in order to support the future production activities for next gen solid state batteries in Europe. Apparently, the battery consumption from electric vehicles is slated to reach unprecedented levels in the next few years. The strategy of the Berlin government is part of the Battery Alliance initiative of European Union that has a goal to boost the share of EU's EV battery manufacturing capacity, raising it to 30% by the year 2030.
Numerous projects through the Faraday Battery Challenge in U.K. had secured a total of GBP 23 million from the UK government in the third round of funding. It is supposedly a part of the total GBP 274 million set aside for investing in different projects targeting development of EV technologies. This massive initiative represents a notable research and development thrust that will ensure innovative technologies are provided to EV makers and will positively impact Europe solid state industry outlook.
The U.S. Department of Energy says that if and when EV battery costs may fall below $125 per kWh, it will become cheaper for people to own and operate electric cars, as compared to petrol-driven options. Economic viability could substantially increase the demand for solid state batteries, particularly since global battery EV market is estimated to reach USD 425 billion valuation by 2025.
The competitive landscape of solid state battery industry is outlined by mergers and collaborations to accelerate technology development. Automotive giant Toyota and tech giant Panasonic have agreed to collaborate on developing various battery technologies, which also includes solid state batteries. The Japanese automaker plans to introduce the resulting solid state batteries by the year 2020 with a goal to sell 5.5 million electrified vehicles deployed with those batteries by 2025.
Volkswagen has informed that it plans to spend about USD 56 billion for buying battery cells with suppliers like LG Chem, Northvolt, Samsung SDI, China's CATL and SKI of South Korea as its strategic partner. The company said it aims to reach battery manufacturing capacity of 150 gigawatt capacity in Europe and another 150 in Asia in the next few years and the figure will be doubled by 2030. Tesla recently acquired Maxwell, a battery company based in San Diego in order to surge its battery production capabilities. Such huge investments by automotive giants will help people solid state battery market revenues in the forecast period.
Consumer electronics and automotive products require affordable and efficient energy storage solutions and the increasing consumption from these sectors will expand solid state battery industry share. High demand for the product owing to better safety while handling and higher energy-efficient systems will stimulate the product demand. Reports estimate that global solid state battery market will amass more than USD 2 billion in annual remunerations by 2025.
Author Name : Riya Yadav
The surging demand for solar-powered systems across the globe has generated lucrative opportunities for solar PV backsheet market giants. In order to consolidate their presence across the competitive landscape, well-known players partaking in solar PV backsheet industry share have been adopting various business strategies such as joint ventures and M&As. For instance, DuPont, one of the very reputed solar PV material providers, has recently signed a deal with the Saudi Arabia based solar panel manufacturer, Desert Technologies, in order to capture more revenue from MEA, driven by the growing demand for photovoltaic systems across the region. Through this agreement, Desert Technologies will reportedly implement Dupont's backsheets in its solar panels and projects. In addition, both the companies plan to improvise on the research and development activities in future to facilitate the production of reliable solar panels, which will significantly boost solar PV backsheet industry size. Besides, it is prudent to note that the Dutch-based company, DSM has also recently acquired the Chinese manufacturer of PV backsheets, Suzhou SunShine New Materials Technology to improve its product portfolio in solar systems. With this strategic acquisition, DSM seems to be looking forward to firmly establish its position in China solar PV backsheet market over the years ahead.
Europe Solar PV Backsheet Market, By Product, 2016 & 2024 (Million Square Foot)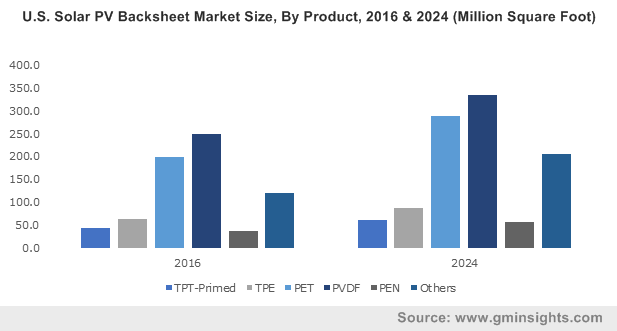 In order to reduce the wastage of renewable energy sources and encourage the masses to use non-fossil fuel based power, the Chinese government plans to enhance its power transmission capacity by reducing the nation's dependency on coal. According to the IEA (International Energy Agency), in 2016, China installed solar-powered systems of a capacity more than 34 GW, which was nearly half of the installed capacity across the globe. China plans to substantially boost the solar system installation capacity over the years ahead, which is certain to have a positive impact on solar PV backsheet industry share. In addition, recently China signed an energy deal with Canada, through which the country intends to promote the benefits of renewable energy sources such as solar and wind power. Considering how proactive the nation seems to be with regards to energy and innovation policies, experts predict China solar PV backsheet industry share to soar higher in the years ahead.
Get a Sample Copy of this Report:@ https://www.gminsights.com/request-sample/detail/2184
Apart from business expansion, majority of the players in solar PV backsheet market have been observed to be focusing on the improvement of the material properties of PV backsheets. Bearing in mind the downsides of backsheets such as delamination, cracking, and yellowing, researchers have been trying to improve the mechanical properties of materials. For instance, 3M has invested heavily to develop new PV backsheets endowed with the properties of reliability and long-term performance. The increasing involvement of biggies in new material development is thus slated to propel solar PV backsheet market outlook in the years ahead. Furthermore, the ongoing R&D activities and the growing advancements in the product landscape will generate lucrative opportunities for players in solar PV backsheet industry, thereby impelling its revenue graph by 2024.
Most of the countries have been involved in implementing numerous programs to increase the dependency on off-grid energy for commercial as well as industrial applications. Currently, solar energy has been emerging as one of the most reliable and environment-friendly options for many countries to fulfill their energy requirement. In accordance, most of the entrepreneurs and small-scale companies have also been making vigorous investments to manufacture solar PV backsheets, owing to its increasing demand for solar-powered systems. This would consequently have a massive impact on the overall solar PV backsheet market size, which according to Global Market Insights, Inc., would surpass more than USD 2.3 billion by 2024.
Author Name : Sunil Hebbalkar
The world is heavily treading toward the adoption of renewable energy sources, which will lucratively impel solar PV module market. There has been an increase in public awareness levels regarding the effects of GHG, released into environment after the burning of fossil fuels, which has prompted manufacturers to come up with suitable sustainable alternatives. This initiative will provide a push to solar PV module market growth. Several technological developments and the increasing number of manufacturing facilities has also resulted in reduced product cost, which will fuel the industry trends. According to Global Market Insights, Inc., "Worldwide Solar PV Module Market was valued USD 20 billion in 2016 and will surpass a revenue collection of USD 30 billion by 2024."
North America Solar PV Module Market Size, By Product, 2016 (MW)

Many of the market players are engaged in collaborations with research institutes to bring about innovative technologies that will enhance the industry expansion. Growing investments in R&D activities, flexible integration, and better efficiency will boost the demand for thin film technology integrated products. In 2016, thin film covered more than 20% of the revenue share of technology segment in solar PV module market. The noteworthy participants in solar PV module market are First Solar, Canadian Solar, Trina Solar, JA Solar, Hanwha Q CELLS Co., Jinko Solar, SunPower, Yingli, ReneSola, Moser Baer, SFCE, Shine Solar, and Lanco.
Growing industrialization across the globe will fuel the need of renewable energy. Favorable government initiations in terms of financial support will prompt industry giants to adopt solar PV modules to enhance the growth of Solar Energy Market. Ground mounted systems are being deployed increasingly across the utility and commercial sectors subject to their numerous benefits. The ground mounted segment will exhibit an annual growth rate of more than 7% over the period of 2017 to 2024.
Get a Sample Copy of this Report @ https://www.gminsights.com/request-sample/detail/1563
The governments of various countries have lately been making huge efforts to enhance the grid connectivity of their nations. Speaking of which, the on-grid segment dominated the connectivity landscape of solar PV module industry by accounting for more than 55% of the revenue share in 2016. It is expected to record substantial growth rate over the coming timeframe.
Rural areas have witnessed a heavy deployment of micro-grids to fulfill the escalating need of off grid electricity, subject to which solar PV module market from off grid connectivity segment will generate a significant revenue over the coming seven years. To accomplish the need of sustainable energy, the U.S. has been installing micro grids on a large scale. U.S. solar PV module industry will register a CAGR of more than 6% over the coming years of 2017 to 2024. The attributing factor toward the market growth is deployment of stringent rules and regulations to control GHG emissions along with huge investments in power plants to increase the grid capacity.
To reduce carbon emissions in the environment, the government has been promoting the usage of roof top mounting system. Government support and favorable subsidies will propel solar PV module market from roof top mounting systems. The Asia Development Bank recently granted a subsidy of US 500 million for the development of roof top systems. Escalating installation of these systems across the residential sector will also influence the product demand.
Solar PV module industry from the residential sector collected a revenue of USD 4 billion in 2016 and is predicted grow lucratively over the years ahead. Monocrystalline products are also deployed across this sector, subject to which monocrystalline solar PV module market will grow at an annual growth rate of more than 6% over the period of 2017 to 2024. Additionally, the surging need to maintain energy efficiency will augment the product demand.
China covered more than 60% of Asia Pacific solar PV module market share in 2016 and will generate considerable revenue over the coming seven years. Shifting preference toward the adoption of renewable technology is likely to impel China solar PV module market.
Market players are focusing toward strategies such as product innovation and differentiation to gain more profit. The efforts of these companies coupled with government norms to promote clean energy will suitably impel global solar PV module market.
Author Name :Sunil Hebbalkar