Tissue Engineering
The rising number of R&D programs on self-healing hydrogels has assisted the rapid self-healing gel market share soar to new heights. Widely applicable in drug delivery, wound dressing, tissue engineering, and surface coating, rapid self-healing gels are known to have excellent properties along the likes of hydrophilic nature, adequate flexibility, high sensitivity to the physiological environment. The ever-expanding global healthcare sector has been a significant factor in impelling the remuneration scale of rapid self-healing gel industry in the last few years.
U.S. Rapid Self-Healing Gel Market Size, By Application, 2014 – 2025 (USD Million)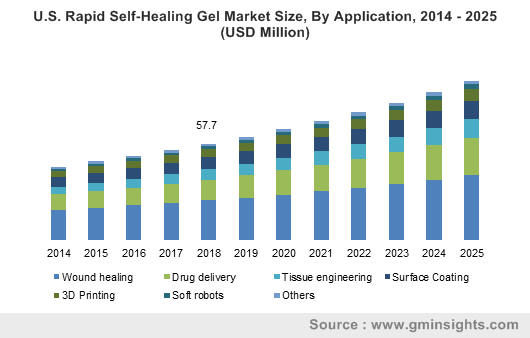 Innovative self-healing hydrogels for long-term drug delivery and wound dressing applications: A brief overview of how research activities are benefiting the rapid self-healing gel industry share
Researchers have previously developed self-healing hydrogels for biomedical usage by creating unalterable chemical linkages between polymers. Sturdy and tough, these gels have also been used to manufacture soft contact lenses but their shape cannot be altered easily after they are formed.
However, this phenomenon is likely to change in the near future as new hydrogels which can be molded into specific shapes are being developed to deliver drugs. For instance, chemical engineers from Massachusetts Institute of Technology unveiled a new type of self-healing hydrogel in 2015. Apparently, this gel can carry one or two drugs at a time and can be injected through a syringe.
Elaborating further on the applications of this gel, it can be used to deliver drugs that could repair degenerated heart tissues following a cardiac arrest. Moreover, scientists are also looking into the possibility of utilizing such self-healing hydrogels to deliver cancer drugs to eliminate tumor cells that are left behind after surgery. Needless to mention, the development of such multi-purpose and highly-effective self-healing hydrogels would assist the rapid self-healing gel market size to expand at a swift pace in the forthcoming years.
Get a Sample Copy of this Report:@ https://www.gminsights.com/request-sample/detail/3271
Apart from drug-delivery applications, the rapid self-healing hydrogels are increasingly being viewed as advanced polymers with significant potential in wound dressing applications. Though they have gained popularity across healthcare sector in the recent years, they do have a few shortcomings such as lack of antibacterial properties and inability to fit the skin.
Apparently, the aforementioned limitations are being eliminated by researchers as they have now focused on creating new self-healing hydrogels with adhesive and antibacterial properties. For instance, the researchers from Xi'an Jiaotong University recently introduced an injectable, self-healing hydrogel for effective wound healing treatment. The new hydrogel has high adhesion which helps it to seal wounds for any shape rapidly – a characteristic especially helpful in treating joint skin damage. It swiftly bonds with the edge of the wound, therefore providing a physical barrier against contaminants while simulating moist skin conditions.
Considering the aforementioned research and development efforts across various regions of the globe to create new self-healing hydrogels, it can certainly be stated that the rapid self-healing gel industry would acquire a prominent position in the overall healthcare sector in the forthcoming years.
In terms of geographical expansion of the rapid self-healing gel market, the North American region has been the leading terrain to apportion the revenue share of this industry. The presence of dominant self-healing hydrogel manufacturers such as Cytogel Pharma and Cardinal Health, increasing investment in research and development activities, launch of new products based on polymers and resins serving the wide range of applications are some of the pivotal factors to have propelled the North America rapid self-healing gel market. In fact, as per a research study by Global Market Insights, Inc., the North American rapid self-healing gel market size apportioned almost 40 percent of the overall industry share in the year 2018 and is slated to grow at an annual growth rate of about seven percent over the estimated timeframe.
Driven by growing R&D investment in the healthcare sector along with swift technological advances, the rapid self-healing gel market has been reaching a wide customer base across various geographies. As per reliable sources, the remuneration scale of the rapid self-healing gel industry is set to surpass a figure of USD 310 million by 2025.
Author Name : Saif Ali Bepari
Regarded as a one of the rapidly progressing fraternities of the life science domain, cell line development market has established itself as a major business sphere of recent times. With tissue and cell-based assays rapidly swapping animal studies, researchers are increasingly becoming dependent on cell study to demonstrate greater biological relevance. As per the data put forth by the World Health Organization, neurological disorders and their consequences are anticipated to affect more than one billion people worldwide.
India cell line development market, by product, 2013 – 2024, (USD Million)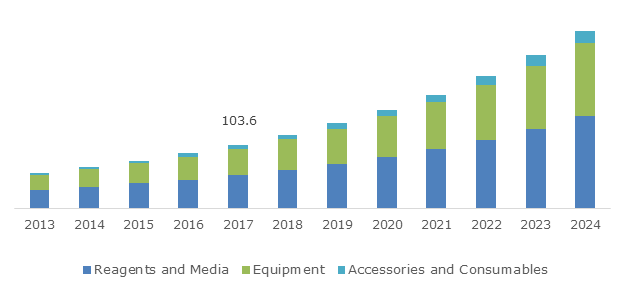 This data is evident from the rising aging population and lack of effective treatments – a factor also underpinning the necessity to develop new assays to advance research and develop know-how with regards to the mechanism of these diseases. Given the fact that both industrial and research concerns are demanding advanced & better cells for developing novel vaccines, biosimilars, drug, and therapeutic proteins it comes as no surprise that the global cell line development market has bright growth prospects. A conjecture substantiating the same is of a report compiled by Global Market Insights, Inc., that claims the global cell line development market to become a massive 7.5-billion-dollar industry by 2024, a substantial up from USD 3.3 billion in 2017.
When it comes to the vast utilization of the cell line development technology, Berkeley Lights Inc., is one protuberant industry magnates that has developed a platform to address the unmet research needs in Cellular Immuno-Oncology, BioPharma, and Autologous T-cell Therapies. Introduction of Beacon platform by this company has undeniably changed the overall competitive dynamics of cell line development industry. In fact, it has been observed that several other market players are leveraging Berkeley Lights' state-of-the-art technology to further dive deeper into cell line research.
Get a Sample Copy of this Report:@https://www.gminsights.com/request-sample/detail/429
Impact of Berkeley Lights, Inc's Beacon platform on the competitive landscape of cell line development market
According to reliable reports, Berkeley Lights, Inc. (BLI) launched its first commercial platform – Beacon™ OptoFluidic Platform in December 2016. This platform is ideally suited for direct B-cell antibody discovery and cell line development workflows. Experts deem that the flexibility of this platform has allowed researchers to automate biological processes and develop new applications to align with specific requirements. In short, the Beacon platform has enabled efficient monitoring, visualization, and tracking of cell to cell interaction and single cell manipulation across thousands of cells into a nanofluidic chip.
As a result of this breakthrough technology, customers and other cell line development industry players could accelerate the delivery of actionable results and reduce hands-on time. Taking into account the Beacon platform's ability to interact with cells in novel ways, BLI's prominence in cell line development industry has indeed strengthened.
Leading biotechnology company Shire adopts BLI's Beacon OptoFluidic platform
Recently in January 2018, BLI announced that Shire is implementing the Beacon Platform to accelerate their CLD process. Reports reveal that the company's decision was based on an experiment and study that equated their existing cell line development workflow to the workflow results obtained using Beacon.
Daiichi Sankyo to work with BLI's Beacon™ OptoFluidic
BLI in October 2017 announced that it will be working with the global pharmaceutical industry player Daiichi Sankyo to focus on creating CLD workflow efficiencies and fast tracking the drug development process. According to sources, the program includes evaluating and predicting the stability of clones, establishing monoclonality, and screening a pool of recently transfected CHO cells.
Pfizer to invests in mAb discovery with BLI's Beacon tech
In a recent news snippet released in January 2018, it has been reported that Pfizer is leveraging BLI's Beacon platform to advance its gene editing programs and monoclonal antibody discovery.
Other large pharma companies implementing Beacon technology
Teva Pharmaceuticals Australia, recently announced that it will be installing Beacon for its CLD and antibody discovery programs. Bayer Inc., is another in the line that has announced a strategic project with BLI to innovate and accelerate research. The pharmaceutical giant Novartis is also not far behind in implementing the Beacon platform. In fact, reports reveal it to be an earlier adopter of this technology and to consequently have secured its position in the dynamic cell line development market.
Overall a common thread that runs through all the aforementioned trends is BLI's rising preeminence in the global cell line development industry. The flexibility of the Beacon platform has not only allowed BLI to strengthen its roots in this industry by continuously aligning with its partner's requirements but has also significantly aided other emerging cell line development market players. What is noteworthy about these prospective trends is that they are deemed to be extremely important for other cell line development industry players in designing their growth tactics to sustain in the competitive terrain. For the record, other prominent companies partaking in cell line development industry share include GE Healthcare, Thermo Fisher Scientific, Lonza Group, Sigma-Aldrich, Sartorius AG, Progenitor Cell Therapy, LLC, and Samsung Biologics Co., Ltd.
Author Name : Ojaswita Kutepatil
Touted to be one of the most pronounced verticals of the healthcare space, biotechnology market share, as claimed by experts, is all set to soar with numerous growth avenues springing by the day. The industry undeniably deserves credit for having brought forth numerous astounding products that have bolstered the quality of human life and solved integral problems. The global biotechnology market is projected to record a highly commendable y-o-y growth rate ahead, owing to the surging incidences of chronic conditions such as cardiac disorders, cancer,  diabetes, and others across the globe.
U.S. Biotechnology Market, By Application, 2017 & 2024 (USD Billion)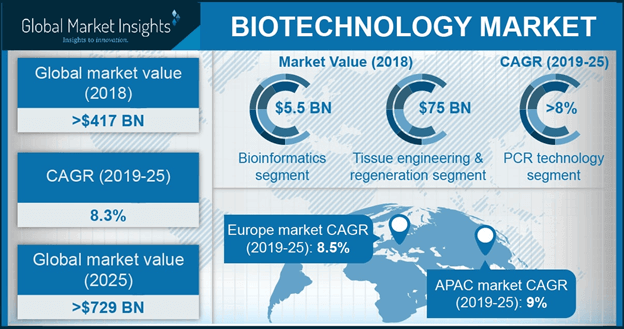 Logically speaking, as the burden of these diseases increases it becomes imperative to combat them on scale, and that is where biotechnology comes into play. From genetically modified foods to diagnostic & preventative agents to environmental products and bio-based pest control, biotechnology is ubiquitous and plays a prominent role everywhere.
Key players operating in the global biotechnology market are F. Hoffmann-La Roche, Abbott Laboratories, Amgen, Agilent Technologies, BioGen Medical Instruments, PerkinElmer, Danaher, Illumina, Merck, Qiagen, Bio-Rad Laboratories, and Thermo Fisher Scientific. These key players implement strategic initiatives such as new product launch, geographical expansion, mergers and acquisitions to fortify their product suite and boost their standing in the market. A recent instance providing validation to the above claim is of Staten Biotechnology which has entered into a collaboration agreement with Novo Nordisk to jointly develop preclinical dyslipidemia candidate of Staten – STT-5058.
Following is a precise summary of the top companies making a difference to the dynamics of biotechnology market:
Merck leverages the power of Cyclica's Ligand Express
Merck, a pharma major, has reportedly signed a licensing contract with Cyclica Incorporation for utilizing Ligand Express, a cloud-powered in silico proteome screening platform. Reportedly, Ligand Express is an AI augmented structural proteome screening platform being used to unleash new targets which are designed to interact with a small molecule.
The one year agreement will permit Merck to efficiently and quickly expound mechanisms of action, assess safety profiles, and discover further applications for numerous under-trial small molecules, including those acknowledged in highly disease-related phenotypic screens.
Get a Sample Copy of this Report:@ https://www.gminsights.com/request-sample/detail/784
Abbott seeks new acquisition to develop treatment for diseased mitral valves
Abbott has reportedly exercised its option to acquire Cephea Valve Technologies Incorporation, a medical device maker fabricating a minimally-invasive cardiac valve replacement technology for patients suffering with mitral valve disease. This acquisition would further augment Abbott's pinnacle position in the therapies market for mitral valve disease, a commonly occurring heart valve disease.
Amgen introduces AMGEVITA in the European market
In October 2018, Amgen has reportedly publicized that AMGEVITA, an adalimumab biosimilar, will be launched in the European market. Reportedly, AMGEVITA claims that it is the world's first adalimumab biosimilar to attain approval by the European Commission. AMGEVITA has been authorized for treating inflammatory conditions in adults and pediatric inflammations. AMGEVITA's launch would cover 28 member countries of the European Union along with Liechtenstein, Iceland, and Norway.
Bio-Rad Laboratories unveils NGC Fraction Collector
Bio-Rad Laboratories Incorporation has reportedly unveiled the NGC Fraction Collector to be used for NGC Chromatography Systems. The NGC platform augments purification efficacy and offers researchers consummate control over the processes. The NGC Fraction Collector enables researchers to elect how to gather and when to address the fractions. Reportedly, the system could be prompted to collect on the basis of pH, buffer percent from pump B, slope, and detector indications. Front-to-back dispensing offers ease of access to fractions before process completion for quicker downstream examination. It operates on ChromLab™ 5.0 Software and ensures no sample loss through auto sample tube calculation.
It is thus rather discernible that biotechnology market is on its way to crop up as one of the most prominently remunerative business spheres. The growth projection for the biotechnology industry appears to be rather pronounced in the coming times, given the intensifying commercial consumption of this technology across an array of industries. As per estimates, biotechnology market size is poised to exceed a colossal USD 775 billion by 2024.
Author Name : Nikita Chaurasia